Restaurant Boat in Glyfada, Greece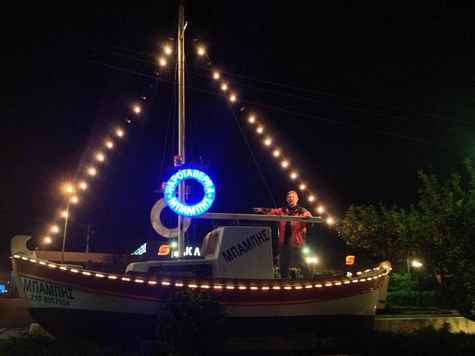 What a waste of a good sailboat, stuck in a parking lot as an advertisement... shameful! Although, the seafood was excellent!
Brian Snider
---
---
Clark Fork Drifter and QT Skiff
Latest on the Clark Fork Drifter and QT Skiff. There is a write-up for both the QT Skiff and Clark Fork Drifter, you can get to both of them from the Latest News link on our home page.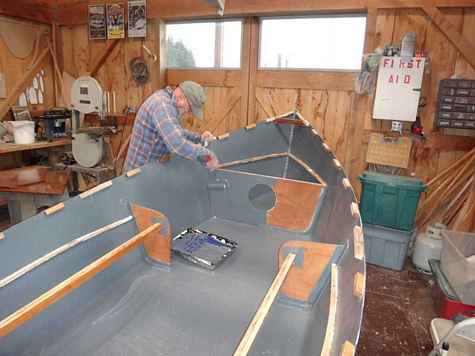 Andrew Linn
---
Lazy Weekend Canoe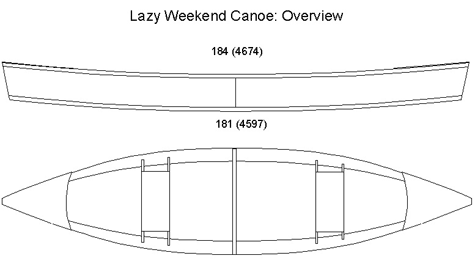 I have put the Lazy Weekend Canoe plans up in the PLANS section of the Toledo Community Boathouse website.
a) this is NOT a performance canoe - it is a fast, cheap way to get a very capable canoe in a short period of time
b) well, there is no B, really. It's just a fast, cheap way to get a very capable canoe on the water in a short period of time.
https://toledocommunityboathouse.com/plans.htm
(look in the BOATS column).
Andrew Linn
---
Fourth Bayou Teche Wooden Boat Show set for April 19-21, 2013
Contact: Roger Stouff webmaster@banner-tribune.com
This spring, owners of classic and modern wooden vessels of all sizes will converge on Franklin, Louisiana for the fourth Bayou Teche Wooden Boat Show.
What started as a spur-of-the-moment idea around a breakfast table at a local restaurant has become the fastest growing venue for classic and antique wooden boats in the Southeast, set along a unique venue in deep southern Louisiana in a city with more than 400 registered historic homes and a Main Street known for its charm.
Roger Stouff and Gary Blum welcomed the owners of 40 boats to Franklin in 2012 and expect even more during this year's show April 19-21 in association with the Bayou Teche Black Bear Festival. Both are held on the grounds of Parc sur la Teche in downtown Franklin.
"It was just a passing thought," Stouff said. "The 2010 bear festival was a few months away and one of us said, 'Hey, why don't we do a wooden boat display?' To this day, neither of us will admit whose idea it was because we have too much fun blaming each other," he joked.
But that first show came together and a dozen boats showed up, three of which were from outside of St. Mary Parish. The show ran that Saturday only but as Blum recalls, "When we went to pick up our own boats Sunday morning, people were still coming to see them. We ended up staying until late that afternoon letting festival-goers see the boats and talking to them about the boats."
What started as a hair-brained idea suddenly became a possible success. The duo decided to give it one more try, for the 2011 festival, just to "make sure it wasn't a lark," Stouff says.
It wasn't. That year, 28 boats were on the bayou side and in Bayou Teche at Parc sur la Teche.
The success of that show cinched the deal: The Bayou Teche Wooden Boat Show continued and surpassed its record the next year again.
"How could we not?" Stouff said. "Gary and I didn't start this because we needed something else to do, that's for sure. We did it because we're a coupla guys who own and love wooden boats, and love meeting and talking with other people who love wooden boats, whether they're our guests participating in the show or the good people who come to see the boats. The common thread there is still. wooden boats."
Both say their relationship with the main festival has been cordial and beneficial. "I think we've helped them by bringing in people who might not otherwise have made the trip from Oklahoma or Alabama or Mississippi down here to see this festival," Blum said. "By the same token, they've helped us by helping promote our event and accommodating us whenever we needed anything."
And word-of-mouth has spread news of the event. "Participants left here and praised the show and the city among other wooden boat clubs and owners," Stouff said. "It's a legacy. Wood is an organic material, it has cellular structure and membrane. It is, even in its cut, dry state, more similar to us as human beings than any other boat building material. It has warmth and a tactile feeling of life. From the first time primitive man crawled on a fallen log and floated across a lake or river, wooden boats have been in our blood. They've been around tens of thousands of years longer than fiberglass or metal boats."
Blum said attendants at the shows were overwhelmed by Franklin's southern hospitality, beauty and of course, waters. "Many of them had been here before," he said. "And every single one not only said they'd be back, but they'd spread the word about this community and this show. That can only be good for Franklin and the surrounding area."
The two organizers have founded the Louisiana Maritime Heritage Foundation, LLC to foster and promote appreciation for these classic and antique vessels.
There is no entry fee for participants, and all wooden vessels are welcome. For more information, visit https://www.techeboatshow.com or email webmaster@banner-tribune.com. For information about the Bayou Teche Bear Festival visit https://www.bayoutechbearfest.org
---
Trans-Antarctic Expedition
"Sir Ernest Shackleton's Trans-Antarctic Expedition is one of the greatest survival stories in history and has inspired adventurers across every continent over three generations...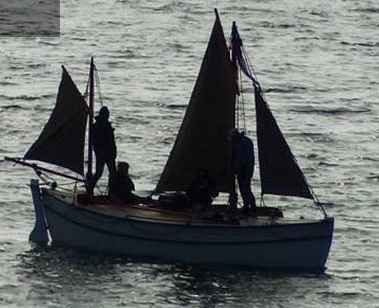 It certainly appears now that the AS (Alexandra Shackleton Lifeboat replica) skipper, Nick Bubb will not be making the crossing with the second party... Understandably Nick is incredibly disappointed given his outstanding efforts to helm the Alexandra Shackleton safely 800nm across the Southern Ocean to South Georgia...

shackletonepic.com
Graeme
---
Dave Gentry, Kayak Build March 16-17 and 23-24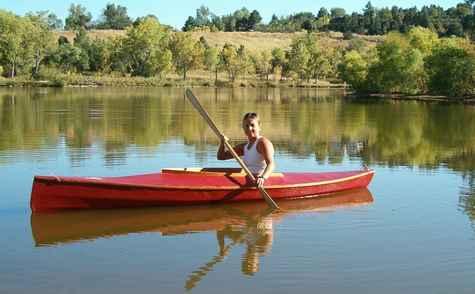 Take advantage of this rare opportunity to build a 12-foot skin-on-frame recreational kayak called a Chukanut 12 from the man who designed it, Dave Gentry. Gentry is one of the leading designers of skin on frame boats with a plan range encompassing traditional Greenland style kayaks, Rushton Canoes and Whitehall pulling boats. He has works as an instructor at The Wooden Boat School in Maine and teaches workshops on this style of building all over the country.
The Chukanut 12 is a 12 foot solo recreational kayak the design of which evokes the decked canoes of the last century. The Chukanut 12 weighs about 30 lbs empty and will carry a payload up to about 225 lbs.
Using non-traditional SOF construction, Dave has proven that many different types of boats including canoes, kayaks, stand up paddle boards, wherries, Whitehalls and even outrigger sailing canoes can be built lighter, more easily, and more affordably than with any other method.
The class runs March 16-17 and March 23-24 from 9am-4pm. Participants will leave with a finished kayak, and up to five participants can work on each boat. The class is priced per boat, not per participant. Cost of class is $1100 and includes all materials.
Space is limited so sign up early. Contact John Beale for more details, at john.beale@manateeclerk.com

For more information on the designer, visit Dave's website.
DAVE GENTRY has been dreaming about boats since his parents were posting his nautical drawings on the refrigerator door. In the late 1980's Dave built his first boat without any plans and with only a hazy idea of what was required-and then taught himself to sail in it. He's been hooked on boatbuilding and sailing ever since. While in grad school at the University of North Texas, he coached the university sailing team and also raced on his own, winning both state and national one-design regattas. Since then, he's embraced whitewater and sea kayaking, surfing, rowing and cruising, even living aboard his own boat while cruising the waters of the Pacific Northwest and British Columbia. In 2006, Dave opened his own boatbuilding shop and started building and designing skin-on-frame kayaks, canoes and unique conversions of historic boats. Using non-traditional SOF construction, Dave has proven that many different types of boats-not just kayaks-can be built lighter, more easily, and more affordably than with any other method.
Dave currently lives in New Market, Virginia.
Karen Riley-Love
Supervisor, Florida Maritime Museum
---
2013 Everglades Challenge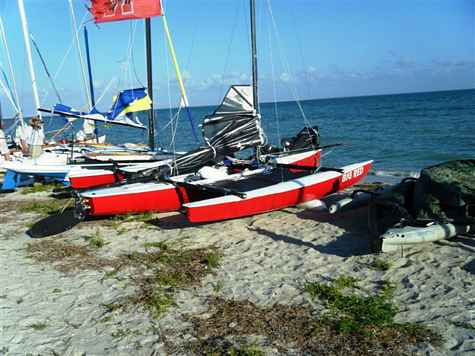 The Everglades Challenge starts on Saturday March 2 and if you can get out to the beach at Fort DeSoto on Friday you'll see some of the best and strangest boats and sailors you've ever encountered. These guys push off the beach at dawn and sail/row/paddle down the entire coast of Florida to Key Largo, 300 miles in under eight days. I'm going to try to be there at the start but dawn is awfully early. It the weather's not too bad Helen and I may go and watch from "Helen Marie". This link here is for their new site and once you figure it out you can follow every boat from start to finish. I'm also including my report from last year so you can get an idea of just how crazy these guys are. Last year the weather was really, really bad and they went anyway.
Dave Lucas
---
Snow Row
This video gives a good idea of the Le Mans style start for this race, I did it more than once and loved it. The start is pandemonium, as the smaller boats get to start bow first, you just jump in and use your body momentum to get the boat out and moving while you get your oars out. The crewed boats (gigs, stretched gunning dories, etc.) have to start bow on beach with one person to attend the boat. The rowers all line up above the high tide line. At the gun it's every man for his boat, and some collisions happen, especially among the crewed boats. As they must turn as soon as they launch, many times with rowers still not seated, or oars tangled or not in the locks yet. For those who are interested, the race this year is Saturday March 2nd at noon.
Josh Withe
---
Washington Dan, Tim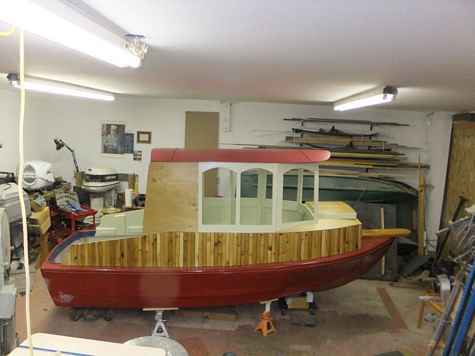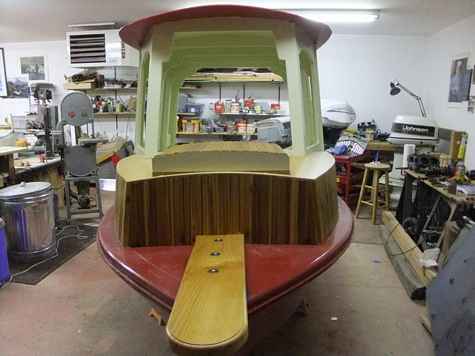 Washington Dan realizes that there's no point in having a boat if it doesn't look cool. Isn't there a saying that "Life's too short to own an ugly boat". You can go out in a busy harbor on any weekend and see a million of the same white plastic motorboats and could care less. When Dan goes out in this one everyone will notice and comment at what a neat little boat it is. After all, he who gets the most comments wins. Dan keeps changing the design on this little tug looking boat, I bet this isn't the last "conversion" he makes with an old hull.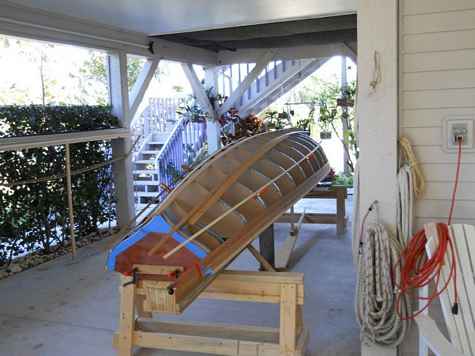 Tim is another one of you who builds, here's a Whitehall he's striping. When you're new at this boatbuilding stuff it's ok to build a little square boat with a pointy end but at some point you should try one of these. All the curves and the hour glass transom are a challenge but a fun challenge. Start with John Gardner's 14 footer, it's in his book.
Dave Lucas
---
Bit O'Boatwork
Just to show I'm doing something....
Photo is four 8" deck cleats now with pads for deck mount and underpads all line bored, taped together in the proper sequence and ready to bore the holes in the deck for mounting. They will of course then be overbored, epoxy filled, rebored when that cures.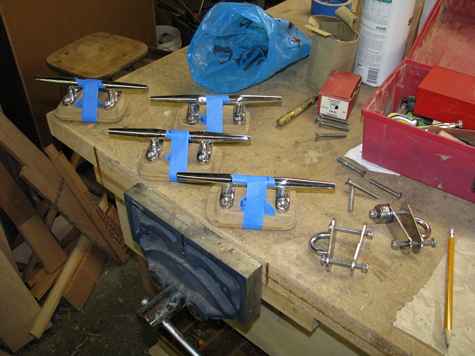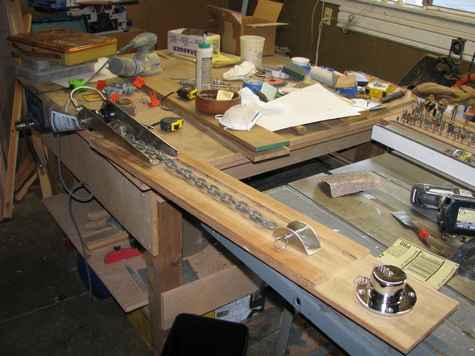 There are two pad eyes on the right in the photo. Those I decided late to install on the sides of the bowsprit. More bolts for the sprit stability, places to tie lines to anchor or chain or whatever might need a sturdy spot to tie.
Bowsprit is fitted, holes rebored now protected with epoxy, correct bolts in place sitting on Jaunty but for my late decision to add in more tie places. Now is a better time to do that than later. Bowsprit will be bedded in Dolphinite rather than epoxied on so not having to epoxy fill holes later on makes the most sense.
Rich
---
Survey
I got this notification from the Oregon State Marine Board. They are looking for volunteers with sailing experience to participate in a survey for national education standards for sailors.
Andrew Linn
NOW OPEN! On-Water SAIL Standards National Survey
USCG Project Experts Launch National Sail Standards Survey
Portsmouth, RI (February 15, 2013) - A team of experts assembled with U. S. Coast Guard (USCG) grant funding seeks national CONTENT VALIDATION of a set of entry level, skill-based sailboat operation standards. This is your opportunity to impact the development of recreational sailboat operation standards across the country by completing this ON-LINE survey.
WHAT: The National On-Water Standards Team, funded by USCG grants, is seeking input from recreational sail boating educators across the nation on a first-round set of standards to be used to assess the performance of sail boating skills at the entry level. Following the survey, the standards will be updated to reflect input from sail boaters nationwide and eventually validated and updated though a national field-testing program
WHERE: https://www.surveymonkey.com/s/853DBTY
WHEN: The survey will be conducted February 15 - March 14, 2013.
WHO: Recreational sailing enthusiasts and especially those with experience in On-Water teaching or training are urged to participate in an ON-LINE survey designed to collect feedback on the content of these entry-level, skill-based standards for sail boating.
WHY: By completing this survey you will have a voice in the design of a national set of sail standards for recreational boaters in the US. This effort is part of the US Coast Guard's (USCG) vision of a National System of Standards for Recreational Boat Operation - that will organize both in-classroom and On-Water standards within a comprehensive system of recreational boating education. The system will address standards for three domains of recreational boating: SAIL, POWER and HUMAN propulsion.
An impartial professional facilitator is spearheading the project so that all recreational boating constituencies are equally represented in the organization of this system. Long term, the USCG anticipates that these consensus-built standards will be recognized as components to be incorporated in any recreational boating education program.
CONTACT: For more information, please contact K. Brian Dorval:
---
Mayfly 12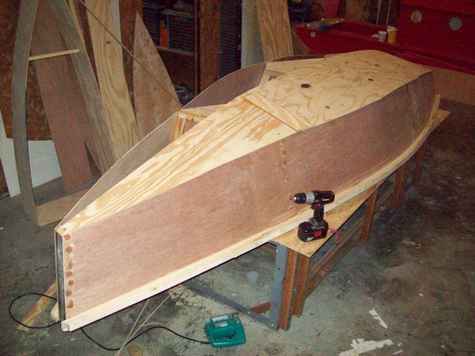 I am busy in the boat shop again, still, always, but I am going to miss making 3 splashes in a row. I am building Jim's Mayfly 12 and would have easily had it done in time for this months Splash but, while waiting for some scarfed wales to dry I was looking at the hull setting on my work stand and thought maybe Mayfly would like a V bottom instead of the flat bottom Jim designed it with. I sent Jim an email to see what he thought of the idea. He thought it would be a worthwhile endeavor so I went to work. I had to add the V's to the already installed flat bottom bulkheads and that, combined with some very stubborn wales, slowed me down. Finally I won the battle with them both and am at the point you see here in the pic. This is a piece of 1/4" ply I am using to make a pattern for the 3/8" called for in the plans. Jim does give the option of a 1/4" bottom, but my fat rear-end feels better with a little more substantial floor under it. I should make May's Splash easily but you never know, I am thinking maybe a small cuddy cabin when I get the hull turned over?
Gene
---
OVER 100 BOATS TO COMPETE IN WATERTRIBE EVERGLADES CHALLENGE AND ULTRA MARATHON
A 300-mile adventure race for small boats paddling and sailing from Tampa Bay to Key Largo in 8 days or less.
On Saturday, March 2, 2013 at 7a. m. over 100 small boats with over 125 experienced and intrepid mariners from around the country will launch from Fort De Soto County Park on Mullet Key just south of St. Petersburg, Florida to compete in one of two adventure races: The Everglades Challenge (EC2013) and the Ultra Marathon (UM2013). The EC2013 is a 300-mile trek along Florida's Gulf Coast ending in Key Largo and must be completed in eight days or less. The Ultra Marathon is about 62 miles and finishing at Cape Haze Marina in Englewood. These races are open to boats propelled by human and/or wind power only. No tows, no rides. Modern GPS tracking units allow race officials and anyone with internet access to follow each race participant in real time as they make their way along their chosen route.
"I designed the Everglades Challenge to be the toughest week long adventure/endurance race for small boats anywhere in the world," said Steve Isaac, founder and "Chief" of the WaterTribe, which sponsors the Everglades Challenge. The basic race rules are simple: First one to the finish wins. Additional rules are designed for safety as well as define who should consider entering these races. For example, all competitors must be able to drag their boats, without assistance, off the launch beach and into the Gulf of Mexico near the entrance to Tampa Bay at the start of the race. This rule is designed to filter out large boats without a lot of rules defining the size of a small boat. WaterTribe is pleased to announce that this year Cape Haze Marina in Englewood, Florida will be the finish for the Ultra Marathon and the first checkpoint for the Everglades Challenge. The Marina offers a great location and facility as well as enthusiastic support from their staff and the folks at Hooked on SUP.
For more information please visit the links below or one of the contacts.
EC2013 Full Details at:  www.watertribe.com/Events/EvergladesChallenge
Full Details at:  www.watertribe.com/Events/UltraMarathon
Tracking Map at:  https://www.watertribe.com/Events/ChallengeGMapper
Short Video Captures WaterTribe Spirit:  www.youtube.com/watch?v=4AbPpuZ-BPS
CONTACTS:
Steve Isaac (aka Chief). Founder of WaterTribe and Participant in EC2013. chief@WaterTribe.com
Paula Martel (aka PaddleDancer) Race Manager, EC2013 and UM2013. pjmartel@cox.net
Ken Stead Cape Haze Marina, General Manager kenstead@capehazemarina.com
Paige Bakhaus Cape Haze Marina, Hooked on SUP hookedonsup@gmail.com
---
ABBRA Honors William "Bill" Munger, Founder/Owner of Rhode Island's Conanicut Marine Services With Prestigious Dennis Snow President's Award at the Association's 2013 Boatyard Business Conference in Fort Lauderdale, FL
Fort Lauderdale, FL - January 24, 2013 - At the just concluded Boatyard Business Conference Awards Dinner & 70th Anniversary Celebration, the American Boat Builders & Repairers Association (ABBRA) named William "Bill" Munger the 2013 recipient of the prestigious Dennis Snow President's Award. The Award is given for significant and lasting contributions to the boatyard and marine service/repair industry, and Bill Munger joins a distinguished group of industry leaders to have received this honor.
ABBRA President Pam Lendzion, in her presentation remarks said, "All of us who know Bill, recognize him as a contributor to the marine industry, his community, and a genuine supporter to all those who have worked with him. Without reservation, I can say that Bill Munger, and his wife May, have worked tirelessly to create and operate a family business that provides top quality service and repair work. In their personal and work lives they operate with honesty and integrity, and do not hesitate to offer their support to others in the industry."
Bill Munger in his acceptance of the Award noted first and foremost that he was sharing the honor with his wife May Munger who has been with him every step of the way in the building of their business and in life. He said, "This is a great honor for me and I share it with May, whose support, partnership and friendship has meant the world to me." He added, "I knew Dennis Snow and to be recognized with the President's Award by ABBRA really means a lot to me. All I've done has been out of a love and passion for this business and for boating, and if I've made a difference over the years I'm happy about that."
Past recipients of the Dennis Snow President's Award include Bill Yeargin, CEO of Correct Craft, Jack Brewer, Brewer Yacht Yard, Dennis Nixon, Associate Dean for Research and Administration at the Graduate School of Oceanography of the University of Rhode Island, Carl Cramer, Publisher, Professional Boat Builder Magazine and Frank Herhold, Executive Director Emeritus, Marine Industries Association of South Florida. The presentation took place at the B Ocean Hotel in Fort Lauderdale Beach, Florida during the ABBRA Awards Dinner & 70th Anniversary Celebration as part of the Boatyard Business Conference from January 16th - 18th. Several Past-Presidents of ABBRA joined outgoing ABBRA President Pam Lendzion in making the presentation to Bill Munger.
About American Boat Builders & Repairers Association (ABBRA)
Founded in 1943, ABBRA is a national marine trade organization that represents, is dedicated to, and seeks to strengthen and encourage professionalism in the boat building, boat repair, and marine service industry.
---
Recreational Boaters Get, and Give, Free Nautical Information
One of NOAA's handiest navigation products, especially for recreational boaters, has been Coast Survey's experimental BookletCharts—nautical charts that are easy to download and print from home computers. We have now moved the BookletCharts from experimental stage into official production.
Nearly a thousand newly updated BookletCharts are available free on the Web. The BookletCharts, which cover the 95,000 miles of U.S. coastline and the Great Lakes, are smaller scale than our traditional paper charts, but they contain most of the information found on a full-scale nautical chart. They are in an 8 1/2 x 11 inch PDF format for home printing.
"It is especially appropriate that we unveil these easy-to-use nautical charts as recreational boaters begin to think about their boating adventures for 2013," explained Capt. Jon Swallow, chief of NOAA Coast Survey's Navigation Services Branch. "NOAA's nautical charts help to protect lives and property, and boaters should take advantage of these free nautical products."
Of course, smart recreational boaters know that a chart is the first line of defense for the lives of boaters. Hundreds of boating accidents happen because boaters are inattentive or unaware of the environment around them – underwater obstructions or shoals, for instance, that are depicted on a nautical chart.
As your boating experience bears out, the bottoms of our waterways and oceans change from the effects of storms, accumulation of sediment, and debris. Our shorelines are in a state of change, from natural powers or because of human development. And that brings up another important safety issue: Coast Survey, as the nation's nautical chartmaker, is responsible for updating the nation's nautical charts, to reflect those changes.
Regular readers of this blog see the fantastic work done by NOAA's four survey ships (Fairweather, Rainier, Thomas Jefferson, and Ferdinand R. Hassler), our survey research vessel Bay Hydro II, our six navigation response teams, and independent survey contractors. They face a huge challenge: the U.S. has nearly 3.5 million square nautical miles of coastal waters, and surveying those waters, relying solely on current NOAA resources, would take 545 ship years and $5 billion just to acquire the data.
Giving free information
Fortunately, thousands of citizen volunteers in this nation's nautical community are committed to helping us ensure safe navigation. Rear Admiral Gerd Glang, Coast Survey's director, recently met with many of them at the U.S. Power Squadrons annual meeting in Jacksonville. The meeting was a tremendous occasion, as NOAA and the USPS renewed a 50-year commitment to a cooperative charting program that facilitates updates to the nation's charts.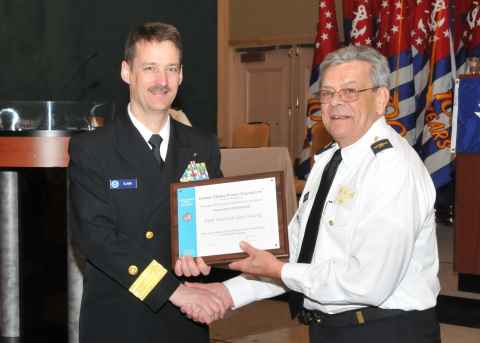 U.S. Power Squadrons Chief Commander John Alter (right) presents Rear Adm. Gerd Glang with an honorary USPS membership at the ceremony for renewing the 50-year Cooperative Charting Program.
As Glang explained in his remarks at the USPS meeting, "Coast Survey is a small program with a very large mission. Our few hundred people dedicate themselves to protecting people who venture on the water for their livelihood, for the nation's defense, or for enjoyment." He was quick to point out, however, that we also count on the U.S. Power Squadrons and the U.S. Coast Guard Auxiliary members who scrutinize their local charts for accuracy and report discrepancies to us.
Coast Survey and the U.S. Power Squadrons formalized the voluntary program by signing an updated Memorandum of Agreement. Under the MOA, members of the U.S. Power Squadrons look for changing conditions that could be reflected on NOAA nautical charts and submit their reports online. Coast Survey cartographers review and incorporate changes to charts and the United States Coast Pilot.
Over the last ten years, volunteers have submitted over 28,000 corrections to NOAA's nautical charts and the Coast Pilot. More than 4,000 USPS members submitted reports, adding their particular local knowledge to NOAA's national effort to keep navigation materials accurate.
"Sailors must be able to trust their nautical charts," Glang pointed out. "Since charting began, cartographers have tried to capture the ocean depths at a moment in time, so we can depict them with accuracy and precision. You and I know, however, that what is precise and accurate today may be inaccurate with the passing of a single storm. So our job never ends."
You don't have to belong to a Power Squadron or the Coast Guard Auxiliary to give us a chart update. Anyone can report a charting discrepancy, any time. NOAA – and recreational boaters – will thank you!
---
Top 5 - Boats and Sailing "Repurposes"
1.      Climbing Rope repurposed as General Purpose Deck Rope
2.      Aircraft Cable repurposed as Dock Safety Railing, Winch Cable
3.      Fire Hose repurposed as Boat Dock Bumpers
4.      Advertising Billboards repurposed as Tarps for Boats, etc.
5.      Steel Cable repurposed as Mooring Lines

See many more fun economically and environmentally-friendly ideas and materials at www.repurposedmaterialsinc.com
---