Photos of the Pocket Yacht Palooza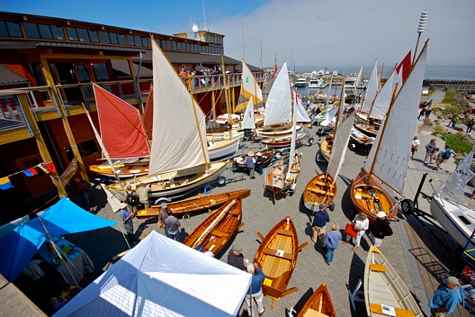 If you go to the Port Townsend Pocket Yachters website (link just below) you'll find the first large batch of photos taken at this past weekend's huge Pocket Yacht Palooza, featuring 75+ classic small craft.
The Palooza, organized by the Pocket Yachters group, was held at the Northwest Maritime Center in Port Townsend, WA. Co-sponsors included the NWMC, Small Craft Advisor magazine, Sage Marine (displaying their new Sage 17), the Northwest School of Wooden Boatbuilding, the Port Townsend Marine Trades Association and the Puget Sound chapter of TSCA.
Mark your calendars: Next year's third annual Pocket Yacht Palooza will take place July 19-20 in Port Townsend, with a public show on Saturday and picnic sail for all participants on Sunday. The event also includes seminars, a marine swap meet, music and potluck on the beach--but mainly one of the most diverse and interesting collections of small boats seen on the West Coast, including pocket yachts driven by oar, paddle, sail and fuel-efficient motor.

For details, keep checking the Port Townsend Pocket Yachters website, www.pocketyachters.com 
or email Marty Loken at Norseboater22@gmail.com

Marty
---
---
Bangkas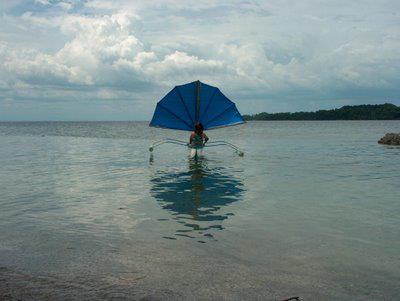 I have hundreds of photos of Bangkas but disorganization reigns.
Here are some I have collected:
https://tinyurl.com/PerfectBangka
https://tinyurl.com/HukayBangka
https://tinyurl.com/RebuildingBangka
https://tinyurl.com/67FootBangka
https://tinyurl.com/BeautifulBangka

and for a historic perspective nothing beats Aldo Cherini:
https://tinyurl.com/AldoCherini

I admire the Bangka very much. It is hard to beat using readily available
materials to build an inexpensive stable sea worth boat for general use
here in the Philippines. I keep trying but I do not think I am close yet.

Bob
---
Dinghy Cruising Association Rally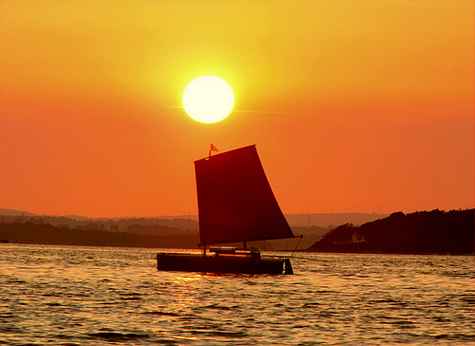 Earlier this month, all three UK built, Matt Layden designed Paradoxes, met up for an impromptu meet at a Dinghy Cruising Association rally.
There was Al in "Little Jim", Jim in "Faith" and myself in "Johanna".
We were blessed with hot sunny weather and I spent some very pleasant and warm nights afloat.
Some of my photos can be found here.

The three of us meet up on Saturday 6th July at Bramble Bush Bay. We had a meal and drinks together ashore at a beach restaurant and talked so much we almost forgot the time. We made a hasty retreat to our boats and set sail in the last of the daylight for our anchorage at Goathorn Point about an hours sail away. That's when I took the shots of us sailing into the sunset.
It was dark as we anchored but the next morning we woke to find a beautiful windless, smooth as glass, anchorage. In the photos we are sitting in about a metre of water at high tide (that's about 3 feet or half a fathom for the non metric folks :-) ).
I expect this is the first time anywhere that three Paradoxes have been together in the same spot. They still draw the crowds everywhere they go!

I also have some rough video here:
---
Sail OK 2013
Exciting news for those coming to Sail OK 2013 in October this year. We will have a sailing class (hands on and with boats in water) taught by Dave Gentry the well known teacher and designer of boats, Gentry Boats.  It will immediately precede the opening days of Sail OK's Boating Festival which is scheduled for Oct. 10-14 this year.

Details are being worked out and will be announced soon but if you came to last year's Sail OK and heard Dave's programs, then you know this will be a fun and learning experience.  We will announce it ASAP so far as details but it will be a multi-day event prior to Oct. 10, 2013.

Dave is borrowing the Red Scamp to teach from, so more chances to sail a Scamp?

Jackie and Mike Monies
Sail Oklahoma groups.yahoo.com/group/SailOklahoma
---
V Fly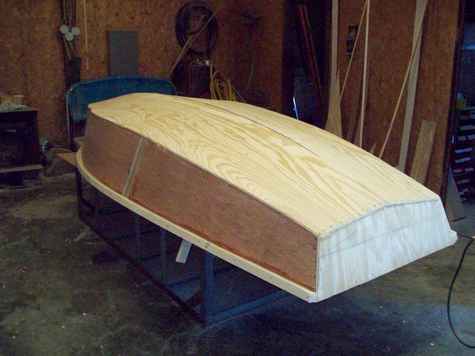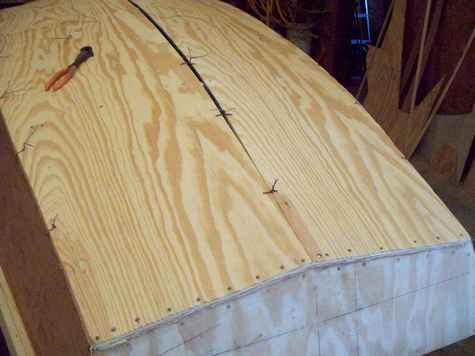 It is coming along nicely. I am going to duct tape it and roll her over in the morning and do the fillets inside. I ordered some tape, glass, and epoxy last night. I always forget to order stuff ahead of time for some reason. I have just enough tape to do one layer on the inside and it will have to set up anyway so the new order will be here in plenty of time I am sure. In the meantime I can do fiddly bits and there are plenty of them. Jackie told me I build a boat faster than Mike can caulk one. I told her that maybe but comparing one of my builds to one of Mike's builds would be like comparing a coffee table built using only a chainsaw to a fine $1000 table from Ethan Allen.
Gene
---
A New Shed
We are progressing well with the project of building a new boatbuilding shed. Attached are a few pictures.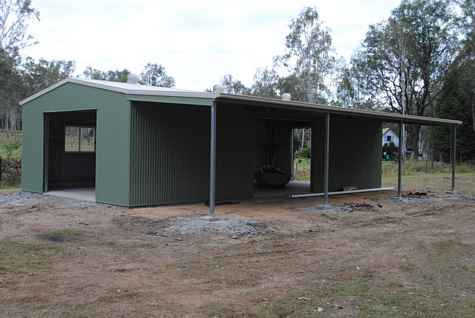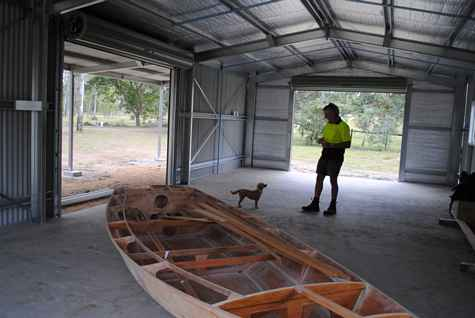 ---
AmeriCam Dual Backup Camera System Makes Backing Up Boats a Breeze
SAN JOSE, Calif.  August 6, 2013 – Anyone who has ever tried to hitch a tow vehicle to a boat trailer or tried backing down a narrow ramp using only rear-view mirrors knows that it can be a frustrating endeavor. Many arguments have broken out over the driver's inability to reverse properly, threatening to ruin an otherwise idyllic day on the water.   
To combat this problem and restore peace to marinas and lakes everywhere, AmeriCam has designed a dual backup camera system that makes reversing a boat trailer simple. 
The AmeriCam TrailerView dual backup camera system includes two cameras that work together seamlessly. One camera is installed at the back of the trailer and the other on the back of the tow vehicle. The camera on the tow vehicle can be used for daily driving or for hitching the trailer. When the tow vehicle and trailer are hitched, the backup camera on the trailer operates, allowing the driver to safely reverse into even the most challenging spots.
The system is completely waterproof which means, no matter how many times the driver lowers the trailer into the water, the camera won't leak.

Even the most inexperienced person can install the kit by feeding a single cable through an existing conduit under the trailer. 
The TrailerView dual camera system is available in two kits: the TrailerView Gold and the TrailerView Platinum. The Gold kit includes two backup cameras, one for the tow vehicle and one for the boat trailer, and costs $425. The Platinum kit includes two backup cameras and a front-view camera and costs $499. Both kits have an override feature that allows the driver to keep the camera on at all times.
For additional information, to purchase a kit or to inquire about additional camera kits, visit the AmeriCam website at:www.americam.co or call 1-800-985-0535 ext. 7.
About AmeriCam and Bierley Electronics
Bierley Electronics, the manufacturer behind AmeriCam automotive cameras, is dedicated to making driving safer. Bierley is a leading manufacturer in the field of image sensor and display technology with corporate offices in the USA, the UK and Asia. The privately held company was formed in 2002 and holds multiple patents on its technology and products.
---
Recruiting Informational Video Highlights MEBA Union History, Training Opportunities and Benefits of Membership as MEBA Leaders Work to Ensure Future Workforce Levels

WASHINGTON, D.C. –  Maritime TV, (www.MaritimeTV.com), a subsidiary Internet TV Channel on the TV Worldwide Network(www.TVWorldwide.com) announced that it had completed the production of a new recruiting informational video for the Marine Engineers' Beneficial Association, (MEBA), the first and largest maritime officers union in the United States. Maritime TV was selected by MEBA to produce and distribute the video via its Internet TV channel database, industry press outlets and other media. 

The video was produced to showcase the quality of MEBA marine officers and highlight the advantages and benefits of membership in this united and fraternal professional organization. "We believe it is critically important to get the word out to ensure MEBA continues to offer a stable workforce of qualified and experienced maritime officers, educated through our comprehensive training plan to be the best mariners in the world, ready for the ever-changing technical complexity of our industry," stated Mike Jewell, MEBA President. "The video highlights the benefits of membership in addition to providing an historical perspective of why it's important for the MEBA to work to enhance the welfare of its members and the well-being of our U.S. flag merchant marine."

"We are pleased to have been selected by MEBA to produce this video," commented Dave Gardy, Chairman and CEO of TV Worldwide, Maritime TV's parent network. "Our goal was to demonstrate some of the unique facets of MEBA membership, the renowned training opportunities and the important role MEBA members have played in the development of the U.S. maritime industry since 1875."
The video is available for viewing at this link, MEBA 2013 Video , on Maritime TV. Inquiries to obtain DVD copies or other video formats of the presentation may be directed to info@tvworldwide.com .
Follow us on Twitter & Facebook
---
Outdoor Enthusiasts to Benefit from the New SPOT Gen3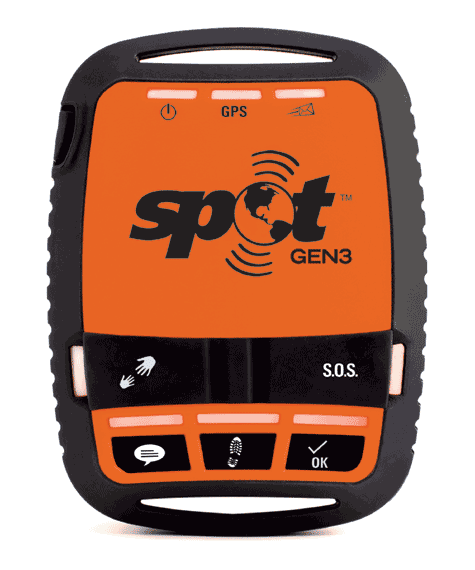 SPOT adds customized tracking and enhanced power options to award-winning product line 
Covington, LA (July 29, 2013) – SPOT LLC, a wholly owned subsidiary of Globalstar, Inc. and leader in satellite messaging and emergency notification technologies, today announced SPOT Gen3, the next generation of the SPOT Satellite GPS Messenger™.  SPOT Gen3 offers enhanced functionality with more tracking features, improved battery performance and more power options including rechargeable and USB direct line power.  SPOT is part of an award-winning product line that provides an affordable and vital line of communication with friends, family and emergency assistance on any adventure, from canoeing to hiking to snowmobiling.
"When outdoor recreationists go off the grid, they have come to depend on the SPOT line of products time after time," said Jay Monroe, CEO of SPOT LLC. "The new SPOT Gen3 has a significantly improved battery life, enhanced usability  and we have added more robust tracking options to help meet the demands our 220,000 plus customers and counting."
New SPOT Gen3 features include:
·       Unlimited Tracking – Users can pre-set SPOT Gen3 to send tracks at the speed of their adventures with options to send every 5, 10, 30, or 60 minutes. 
·       Extreme Tracking - The features of Unlimited Tracking, but with the added ability to vary the track rate down to every 2 ½ minutes. Perfect for pilots and ultra-outdoor competitors. 
·       Motion Activated Tracking - SPOT Gen3 sends tracks at a chosen rate for as long as the device is turned on and moving.
·       Longer Battery Life – Approximately twice as long as previous SPOT devices with new power options including 4 AAA Energizer® Ultimate Lithium 8x batteries (L92), 4 AAA Energizer® NiMH rechargeable batteries (NH12), or Line Power with a 5v USB connection.
Around the globe over 2,400 rescues have been attributed to SPOT. SPOT Gen3 offers the same safety assurance that all SPOT devices are renowned for. With the push of a button, SPOT users can:
·       Alert for rescue - transmitting an S.O.S. notification with GPS location to GEOS International Emergency Response Coordination Center.
·       Check In - letting others know they are OK and have arrived safely.
·       Track - sharing their GPS location in real-time via Google Maps™.
·       Message - sending custom messages to family and friends regardless of cell coverage.
SPOT Gen3 is the second new product announcement from the popular SPOT line this summer. SPOT Global Phone was added to the SPOT family in May and ensures users can have 2-way voice connectivity with family, friends and business even when their adventures take them out of cell coverage.
Coverage:
SPOT satellite coverage works around the world, including Canada continental United States,  Mexico, Europe, Australia, Northern and Central Africa, portions of South America and North-Eastern Asia as well as hundreds of thousands of miles offshore of these areas. https://www.findmespot.com/en/index.php?cid=108 
Pricing and Product Availability Information:
SPOT Gen3 retails $149.95 MSRP plus a required annual subscription service starting at $149.99 per year with upgraded service plans available.
SPOT Global Phone retails $499 MSRP plus a required subscription service from $24.99 monthly.
SPOT is available at retailers nationwide such as REI, Cabela's, Dick's Sporting Goods, Big 5 Sporting Goods, Gander Mountain, Eastern Mountain Sports, Sportsman's Warehouse, West Marine and Bass Pro Shops.  For more information on SPOT Gen3, SPOT Global Phone or a complete list of retailers carrying SPOT products, visit FindMeSpot.com.
---
Product of the Week: Bad Elf® GPS Pro Direct Satellite GPS
Like on Facebook | www.bad-elf.com | Download high resolution product images
Previous Product of the Week:
August 9, 2013
August 2, 2013
July 26, 2013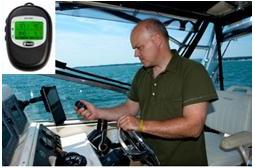 The small, compact, water-resistant handheld Bad Elf GPS Pro is an Apple-approved accessory that wirelessly connects (via Bluetooth® wireless technology) up to five users of an iPod touch, iPhone or iPad to share real time, direct satellite GPS data for display on digital charts and a wide range of other compatible marine apps on board via satellite – anywhere in the world.
Bad Elf GPS does not rely on cell tower assistance to achieve a lock or to determine position. The Bad Elf unit includes a high performance satellite receiver and antenna that receives data directly from the GPS satellites. Locking on to up to 15 satellites, a Bad Elf unit supplies GPS data up to 10 times a second that can be accurate to within 9 feet (2.5 meters) - allowing users to improve their GPS lock on the water beyond cell phone coverage areas. Winner of the TechRadar Best GPS Device award at the 2013 Consumer Electronics Show. MSRP: US $179.99.
More info: www.bad-elf.com