Scamp
I completed the assembly of my SCAMP kit and launched Foresail 1's unfinished hull on October 18 at a local lake.  She floated well and looks great on the water!  She is officially for sale now – more information at Scamp for sale.  Check out the video of her launch below.  I love launching boats for the first time!
Richard
---
---
Another LFH17 Launched
Last week the second LFH17 got launched. Now have a few minor details to work on and row it. A few construction details changed. Added another stringer between old garboard stringer location and bottom, only "notched" frames 3/16" for the stringers, omitted 1X4 cross pieces and added "bridged" framed at #1 and #5. And reduced stringer size to 5/8th with rounded edges. All this brought weight down to #55.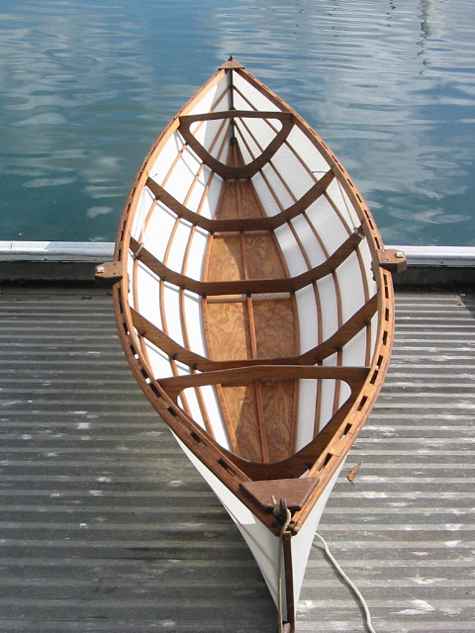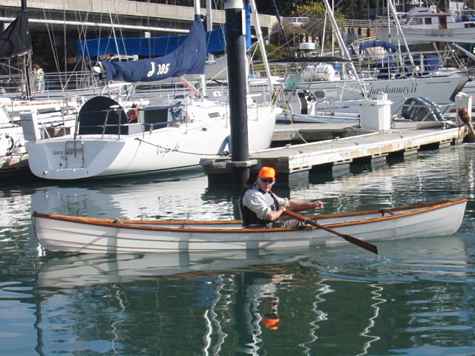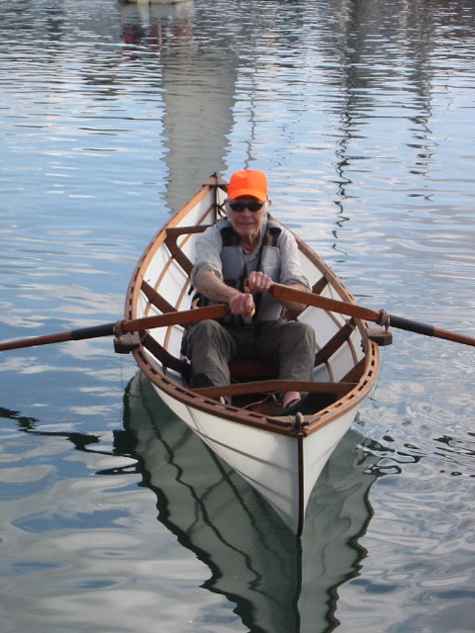 Replaced my traditional white nylon oar locks and sockets with real bronze, although the sockets have plastic inserts. These are from Duckworks. Now to make the minor fixes and row it to compare with #1.
Steve Chambers
---
My DIY W Kayak For Fishing and Diving
Berny lives in the United Kingdom (UK), and he likes to fish and dive. He needed a small boat that could be motorized, yet be lightweight and easy to transport, and most of all, as seaworthy as it gets, and extremely stable. Berny chose the W Kayak concept, contacted us with a few questions, and created his DIY version, which is spectacular, as you'll see in the video below, in which Berny performs diving and deep water reentry from the side of his kayak.
Says Berny:
"I have a 4 hp outboard on loan from my brother in law. Unfortunately, I have hit a few snags with it. Although it appears to be in good order, it does not run smoothly and needs to have the choke partially turned on to tick over. Also, I think it may be a bit on the heavy side so I think I will look for a 2 hp motor instead. As a result of these problems, I've not had a chance to test the kayak properly under power and now the winter has set in so I may put it on ice until the spring. On the plus side, the tubular jointed construction is a great success and the craft is very rigid in the water. Cheers, Berny"
Kevin Eastman
---
Sweet Spot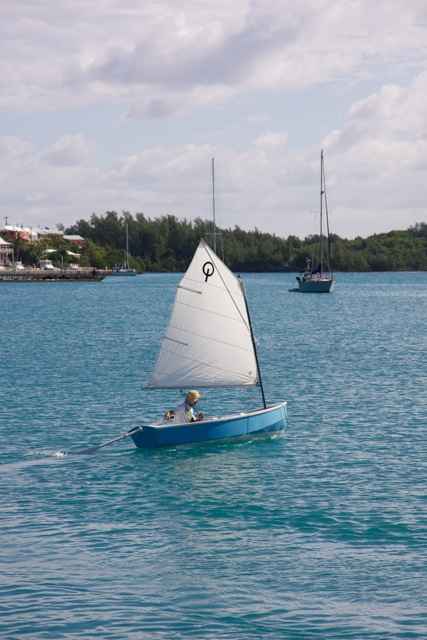 This is a new design of mine, Sweet Spot. It can be built nesting or non nesting, in any length between 3.7m and 4.7m. I just put this one overboard yesterday, and sailed it today.
Danny Greene
---
To Jim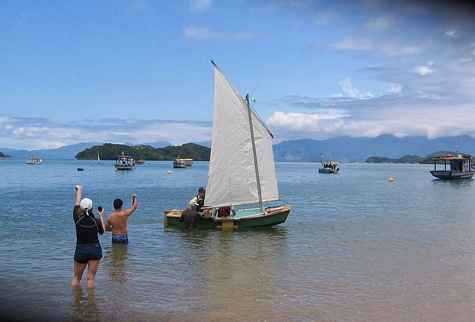 I want to thank you for designing this wonderful boat, the Piccup Pram. Apart of being a newbie to sailing the boat proved easy to handle, comfortable and easy to build. Splash was last Saturday and I recorded the event and the build on a blog. I hope you enjoy it.

umveleirosimples.blogspot.com.br

Andre
Sao Paulo - Brazil
---
Alf
A larger, dryer, build of ALF for folks wanting a fast and pretty boat for about $1000.00 less than a Sunfish! Check out the first set of pix.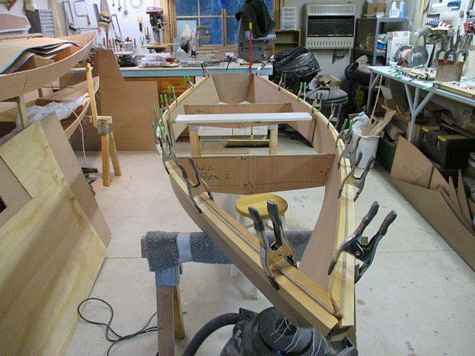 John "Chris" Balch
Balch Boats
www.balchboats.com