Chapelle Sailing Dinghy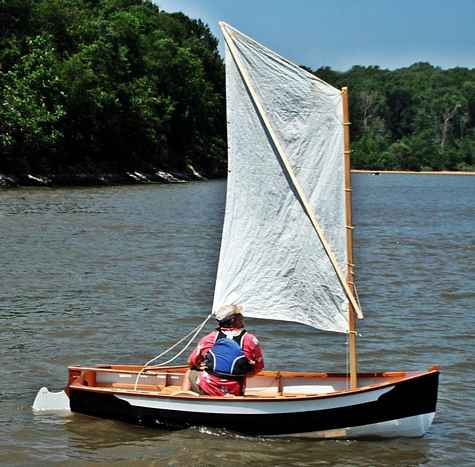 I just launched my own 10' SOF sailing dinghy. Here's the thread.
I'll be selling plans as soon as I get them written up.

Dave 
---
---
An Unofficial Launch
Now what I'd call an official launching. I've got everything complete enough to get her out sailing and have been out twice already. She handles beautifully with no bad manners, just as I'd hoped for. It's Very well balanced - neutral helm and stable - so far in light breeze. Almost got the rail down a couple times, but she never felt like she was going over. Still wants to keep moving in almost no breeze. I've got a couple small items to tweak like the snotters and lacing. I'm keeping the sails laced to the masts and wrapping them around for storage - so no folding. I'm gonna make some socks for them. Lots more testing to come!
Pic to prove it happened...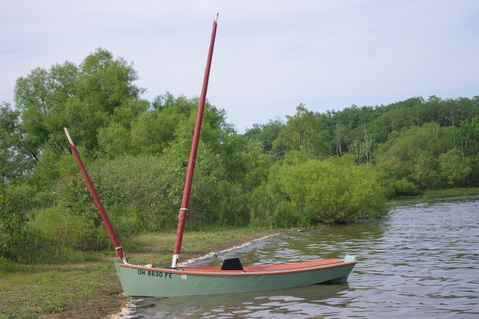 The boat is based on Reuel Parker's stick-up sharpie from his "The Sharpie Book". I reduced the plans from 16 to 13 foot, added a bit of freeboard and subsequently beam. It's 13'2" LOA - 51" beam - and 38" at the chines. Yes the sails are wrapped in the photo. Two sprit boom leg-o-mutten sails for 67 sq. ft. of sail. I don't have any sailing pics yet, but will add some when I do get some. I've got a blog here that should answer many questions and has lots of construction pics:
https://stickupsharpie.wordpress.com.
Tim
---
The New NorseBoat 21.5 Open Model
Displays Classic Lines and High Performance
May 24, 2013, Falmouth, Maine - The first NorseBoat 21.5 Open model won the hearts and minds of her new owners from Bermuda during recent sea trials. At the dock her lovely classic lines attracted a crowd; under sail the boat proved to be stable, well balanced and responsive, highlighting her efficient hull and rig. On hand for the sea trials were Kevin Jeffrey of NorseBoat, Richard Hallett of Hallett Canvas & Sails, and Sean Fawcett of Fawcett Designs. Their three companies, along with Lyman-Morse Boatbuilding of Thomaston, Maine, have recently formed a joint venture to market, build, and outfit the NorseBoat line. NorseBoats are built to exacting standards. The styling and sailing performance are superb. Trademarks of the NorseBoat 21.5 Open are the lapstrake hull, abundant cockpit seating and storage space, carbon pivoting mast, fully-battened mainsail with signature curved headboard, and furling genoa mounted on a bowsprit. The smooth hull below waterline and sleek lines give the 21.5 a competitive edge.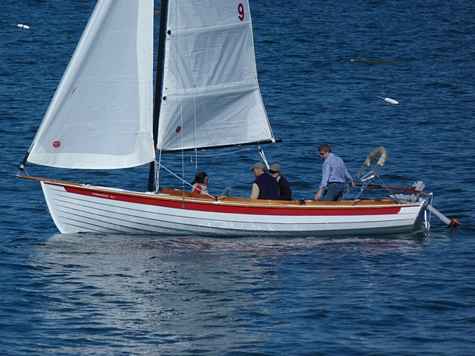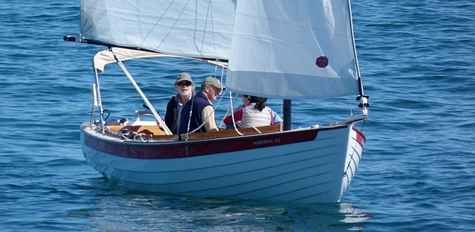 Another trademark of the NorseBoat 21.5 is its ease of use. It can be single-handed, is eminently trailerable, and can be rigged by one or two people in about 15 minutes. It goes in and out of the water effortlessly, and can be towed by a modest-size vehicle. The 21.5 Open model has the same innovative hull as the 21.5 Cabin model, plus a modern wood/epoxy composite interior and deck with varnished wood coaming, similar to the construction NorseBoat 17.5. The NorseBoat 21.5 is relatively lightweight, with a sailing displacement-to-length ratio of 150. A ballasted foil-shaped stub keel and modestsize pivoting centerboard and kick-up rudder provide good stability with shallow draft. The spacious cockpit seats eight and has five large storage lockers.
The retail price for the standard NorseBoat 21.5 Open is $39,995 sail-away. A wide range of options are available, including the following canvas from Hallett: bimini, dodger, mooring or storage cover, and camping tent that completely encloses the cockpit for cruising.
NorseBoat 21.5 Open Specs
LOA (on deck) 21'-10", 6.35m
LWL 19'-7", 5.97m
Beam 7'-1", 2.16m
Draft (board up) 1'-6", 0.46m
Draft (board down) 3'-10", 1.17m
Mainsail area 158sf, 13.94sm
Furling jib area 78sf, 5.57sm
Mast length 21'-2", 6.45m
Mast ht. from WL 24'-6", 7.47
Displacement 1900lbs, 862kg
Towing weight 2400lbs, 1088kg
Capacity 8 persons
Outboard 4hp gas or elec. outboard
Kevin Jeffrey, President
NorseBoat Sailing & Rowing Cruisers
"The Swiss Army Knife of Boats!"
www.norseboat.com
---
Launch of Rick Johnson's Mini-Canal Boat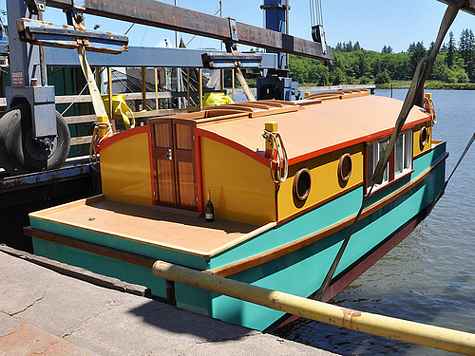 Here are some of the photos I took at the launching last week.
In case you missed 'em, here's other coverage of the big do in Toledo. Here's a news item on it.
John Kohnen
---
Launched the CDX Racer
I got her wet yesterday. All went well except the wind was mighty light. I rowed some and that works well. The boat moves easily in a calm and the old oars I had left from a previous pram are going to work fine. That pram left me somewhere off Whidbey Island on a nice blowy day while I was downstairs making some coffee. I came back on deck and she wasn't back there any more. She took her painter with her. I must have untied it from the rail. She was a tricky little boat, obviously wanted to try things on her own. Blowing as it was I couldn't see her and she was probably outrunning me downwind anyway. She was smaller than the PDR, so I thought the oars might be a little short, but they're fine Just as I was rowing in for the evening we got a nice little breeze, so I took her upwind a couple of tacks and reached on back to the ramp. Very nice. It needs some adjustments to the sail (hooked leech), and I'm going to give her a pair of jam cleats for the sheet, but other than that she's ready to go sailing I think.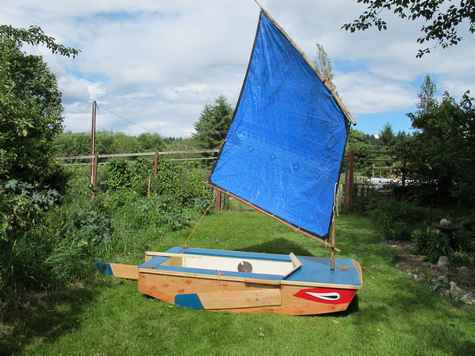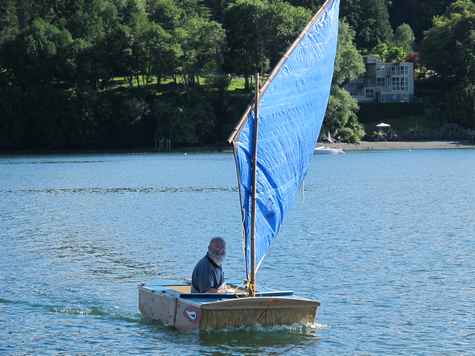 The block and tackle arrangement to pick her nose up into the back of the truck seems like a workable deal. I might rig another one to grab her by the tail and scoot her right in the bed. H'mm. Engineering coming up!
Ken P
---
Splash!
I've launched and here are a few pics.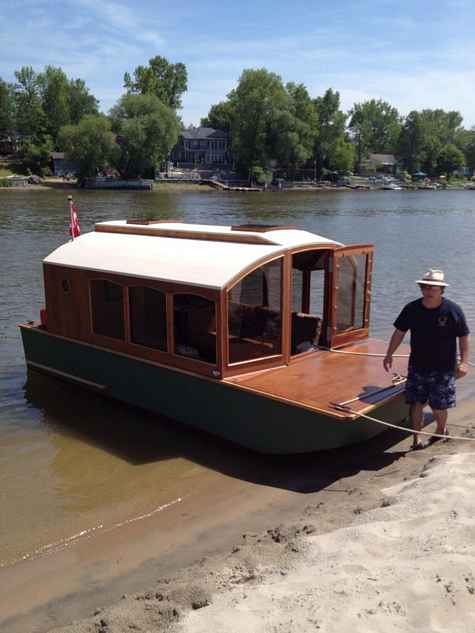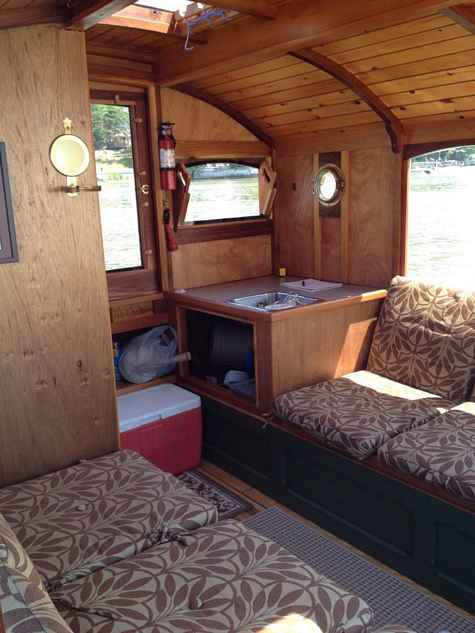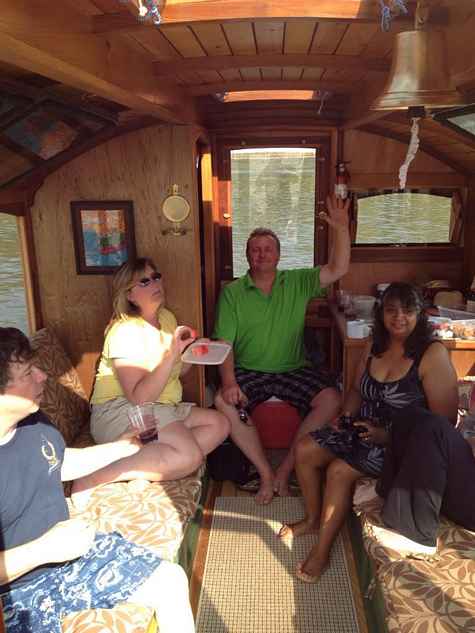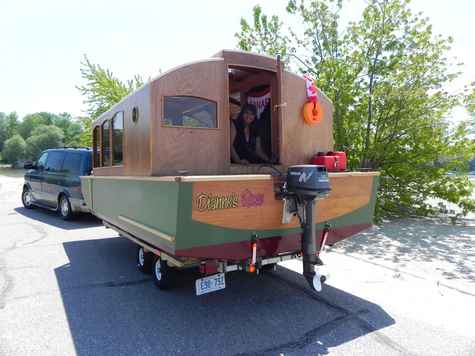 Roy
---
Three More Mice, Three More Mice
Over the past few months I started four boat builds, one is still lying in my basement shop waiting for long evenings of winter, but three were launched this past week 6/20.
First I decided to build another micromouse for my son to replace his squaremouse, (we gave it to his cousin) and then I got even more ambitious and cut out two more minimce for my wife and I. The Micromouse was drawn, cut out and tywrapped together in a few hours of one day. The twin Minimice were also drawn, cut and 3D in another day. The finishing time takes much more time. Each boat is made of Sureply, glued together with 2" tape from Duckworks, and your cheaper epoxy.
Last year durng our Adirondack canoe and mouse camping trip, I had two mice with paint that bubbled and peeled in the water non-stop. (From now on I will only be using Glidden porch paint. Behr and I don't work out so well and Glidden doesn't require primer.) I also ground all the old paint and primer off of Seagull (mouse #1 for me) and Lightning (#4 for me) with a paint eater.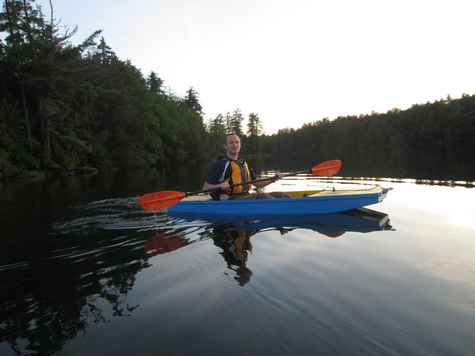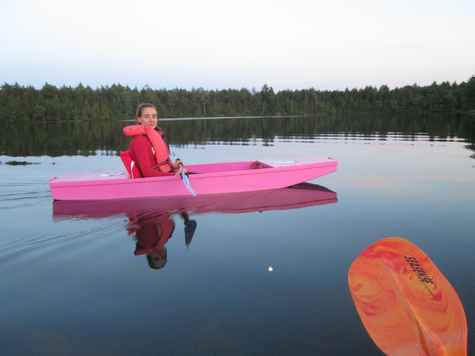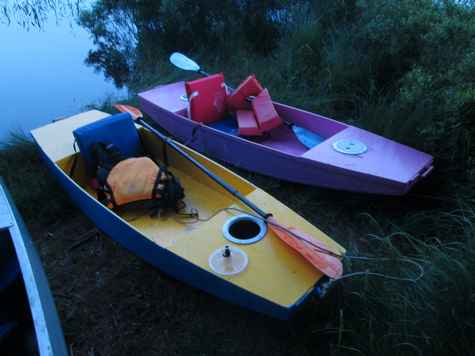 This year the two minimice and the micromouse were splashed into Follensby Pond in the Adirondacks. The Blue and Yellow boat is mine named Seahorse, the pink one is my wife's boat named Mermaid, and the bright red Micromouse is my son's boat Scuffy. The last day of our camping trip we got a "family portrait of 6 of the seven mice I've built. The blue and yellow paint job was all yellow, but then a thunder storm, three days after I painted the boats and left them out to dry in the sun, caused the paint to bubble and peel. I had to grind it all off and repaint the lower hull with Glidden porch paint two days before our camping trip.
Josh Withe