Freedom
Here's the finished version of Judy's little 13 ft Melonseed that I made a few changes on. It was built by a master builder according to the plans but you know what I think of sprit rigs so I changed things a little. I dumped mast and spars (or whatever they they call those stick things), made a new 14 ft light weight mast that I can pick up with one hand, boom and gaff from a cedar tree I planted. I cut out the dagger board trunk, made a three foot long slot in to bottom and installed a centerboard trunk and board. I made a new deeper rudder and Museum John made a custom tiller. I raised the oar locks using Bubinga wood, installed CUP HOLDERS, put a three dimensional wooden art block made by Helen from exotic woods on the hatch, put a pipe in for the mast so it wouldn't slip and break the deck out, made a knob for the drain plug from pecan wood, ran the main sheet up and forward on the boom and down to a swiveling main sheet cleat, put turning blocks under the deck for the two halyards and ran them back to the cockpit through cam cleats for easy adjustment, painted the deck with Sherman Williams marine coating.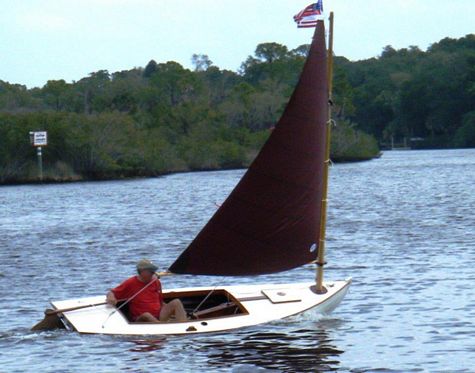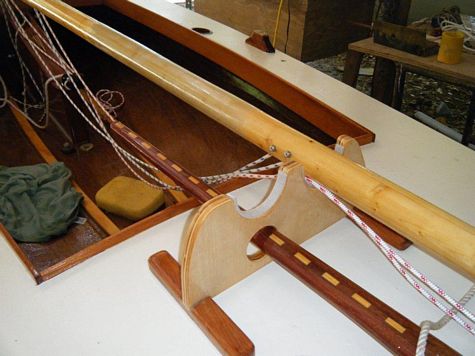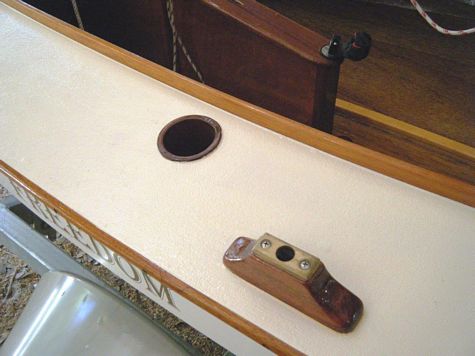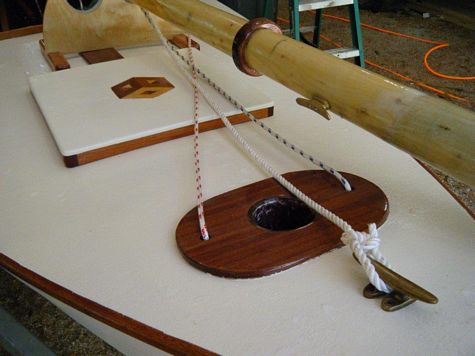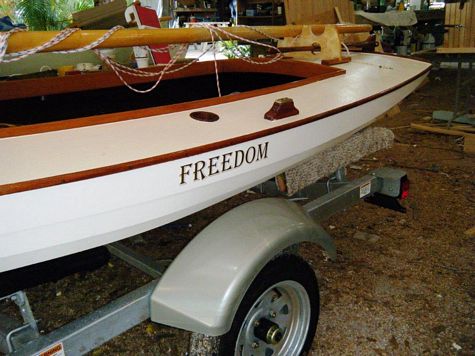 Notice how the sail has a perfect shape, not a single wrinkle; that's achieved by small adjustments of the peak halyard as wind conditions change. All of the control lines are within easy reach to the skipper. I put her name on the side and reconfigured the trailer for easy launch and retrieval. I did this little job for nothing to see how good I could make one of these little boats. Freedom is very light and accelerates like a greyhound with the slightest puff. I plan on making a couple of these boats for myself and sure hope I remember what I did with this one. And no, I won't make one for you. Jim took these pictures from my dock and got some good shots.
David Lucas
Lucas Boatworks and Happy Hour Club
---
---
Badger
"Badger" was officially launched on April 20, 2013. I want to thank you and your staff for your help getting her on the water. It's nice to have a place where I know I'll find all the odd-ball stuff amateur boatbuilders need. This is the rowing peapod from John Gardner's "Building Classic Small Craft." I had help from naval architect Paul Ricelli in converting the design over from lapstrake to cypress strip composite construction.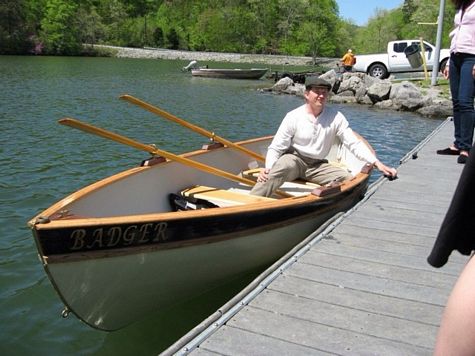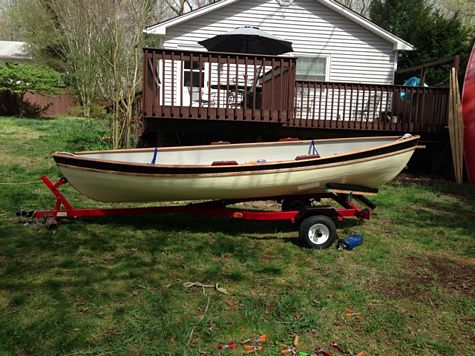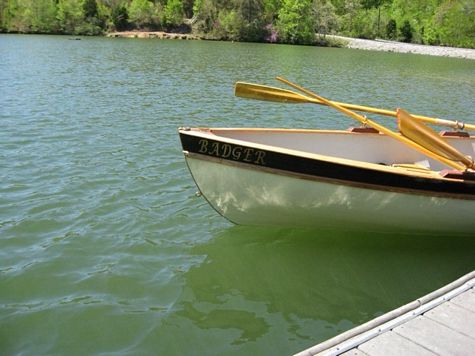 You can also browse other pics, including photos of the full build here.
Will Lavender
---
Sid Skiff
Students in the Traditional Small Craft Boatbuilding class at the Northwest School of Wooden Boatbuilding www.nwboatschool.org launched a new Sid Skiff Friday afternoon, April 26th, 2013.

Sid Skiffs are a Puget Sound design, first recorded in Sausalito CA by renowned boatbuilder Ray Speck.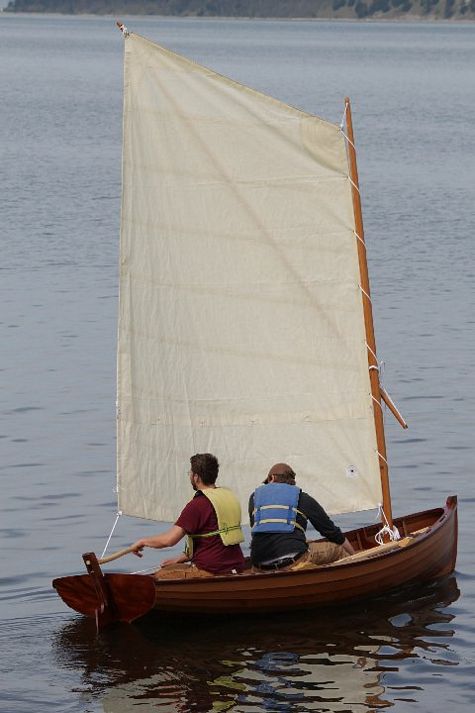 Above: Sid Skiff Launch - students Zach Simonson-Bond (at tiller) and Jeremy Nugent

This Sid Skiff was started by the 2012 class and finished by the 2013 class. It's planked in western red cedar over white oak frames on a mahogany backbone. It's 13' 7" long, equipped with a lug rig, and for sale to help us finance our scholarship programs at the School. The School routinely ships boats safely and effectively across North America and Europe. Please contact the Executive Director, Pete Leenhouts, for details at info@nwboatschool.org.

Pete Leenhouts
Executive Director, The Northwest School of Wooden Boatbuilding
42 N Water Street, Port Hadlock WA 98339
www.nwboatschool.org
See us on
- Facebook at www.facebook.com/NWBoatSchool
- Flickr at www.flickr.com/nwswb
- SmugMug at nw-boat-school.smugmug.com
2013 - our 32nd year teaching and preserving the skills and crafts associated with fine wooden boatbuilding and other traditional maritime arts with emphasis on the development of the individual as a craftsperson.
---
Water Rat Model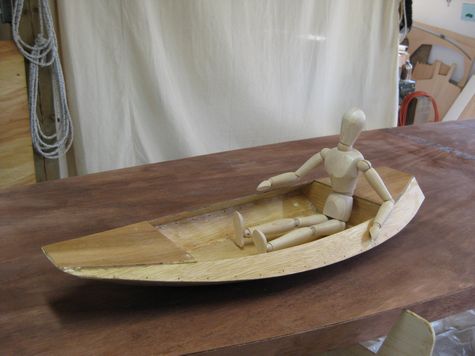 It's 1/4 scale with 1/8" ply. Little person is 16" tall.
Tony
---
Sharpie
Got some water under my boat for the first time today. All went well. She rowed decent. No leaks. I should be fully done, or at least ready to sail within the next month. Then I'll call that the real launch day. Got some pics in my album to prove it happened.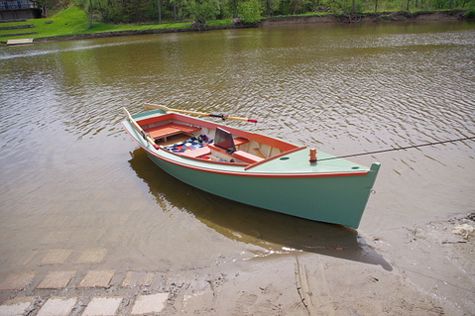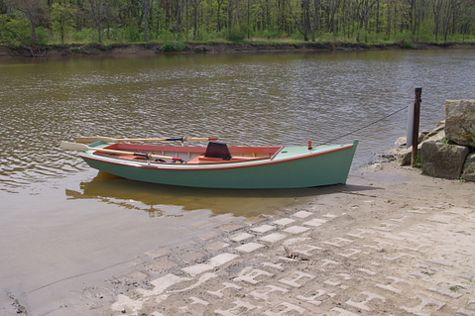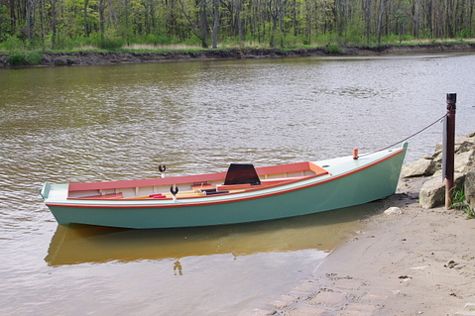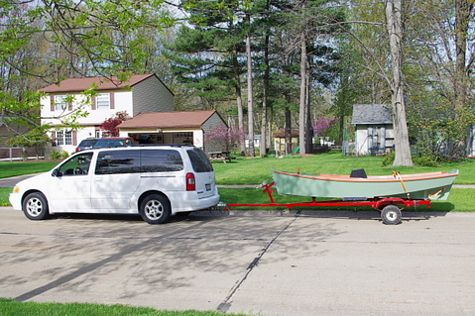 Time will tell how this rig is gonna work out. I had my sails made with two reefs in the main and one in the jib, so I've got some options there. I'm excited to test them all out! I've also thought of dropping the jib mast in the main step on really windy days to see how that works. There's not many of these rigs left, I don't think, to ask the owners what they think of the thing. That'll be my new job, I guess. I will surely report back once she's up and sailing.
More pictures.
Tim
---
Winterhawk
My wife Liz likes to row and she wanted a new rowing boat that was bigger than her previous "Little Gem" design by Ken Swan.
I had a set of plans on file for Ken Swan's Winterhawk sailboat that seemed to fit the bill. I built that hull minus the sail boat bits (center board, rudder etc.).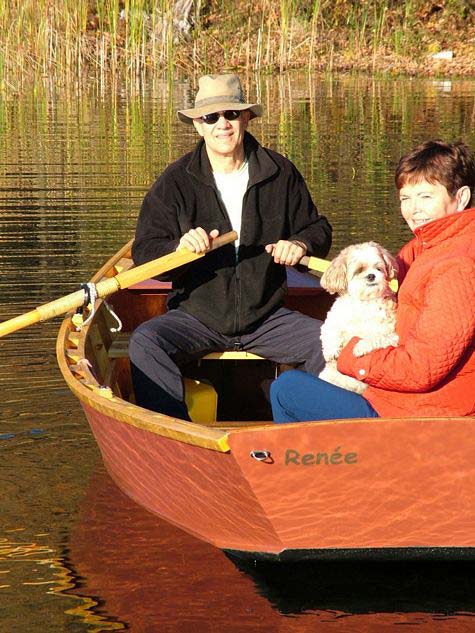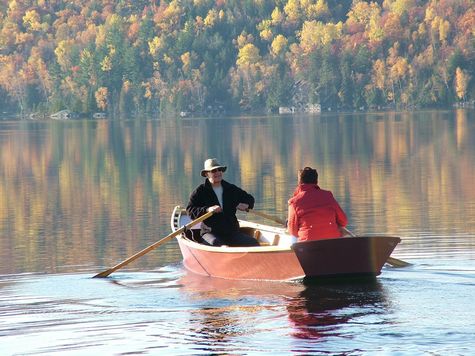 Like my previous boat "Nini" named after my cousin in Nice, France to celebrate her 100th birthday. This boat was named after Nini's younger sister Renée who celebrated her 100th birthday in November 2013. Renée was a resident of Bar Harbor, Maine but emigrated back to France to escape the winter and to aid in her elder sisters care when she was 95 years old.
What I note with a bit of a wry smile is that I am the person rowing Liz's boat in the attached images.
Herb McLeod
---
Mayfly 12
Finally, I have splashed my Jim Michalak Mayfly 12 with a modified V bottom. I named her "Lucky 13" - it's my 13th build so it seemed appropriate. Lucky 13 flies a 60 sq ft LOM from PolySail International. All my hardware, glass, and epoxy came from Duckworks and I was able to get Sandra to recommend the colors and she approved my paint scheme.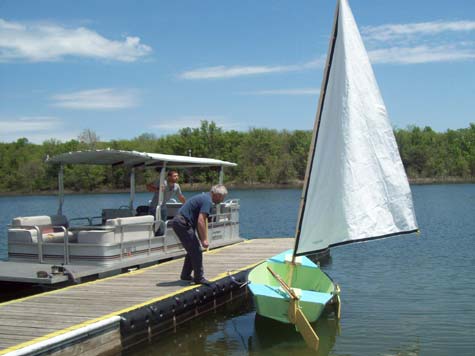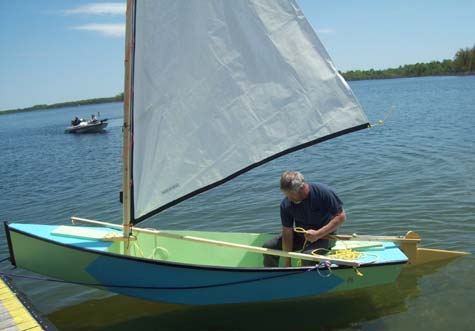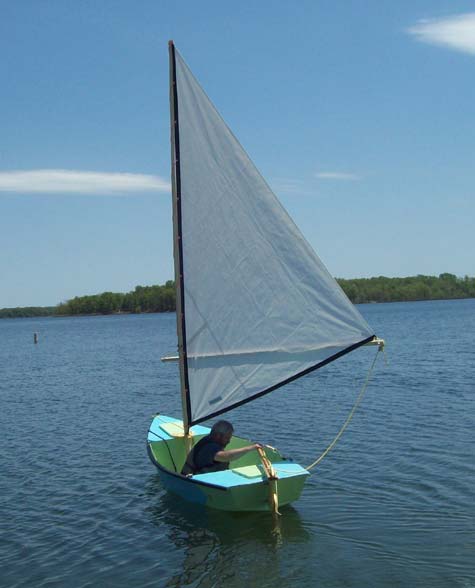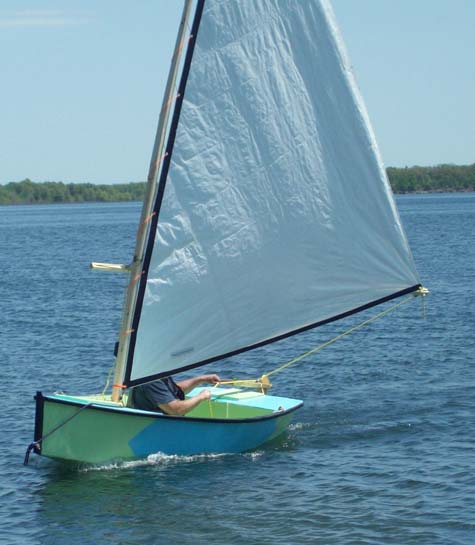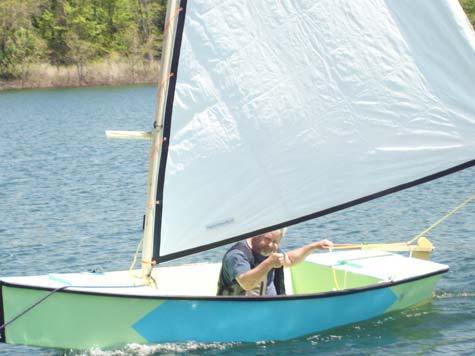 I conferred with Jim on the V bottom and he thought it would be a worthwhile modification. I only got to sail for a couple hours but she handles nice and will tack in her own length. She is fast to boot. I plan on having her at the Rend Lake Messabout in June. Thanks to Dave Gray for a super nice sail, Chuck and Sandra for the supplies and color suggestions, and to Jim for a great design and advice on the V bottom.
Gene
---
AF3 KaaNoo
The AF3 KaaNoo was christened with rum and with the Jolly Roger flying. She was launched & taken for her first sail on Belle Fourche Reservoir in South Dakota.
Martin
---
Jeff
I was finally able to launch Jeff, my own design, last Saturday, May 18th. She was not quite finished but I wanted to get her wet once or twice before the Eastern Messabout.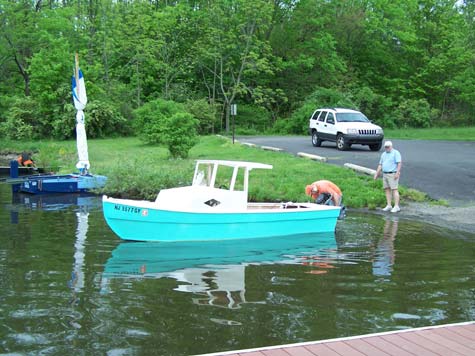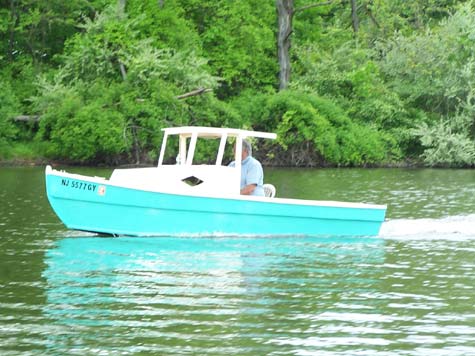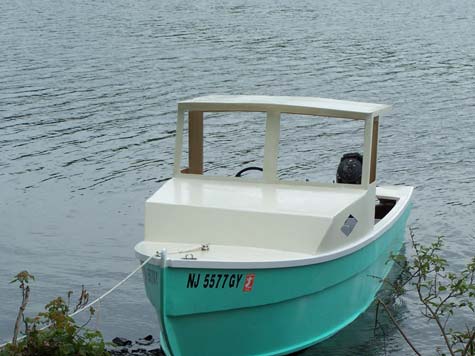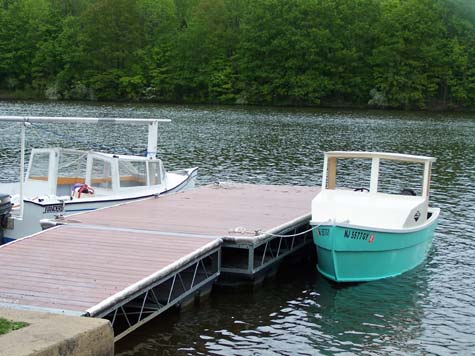 That is Bob Throne's Wanderer next to Jeff.
Steve Bosquette