Sweet Pea, Pangolin III
My friend Mike Harris built this lovely Sweet Pea design in Aluminium.  He tells me, although he's only sailed it the once since its launching a couple of days ago, it feels lively and handles well. 
Nice job, well done that man. 
John Welsford
*****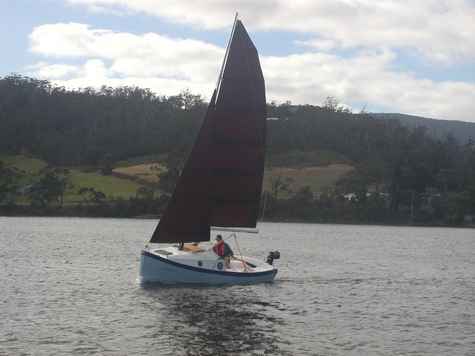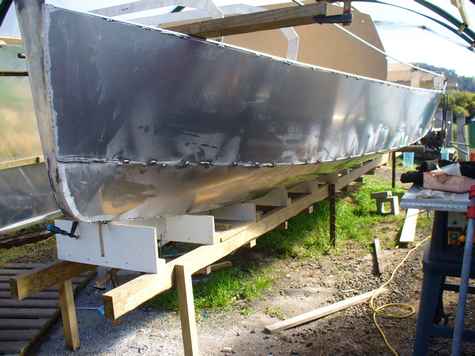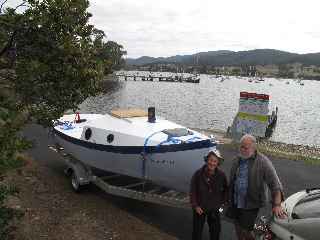 Hi John,
Sorry to have missed you at the Wooden Boat Festival, however here is a picture of the more or less finished aluminum Sweet Pea. I've still an electrical system to install and there are a few bits that I am not happy with that I may need to remake. On the whole though it seems to sail quite well.
I'm now much better at aluminium welding and would do a much better job second time around but I may have discovered why there are not more boats of this size built using this construction method. Heat distortion takes a lot of understanding and cold rolled stringers are a better way of adding stiffness if one has the gear. Building a bigger boat using thicker plate would seem to be an easier way to go.
Mike
---
---
Punt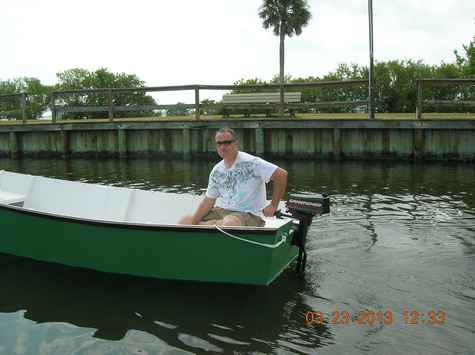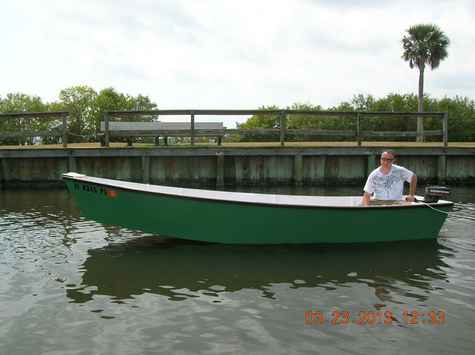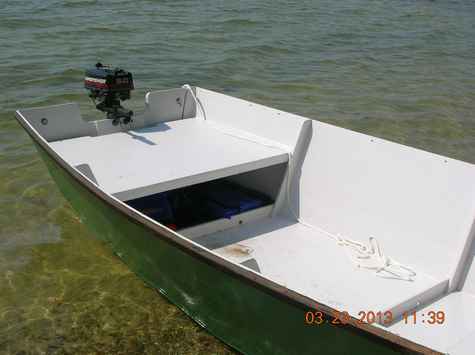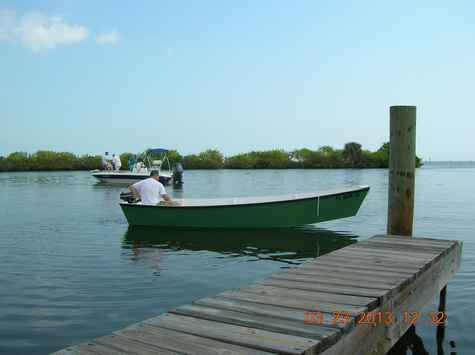 The punt hit the water this past Saturday, 23 March. My son is very pleased with her. He said she draws attention even in the parking lots.
I'm really pleased with the small amount of wake. A discussion on the dwforum dealt with this. Thanks again for the Duckworks site/magazine.
I got these from my son. My son, daughter in law and granddaughter out for a 1st ride. He said the pics were taken underway wide open, a little windy and choppy but it did very well...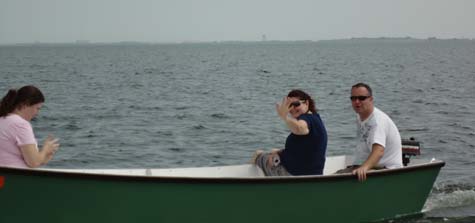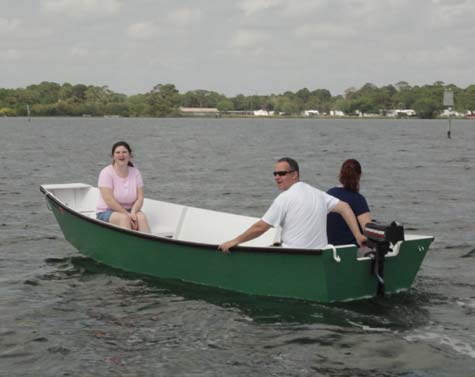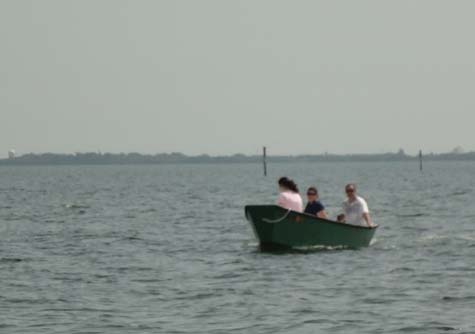 Cecil Tiller
---
Lone Star Canoe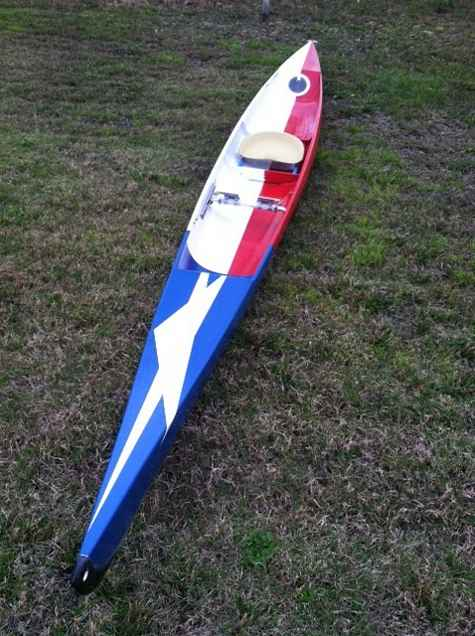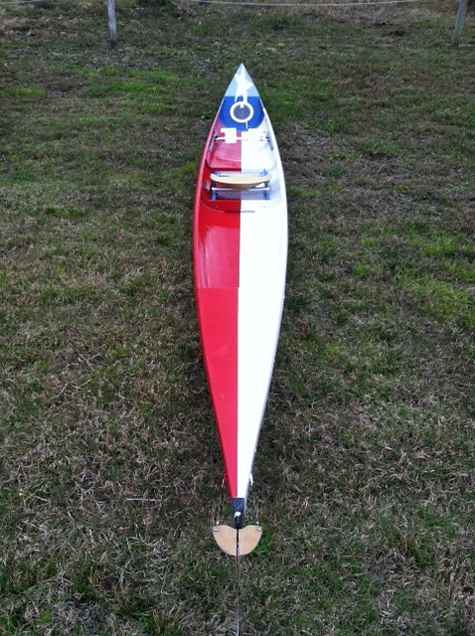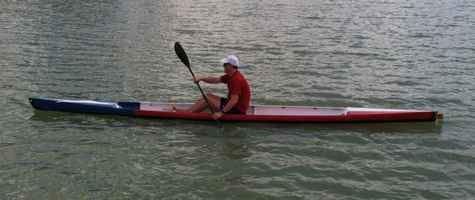 I'd like to introduce the Lone Star Canoe. I have more rigging to do, but here are pictures of the boat with paint. It has been a long process due to schedule and family, but I think it's been worth it. I love the way it turned out and I'm sure I'll be easy to spot on the Texas waters.
Jeff Jouett
---
Fisherman's Mouse
I am reporting Splash Day for a Fisherman's Mouse (a 3' wide version of the Mouseboat). Mouseboat-builder Evin and his son Elliot joined me for a 3-mile paddle on the Leon River below Belton Lake dam, central Texas, on March 23, 2013.
Stitch and glue using zip ties, PL 375 and TB2 glue inside, PL Premium and drywall tape along the seams outside. Two coats of latex porch paint.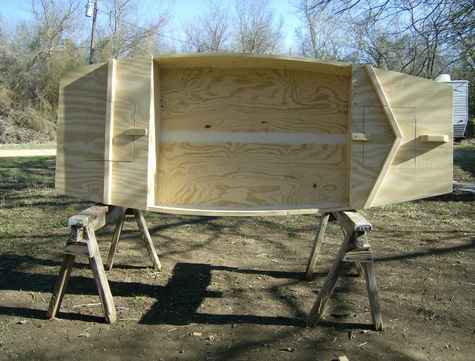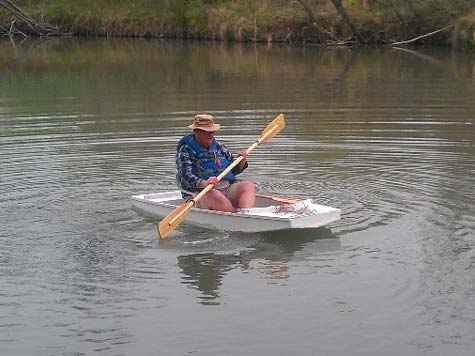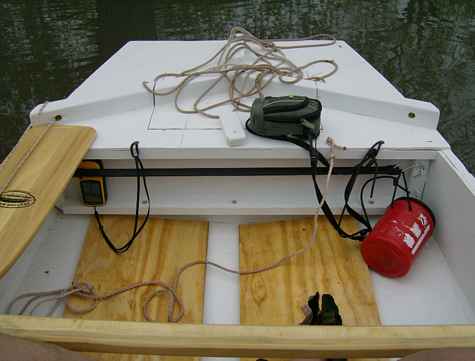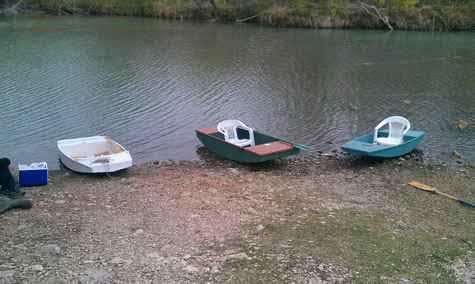 I wanted a boat that fits entirely inside the van, and at 7'-10 this boat does (just). It seems to paddle along nicely at 2 MPH, the top speed I managed was 3.3 MPH. Overall moving average of 1.5 MPH allowing for some time gliding along with no paddling.
Special thanks to Gavin Atkin for the design, Evin for suggesting I build this, and Elliot for spending a day hanging around with a boring old dude and his shiny new boat.
The assembled squadron from left to right: My Fisherman's Mouse, Evin's Ramona, Elliot's Mouseboat.
Dave Sanborn
McLennan County, Texas
---
Karankawa
Will Myers sent me a couple of pictures of his refinished Karankawa fishing kayak. Originally designed and built late 2007-2008 Will knew exactly what he wanted and I was just tasked with implementing his ideas.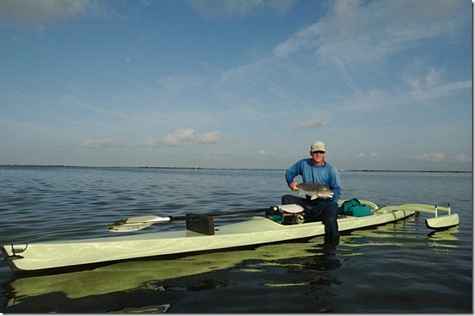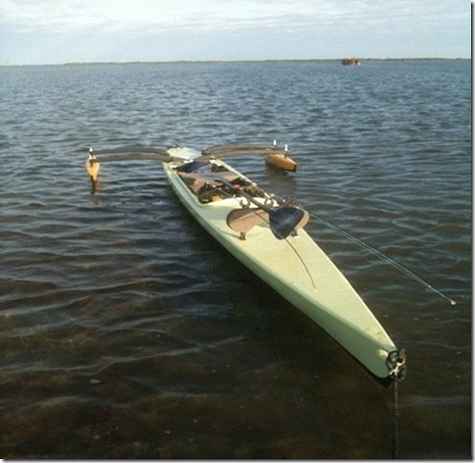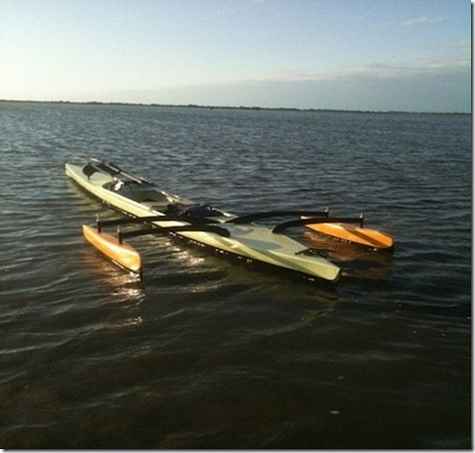 Original (2008)
Basic brief was for a fishing kayak with folding outriggers that could be easily carried on a "mothership" and then deployed primarily in the flats North of Port Aransas. Boat to weigh no more than 35 pounds and still be rugged. Since the boat has lasted more than four times as long as previous craft used, the extra pound was overlooked.
The new paint scheme with more visible amas was in response to the emergence of 110 mph "fishing" boats in Karankawa's home waters.
I don't believe anyone else has come close to Will in getting all the goodie out of a boat I was involved in.
Here is the originally posted article.
Skip
---
Normsboat
Easter weekend we launched our new Michalak Normsboat "Fiddlestix". We launched at St Joe St park in Port St Joe, FL. The boat sailed great and carried a crew of five with plenty of room to spare. Thanks to our friends the Hufts for all their help, they will be soon launching their own Normsboat, hopefully in time for us to sail the sisterships together in the 2013 FL 120. Here's a short slideshow of the launch.
Scott Gosnell
---
Skoota
This was built by Josh Turner of Wheelhouse Woodworks in Sequim, WA. He did a fantastic job. All the screws, epoxy and glass came from Duckworks. Josh said to me that he was very pleased with the Skoota so far. Comfortable, fast and economic. Even at 16 knots he used less than 3 gal an hour. As you can see from the interior photos he still had a lot of cosmetic work to do inside. Also, he needed to make the cockpit seat backs. It should all be done by the WBF in Port Townsend. He may even take my Strike 15 there.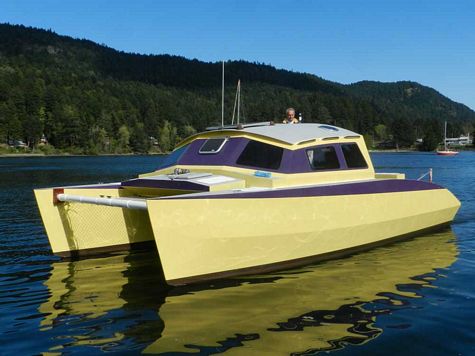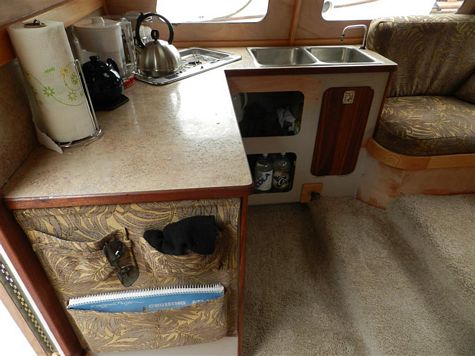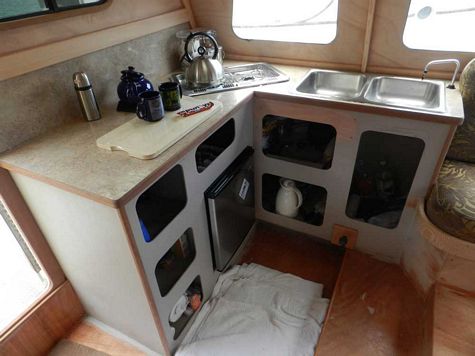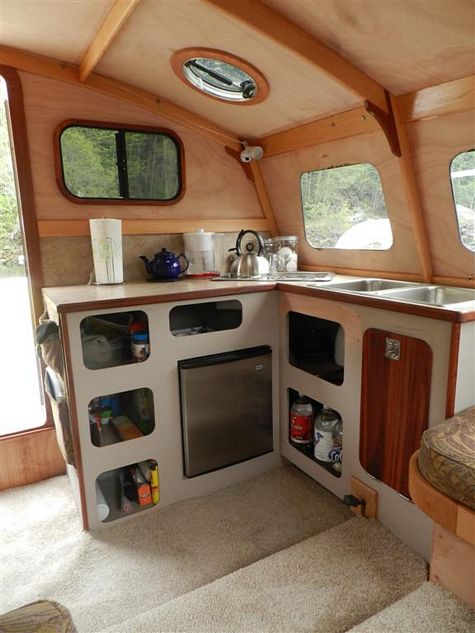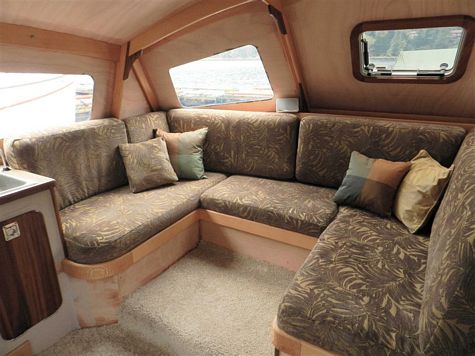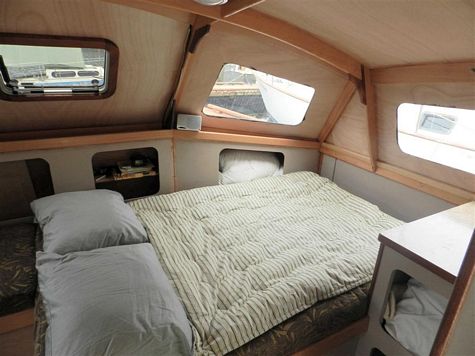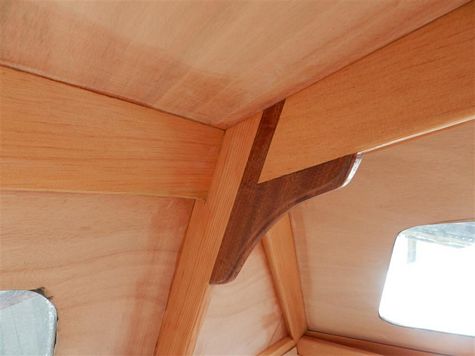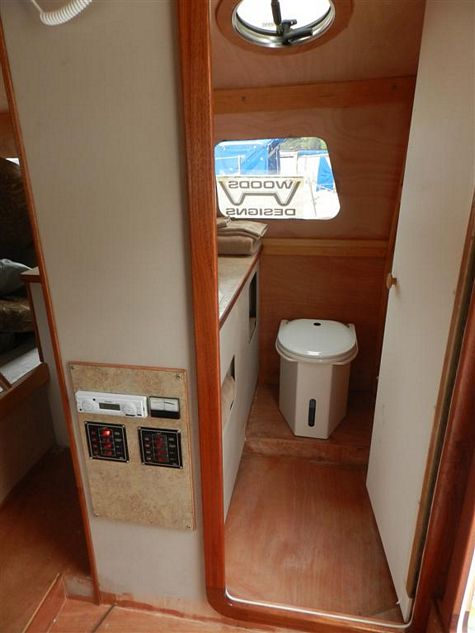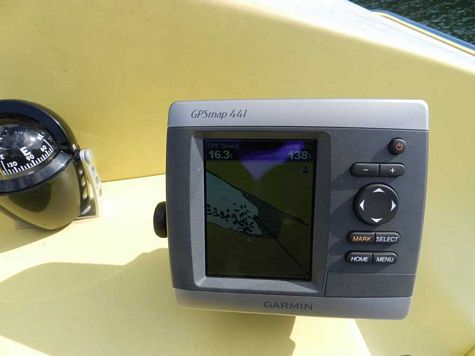 Here is a video of a Skoota 24 also recently launched. This was filmed on launch day in the Philippines by Teddy. Boat speed 15 knots with 8 men on board, powered by a 50hp outboard.
Richard Woods of Woods Designs
sailing catamaran designers
---
Vireo
Last June I won several events and drawings at the 2012 Eastern Messabout at Elk Neck MD. Among the prizes were a set of plans for a Michalak Vireo 12 and a gift certificate from Duckworks. Wanting a new boat for the 2013 Messabout (I debuted "Tardis" in 2011 and "Chiquita" and "Mysz" in 2012), I built the Vireo this Winter/Spring. The boat was tested on the water a few weeks ago but was unpainted and undecked. It had only temporary oar locks and too-short (6') oars. Nevertheless, it performed well and I continued with the completion and fitting-out.
This afternoon wife Margaret and I took the completed boat to Round Valley Reservoir in NJ for its official First Splash. It's a good thing we also brought "Chiquita" because the first thing I had to do was paddle out to retrieve the Vireo which I thought was safely beached but had blown out into the reservoir. Once back on shore we got the Vireo ready with 7'+ oars and Davis oar locks. This is NOT a rowboat; it's a ROWING boat. What a joy to effortlessly glide along the surface of the water with nary a ripple in the wake. Even Margaret, who's a paddler - not a rower, was able to make the boat look good. Since she is MUCH less massive than I, the chines were high above the water with her aboard. Even laden with my considerable bulk the boat floated at its design waterline.
I'm attaching a bunch of pictures of the Vireo and the two of us on the water. I'm the big guy in the green vest and tan cap. Margaret has the purple vest and orange cap. We're ready for Eastern Messabout 2013!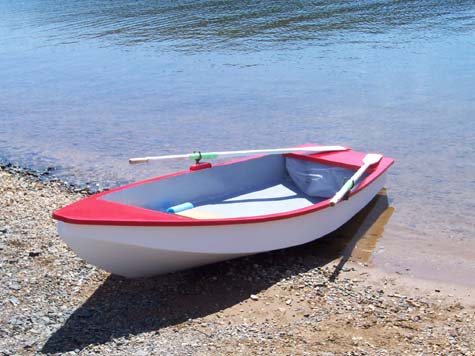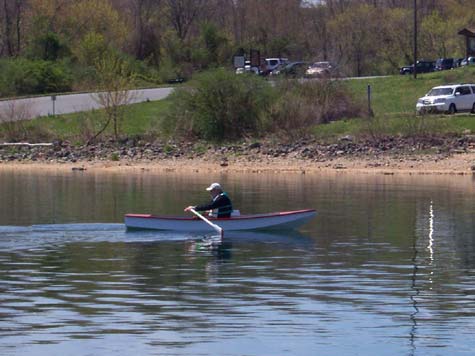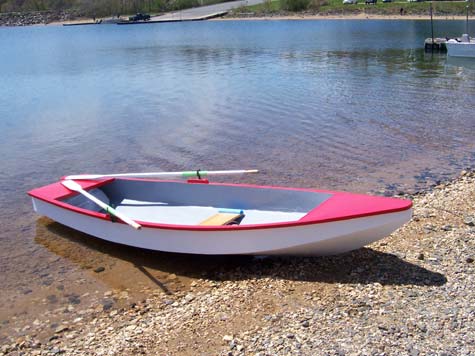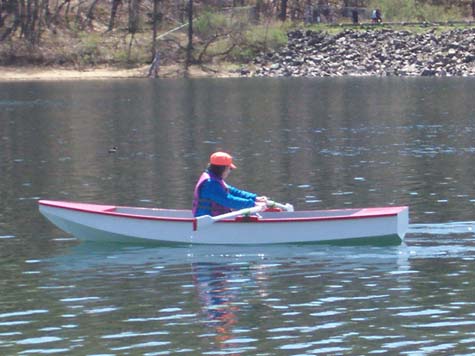 Paul Truszkowski
Long Valley, NJ
---
Handliner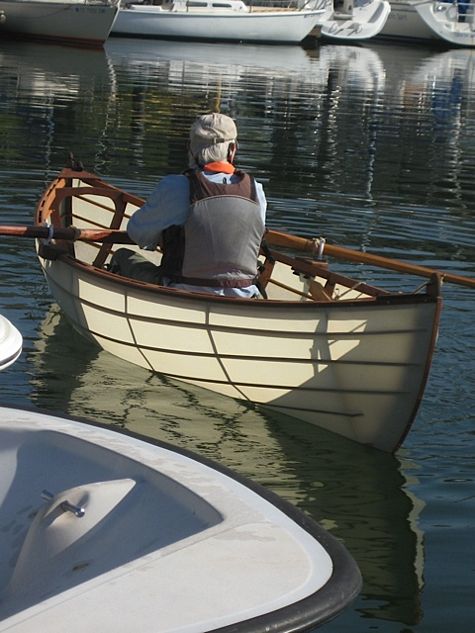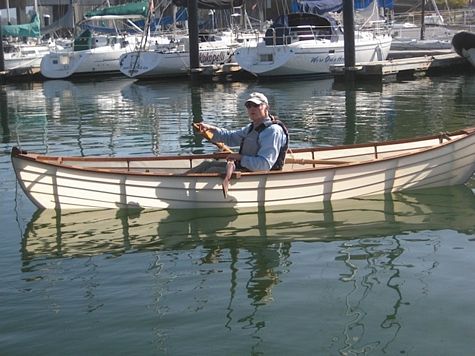 I/we got it launched today, Monday, 22 April. It's a SOF version of the Evans Handliner of British Columbia. The bare hull weight is 49# not including oar socket brackets and 1/4" ply floorboard. It's 14'6" LOA with a 47" oar lock spread. It's got a bit more freeboard than I'm used to, but it'll be just right for hauling those large salmon catches.
Steve Chambers