'Dug'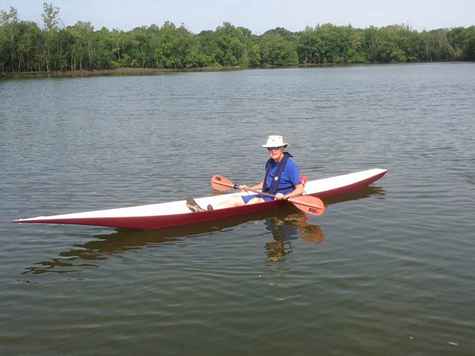 I built a modified 'Dug' one sheet canoe this past spring, using your epoxy left over from my AF4 'Patience'. Building from Hannu Vartiala 's design (Hannu's Boatyard), I sliced and glued a single sheet of 1/2" birch ply; no permanent nails or screws, just temporary drywall screws and Marine epoxy! I shortened the pointy stern of the original with a small transom, leaving a 15'4" LOA. Directional stability on sea trial was poor, so I used scraps from the stern cuttings to fabricate a skeg and cutwater, which did the trick. She's sleek, quick and good-looking, hence her name, 'Otter'. Can't wait to try her out with the Shearwater double-paddle!
Tom Hudson
Nashville
---
---
Scow Replica Launched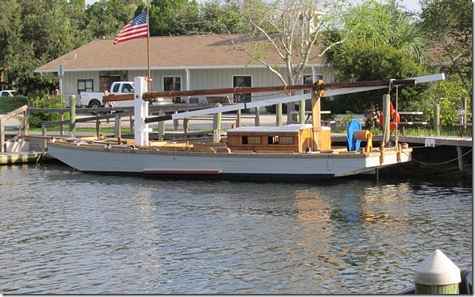 The Crystal River Boat Builders launched their 36x12ft scow SPIRIT on 4 October here in Crystal River FL. She is a replica of a scow from the Florida west coast, captured (renamed the the USS WARTAPPO) and used by the Blockade Squadron during the Civil War. Two years in construction, it was built entirely by hand, using no power tools. She carries a jib, 500 sq ft gaff main and two huge leeboards. During the Civil War - to raid salt works along the coast - she mounted a 12lb field howitzer and landed a squad of 30 marines!
More pictures here.
The Crystal River Boat Builders
---
Completed MF 14
Thought you would like to see my Mayfly14, just completed it this weekend, have not gotten to sail it yet ,but doing everything I can to get it out before it's to late. Fall, winter comes here fast in the north country.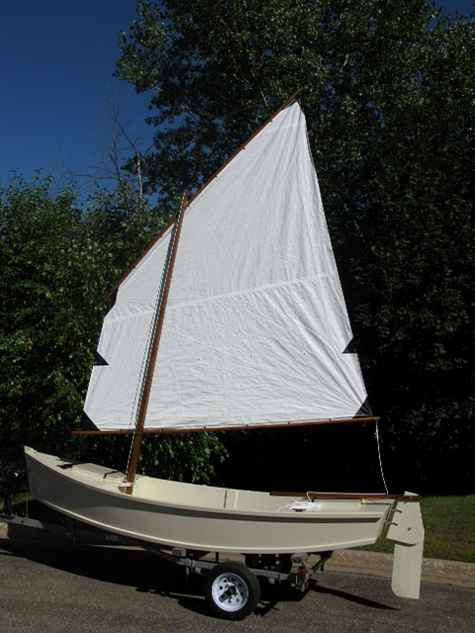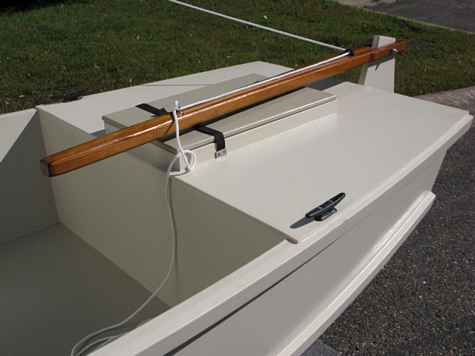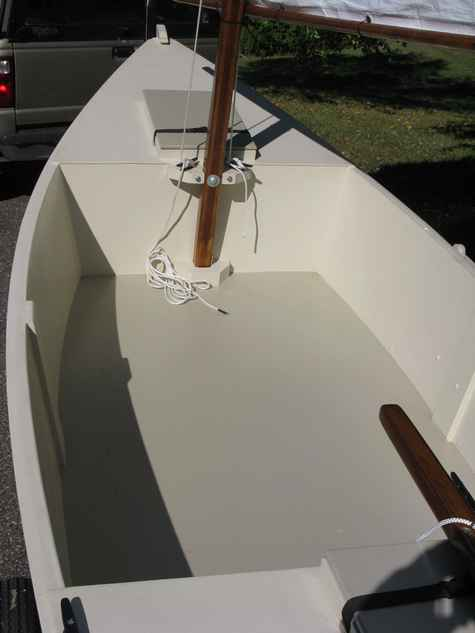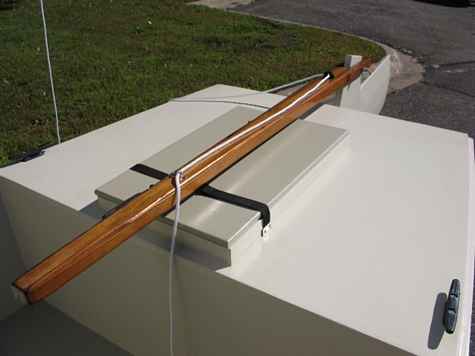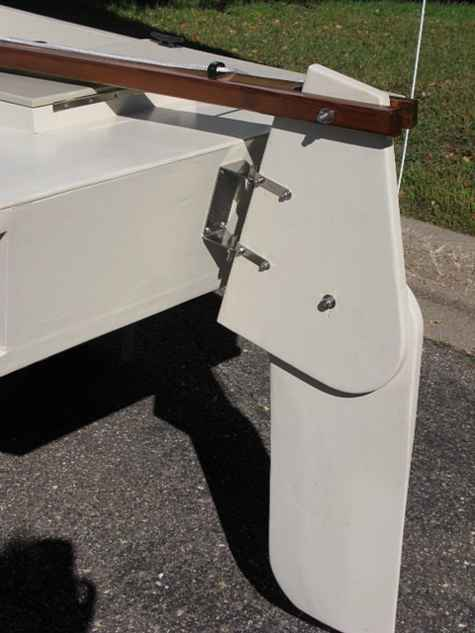 Thank you for creating such a unique design, I followed Ross Lillistones' build of his and have tried to work up to those standards. I think it's pretty good for my first build. I used a PolySail ,which also fits a GB Dory that I restored, have used it on the Dory and it works great!. All other parts came from Duckworks.
Jerry Fehn
Chanhassen Mn.
---
SC435
SPLASH SC435 in the North. It is not every day that I get a letter from a boat launch at latitude 64° 9', longitude 64° 9' (Reykjavik, Island). The owner/builder launched his SC435 some days ago. To work with Epoxy in such a high latitude is not easy and needs a lot of determination to. But he dit it and is very pleased with the result. Here some pictures from his build and the boat sailing.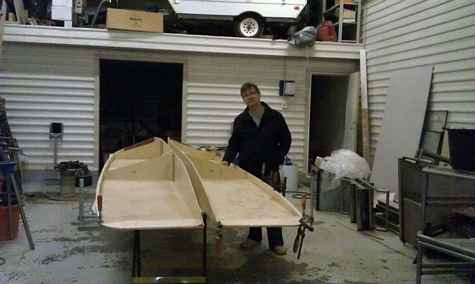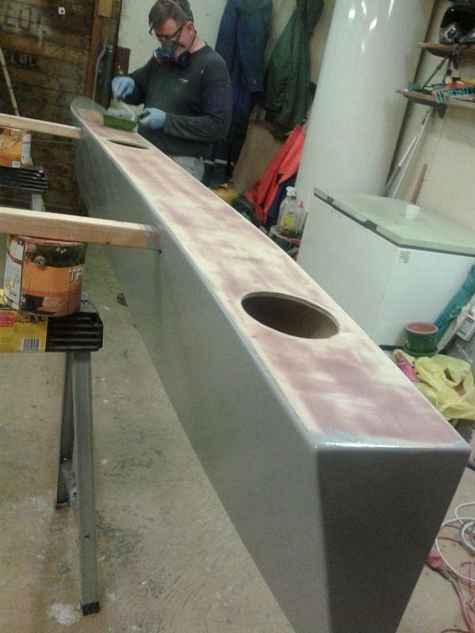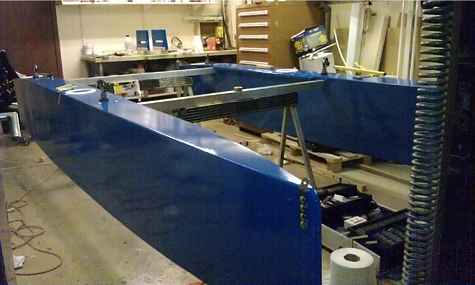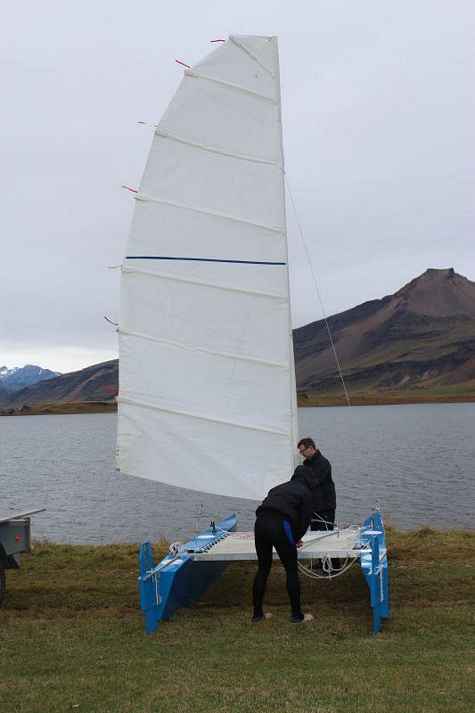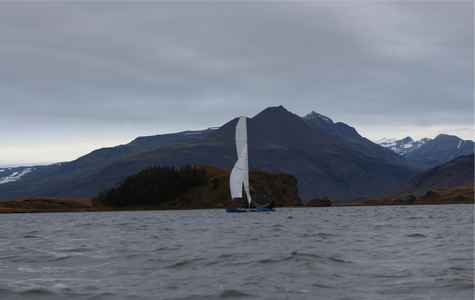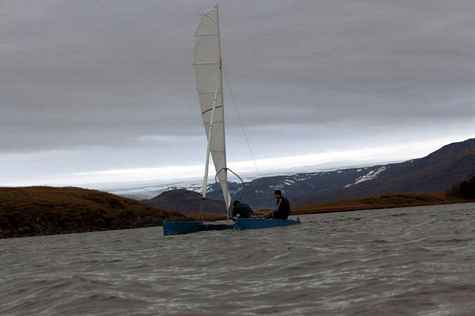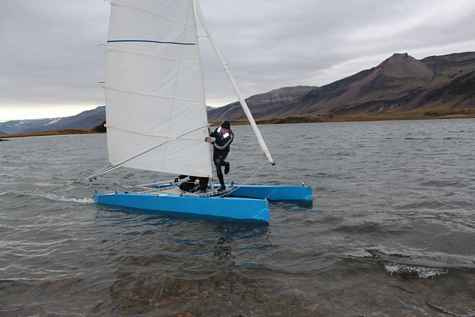 The bow entrance is almost symmetrical. Sailing is done in a very scenic setting.
Bernd Kohler
---
Argie 10
We launched our Argie 10 on Lost Lake on the north flank of Mt Hood. It is 240 acres and no motors. It has brown trout, rainbow trout and kokanee salmon in it. Most of the time were the only ones on the lake.
Buddy (the cat) had never been in a boat and my mother wanted to leave him in the truck as we had checked out of the cabin. Before launching I went up to the truck and he tried to follow. He jumped out of the boat and landed in about 3 inches of water when the leash restrained him. But he did fine once out on the lake. Thought he might try one more time but he did not. He is only about 1.5 years old and super smart. He figured out how to open doors by putting each paw on the side of the doorknob and turning. I brought him back from southern Oregon on the last night of a 10 day trip where I was towing a 26 ft Nimble motor sailer back from N Carolina after purchasing the truck and boat. He was found crying in a dumpster by the motel staff. It was only 26* F that night. They could not keep him so I drove him back to Portland as I could not stand the thought of him going to a shelter.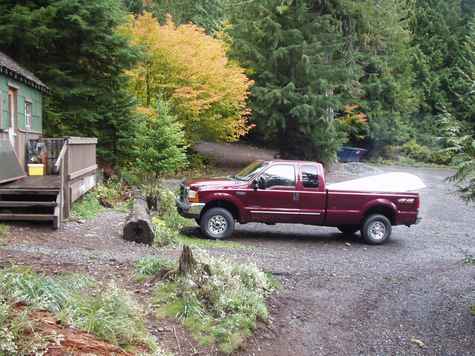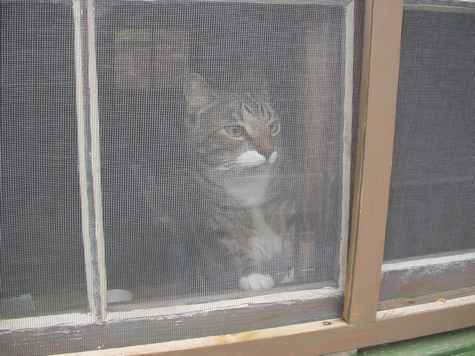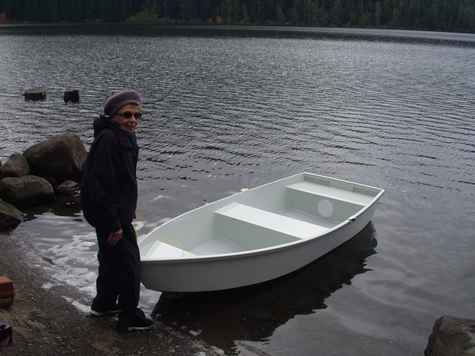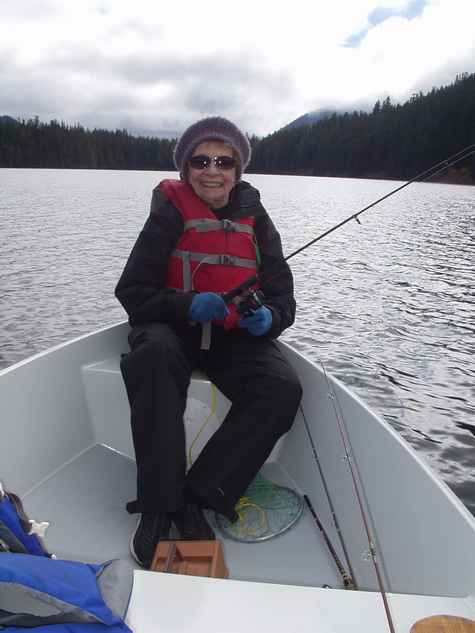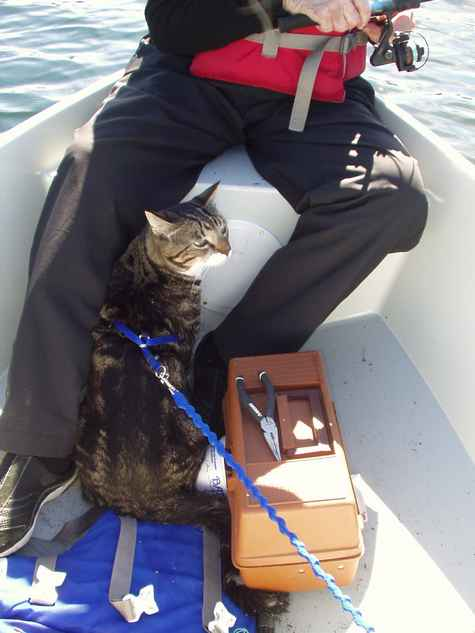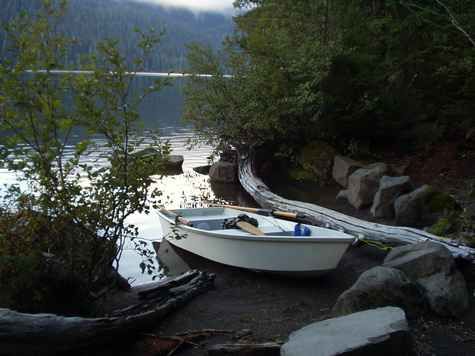 It was very time consuming fairing out all the fiberglass fillets. They are everywhere. The 4 oz glass is on the bottom and inside of the boat up to slightly above the waterline. Even the inside of the floatation chambers got glassed. Crazy! I learned my lesson. Next time I will finish the boat bright on the gunwales and inside as it hides a multitude of sins and as another boat builder in Oregon said it will not show every little bit of seaweed that gets on the bottom (inside). Live and learn. This is an experiment with Benjamin Moore polyurethane deck paint (oil base). The darker gray is an acrylic with texture on it to keep us from sliding around. There are no screws anywhere in the boat except the 8 #10s that hold the oarlocks on. All wood flour, silica, epoxy and some 6 oz and 4 oz glass. I cut all the fillet material on the bias myself as I hate dealing with the selvage edge on the various tapes. It was a great learning experience. My first finished boat. I do have a Junebug about 95% done (Phil Bolger) and a Robb White Sport Boat that I have the strongback and frames all set up. I have not started stripping it yet but Ido have all the 3/4 inch yellow cedar cove and bead ready to go.
I modified the Argie 10 so it has less dead rise in the aft portion and added the breast hook just to have something at the bow to grab. I did not build the sailing portions.  I should probably have built it the way he designed it as it took more time to reconfigure all the parts due to reducing the dead rise.  Will get it out on the water with a 5 hp Lehr propane motor that I bought. I am interested to see how (or if) it planes with two people in it.
Jim Wolfe
---
Canoe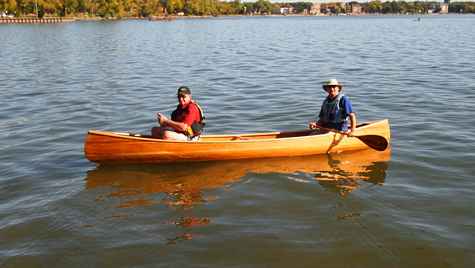 Richard
---
Micro Auray Punt
Here is a youtube video of the launch of the Micro Auray Punt I built this summer. The design comes from Hannu's Boatyard on the web. It is a single sheet design and when I was done cutting there was VERY little left. The boat is a little small for my 6 ft frame but it's not bad. As you can see from the video the boat just fits into the back of my small Volvo wagon. Since there are 2 places that I can reach without using the freeway it makes transportation easy.
I made a few changes to the design
bow is cut from a piece of 1/4 ply
all the lumber is 1/2 inch clear pine
transom is 2 pieces of 4mm ply glued (1 piece from original sheet and 1 piece from what I had)
I split the single gunwale into inside and outside gunwales of 1/2 x 3/4
I put a full width frame at the seat position made from 4mm ply I had
on the outside I added a 1/2 x 1 1/4 inch keel strip and a small skeg (2 pieces of 1/8 Birch glued, guessed at the size)
I also made the oars using free plans I found on bateau.com.  The design called for 28 inch long blades, mine are only 23 (28 seemed too long for a 7ft boat). Overall they are 66" long which means they just fit in the back of the Volvo. The blades are made from 3/4 clear pine, tapered to 3/8 inch at the edges and the shafts are from 1 1/2 x 1 1/2 pine. I went through the stack at the hardware store looking for dry, straight pieces. I got lucky and the two I found are nearly knot free. I made the shafts into octagons using a router and I shaped the blades with a belt sander and hand sanding. The wood is pretty soft so I'll see how long they last.

Boat weight - 25 lbs (difference between my weight and my weight plus the boat on the bathroom scale) oars weight - 2.5-3 lbs

Project cost:

1 sheet Hydrotek plywood - $45
12" x 12" 1/8 Birch ply - $10
1/2 inch clear pine - $100
Bulls Eye 1-2-3 primer - $0 (2 coats inside and out)
1 qt Benjamin Moore Aura semi-gloss -$26 (2 coats inside and out)
1 pt Minwax Helmsman Spar Urethane - $12 (3 coats except seat, it got 4)
little over a quart of West system Epoxy - $0 (down to last drops when I finished)
2" fiberglass tape, Duckworks - $0 (taped seams inside and out, not sheathed)
Plastic oar locks and socks from Duckworks - $6 + shipping
Pine for oars - $20 (shafts $5, blades $15)

Ralph