Otter
I recently launched "Otter", a self designed cuddy cabin boat with a lot of "inspiration" from Jim Michalak's "Sow's Ear" design. It's 17.5 foot long, has a 6 foot beam and is a flat bottom boat. It has a 6 foot cabin, 8 foot cockpit, rear motor well and front anchor well that is also a front access for boarding while beached. Here are a few pictures and a link to a video I put together of my first overnight trip on Sugarloaf Lake in Southwestern Michigan. She sports a fiberglass and epoxy skin supplied by Duckworks.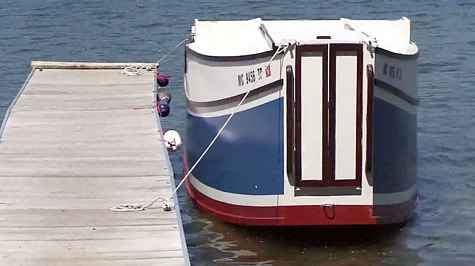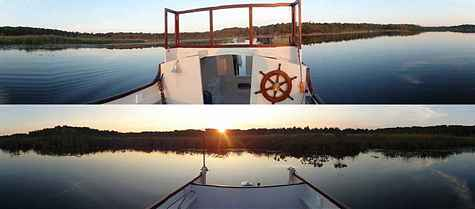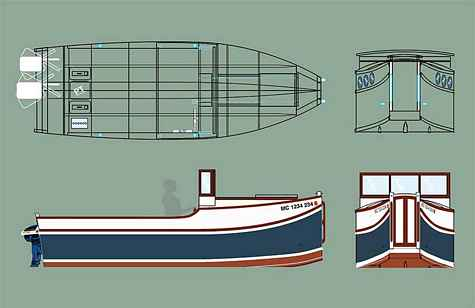 Tad Scheeler
---
---
Piccup Pram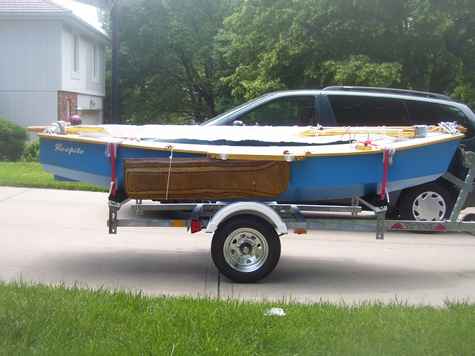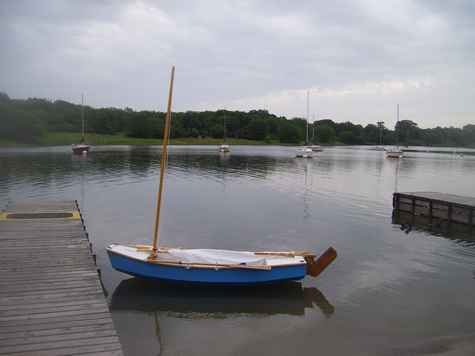 Respite, a Michalak Piccup Pram, was launched for a test row in late June.  I've had her out sailing a few times since then.  She is my first build and I'm very pleased with her.
Don
---
Launch of Lady Catherine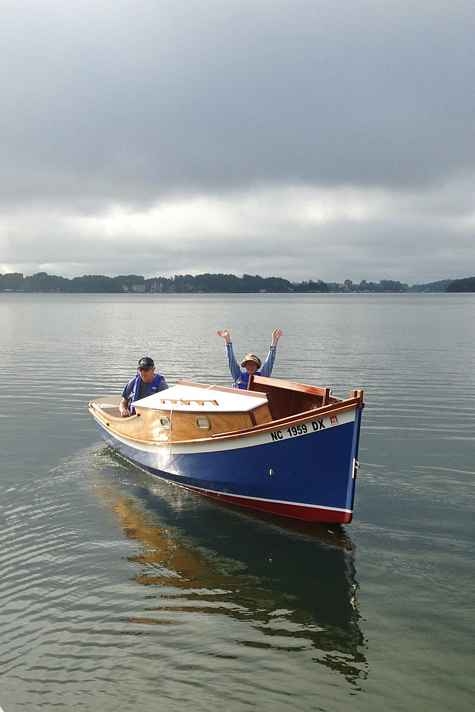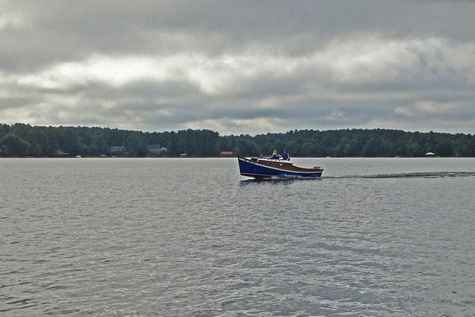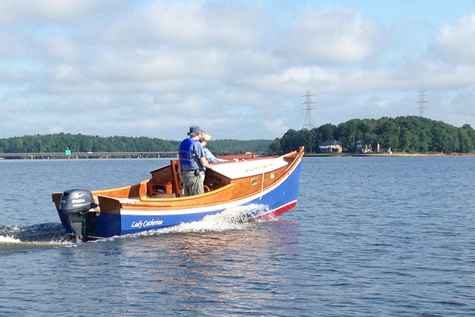 Well, at long last, our boat has had some water under her non-keel. Thought you might like a look.
Henry
---
Navigator "Leighton" Launches at Coffs Harbour
My siblings and I launched the Welsford Navigator "Leighton" on 10 August on the Kalang River just south of Coffs Harbour on the NSW North Coast. She's named after the British merchantman my Dad was on when he met my Mum in Freemantle West Australia during WWII. Thanks to my wife and best friend Paula, Duckworks Boat Builders Supplies, Joel Bergen, Robert Ditterich and of course John Welsford for the curves! Now to work on getting the wrinkles out of those sails!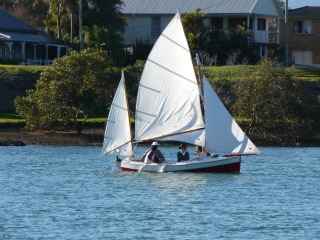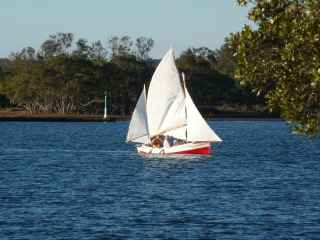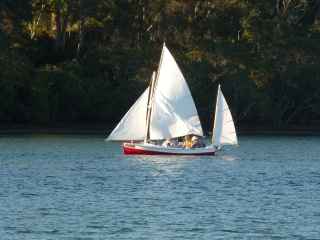 Lester
---
Ella Skiff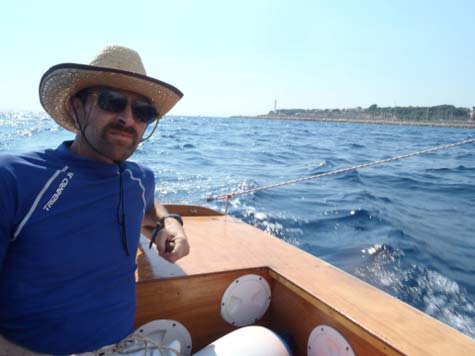 For your splash - an Ella Skiff?
Gavin Atkin
---
Tread Lightly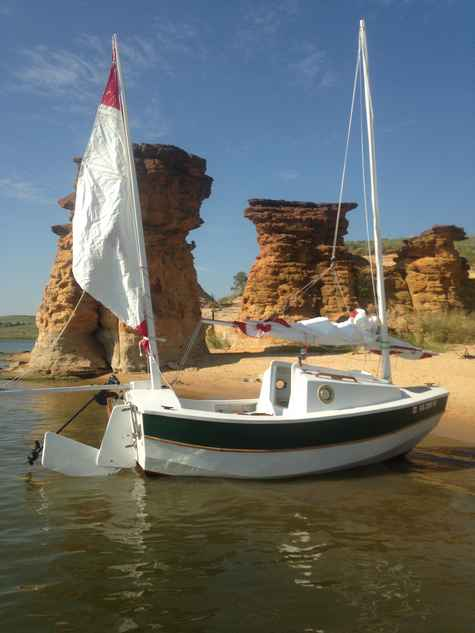 I splashed the Welsford Tread Lightly I have been building for the last 14 months. None of this would have been possible without the tremendous service and selection you guys provide, not to mention amazing prices. I have attached a picture from Labor Day weekend at Lake Wilson, KS. Beautiful setting and clear water. Very rare for Kansas!
Daryl Heinlein
Goddard, KS
---
Paradox Scout Splashed
Sean Mulligan here from Havasu, AZ.
Just wanted to tell ya that I couldn't take it anymore. Watching all your escapades and hearing about all the small, owner built, micro cruiser stuff from guys like John Owens... I had to find a way to try it out. So I cheated a bit. I was able to purchase a 90% complete Paradox last Feb. Thank goodness I didn't have to build it from scratch as it has taken me until now to get her on the water. Let's see.....10% in 7 months...... it would have taken me... ahhhh never mind. Anyway... I am not a "true" boat builder yet.... but at least I am heading the right direction.
Splashed her last night and had a fun time in real light breezes giving her a little shake down cruise. More to come. Thanks for all the inspiration! I would like to think that I might try the EC one of these days.... but after watching the video that just came out about last year's run.... I think I better build my skills a little first!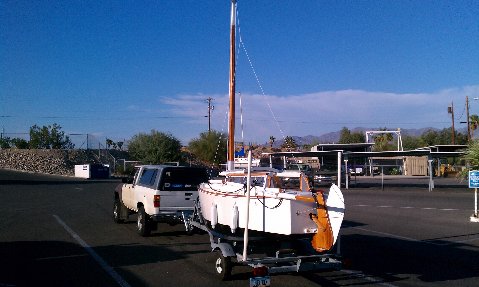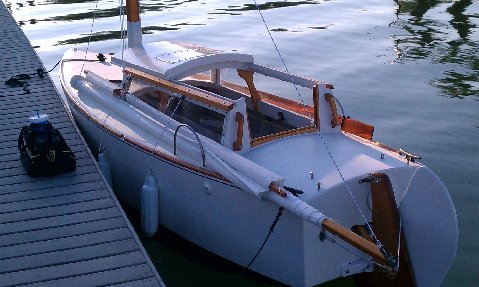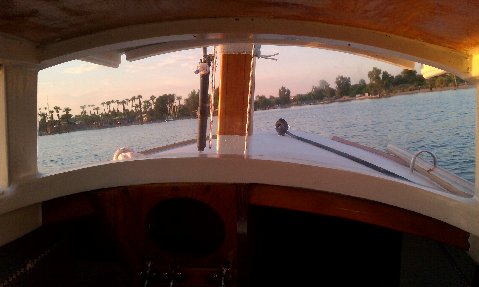 I've got a blog I've been keeping on the progress of "Scout" and now it will shift to her sailing adventures as well. I am contemplating trying to sail the Colorado River from the Utah Border to as close to Mexico as I could get (sans The Canyon, of course) one of these days. But that's for later.... for now... I need to learn more about Scout and how to sail her best. My blog site is...
Love the Duckworks site. Thanks for facilitating an inspiring so many of us. :-)
---