New Glue from Franklin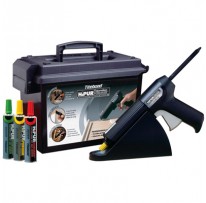 I have just tried a new glue from Franklin that is simply amazing.
It is a hot melt polyurethane glue that is stronger than wood but sets in 60 seconds. I know from experience. I made a mistake and tried to knock the pieces apart. After 10 minutes the bond was so strong that the wood gave way, not the glue!
It's called HipurFormer. It is fairly expensive but a little goes a long way.

You stick a cartridge into the gun and put it on a stand that heats it up. Once heated you remove the gun and the glue will be usable for about 15 minutes. No cords, so I can move around the boat without getting tangled up.
I have found it especially useful in attaching trim, especially curved trims, shims etc. I avoid both clamping and the problems associated with trying to predrill holes to avoid splitting ends and smaller pieces of wood.
The glue gun itself costs $85 and each cartridge about $10, but I feel I have already got my monies worth in time saved. It makes fitting out the cabin so much easier. I have seen some web sites that charge much more, but the prices I quote are from:
I have used both the 60 min tube (for wood only - yellow tube) and the red tube (75 sec for metals and plastics). I have not tried the 30 second product because I think it will set too fast. The 60 second product is really only good for about 30-40 seconds. Any longer and it is too difficult to slide around to get just the right position.
I have used the yellow (wood only) glue for attaching wooden molding, the ribs of the cabin top and gussets for the deck. The gussets I eventually screwed in as well, but it simplified the process. I did not have to clamp the gussets in place and then predrill holes. The gussets were in awkward places and I really would have needed three hands for process without the glue.
I used the red tube to glue some white PVC corner molding onto the edge of a plywood panel to finish it off (and not have go paint it!). It created a solid bond and I did not have to pin it in place with brads.
It is also good for gluing joints and mortises without having to clamp them and wait a day before continuing on with project. Hold it for 60 seconds and its glued.
Tom Hruby
---
---
Peel-and-Stick Wood Veneer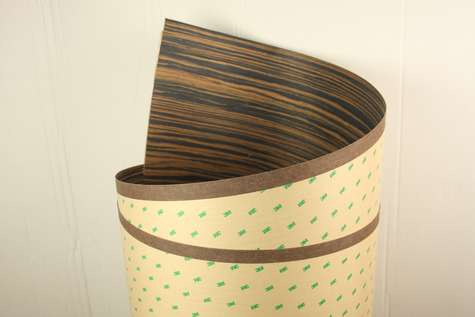 Troy, MI - October 28, 2014 - Today, one of the easiest wood veneer application methods is performed by using pressure-sensitive adhesive (PSA) or peel-and-stick backing. Especially useful for kitchen and bathroom cabinets, PSA completely eliminates the hassle of evenly applying glue to the veneer and/or the substrate.
Recently, Oakwood Veneer Company of Troy, MI has begun providing customers with the option of special ordering any one of their wide selection of wood veneer species to a PSA backing with only a 2-3 day time frame before shipping.
"We've had around 20 peel-and-stick veneer species in-stock for same day shipping for a while now," said Peter Rodgers, Oakwood company president. "But now, any of our 300 plus veneer species that are available as a 4'X8' or 4'X10', or even as a cross-grain 8'X4' or 10'X4', can be ordered as a PSA veneer with only a couple days of waiting before shipment."
Oakwood expects this new option will have appeal for higher end installers, who until now, would have been unable to find luxury veneer species, such as figured eucalyptus or birdseye maple, with a peel-and-stick backing.
Woodworkers and other veneer buyers can find out more information by checking the Oakwood Veneer website at www.oakwoodveneer.com or by calling 800-426-6018.
David Rodgers or Ezra Drissman
drodgers@oakwoodveneer.com
Troy, MI
---
Three Quick Tips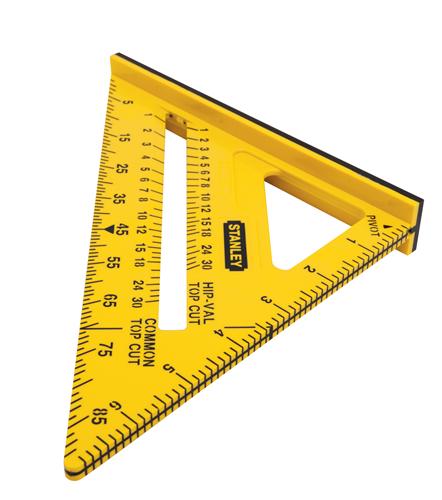 Traditional steel squares get dropped and often end up out of square. Plastic squares stay square.
Eucalyptus oil does an okay job at removing glue from your hands. It's less harsh on your hands than acetone.
Blutack is good to hold hatch plates etc in place while drilling bolt holes. Also, if you have a bolt in a tricky place and you need to put a nut on it, a little blutack on the finger helps keep nut still while you get it started.
Mike John
---
How to Simplify Using your Rubber Sanding Block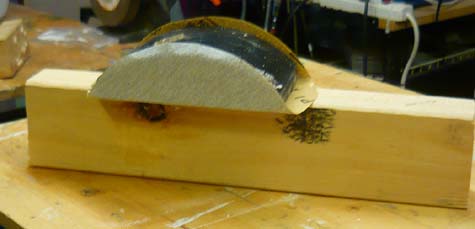 Rubber sanding blocks that will take a 1/4 sheet of sandpaper have been around for decades, but I was never very happy with them because it was very difficult to fit the paper into the ends. I could never get the paper tight enough as I tried to fit it beyond the nails that gripped the paper. Over the years I have cheated quite often and just held the paper tightly against the block with my hands.
However, a couple of months as I was starting to build my next boat it dawned on me that I can use sanding discs with a PSA backing (pressure sensitive adhesive) on the block (see figure). The PSA holds well to the block and the paper does not slip, especially since I am holding part of the disc in my hand. To make full use of each disc I can also use the sides of the block as well for little jobs.
A 5 inch disc is a little smaller than the block and a 6 inch disc a little bigger, but in neither case does this really affect the performance. I have a 6 inch disc sander for my drill so that is what I use. The small overhangs do not affect performance.
Now my sanding block is again one of my favorite sanding tools. I even have two blocks - one with an 80 grit disc on it and one with a 120 grit disc on it so I don't have to keep switching papers.
Tom
---
Coffee Time Watch
Want something to watch over your next coffee? Here's an idea:
From intheboatshed.net
Paul