Birdsmouth
Here is a technique I developed for gluing up birdsmouth masts. I decided to try Titebond III this time rather than epoxy and so far I am happy with how much easier it is.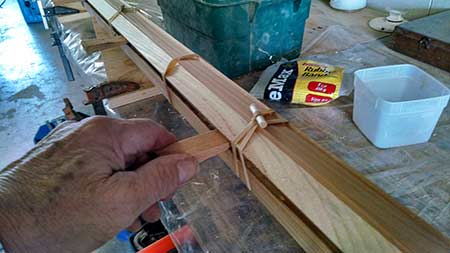 What I did was set up the pieces on a rack and firmly, but not too firmly, hold them all together with rubber bands. Then I started using wedges (scavenged from when I scarfed pieces for this very project) to separate the staves at one joint.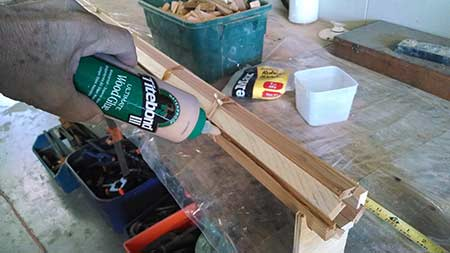 Once I had wedges about a foot apart all the way down, I was able to easily insert glue into the opening.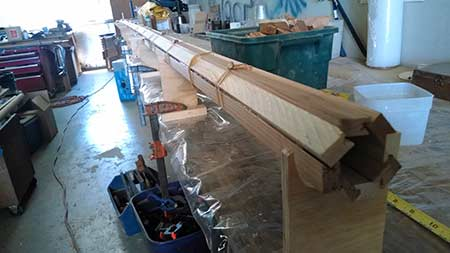 Glue all in, I removed the wedges and applied more rubber bands. I was able to do two joints before letting it all dry, remembering to leave the two opposite joints open for a final installing of plugs.
Chuck
---
---
Painting a Clean Line With Masking Tape
This is about your wall when painting a feature wall but it also applies to painting your water line.
Mike John
---
Cheap Stainless Bow Eye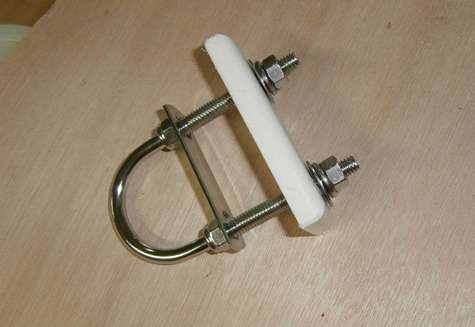 A five dollar bow eye. Lowes has stainless U-bolts and I have scraps of StarBoard. Added a couple of nylon lock nuts and viola. Drilled and got a perfect fit (rare). Today I also added some cleats to the cabin bulkheads and coated the underside of the decks with a heavy coat of epoxy.
Stacy
---
Steve Good Sand Devil Review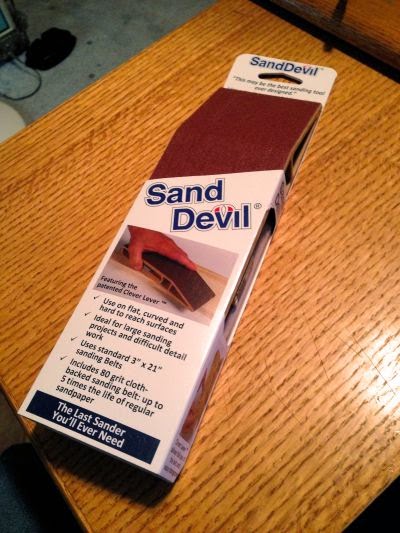 Steve Good reviews the Sand Devil (scroll down at bit).
Another review is in this video.
Mike John