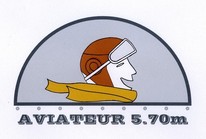 A real seaworthy little cruiser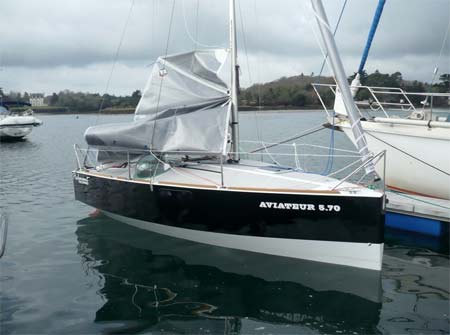 She is the "big" brother of Souriceau.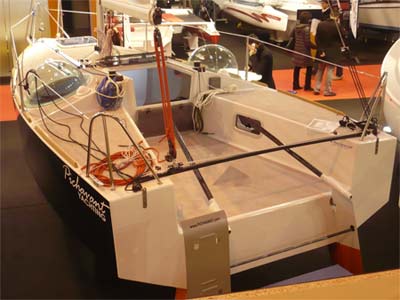 The boat is designed to be built by home-builders, or by a professional yard. Aviateur 5,70m can be sailed with your family during coastal navigations.
She has been designed for high seas as well as Minis 6.50m, to be a very seaworthy little boat.
CHARACTERISTICS:
Building material: 9mm thick. marine plywood, glass fiber and epoxy resin.
Hull lenght: 5,70 m
Lenght at DWL: 5,70 m
Lenght over all, LOA: 5,95 m
Beam max. : 2,50 m
Beam (max) at DWL : 1,9 m
Fwd freeboard: 0,95 m
Aft freeboard: 0,81 m
Draft min./max.0,66 m / 1,31 m
Retractable keel with tackle (easy and simple system)
Lenght from DWL to the head of the mast: 8,88 m
Engine: outboard from 2 HP to 6 HP
Mainsail Area: 14,4m2
Solent Area: 8,09m2
Total Area to windward: 22,5m2
Spinnaker Area (asymetrical): 27m2
Sliding integrated pool (through the watertight anchor locker)
Displacement: 625 kg
Déplacement (half loading) 837.5 kg
Déplacement (full loading) 1050 kg
CAN BE WELL LOADED FOR BIG NAVIGATIONS
Keel ballast: 230kg with 200kg of bulb
Unsinkable with flotation foam under berthes
Transportable
Beachable
European Conception Category: C3 D4
Aviateur 5,70m is a very stiff boat with a big interior volume.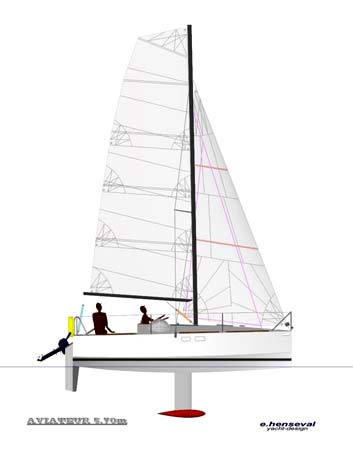 Features:
-Galley with one stove
-High stability for the lenght.
-Forward anchor locker.
-Companionway, where you can handle all
-Forward double berth, very wide, with a big deck hatche just above.
-Keel sleeve stopped at the berth level.
-Big volume inside, with big space given by the "empty" bulkheads.
-Lockers
-Side berths 60cm by 2m of lenght.
-Big volume above berths
-2 couple tillers: 1 outside and one inside, to helm under the plexiglass bubbles.
-Chart table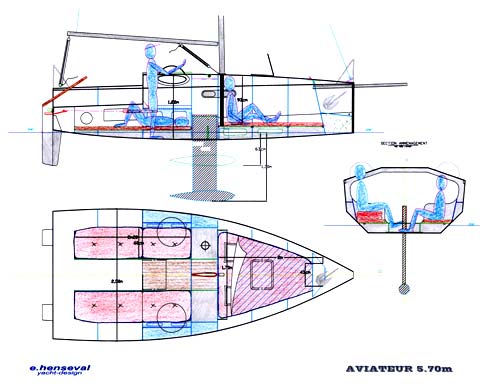 Construction:
Very simple developpable construction - Hull with only 4 chines, with a flat bottom hullshell. Deck with 2 chines, with flat panels. Construction: epoxy-marine plywood.
If you choose to built Aviateur 5.70m at home, the price of the materials (near european prices) is about 10100 € without sails. Mainsail+solent+spinnaker = 3470 € Time of construction: about 400-500 hours.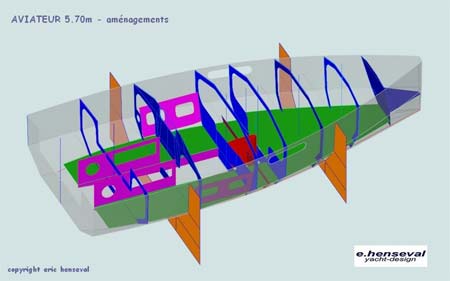 Trailering:
She is trailerable too. (boat,625kg + trailer,180kg = 805kg to be trailered). When the boat is driven in the water, the trailer is immersed (like the open boat of the same length): a rope is placed betwen the ball of the car and the trailer. in the diagram below, you can observe that the fixed rudder-skegs don't touch the bottom.

Rigging:
The boat can be rigged alone: a transverse axis enables the mast to rotate around with security. We place the shrouds on their chainplates, and rotate the mast forward with a halyard. Then, we just have to place the stay.
For more information about Inseparable, contact Eric Henseval: eric.henseval@orange.fr - or visit his website
Plans and Study plans available at Duckworksbbs.com