A slow-speed camp cruiser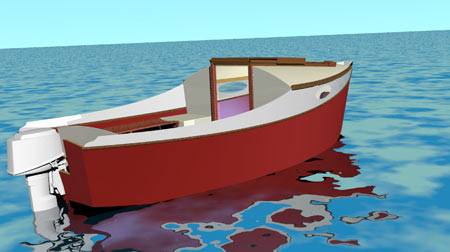 It would seem as though the "Golden Age" of yachting has passed us by. Instead, perhaps, there is a new movement afoot -- a movement of backyard and garage boat builders, building at home using plywood (often construction grade) and epoxy, building boats that were never designed nor intended to last more than a couple of decades, and having an absolute blast doing so! This movement has spawned get-togethers that are called "Messabouts," and they are happening all over the mid-west and western US! The participants are called "Messers," (and sometimes their boats are called "messes.") The CenTex-16 grew from this fierce and irrepressible independence from economic recession mixed with the irrepressible desire to cruise, and without the need to mortgage your fuel. It was heavily influenced by my personal experiences cruising on a sailboat, and the undeniable reality that getting there is sometimes half the fun and should be savored in a microwave, 80mph world.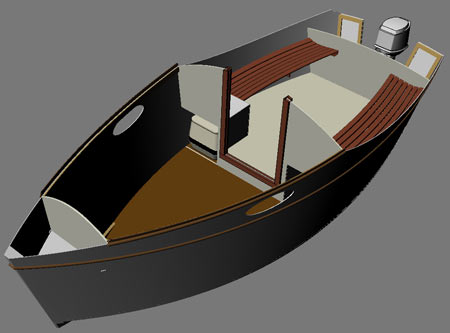 An affordable, easily built and easily managed outboard powered boat that will take a couple of people off to beaches or secluded river bends for a weekend or a few days, possibly beaching at night, but without the inconvenience of having to carry and pitch a tent every night. Everything is – or can be – self-contained.


The boat needed to be trailerable, which means it needed to be launch-able from a trailer. Those of us that have launched boats off of trailers realize that the easier it is to set up and launch a boat, the more often it will get used. The CenTex-16 can be underway in a matter of minutes.


It needed easy, home-built construction; yet with no compromise to strength or safety. Plywood is the obvious choice; whether construction grade (least expensive, but lowest longevity) or marine grade (best value, longest life.) Epoxy will extend the life of the boat indefinitely with little maintenance, and is easily applied. While I have specified the use of a strongback in the construction of the hull because I think this is a bullet-proof method to make sure everything is lined up, symmetrical, and fair, it is not required. This boat can easily be assembled into a robust model using stitch-and-glue or stitch-and-tape methods.


It needed to be easily maintained. Wood boats and fiberglass yachts all have their spring and fall required rituals. This boat is neither; nor does the builder or owner need to participate in paying and caulking seams, painting, winterizing, etc. Hose her off after use, sponge out the interior corners, do the normal maintenance any outboard requires, and we are good to go. Clean her up with soap and water, maybe wax her once a year.


Despite its low cost and ease of building, the boat needed to perform well (and fast does not necessarily mean well!) I tried to envision all sorts of situations she would face; bobbing at anchor overnight, running up on a sand beach, moored to the guest dock in a marina, or puttering through the Inter-Coastal Waterway. She needed to have a gentle ride, be seakindly in a blow, and weathertight. I didn't want her bow to slap a lot, I wanted places to stuff gooky anchors and sandy shoes while keeping bedrolls clean, and I wanted her to resist being pooped by following waves or blown about in crosswinds. Especially, though, she needed to be comfortable and fun to use, or she would sit on her trailer while other boats were used.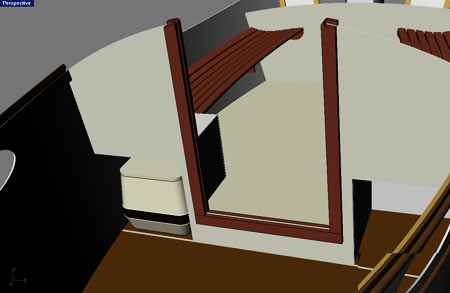 The CenTex-16 was designed to address each of these goals. She was given the profile of the beloved Sharpie, with plenty of rocker, to help her track. Sharpies are well-known to be easily driven, and but a few horsepower will bring her to hull speed. In a departure from the standard flat-bottomed Sharpie, she was given a hull with a slight vee, to soften her ride both under power and at anchor, despite requiring slightly more complicated building techniques. Finally, she was given a raised deck, in order to maximize accommodations.

The Centex-16 requires 6 sheets of ¼" plywood, 9 sheets of ½" plywood, and can be completed using home center timber, some fiberglass and some fasteners, all of which are discussed in the building manual.
CenTex-16 Particulars
| | | |
| --- | --- | --- |
| LOA | - | 16'0" |
| LWL | - | 13'9" |
| Beam | - | 6'0" |
| Draft | - | 9-1/2" |
| Displacement | - | 1275 Lbs |
| Horsepower | - | up to 20 |