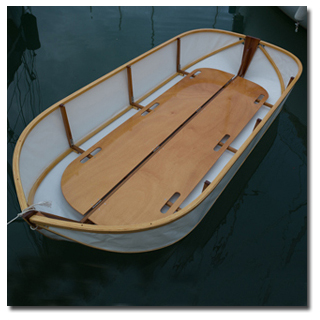 The Woodenwidget Fliptail is a small collapsible dinghy which is now available in a 9 (2.75m) foot long version. Two sets of hinged hoops swing out to create a shapely but tough and lightweight dinghy which can be rowed or sailed and can even plane at speeds up to 14 knots with a 3.3hp outboard.
The Fliptail is very quick to assemble. Simply lift out the sides, drop the two hinged floors and lock in place. All the pieces remain attached to the dinghy so there are no pieces to get lost. The Fliptail can be assembled or collapsed in just one minute.
| | |
| --- | --- |
| | The Fliptail can be assembled or collapsed in just one minute. |
Because the floors are above the bottom of the boat, you never get a wet bottom. Handles are incorporated into the floors which makes it a doddle to move about. Fliptail is a very light little boat yet surprisingly capable and tough.
Small tenders are generally very tippy but the Fliptail has quite a square shape so is surprisingly stable for such a small and shapely boat. Having the fold down floors low down in the dinghy also means that your weight is down low which adds enormously to the boat's stability.
The Fliptail is a surprisingly easy boat to build consisting of a central keel assembly, a pair of drop down floors and four laminated wooden hoops. This structure is then covered with a strong PVC cloth. Don't be daunted by this construction method. Laminating wood is not difficult and in fact is lot of fun and is also very satisfying.
The comprehensive illustrated plans guide you every single step of the way so even if you never done anything like this before you will still be able to build your own Fliptail dinghy. Everything you will need has been listed and there are many links to lots of suppliers should you not be able to find what you need locally.
All of the ingredients that make up a Fliptail dinghy are readily available and inexpensive. A Fliptail could be built from about £200 ($325) but this figure can go either way depending on the quality of the materials you buy and where you get them.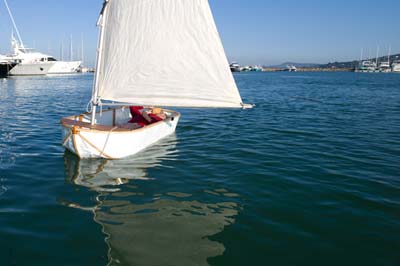 The Fliptail can easily be converted at any time to a great little sailing boat if you wish. Full instructions are included for free in the plans. You'll need an Optimist mast and sail and also need a few bits of plywood and an Optimist rudder (full instructions are given or you can buy a kit and make your own sail).
The Fliptail sailing dinghy uses a pivoting lee board (placed on starboard but it could go on port if desired) so it is ensured of a good windward performance and a spacious interior. The square shape of the dinghy gives surprising stability and its light weight means a responsive sailing experience. The Fliptail sailing dinghy is a surprisingly good little craft which is guaranteed to bring a smile to your face. And at the end of the day, it packs away in moments to a tiny package that can be stowed almost anywhere.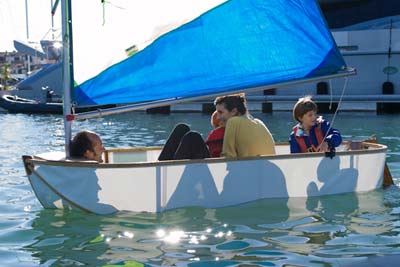 If you want an easy to build a pretty little dinghy that stows and rows, motors and sails, maybe the Fliptail is the boat for you.
FAQ
Q: How long will it take to build my Fliptail?
The Fliptail is a quick boat to build as it is made from so few pieces. It has a simple keel assembly, a pair of drop down plywood floors and four laminated hoops covered with PVC cloth. What takes the most time is waiting 24 hours for each hoop to set before you can use the jig for the next one.
Q: Do you sell a Fliptail kit?
Sorry no, Fliptail is only available in plan form. But don't let this stop you! All you need is a jigsaw and a plane and you can cut out all the pieces yourself in just a few hours
Q: How long does it take to assemble?
With practice Fliptail can be assembled, ready for launching in about one minute.
Q: Is there a sailing version?
Yes! All Woodenwidget designs can be converted to a sailing boat at any time. Full instructions are included for free with the plans.
Q: What is the biggest outboard I can fit?
Fliptail will take up to a 3.3hp engine.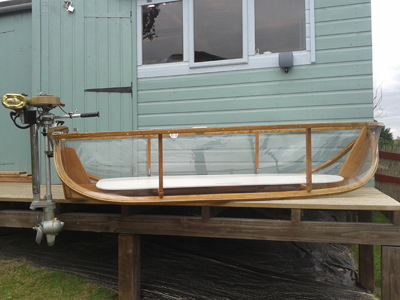 Here's Robert's Fliptail with old school Seagull outboard attached.
Q: What is the Fliptail's maximum carrying capacity?
Fliptail 9 - approximately 250 kilos
Q: How well does it row?
Fliptail rows very nicely. The position of the rowlocks can be positioned in any number of places for maximum comfort.
Q: How much does Fliptail weigh?
Fliptail 9 - weighs from about 25 kilos
Q: Can I personalize my dinghy?
Yes! The plans include many ideas for doing this, from changing the color of the cloth to choosing a different wood.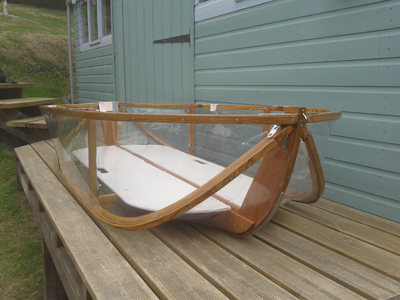 This is another view of Robert's fabulous Fliptail
Q: I don't have any experience; can I still build a Fliptail Folding Dinghy?
You do not need to have any experience building boats, you only need very basic woodworking skills, and a few tools such as a jigsaw and a plane.
Q: What is the fabric that Fliptail is built from?
It's a PVC fabric like the kind seen on truck sides. It is easily available and the plans include all the necessary info about what weight of cloth to buy and where to get it.
Q: What are the Fliptail 9's folded Dimensions?
9' (275cm) Long - 27" (70cm) Wide - 10" (25cm) High. (figures approximate) The Fliptail has built in handles in the floors making it very easy to carry when folded.
Q: What are the Fliptail 9's assembled Dimensions?
9' (275cm) Long - 3'7" (110cm) Wide - 19" (48cm) High. (figures approximate)
Q: Tell me more about the plans
The metric plans have about 100 pages, over 100 photos and even bonus sections full of useful information. The plans come as a PDF file and is 13 mb in size. The Plans can be downloaded immediately from Duckworks.
See this and other plans from WoodenWidget