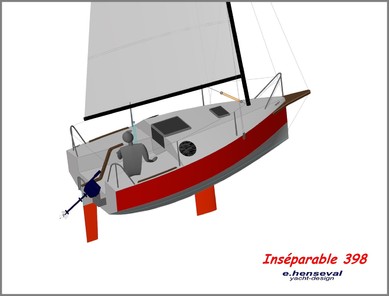 Cat boat, pocket-coastal-cruiser, unsinkable, 2 berthes and galley, Entire retractable Naca lead keel, trailerable, single rudder sliding blade, gennaker, pivoting mast to mast quickly alone, storage with 2 parts of mast, watertight companionway, Epoxy Plywood construction.... and ...Inseparable for life?
She has been ordered by a practiced Italian person. He wish to sail the lagoon of Venice and Lake Como.

She is built by the famous shipyard Ernesto Riva installed on the shore of lake Côme. The boat is short in lenght to avoid the Italian tax applied on sailboats. This tax doesn't concern boats under 4 meter lenght.
CHARACTERISTICS:
Material: 9mm thick epoxy-plywood, glass fiber and epoxy resin.
Hull length: 3,98 m
Length at DWL: 3,98 m
LOA: 4,77 m
Max beam : 2,00 m
Beam (max) à DWL : 1,55 m
Freeboard (Fwd): 0,77 m
Freeboard (aft): 0,64 m
Draft min./max.0,19 m
0,96 m/Air draft : 7,89 m
Outboard engine 2 hp to 5 hp
Mainsail: 14,5m2/ Gennaker : 7,8m2
Total sail area to windward: 14,5m2
Displacement: 387 kg / Displacement (max. loaded) 635 kg
Ballast keel weight: 113kg (lead) - iron possibility too.
Unsinkable, with foam and wood for a total of 558 liters of flottation.
Transportable / Beachable /pivoting mast to mast quickly alone
European category : C2 D3
She is a catboat: you find the minimum amount of hardware: just the mainsheet, without any mainsai rail, a simple kicker, and halyards and reefs. Reefs could be "automatic" and come back near the helmsman.

A cockpit designed for maximum clearance, a single tiller for a sliding rudder, a swim ladder on port, and a little support bolted to the transom to receive the outboard engine. This engine is included in the weight studies to maximise the longitudinal trim.
An easy system made of two stainless steel plates on mast step permit one person to mast without any effort.
Why a mast stepped on deck with stays wether through deck without any stays? To avoid difficulties to mast alone on the little forward area available on the deck.
Cockpit is designed to sit 2 persons as a maximum on one board.
She can be sailed with 3 persons if you are not expecting some speed records.
We find a real arrangement volume! Headroom is 1,15m height. Of course, it isn't a big dimension, but it is possible to sleep one night.
The volume available just above the berths is measured 0,7m under the seats of the cockpit! And we find an average of 0,89cm above the berths where you are sitting under the roof.
Companionway is watertight and measures 60cmx60cm. The floor is free of anything, because the keel trunk disappear in the galley block.
Forward, some space is available to place a porta potty: a ventilation deck panel is just above.
A flottation foam takes place just forward the mast bulkhead. Besides, foam is located too under the 2 berths.
Internal structure is composed of 5 transverse bulkheads, connected with 2 longitudinal bulkheads, which support the cockpit floor, and the berths.

The naca shaped lead (or iron) keel is completely retractable in a squarred trunk made of plywood and epoxy. Very easy to build with the plans.

Her rudder is sliding through is own trunk too, in order to give an answer to the skipper who wants to sail in shallow waters.

The sail area is important and the catboat choice will enable to discharge the upper part of the sail upon request, in easing off with the single sheet of the boat.

The little optional gennaker will be hoist in light winds, tacked on the little fixed bowsprit made of teak.
Nobody will choose this little boat to sail far in open seas, even if she is equipped with a watertight companionway! But everybody will sail with a seaworthy boat owing to her good stability and her good freeboard.
For more information about Inseparable, contact Eric Henseval: eric.henseval@orange.fr - or visit his website
Plans and Study plans available at Duckworksbbs.com