Here are some pictures of the original design kayaks we have built. They were a family project with my 14-year-old twin daughters. We built one boat per person. The blue 12-footer is Dads boat. The orange and purple boats are 9-footers built for (and by) the girls. I have included a few construction photos including our "hi-tech" way of bending gunwales, as well as pictures of the boats in action.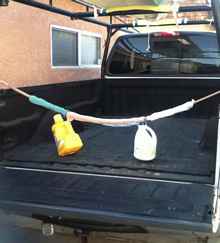 Bending Gunwales
All 3 use taped seam construction. They are mostly 3mm plywood, with 5 mm bottoms. There are sealed buoyancy chambers fore and aft. Although it's not visible in the pictures, they have twin small fins on the chines for directional stability. These work well and, if anything the boats track a little too well. I had to cut the fins size down on the 12 footer to get it to turn. It tracks well with the cut-down fins and is maneuverable enough for touring. The fins on the 9-footers are much smaller, and these boats seem to have the right balance between tracking and turning.
They have proven to be very nice boats indeed. I have not weighed them, but all 3 are light enough to be relatively easy to cartop, and for me to carry when beach launching. The 9-footers are light enough that the girls have no trouble carrying their own boats across the beach for launching. The 2-chine bottom and wave-piercing bows work very well. They are fast for their size and handle waves well.
I am particularly happy with the 12-foot hull. The bow shape cuts waves with very little pitching or pounding, and the "V" foredeck sheds water well, keeping the cockpit dry. I can paddle a steady 4 to 4 1/2 knots over prolonged periods. I generally paddle about 5 miles on a typical solo outing, and can maintain this pace over the whole distance.
After we had been paddling the first 3 boats for a while, my oldest daughter wanted to join the fun, so we built the red 12-footer for her. Its slightly wider than the blue boat, and more suitable for a novice paddler. I incorporated a few new ideas in this hull. It is 3mm plywood throughout with transverse stiffeners glued to the inside of the bottom at about 18 inch intervals in the cockpit area. This has proven quite strong and stiff enough and makes the boat lighter than it would have been with a 5mm bottom. The "fastback" stern was another concept that worked out well.
The boats have been in contiguous use for over a year now, and never fail to draw interested comments when we have them out on the water.
We now call our garage the "Mystery Boat Works" because you never know what will come out of it next.
I have a 14-foot version under construction that incorporates all we have learned from these first 4 hulls. I'm hoping to launch it within a month.