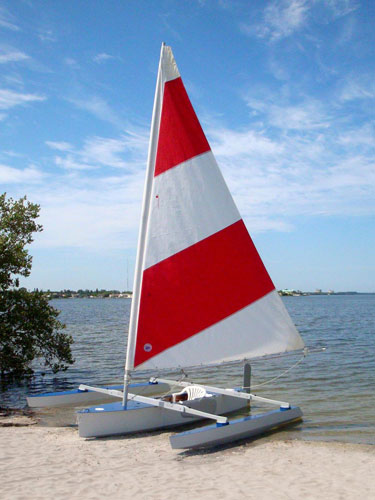 Slingshot 16
Features:
Top Speed (typical) = 14 mph
# Of Occupants = One
Length Overall = 15' 10"
Beam Overall = 12'
Main Hull Beam = 22"
Length Of Amas (outriggers / floats) = 14'
Weight Of Main Hull (built with 3mm lauan ply) = 75 lbs (kg)
Weight Fully Rigged = approx. 175 lbs
Draft Fully Loaded = 5" max
Sail Area (with base rig) = 107 sq ft
Sail Rig Type = leg o' mutton with boom
Mast = aluminum tubing, unstayed
'Slingshot 16' is a much-improved version of 'Laura's Boat,' a 16' trimaran I designed and built for my dear wife in 2010. (She wanted her own small tri after sailing my16'-footer.)
As it turned out, Laura's Boat was better than my tri in almost every way. It was quicker in light air, and just as quick in heavy air. I attribute this to its 5-panel hull with a flat-bottom center panel, which planes more easily than the V-bottom hull on my boat.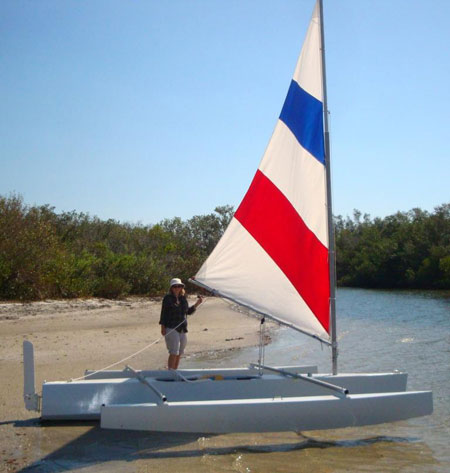 Laura's Boat - The original inspiration for Slingshot 16
Laura's Boat has hit 14 mph, points higher than 45 degrees, and turns on a dime. It can be launched in 4" of water and sailed away - upwind - in just 6". Her boat is also the reason I finally got around to offering plans for sale.
Over the years, quite a few of the folks who have visited my web site (www.DIY-Tris.com) have requested plans, and most of the requests have been for Laura's Boat. Problem was, I didn't have any plans to offer, as I don't build from plans. Also, I had no way to produce drawings anybody could make sense of.
Then one day I got an email from a man whose awesome CAD drawings I had previously drooled over: Andrew Walters. (www.andrewwaltersdesign.com) He wanted to know if I'd like to team up with him and offer plans for one of my tris. I absolutely would - and I already had the perfect boat in mind.
The boat we now offer plans for is called 'Slingshot 16.' While based on Laura's Boat, it has 2" more freeboard, a slightly fuller bow, amas that are longer by 2', and is much stronger in the area of mast / sail support. In fact, I have had as much as 128 sq ft of sail on it, which is quite a bit for an unstayed mast - i.e., no shrouds. I think 110 sq ft of sail is probably the ideal 'maximum' for general day-sailing. (Yet we sailed the original Laura's Boat for years with just an 85 sq ft sail, and Laura still prefers that rig.)
And if you'd like to see what these little tris are capable of in just 10-12 mph of wind, here's a link to my 'Trimaran Action Video' featuring original Laura's Boat equipped with a 95 sq. ft. vertical batten sail I designed and built.
Video:
As you watch this video, it will soon become clear that the old-style amas were simply too small because they frequently 'bury' themselves under the power of even this modest-sized sail. That's why the much-improved amas for Slingshot 16 are 2' longer, have more than double the float-volume, and have a 'planing' hullform.
All of the improvements made to the Slingshot 16 over the original Laura's Boat add about 10 lbs, but also make for a much sturdier and more seaworthy boat. The 3" overhang around the edges of the foredeck make an already-dry boat even drier to sail, and the longer amas enhance both speed and smoothness of ride.
Over the years, I have let other folks take out Laura's Boat I when I took out my own 16' boat. Not only did they 'get the hang of it' within the first 15 minutes, but it was all but impossible to get them back out of the boat! Seriously, I had to chase them down (not an easy thing) and tell them we needed to call it a day. They said it was like "a Go-Kart on the water."
Although I have 4 trimarans ready to sail (two 16-footers, and 19-footer, and a 24-footer), it's the Slingshot 16 that I always seem to grab when the urge to sail hits me. Although all these little tris are quick, nimble, dry, stable, and a blast to sail, Slingshot 16 just seems to put it all together in the most irresistible way.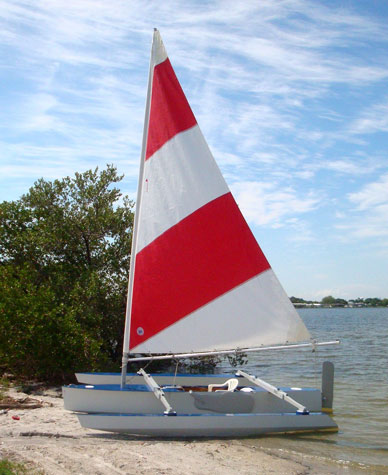 Plywood List:
NOTE: Both the original Laura's Boat and Slingshot 16 were built from plywood (3mm and 6mm) costing under $15 a sheet. Or, you can spend the extra $ for okoume or some other pricey species of plywood. As long as the glue is waterproof, you can use any ply you wish.
Main Hull (if built entirely from 6mm ply): 2 sheets.
If bottom, bilge, and sides built from 3, 4, or 5mm ply): 3 sheets (+ 1 sheet of 6mm ply).
Amas (outriggers): 2 sheets of 3mm or 4mm ply.
Plans Include:
- An extremely detailed construction manual including more than 280 photos detailing the complete building process, with over 70,000 words of explanatory text by Frank Smoot.
- A separate manual with 67 superbly detailed, multicolor CAD drawings by Andrew Walters.
Study Plans Price: To get FREE Study Plans for Slingshot 16, simply email Frank Smoot and put "FREE Slingshot 16 Study Plans" in the subject line or body of your email. The Study Plans will be emailed to you within 24 hours.
*****
*****