The Eastern Washington Moveable Messabout, held Sept 10-16 of 2014, began in western Idaho and continued through several eastern Washington locations.  This unique event, organized by Dan Rogers, included various types of boats captained by people from British Columbia, Washington, and Idaho, with one crew flying up from Texas., 11 of us overall.  The plan was to camp, go out on the water, then after 1-3 days move to another site down the road and repeat the process.  A few campsites were reached by water.  Dan came up with the route, surveying each stop beforehand and setting up eating, camping, and vehicle viewing arrangements along the way.
Our vessels included a Michalak Scram Pram, Bolger Old Shoe, Cosine Wherry, West Wight Potter, Welsford Navigator, aluminum skiff, motor boat, and 2 other sailboats. Most had auxiliary motors which came in handy when the wind failed, which unfortunately was quite often.  We used four launch ramps and five camp sites during the event.
| | |
| --- | --- |
| Dan's Lady Bug, anchored out on a cold morning, Priest Lake. | Tom Gale's Bolger Old Shoe, Loafer, on the Spokane River |
| | |
| --- | --- |
| Mike Cox and his brand new Potter 15, Priceless, on a frosty morning, Bartoo Island, Priest Lake | Tom Vetromile and his Klamath utility skiff, lunch stop, Kalispell Island, Priest Lake |
| | |
| --- | --- |
| Kim Apel in Dan's Glen-L 13, Punkin Seed, off Pinto Point, Priest Lake | Joel Bergen and his Welsford Navigator, Ellie, off Cavanough Bay, Priest Lake |
| | |
| --- | --- |
| Dan's 1959 Glasspar Seafair, Old Salt, beached for lunch near Porcupine Bay, Lake Roosevelt | Michael Scott with his Co-sine Wheery, on the Spokane River |
Some guys stayed for the entire event, while others came and went as their schedules allowed.  We began the trip with breakfast at a cafe where we first met each other and inspected each others boats. Our itinerary included several days at various locations on Priest Lake in Idaho after launching at Diamond Lake Marina, followed by Fort Spokane and Porcupine Bay campgrounds in the Lake Roosevelt National Recreation Area with a final day at Sprague Lake, an overall drive of just over 200 miles.
| | |
| --- | --- |
| Lady Bug, sunset at Indian Creek camprground, Priest Lake | (Yellow hull) Dennis McFadden's Michalak Scram Pram and others at lunch stop, Kalispell Is., Priest Lake |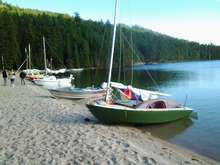 Punkin Seed (Blarney, Dan's kayak tucked inside for the night) and the rest of the beachable boats, Indian Creek, Priest Lake
Plans changed along the way depending on weather, chiefly the wind which was quite minimal in most locations save a windy, white-capped wave outing the afternoon of our first day on the water.  Chilly mornings and evenings led to conversations around hot cups of coffee and huddling around campfires. Being on the water is, after all, just part of the enjoyment of a messabout.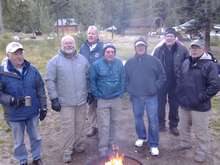 Second morning's warm-up around the camp fire, Indian Creek (l-r) Tom Vetromile, Joel Bergen, Kim Apel, Tom Gale, Dan Rogers, Mike Cox, Dennis McFadden
| | |
| --- | --- |
| Morning "Brain Trust" meeting, Hunters camp ground, Lake Roosevelt | Sunset gathering, as boats are being readied for the night, Porcupine Bay, Lake Roosevelt |
Along the way we stopped for lunch on a remote beach, some of us donning our birthday suits to enjoy a refreshing dip in cool waters.  We also learned that sand keeping a centerboard stuck in the up position could be removed by two men 'flossing' between the centerboard and case using a length of nylon strap!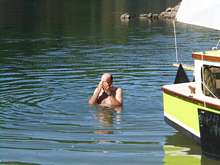 Tom Gale leads the way for baths al fresco, Spokane River. We had temps below freezing, and above 80. Sometimes in the same day.
| | |
| --- | --- |
| Joel prepares to "floss" Ellie's stuck centerboard | Joel and Dan (on bottom) clear sand and gravel from Ellie's trunk, Hunters camprground, Lake Roosevelt |
Chuck the Duck's prediction that the author might provide service as 'bear bait' on remote camp sites didn't come true, though one night on Bartoo Island a camper from the other side of the island mentioned to me (the first messabout boater he came across) that a bear had been sighted on the other side of the island the night before.  During that night some rough waves caused one boat to drift a bit, prompting Dan to blow his fog horn to alert a few tired campers to crawl out of their beds and better secure the boat while he kept cozy in his boat anchored a few feet offshore.
Each overnight stop included beach or campground tent camping with some folks sleeping on their boats or in their vehicles.  One member who came with his travel trailer and kayaks to meet us near the end joined us for a few days and provided greatly enjoyed huckleberry pancakes for a final breakfast..
| | |
| --- | --- |
| Loafer, tucked in for the night, Porcupine Bay, Lake Roosevelt | Old Salt waiting to launch at Sprague Lake |
Along the way we stopped for lunch in Leavenworth, a tourist town with a Bavarian theme, several locations which featured old cars, trucks, and farm equipment, and lunch in Davenport at a rustic cafe.
| | |
| --- | --- |
| Levenworth, Washington, near the Cascade Mountain summit | Part of the tribe, checking out the tractor museum, Hunters, WA |
| | |
| --- | --- |
| One of two stops at antique car/truck lots in Sprague, WA | Get your horse shod, teeth pulled, hair cut, and a bath all in the same place, Davenport, WA |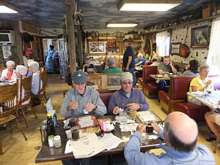 Brunch, where the locals eat, Davenport, WA
We chatted about boats and life during meals and several evening campfires where past adventures were recalled.
| | |
| --- | --- |
| (l-r) Kim Apel, Tom Vetromile, and Tom Gale prepare breakfast and share a gam, Porcupine Bay, Lake Roosevelt | Nightly campfires became an instant tradition |
The friendships developed reminded one of those formed during summer camp experiences of long ago.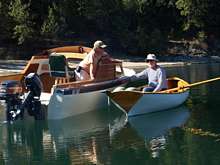 Dan and Michael Scott discuss the lack of wind and lack of fish, Spokane River
It's safe to conclude that a good time was had by all.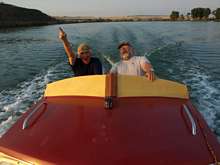 Dan and Joel encourage Old Salt to get on plane, Sprague Lake
Preliminary plans were made for similar events next summer and fall in the northwest.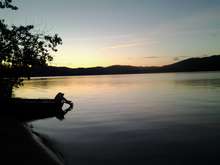 Typical North Idaho sunset, Bartoo Island, Priest Lake
Photos by various messabout members