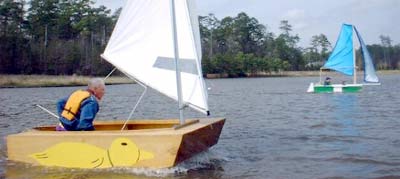 [Photos do not enlarge in this article.]
Reuters – February 28, 2002 - Houston, TX
The inaugural race of the new PDS Racer one-design class is in the history books. Every boat available attended this highly contested meet and the competition was fierce. The crowds gathered to view the boats and discuss the finer points of racing. After a grueling series of back and forth lead changes, one boat finally took the prize. And best of all – no one sank.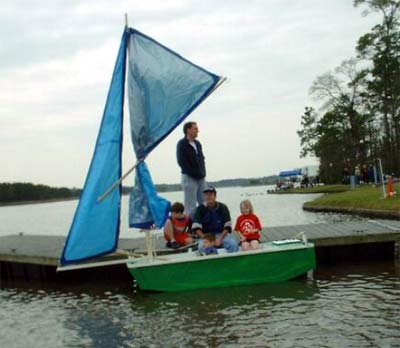 Local sailing experts inspecting the vessel
Well, not really, but it was a great time and a neat concept to for anyone who wants to quickly build a boat and sail with others. The boats are based on a Bolger Brick style hull with slightly less rocker. We wanted a boat that would be easy to build and roomy enough for taking a couple of passengers when not racing. The hull is the only thing that is set in stone – anything else goes. This will hopefully keep it fairly even with the rigs and seamanship being the deciding factor in any race. For more information on the class, go to www.pdracer.com
We had three boats show up to Lake Woodlands here in Houston. It is a small lake and typically quite empty. Today, however, that was not the case. We had scheduled our first race the same time as a rowing meet. There was some debate with the local team's officials over whose boat would damage the others worst, but we were gracious and moved our course.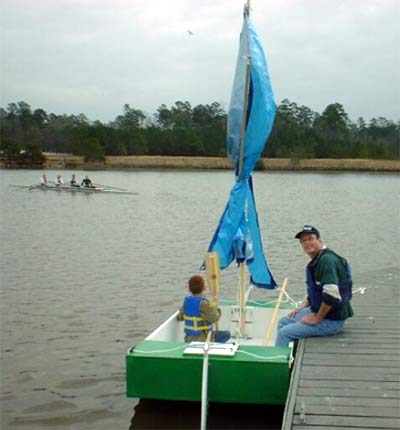 I think we can take them
Some people just have no sense of humor. We moved to a small finger of the lake that was being unused and set up the racecourse there.
The race consisted of three boats – "The Ugly Duckling" built by Ken Abrahams, "Bucket Ears" built by David "Shorty" Routh, and my boat, "DUB". All through the building process, I thought, "this has got to be the ugliest thing that has ever hit the water", hence, DUB – Doug's Ugly Boat. But after all was said and done, it came out quite presentable. It's amazing what a couple of coats of paint will do. The boats also showcased the different styles that could be used.
Ken's boat was built using tack and tape methods and Luan – no chines - and was really light. His boat has a centered dagger board and mounted a stock Sunfish sail. He really flew over the course.
| | |
| --- | --- |
| Shorty used titebond glue and lightweight chines and carried a stock 59 sf Bolger sail. His leeboard is mounted low in an exterior slot. He modified the rig by changing the sprit to a boom – no bad tack. | |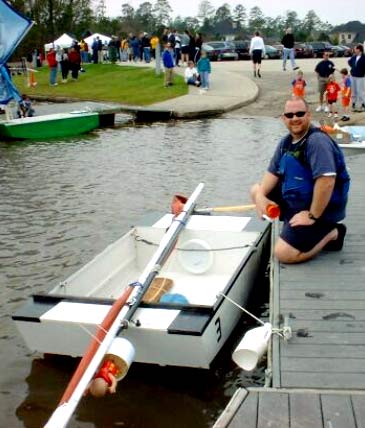 | | |
| --- | --- |
| | My boat was built in a mixture of Bolger/Payson Brick style with external chines and taped seams and my own special brand cut and curse construction. I also don't have any other sails to use so I made a 4-sided spritsail out of polytarp. As an afterthought - more like "I have tarp left over" - I added a 15 sf jib. My leeboard is a kick up model based on Jim Michalak's design. Worked great when I got blown into shallow water along the lee shore. |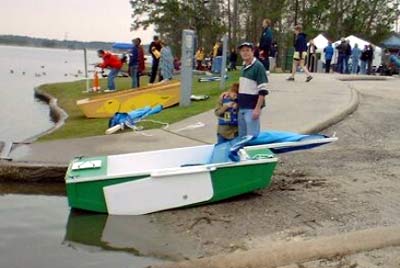 "But Honey, I needed those bed sheets for a good cause…."
The course was laid out about a quarter of a mile long and with two buoys. It was agreed that we would make two laps so that we could get back to the dock in time to do some serious socializing and eating.
As time to start neared I took all of my hard won knowledge of racing and sat poised near the starting mark. When the horn sounded I was first across the line! Sounds good but what actually happened was that my jib got hung on one of my sprits and I was stalled out around the mark tying to fix it. It cleared just as the horn went off and a big gust of wind kicked me over the line.
Ken regularly races with the Lake Charles Yacht Club and took an early lead in the race. He zipped past Shorty and I and all I saw was spray.


"Shane! Come back Shane!"
Shorty quickly passed me by and made a race out of it for Ken. I found out an interesting thing about lake winds – 6 story buildings create HUGE areas of dead and swirling wind. Note Ken staying well away (above).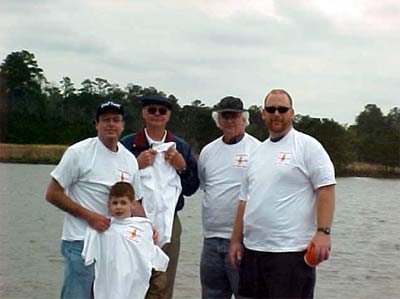 I had a lot of problems with my sail rig but considering I was still bolting on parts the morning of the race, I was proud to have placed a respectable third. Most of all, we all had a great time. Everyone came away with things to change and that is the beauty of the PDS Racer. Shorty decided that his leeboard mount needed to be changed as it caused his boat to flex. Ken mentioned that he thought he might have a bit too much sail and is looking to modify that. I have a lot of bugs to work out with my rig but the hull was fine. All of these fixes can be made and tested before our next race on March 27 at Lake Conroe. Watch out guys, you're in my sights.
For more information, visit:
www.pdracer.com