What was that boat?
Can anyone give me any information about the kayak Otter pictured in the July letters section of Duckworks Magazine? Plans? Designer?
I think I need one.
Geoff Pike
Good news, Geoff, that is a one sheet canoe and the plans are free HERE - Chuck

---
---
---
Interesting Concept
Here's an interesting concept -- a sort of Lightening meets Matt Layden with a little oriental spice thrown in.  For the fun of it.  Fact is, I had a yacht designer friend encourage me to enter the WoodenBoat design contest several years ago based on what he had seen of my work, and I thought this boat met the design criteria very nicely.  It didn't win anything.  It does have a number of interesting features, however, including accommodations for two, the ability to sail to windward in a gale, and all controls are led into the cabin.  Especially interesting to me is the junk rig, a new one for me, but requiring a lot of research.  I was captivated by Tom Cunliffe's story of a friend of his reefing a junk rig without setting down his cup of coffee.  No idea if this boat will intrigue anyone else, but it sure did me!
Peace --

Mack McKinney McKinney Yacht Design
---
Dave Ware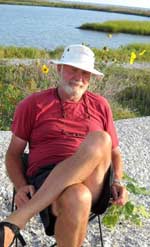 David Arthur Ware, 71, passed away June 25, 2014. He was born November 18, 1942 in Boston, Massachusetts to William and Willie Ware. He retired from CPL as a pilot. He served two tours in the US Army during Vietnam. He flew UH-1 helicopters, both gunships and transports. He flew Mohawk airplanes with recon cameras. He was a Warrant Officer and later went to Iran with Bell Helicopters as an instructor. He was awarded the Air Medal, Army Commendation Medal, Bronze Star and Distinguished Flying Cross. He was a member of the First United Methodist Church of Rockport, and was co-leading the Retrofit Program. He was also a member of the American Legion and Vietnam Helicopters Pilot Association. He was active with the Rockport Yacht Club and Bay Yacht Club in Corpus Christi. He enjoyed building, sailing and racing sail boats.
He is preceded in death by his parents; previous wife, Linda C. Ware; son, David John Fleischer.
---
Yesterday, I called Chuck Leinweber to ask if he could refer me to someone down around Victoria who might be gracious enough to take Lance, the reporter and person I've invited to crew for me next year for some introductory sailing.
While talking to Chuck, I related the story about how after last year's Texas200 I'd called Dave for a phone visit and in that conversation, I told Dave I'd like to be included on the list of heirs to his boat, "Merlin". Dave laughed and said "You'd be at the bottom of a very long list."
It's then that Chuck told me that Dave had died shortly after this year's Texas 200. For an instant, I thought Chuck was joking then my jaw dropped, realizing he wasn't joking.
Dave always anchored out from the beached boats and this year at one of the camp-sites, I waded out to Merlin neck deep in water with a lighted cigarette in my mouth and shouted "Ahoy, Merlin". Dave came into the cockpit and greeted me, then asked how I'd managed to get out to his boat with the cigarette still lighted. Told him…"Just practice, I guess."
I asked what he was up to and he indicated he was "…reading a book". It was one of those e-books or whatever you call them. Sensing he really didn't want to be disturbed, I made my adieu and waded back ashore. That was the last time I spoke with him.
Anyone who ever got a look inside Dave's boat would have recognized the genius that went into its building. Just one example, he had solar panels on the hard-top bimini charging his batteries and also a transformer-rectifier giving him 110 V.
Last year on the beach, he heard me complaining that my cell phone was dead and I only had a 110 V charge cord with me. He invited me to Merlin to charge it for me with his 110 V capability. THAT WAS DAVE!!! We shared a long history in airplanes and were about the same age though my resume didn't come close to Dave's.
Will miss you, Dave.
Ray Whitney
---
Missing Mark
I am missing Mark Steele's Model Boat column in Duckworks. I was only acquainted with Mark via a few exchanged emails about my models, but he was a nice fellow, and a pleasure to talk with.
Do you folks have any hopes to revive the column under a new author, it would be a shame to loose it.
Jerry Todd
https://todd.mainecav.org/model
Jerry: as you probably know by now, Jerry Todd has taken up the mantle of model guru here at Duckworks. HERE is his first column.
---
Molly Who?
Hi Chuck

Ever seen the molly-hogan? I learned this one when I first started salmon fishing in Alaska. It puts an eye into plow wire rigging. I know, not much of that on the little boats, but it is a very good and easy way to put in an eye that will take all the strain the wire will. I think it was galvanized 1X7 and this is how it's done.
make the eye shape with about 7 inches past the splice and seize at the throat.
unravel one strand from the bitter end and wind it tightly around the two parts.
do this with the remaining strands.
all done
I used a vice-grip to pull on the strand as I wound it around, and to crimp down the bitter ends.

This was used for all standing rigging. Eye over the mast and dead-eye at the chain plate. It held up masts and booms and trolling poles.

Easy, cheap, strong, reliable, heavy, and high windage. I suppose it's a trivia-question item these days. More of an historical artifact than an application, unless someone wants to re-rig a displacement boat and save a ton of money.

Regards
Michael Ferguson
---
Normsboat Report
Hi Chuck,
 
so Norm is coming along nicely and I am starting to get a list together of stuff I am going to need. As you are always my first choice for hardware and gear and you have been adding more boat stuff to your store I find I need a "boat load" of gear. I was wondering if you offer some kind of payment plan? maybe something along the lines of the old company stores, where I can work it off mowing the grass, plowing the fields, building new sheds, ect?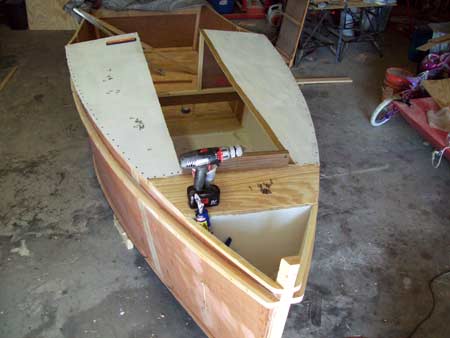 I sent Mike a set of pics for Fat Fly's splash the other day. I think you will find them funny, at least that was the intent. I am going to do a write up for our messabout last weekend in-between glue drying and trying to get the next step done on 3 boats. I haven't even touched Scamp since just before the TX200, I need to get back on it or SOK and your boat show will be here before you know it. it's funny how time slows to a crawl waiting in the doctors office or the dentist chair, but just set a deadline for a boat to be completed and watch the pages rip off the calendar in a blur! if Einstein had looked into that problem he would have found the answer to time travel. see you later.
Gene
---
Renn Tolman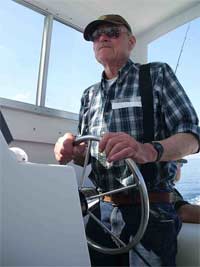 Chuck, 
Renn Tolman passed away Saturday night at his home after a long battle with cancer.   He leaves hundreds of loyal followers and builders all over the earth.    Maybe you could post a note and a picture.   Steve Dampier has some great ones.
David Nolan
---
Pretty Cool
Hi, Chuck
Have you seen this?
Pretty Cool!
Kevin O'Neill
---
Something Unusual
Something unsual for you. can't figure how to put a sail on it though
Tom Burton
---
Interesting Stove
I came across this on the web and thought you might want to post it under Letters or wherever you think best.  Not cheap but is compact and even produces electricity to charge USB devices.

https://www.biolitestove.com/
Steve Lansdowne
---
Trover Report
Chuck,
So, this is now my first experience with epoxy. I decided to heed all the warnings and got some epoxy, West System 105 and 206 (slow hardener).  So far it seems to handle similarly to fiberglass, but easier to get into small spaces.  I used a filler on the epoxy to fill cracks around the stem, glass powder.  The consistency was about like peanut butter, so it went in small places easily, stayed, and the next morning everything was pretty solid.
After the second night using it, I think it is easier than fiberglass.  Much more expensive, though.
At this stage in the project, I am going through each frame and deciding whether it can be fixed or to redo it.  I was pleased at the way the stem turned out.  While less than perfect, it was the one part of the plans which was mystifying. My father-in-law loaned me a tool which made that 55 degree angle easy.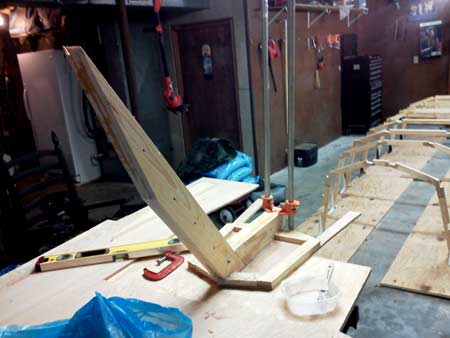 I don't know how I got the notches in half the frames wrong, but I did.  There are worse things.  I suppose I got all enthused and in a hurry.
I also feel obligated to apologize for not buying the epoxy from Duckworks.  I never looked at the site until I had already ordered it.  I couldn't sleep a few nights ago and got on the site with a Kindle in the bed and about lost my mind.  I found myself thinking about what boat to build next, which is mad!  I like the idea of the tiny houseboat by Michalak, but maybe think that is maddness too.  I wish I had stumbled on this hobby at a younger age, but then, perhaps too much was going on really.
Thanks again,
Ted Wells
---
Another Terriffic Gathering
Hi again 'Chuck-the-Duck', or  'Pied Piper', or 'Johnny Appleseed' -
As I read the great article on the Port Aransas plyWooden Boat Festival this morning I realized the 'good idea intentions' in my head needed to get written out without further delay.  That sounds like another terrific gathering in so many respects.  Looks like you are piggy backing on folks travel to Sail OK and sort of on folks familiarity with the location.
MASCF, Port Townsend, Sail OK, the Puddle Duck phenomena, Port Aransas and dozens of Messabouts!  In a crazy, not so charming world, it is heartening to see the creative, good-hearted spirit of these many gatherings and all the attendant effort leading up to them by both builders / sailors and organizers alike. Wasn't surprised to see that John Wright built six PD hulls and we've swapped a couple notes.  My hats off to you, Sandra and all your collaborators .. who I realize are a terrific friendship circle. 
Fair winds,
Bob Throne
---
To comment on Duckworks articles, please visit one of the following: