by Gerry Lavoie - Campbell River, BC - Canada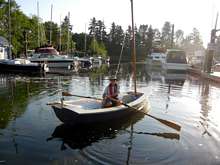 The boat? Ross Lillistone's First Mate. The boat is just over fifteen feet long and just over five feet wide. Designed for rowing and sailing. Its a very close relative of Lillistone's Phoenix III, but stitch and glue instead of lapstrake construction. I bought the plans and fittings at Duckworks.
I had come to accept that I enjoy the dreaming, researching and building more than I enjoyed using my boats. I was also turning 67 and perhaps building my last boat. Either I would retire due to age, or due to disappointment at another boat that was more fun to build than to use.
Wooden Boat Magazine's "Small Boats 2013" had an enticing review of the Phoenix III, and I was intrigued. However, I'd tried the lapstrake method on Welsford's Walkabout and I don't think I did a very pretty job of it. So, when I discovered the stitch and glue version of the Phoenix, First Mate, I ordered the plans!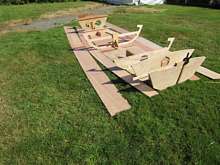 I loved the construction! I was so pleased with how easily and evenly the panels joined! Amazed at how accurately they accepted the bulkheads!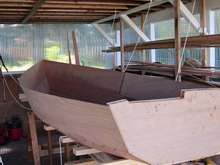 Progress was quick as the interior is mostly open.
I looked forward to new processes like the outboard's splash well, carlings to support the side decks, sweet little beams to support decking and thwarts.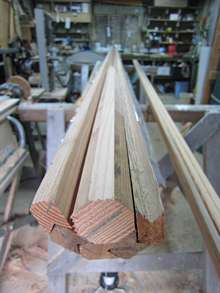 I kept the best process for the last: hollow spars!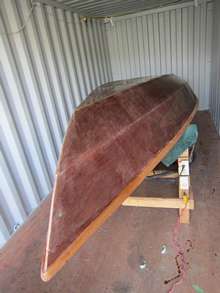 Ross is quick to answer my questions and share my success, but his plans and drawings are so clear, I was mostly fine on my own.
When winter approached, I had most of the construction done. The interior was painted. I moved the boat from the open carport to a rented storage container. Before it got too cold for my little heaters, I finished the outside of the hull, faired it and applied the fibreglass and epoxy. Closed the doors and waited for spring.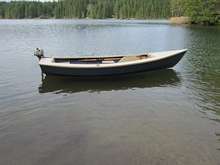 Once the weather warmed again, I finished the painting and fitting out. Made the rudder, tiller, centreboard and yes, the hollow spars! There were a few 'Oh my god!' moments as the staves nested together!
Everything but the sail was ready by the middle of April. I hauled the untried boat to the lake without any fanfare. I had to see that it sat evenly on the water. I had to know that it rowed and coasted in a straight line! Oh Yes! Success!!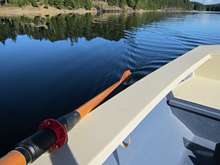 That trip to the lake was a delight and I returned a few times, tweaking the foot rest, trying out seat pads, adjusting the oars, building my rowing muscles, but mostly, just enjoying the rowing.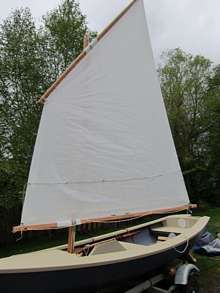 As I was rowing last Friday, I realized the sensations are very much like my first ocean boat, a wonderful double kayak. I am enthralled by the surge of motion from the pull of the paddles and oars. I am engrossed by the trickle and chuckle of the hull in the water. I am secure in the safety of a well designed, capable boat.
My companion, Diana, and I sewed the sail in late April. We chose the lug sail kit from Sailrite. Our second from them. This sail is 76 sq ft, much larger than the jib we did years ago, but it went together faster and with less confusion.
I have to admit that I love rowing this boat, but I don't hesitate to use the sail.
I tried sailing from the floor. Though it was comfortable, tacks were clumsy and erratic. I made a longer tiller and installed side benches. Now I sit far forward, closer to the side of the boat and tacks are smoother and heeling is better controlled.
The First Mate ghosts along in very little breeze, yet sails flat in 15kts too. It comes about easily, yet doesn't heel abruptly into the new tack. Reassuring, I guess. Forgiving.
I have barely begun to know this boat and my sailing skills are rudimentary, bordering on beginner, so don't expect a lot of technical discussion. What I do know is that I trust this boat and I enjoy using it.
As I am finishing this write-up, I am becoming aware of a new attitude. By this stage with my previous boats, I would be admitting to some failings and irritations. Oh, I know I may find things to improve or just endure with my First Mate, but unusually, I am very proud and very secure in my boat. I look forward to much more sailing and especially rowing. I think I am into a good partnership.
This may be the final boat I build for myself, but only because I am making the First Mate last.
To comment on Duckworks articles, please visit one of the following: