I was wondering what my customers are building right now so I was looking through my files. The variety is big and it is almost a journey around the world. Lets start down under.
In New Zealand there are two boats almost ready. Lets start with a small one -The DUO 480 C "Jigsaw".
This is the progress from about 6 weeks ago. The builder hopes to have the boat in the water soon.
Next is a KD 650, also under construction in New Zealand.
In a letter the builder commented "I often find myself staring at it amazed I have built it".
And another KD 650 under construction Germany.
He's a lot furthe on with it nowr, but I like the photo.
Another in Argentina.
The boat is now ready, but the owner has not much time and has to travel a lot for his work.
Here an ECO 6 in Greece.
An ECO 7.5 in Thailand.
DUO 800 under construction in the Philippines.
Same DUO 800 sailing.
Not much building is going on with the DUO 900 (as far as I know). This one is under construction in France.
The picture is misleading. The boat will be 4.5 m wide when the beams and trampoline are fitted.
A lot of KD 860 are under construction. Here a small selection. Here's one in Brazil.
Another one in India.
and in Australia,
and one in Finland.
The interior is already finished.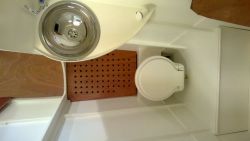 [Does not enlarge]
There are more, but I stop here before it gets boring. Here's a DUO 105 under construction in the U. K.
The first hull of a DUO 1000 is ready to turn right side up. This is in the Netherlands. The customer is now busy to making the rudders, rudder housing etc.
And here a photo from a KD 122 "Voyager" under construction in Maryland.
and an ECOnomy cruiser power cat under construction in Alaska.
Final my own.
A little trimaran for myself. Apart from some small things she is ready to sail.
This is a small collection from the boats I know. I am proud that is also a journey around the world. There are many more under construction or sailing. Not many report back. Only if there are questions. But there are not many questions.