Why a Tolman Skiff? I have fished for most of my life starting out on party and charter boats of various sizes out of Manasquan Inlet NJ, all through High School and college. I love to fish for anything that swims in salt water. I am 48 years old and my wife and I Tanya have 7 children. I built two other boats, one a Bolger Diablo at 15 ft in 1986 and the other one a Tolman Skiff widebody 23 feet long in 2000-2001 that I have used extensively for 11 years.
| | |
| --- | --- |
| | From left to right. Discussing Tolman Skiffs at the world Headquarters for Salt Water Workshop, with Lyle from NJ, Steve Dampier from California (owner of fishyfish Tolman Site), Renn Tolman, the designer, who flew in from Homer Alaska, Jim Shula - owner Salt Water Workshop, and Dave Shoemaker from Neptune NJ. |
The Tolman Widebody 23' was and is a wonderful sea boat. I built it outside in NJ in 2000-2001 and used it for 11 seasons putting about 1200 hrs on the engine, a Honda 90 HP. We took it offshore in good weather to the canyons at times, and it proved to be a great sea boat. It was arguably small for fishing offshore especially, overnight tuna fishing. As I got older, I decided I needed a bit more boat and so we opted to build the Tolman Jumbo Skiff. We ended up stretching the design, without explicit permission from the designer, Renn Tolman, but he later said what we did was fine. We ended up using much heavier stringers than called for and ended up using 5/8ths on the bottom vice the ½ inch normally called for. The Tolman Design just screamed out as the ideal boat for what I wanted for a bunch of reasons. Some of which include economy of use, the best design for most conditions I fish in, as I do not go offshore in bad weather, one of the safest out there in this size range, and speed of assembly without all those frames in traditional boatbuilding. I didn't want to take 5 years to build the boat. I also needed to be able to tow it over 100 miles each way so light weight was important. Dave Gerr's Offshore skiff was a close second but so many Tolmans have been built, I stuck with what worked. The boat is very capable - even in nasty conditions, but does have limited deadrise which limits the speed with which you can run into short steep seas.
Many people assume that a boat made of wood is: 1 - heavy, 2 - prone to rot, and 3 - less strong than a commercially made boat. I can tell you from experience that it is roughly 50% to 60% lighter than a similar fiberglass boat, won't rot with any modicum of reasonable care in normal locations that see four seasons, and it is amazingly strong. Ask a competent Marine Architect how strong marine ply with fiberglass and epoxy is per unit weight. The boat is very strong as put together with marine plywood and then taped all together with fiberglass to form the basic hull. After that, you glass both sides of this wood with fiberglass and it is a very strong hull sandwiched in between the glass layers, which make it bullet proof. It is infinitely tailorable, mistakes are easily fixed, and its fun and easy to work with. If you can build a kids model and can cut with a skill saw without losing your fingers, you can build one of these. Most of the readers probably already know this, but many of the general boating public do not. I try to educate them as I go along.
I wanted to save on cost and so ordered a 30 gallon kit of epoxy from Progressive Epoxy in Rhode Island. The shipping would have been about $240 so I opted to pick it up, since I had already decided that I wanted to save time this go around and buy a pre made kit. I will say that if you try to buy materiel to build a boat by using one of those stores that sell to the general marine community you will double or triple your cost, maybe more. I stay out of that store that starts with a W at all costs.
I will say that buying the hull kit saved a ton of time, probably 100 hours. It was well worth it. So I combined the trip to Salt Water Workshop up in Buxton Maine where Jim Shula of Salt Water Workshop cut out my panels with his CNC machine, and was kind of enough to test fit and label all the parts. He used Meranti Aquatek over the Doug Fir I wanted, but I was happy to listen to his recommendation. It was a good choice. I combined the trip to Maine with the trip to RI to pick up the epoxy glass and ended up coming back with a full truck of plywood panels, expertly cut out and wrapped, and 30 gallons of epoxy.
This pile of stuff in the truck, a shortbed, in no way shape or form looked like a boat.
A 27 foot Tolman Jumbo skiff kit from Salt Water Workshop in Maine, and 30 gallons of epoxy form Progressive in Rhode Island sit in the back of my Truck.
| | |
| --- | --- |
| | Keith Cooperstein helps me dry fit the second side panel prior to hanging. |
I have to say now, a shameless plug, that the kit I bought from Salt Water Workshop went together perfectly. For one, I ordered a stretched version of the Jumbo kit, and Jim Shula figured out how to run the numbers on his CNC machine, and got some really nice meranti aquatek at his distributor. The boat stitched together perfectly and I think there was one panel, the chine shelves, where I had to run a skill saw thru it to take a slice off, maybe three foot of a slide. That's pretty darn near perfect in my book and I am still amazed. If you build one of these and want to loft out all the parts, go ahead. If you want to save some time and get on with it, buy the kit. There are two vendors I know of right now that can cut you a kit, one east coast and one on the west coast. I have known Jim a long time (over ten years now) through fishyfish and having met him at the Maine Wooden Boat show for two years. Here is his business website.
There are many boats that are now on the defacto standard website for Tolman skiffs, called fishyfish.com. Its almost entirely devoted to Tolman skiffs and one of the best sites you can go to for help. The guys there are most helpful. I post there often.
| | |
| --- | --- |
| | Madison Nolan with the trimmed hull prior to fiberglassing. |
Costs
My total cost was something on the order of $31,000 for the boat kit, fiberglass, epoxy, the pilot house and cuddy panels which I bought form Harbor Sales in Maryland, fuel tank, lines, steering, hardware, main engine (Honda 150 HP), kicker engine (Yamaha High thrust 9.9), and trailer. I have pretty detailed records on costs and can share if anybody is interested. If you are considering a kicker and main engine, I don't really care what kind you get as far as the main (Tohatsu, Honda, Yamaha, Evinrude, Mercury etc), but if you want to get a kicker that can push your boat home in 25 kts of wind, buy the Yamaha High Thrust 9.9 HP. It is a tractor tire sized propeller and geared low to give you a ton of thrust. Here is a summary of 95% of my costs which are 2012 prices.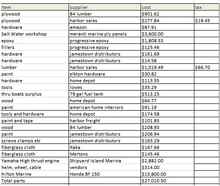 I estimated 500 hrs of labor starting in January 2012 and launching in May of 2013. Note, most of summer 2012 and fall of 2012 I didn't work too much on the boat, because my work took me out of state 5 days a week and then fall hunting and other kids commitments. Other guys have reported as much as 1500 hrs to build a similar boat but to a higher standard of (mostly) finish. I built the skiff for fishing and pulling kids on rafts and such. I did have help in my friend Gary Schetlick who came down from NJ to help me on a number of longer weekends, and my old neighbor Keith Cooperstein who also came down from NJ and put a lot of hours helping me with all sorts of things. I can't thank them enough. Some of the time you aren't actually building but planning while sitting in the right side up hull. It is a lot of fun! The beauty of building this boat is that you don't have to know completely what you want in it, you can decide that after you build the hull. The hull is one half the finished boat. Maybe less. some say 1/3.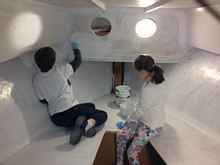 Madison and Sean Nolan putting latex house paint on the cabin. $10 a gallon. Works great over cured epoxy.
Not too long ago, I took a poll on the fishyfish website to see who is currently building a Tolman Style hull. I was sort of flabbergasted to see the results. Here they are. So it should not be too hard to see one or take a ride on one for anybody interested. As fuel goes up, more and more guys are building these hulls. You can probably find the person responsible for the hull on fishyfish but if not, drop me a line.
1 . Dave Nolan, 27' Jumbo, North East, Md
2. Frank Olsen, 24' Jumbo, Kirkland, WA
3. Cordell Lucia, 24 Jumbo completed, 23 foot widebody in process
4. Dave Burright, 21' Widebody, Albany, Oregon
5. Rod Garson, Victoria, British Columbia, GA 25 or a Jumbo 24 if I can't pull off the GA (planning)
6. Mike S & Sons, Jumbo 25, Palm Beach County, Florida
8 Jim Baird 22' jumbo Pleasant Plain ,Ohio
9- Brook Martin, 22'6" Widebody, St Paul, MN
10 - Chuck Mazzola 28' Great Alaskan, Bend Oregon
11 - Michael Davis 24 ft. Jumbo Elkton OR.
12 - Arne Knutsen, 23'6" Wide Body, Dallas, Oregon
13 - Kent Cannon, Great Alaskan, Salem Oregon
14 - Stephen Maillous-22 Jumbo complete, Anchorage, AK
15 - Lane Stuart - 20' Standard - Port Townsend, WA
16 - Russ Pagenkopf, Juneau, Alaska - Jumbo 24 completed
17 - Matthew Swafford, 20' standard, Anchorage AK
18 - Jim Shula, 22' Widebody Buxton, Maine
19 - Les wheeler - extended widebody, diesel inboard, shaft driven, 81/2 yrs in construction, New Zealand
20 - Curtis Hanson 18' standard almost done, Ohio City Colorado
21 - 23' Widebody, Bothell, WA. Flipped and working on the inside. UB
22 - Dave Shoemaker 28 Great Alaskan Neptune NJ
23 - Dave Collett-Paule, GA 26 under construction in Homer Alaska
24 - David Lane Cordova Ak 19'4 WB with 24" "swim deck" and twin 60hp IB jets ,"slightly" modified for use as a big water duck boat, and piecing together materials for a 28' GA.
25 - Tom Eastgard Jumbo 24' Hood Canal
26 - 20' Standard Colorado Springs, CO - "Mountain "
27 - Jonski - 21' Wide Body - Center Console, 25" transom, 2007 90 Etec, Finishing Sloped Floor Deck & building Console now - 4 years part time, Central Connecticut
28 - Peter Jacob, Kristiansand Norway. Widebody 22
29 - Jimmy Stancil..GA 28...Palm Coast, FL
30 - Tom Butera, Ocean Springs, Mississippi. Ready to paint an 18ft Standard Skiff that's been under construction since August
31 - TJ Miller, Grand Marais, Minnesota
32 - Roland Decarreau, Grand Isle Vermont 24 foot Jumbo just lofted and cut all pieces except transom last week
33. Anthony Lyndaker, 26 Jumbo, Ohio but carted off to Alaska…
34. Tom Murto, Goshen, Indiana. Building a standard, 21 foot with reverse chine flats as suggested by Devlin
35. Chris Collins, 18' Standard, Scituate,MA
36. A 26' Skiff Kit Special. My son is kind of building and I am kind of helping. Palmer, Alaska, Ken
37. 25 Jumbo. Picked up the kit on Thursday, built the jig on friday, and pressing on! Mark, Monroe Oregon
38. 25' Jumbo with offshore bracket. Woodburn, Oregon,, jklistoff
39. Jumbo 24', Fletcher Poole, Atlanta, Georgia
40. Jim Baird, Jumbo, Pleasant Plain,Ohio Almost ready to paint
41. Mark, I've got one built already. Fort Saskatchewan, Alberta, Canada. 4th season on the water coming up
42. Randy Zimmerman, Leavenworth, KS, 21'4" widebody
43. Mike O'Farrell, 19' standard, Santa Cruz, CA
44. Roger Morris, 20' Widebody, Wasilla, AK
45. Russ Dysart, 24' Jumbo, Ladera Ranch, California
46. Martin Wagner , 22' Jumbo, Paso Robles, California!!
47. Dan Blackburn, 22' Tolman Sea Bright, Morinville, Alberta, Canada
48. Peter Lovejoy, 21'4" Widebody, Lyle WA, west coast boat works Kit
49. Jim Crawford, Standard, Fayetteville, AR
50. Herb Garnto 23 feet and a couple inches I suspect, I haven't cut the stringers Yet. Standard, Willolw AK
51. Steve Johnson, 18' standard, Richmond VA
52. Captain Fogfish North East Scotland, Eddie
53. Non Kit 21 foot Wide Body, Center Console, 25" Transom, 2004 90HP Etec, Northern Connecticut, John Solenski
54. Ken McBeath 24' Jumbo Perth, Ontario. Working on main cabin now
55. 25' Jumbo, Joint Base Lewis McCord, Washington, Chuck Preble
56. Neil, Ryan and Spike Ford in St. Helens, OR, 23'6" widebody (kit from Chuck at WCBW).
57. 25ft Jumbo, Ben Judd, Auckland, New Zealand
58. Dave T. SW Washington, just ordered a 24' Jumbo kit from Grady300 today
59. Dave Wright. Washington Tolman Widebody, previous build, Tolman 18 ft standard
End of Part One.
Part Two Tomorrow...