Gone fishing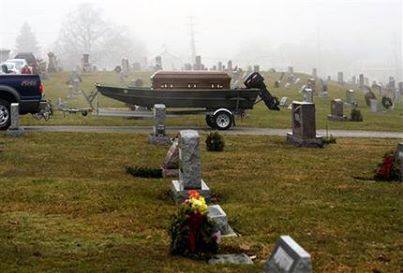 'GONE FISHING' - A man who loved the outdoors was carried to his grave in a boat pulled by a truck on Wednesday. The casket of 78-year-old Ronald Bloss Sr. was loaded onto a small motor boat and trailer and pulled to a cemetery by a pickup truck driven by one of his five sons. Bloss loved hunting, fishing and spending time on rivers with his many boats, so family members came up with the idea of using one for his final journey.
Thomas
---
---
Wilderness Waterway
There are actually 5 videos to cover the whole Waterway.
Emily
---
Wokart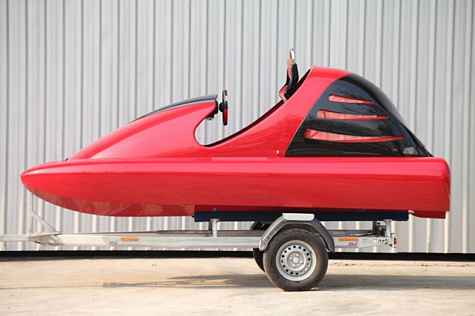 Hey there adrenaline junkies! We have a new toy for you. It's called the WoKart! As the name implies, it's a go-kart for the water. With a unique asymmetric catamaran layout, the WoKart is both stable and agile, leading its class in high speed 90° turns. It boasts the world's first ever mid-mounted outboard engine and feels much like driving a car on water. Designed in Switzerland, the WoKart offers a safe but fast watercraft alternative that can be used even in locations where jet crafts are forbidden. All we can say is vroom vroom!
Chuck
---
A Very Old Boat Plan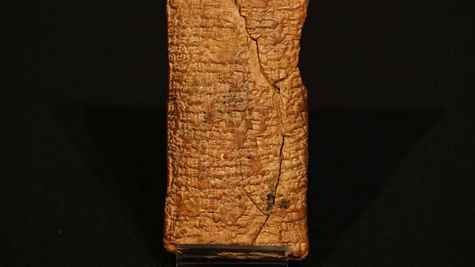 A recently deciphered 4,000-year-old clay tablet from ancient Mesopotamia tells a  story, complete with detailed instructions for building a giant round vessel known as a coracle.
John
---
Propulsion
This video illustrates the power of collective thinking and to come together work out problems and ideas to reach a simple product. This is example of what our group could do to create a simple propulsion that is free for the taking, as is wind and sculling. I hope we can give forth ideas to make this possible.
The first video illustrates group cooperation. This video shows a working model 30yrs ago.
Here is some other ideas going back to 1895 to 2009 for wave propulsion. You need some type of spring action to bring it back to a neutral position. Maybe use an available plastic.
Just a note: Whales fin is vertical and probably moves its massive weight by wave motion most of the time, thereby conserving energy.
Tim
---
S-Boats
Latest video from www.tipsfromashipwright.com
S-Boats at the 2013 Herreshoff Regatta.
The S-Boat class races at the 2013 Herreshoff Regatta in Bristol, RI. Racing is shown in exact chronological order. We didn't have the right camera for video, but we couldn't resist getting some footage. Big thanks to the pro Kal Nyer for some great shooting.
Louis
---
A Launching
I don't know why, but boat ramp bloopers always make me smile. I am always so stressed out when I go to launch my Marshall Sanderling, but thankfully I have not had any youtube-worthy mishaps. Can't so so much for these fellas. And the question...How many police officers does it take to launch an inflatable?
Jed
---
Really Simple Sail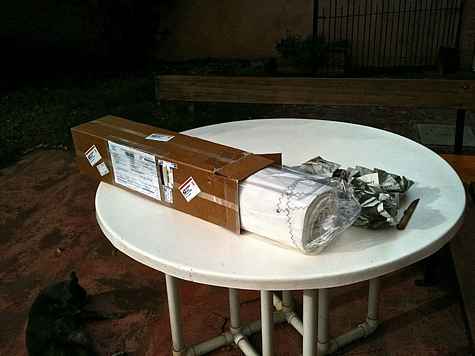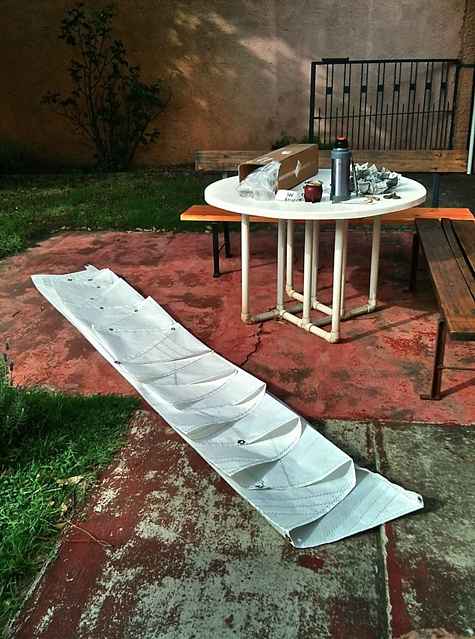 A Really Simple Sail just arrived at home in Uruguay via Duckworks. So, a new life begins for my Goat Island Skiff "Mojiiito". In few days I will try it. Thanks a lot Mic, and for sure Philippine's RSS, US Duckworks people.
Daniel
---
PDRacer Newsletter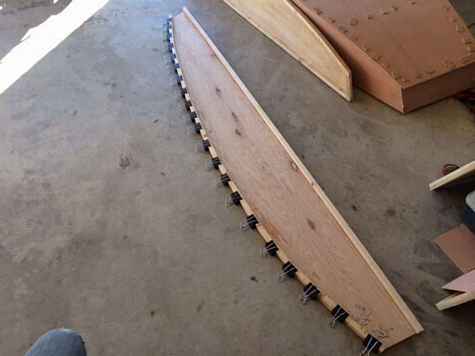 This is an article from the latest PDRacer newsletter.
I don't know that I'm much of a fan of using the kerf cuts for bending as they result in a lot of places for water to start rot.
However, the binder clips as clamps, that one I'm making a mental note of. Just doing a bit of the Google reveals 12 clamps for about $2.89 is a pretty good deal.
Seth
---
Voyager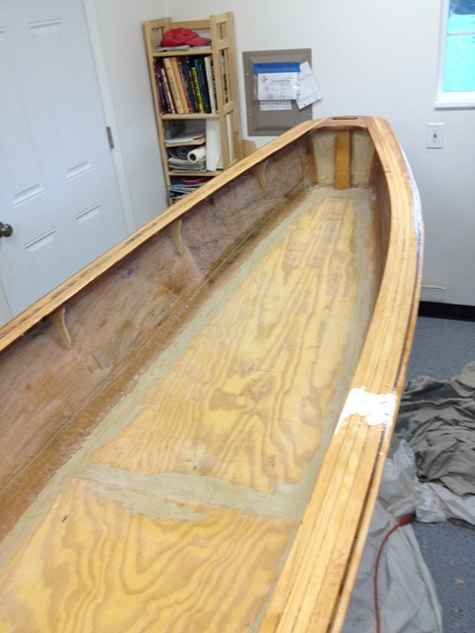 Final epoxy work tonight on this "Easy Punt" from Heatwater Boats. Next, a trunk for the Hobie Mirage Drive and mast. I have kick-up rudder nearly finished. Getting 40 sq ft sail from Payson for easy down sailing.
John V
---
Half-Safe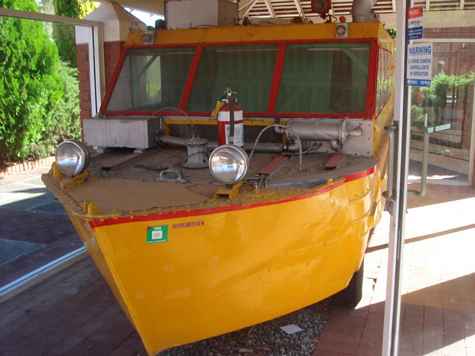 Friend of mine who lives in Perth went by to see the round-the-world amphib and sent me this picture of Halfsafe. I read the original book when I was 13. Apparently the author was really hard to get along with (gossip later from Perth). Note he was an engineer. The couple in the boat next to mine at a Marina on the Tennessee River were from Australia, and the guy was an engineer, so I gave him the book. He was from Perth and when they returned home he ran across the preserved boat in Perth ... seems like his nephew actually went to that elementary school. The book is just a boat nut's dream... he was obsessive about taking the jeep to sea and the book details most of the modifications he made to make it self-contained and hard to sink. He made a fuel tank for extra fuel that rode underneath the jeep, with four indentions to fit over the wheels. When he had pumped out all the extra fuel he jettisoned the belly-tank. Very World War II. The trip from the U. S. to Britain played hell with the hull and there's a picture of him with welding equipment rebuilding the thing in England.
en.wikipedia.org/wiki/Ben_Carlin
Joe White
---
KWIKY
I have completed the assembly of the KWIKY, and it has been in the water a few times. It paddles well, and with the trolling motor can extend the time on water experience.
Ken Simpson
Note my new e-mail address:  portableboatplans@cox.net