Forgotten Luxury Yacht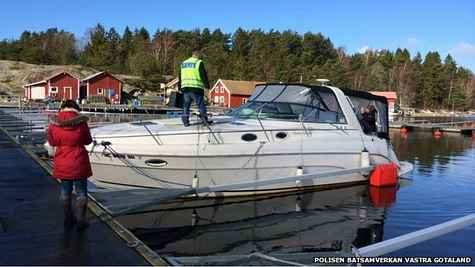 I submitted this just because it's so annoying…!
"A wealthy sailor has come forward to claim a luxury boat that has been floating in a Swedish harbour for at least two years, after he apparently forgot all about it." Read more...
Brian
---
---
NEW TITLES FROM INTERNATIONAL MARINE
(Reminder: Father's Day is June 15, 2014)
JACK TAR AND THE BABOON WATCH: A Guide to Curious Nautical Knowledge for Landlubbers and Sea Lawyers Alike (July, 2014; PB, $16.00).  A Ripley's Believe It or Not for the mariner—everything odd, weird, and unbelievable. Mariner and author Frank Lanier began to compile these entries when he served in the Coast Guard; they were included in the "plan of the day" published aboard the various ships Lanier was stationed on starting in the 1980s. In plain language, here are the origins of curious nautical language and expressions. (Advance chapters available now!)
BUILDING THE UQBAR DINGHY by Redjeb Jordania (January, 2014; PB, $20.00).  Don't have a boat?  Need a project with the kids? Beginner or seasoned builder?  With simple tools and materials, and using the stitch-and-glue technique, you can have your own boat and be part of the growing Maker Movement which places a premium on the Do-It-Yourself and hand-made v. mass manufacture.  From sew to row, from stitch to sail, own the process and the full experience!
THE ESSENTIAL KNOT BOOK: Knots, Bends, Hitches, Whippings, and Splices for Your Boat, by Colin Jarman (November, 2013; PB, $14.00).  "This book deserves a place on the bookshelf of every serious sailor."—Sailor's Gazette.  With more than 100,000 copies sold, this is one of the most successful nautical knot books ever published.  This edition features QR codes that links readers to knot-tying videos online.  The text is accompanied with vivid color photos showing the knot in use.  No app can replace the need for knots in a boat!
---
Dutch Sailor Missing in the Atlantic
The Netherlands, 25 March 2014 - Dutch sailor Sietse Hagen left the port of Tenerife heading for the Caribian isles on January 15th, 2014. Since his departure, now over 60 days ago, he has not reported home. His friends and family, as well as the Dutch sailing community, are deeply concerned about the well-being of this very experienced sailor.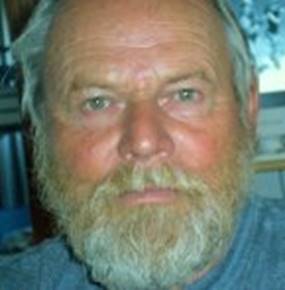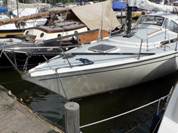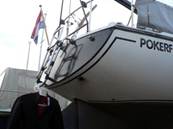 Sietse Hagen is sailing a 27ft Gib'Sea Flush Poker named 'Pokerface', small but well prepared for long voyages. He carries no satphone or SSB radio. The boat is recognizable by its fixed spray hood and the black painted stern. Sietse has been reported missing at the local and international authorities, but all help by keeping a lookout for his boat would be very much appreciated.
If you have any information that could help finding Sietse please contact The Netherlands Coastguard or your local police.
Peter Coolen
---
Summer Cruise
"The classic film of Frank Dye's sail from Scotland to Norway via the Faroes in his Wayfarer, Wanderer, a 16-foot open dinghy, a boat that is now in the British Maritime Museum".
Andre Dup
---
Staves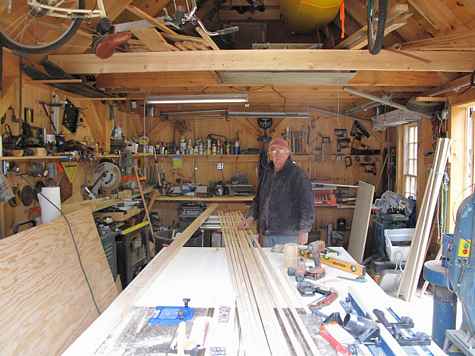 The weather warmed up enough to resume some work on the boat. I was able to corral Dick and Dave to help in making the mizzen mast. Good to be back at work.
Here are the finished staves. We made 9 in case one was bad.
Roger
---
PDRacers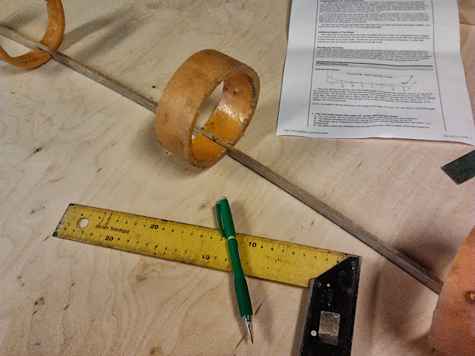 There are few photos of two PDRacers which are currently build in Poland.
Krwawy
---
Boat Names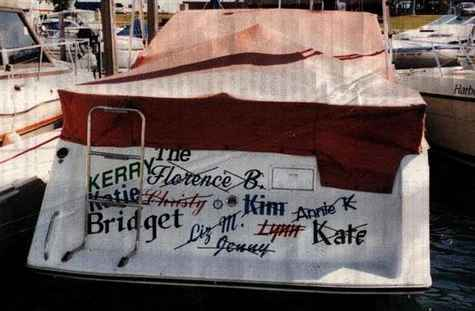 Robert
---
Core Sound
Alan Stewart's 3 part video of assembling a Core Sound 15. Full of good ideas and insights.
Doug
---
Boating in the Ice and Snow...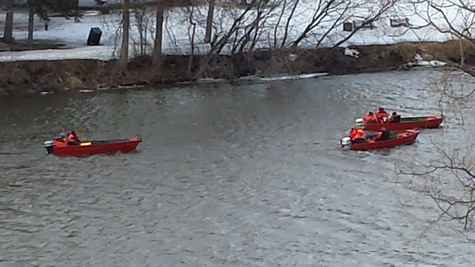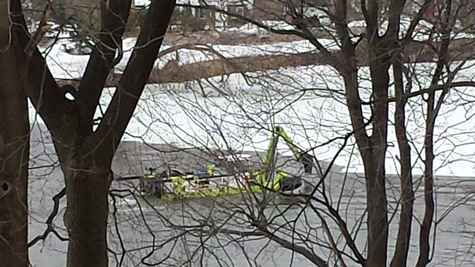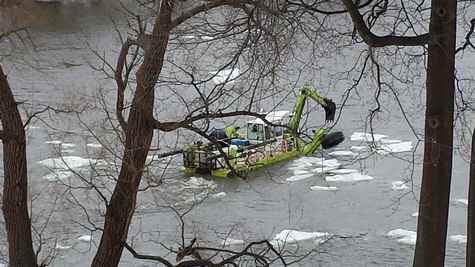 I do not remember who was requesting pictures of boating in northern climes but this is what is happening in Ottawa Canada today (April 5 2014).
I live facing the Rideau River and get to watch the action to prevent ice jambs each year. The city uses a self propelled floating backhoe break up the ice and get the river flowing. In addition to the backhoe there are three support craft with grappling hooks that pull the ice flows into the mainstream so they do not jamb up. For those with eagle eyes, the flag flying on the backhoe is the Acadian flag.
Herb
---
Patching
Not nearly as much progress today, too many other things going on. But I did get my broken ply cut out and patched today.
In my clumsiness and hurry to get things done I dropped the panel when I was working on it the other day. It fell all the way over and then hit the corner edge of my bench top table saw that was sitting on the ground. It broke out a place by the top edge of the cabin deck that I hadn't gotten framed yet.
I cut out an area about 3 by 5 inches to get all the damaged stuff out. I cut a patch out of some scrap. In my haste to get it done I didn't get the grain orientation right. Since there will be a brace on the other side of the patch I don't think it will matter much in this case.
I wrapped a backing block with parchment paper, clamped it underneath and laid the patch on top of that in the opening. I mixed up some epoxy, spread the epoxy around the seams, then put fiberglass tape down and epoxied that. The tape wasn't quite big enough to cover the whole patch, but I think with the brace glued in on the back side it won't matter.
I'm certainly hoping that the top edge of my cabin deck is not going to be spending any amount of time immersed under water!
I'm sure others have done a much neater job with this sort of thing, but thought I would share in case anyone was interested and had a similar problem.
The first photo is of the broken piece of ply after I cut it out. I leaned it up on edge to take the photo.
| | |
| --- | --- |
| | Here is another photo. This one shows the panel where I cut out the broken piece. |
| | |
| --- | --- |
| | Here is photo of the patch cut out. |
| | |
| --- | --- |
| | Here is the backing block, wrapped in parchment paper (to keep the epoxy from sticking to the backing block) and clamped in place. |
| | |
| --- | --- |
| | Here is the patch laid in on top of the backing block. |
| | |
| --- | --- |
| | Here is the last photo. It shows the patch epoxied in with some fiberglass tape over it. I probably should have cut a second piece of fiberglass tape and covered the whole patch at the same time. I may go back and add some more tape or cut a patch the right size out of some cloth. I couldn't locate my scrap cloth that I use for patches so I just used the tape this time. |
Paul
---
Cave Boating and a Ship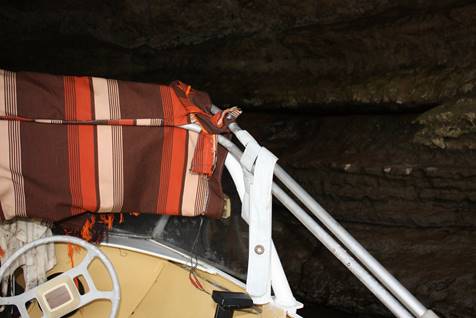 Caves on the shoalhaven river.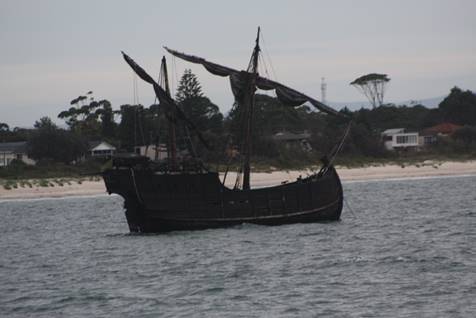 This sailing ship was anchored in Jarvis bay and weighs 35 tons and was built in Victoria.
Stewart