Piragua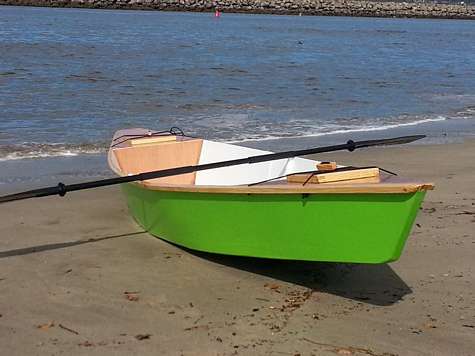 Splash! "Vamos" is a Jim Michalak Piragua that made her first trip to the ocean today.
Chris
---
---
Piccolo Sails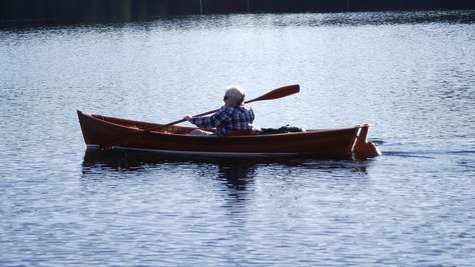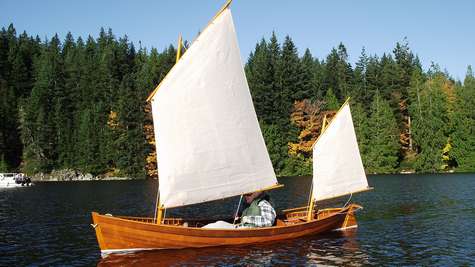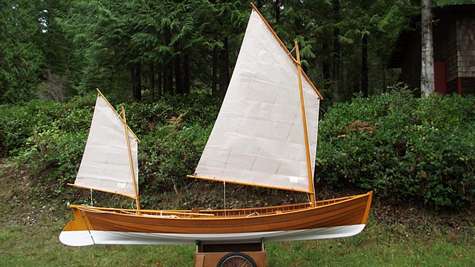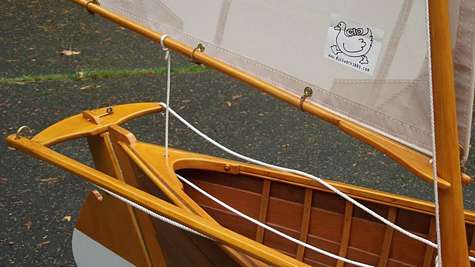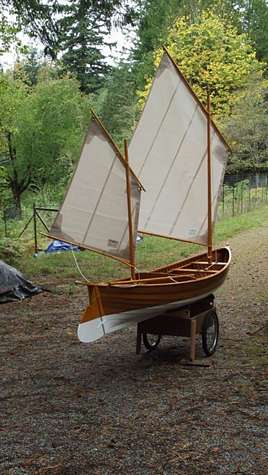 The original "piccolo" was designed and built in 1980 by Bob Baker of Westport Massachusetts on commission for the Wooden Boat Magazine who still offer detailed plans and two "how to build articles" in their magazine. The little boat is 12' 9" by a mere 2' 6" and weighs about 60 lbs; you know how small it really is when you sit in it for the first time.
The idea was to draw a boat that could sail as well as be paddled with a double paddle. With three mast steps it can be configured as a standing lug ketch or sloop as conditions permit and we found in both ways it was well balanced. The steering for sailing consists of a yoke for the rudder and a push/pull tiller that took some getting used to. In paddling, the same yoke is rigged with lines that run up to foot pedals. This was last winter's project; challenging and tedious at times, built according to plan using red cedar for the planking and floor boards and Alaska cedar for everything else except white oak for frames. All the fasteners were stainless screws and copper clench nails for the planking. Everything is finished bright save the white paint on the bottom
Although the wind was light, we found the it went along surprisingly easy and fast, the only sound was the delightful gurgling of water flowing under the laps. What was the best surprise was how it went upwind, much closer that I thought. Over all I can't say enough about how well things were worked out in the design. The only drawback is it is slow and hard to tack. This is expected given it's long keel with no centerboard. Also, it is a bit tippy too! But we can get used to that.
Jon
---
Traveler, a Michalak Jukebox 3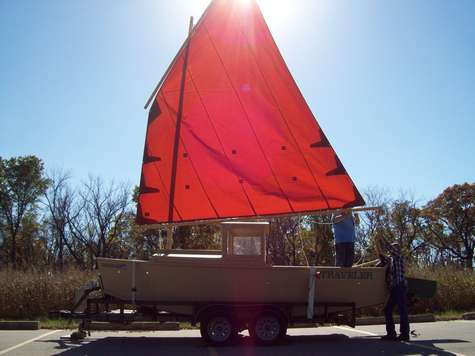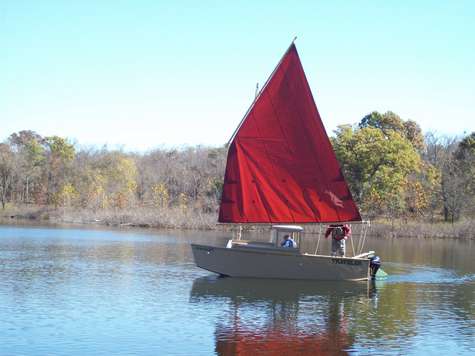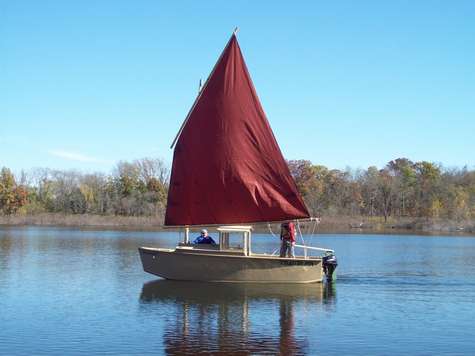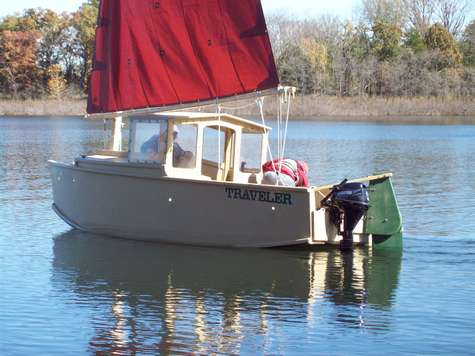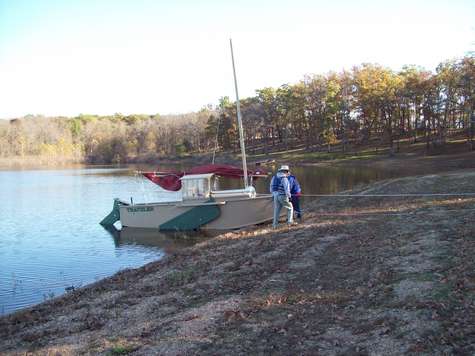 Recently the 5th annual Meangene's Halloween Hideout was held at Stockton Lake, Missouri. We had the special privilege of getting to see the splash and first sailing of the prototype Jim Michalak Jukebox 3 built by Eugene Dixon of Tulsa, OK. Technically "Traveler" had been splashed previously but only used as a motor boat then. Eugene rolled in from Tulsa with all his rigging hardware, we got the good ship Traveler dressed and ready for her first sail. We had two great days on her, the first day in light winds perfect for shaking her out. The second day winds were 18 gusting 20 mph, perfect for hard testing. She likes to roll over about 12 degrees, pick up her skirts and launch like a sprinter coming out of the blocks. Great job Eugene, you done good.
Gene
---
Handliner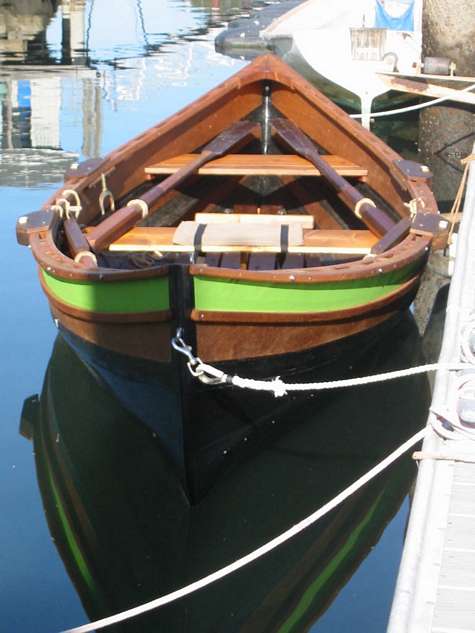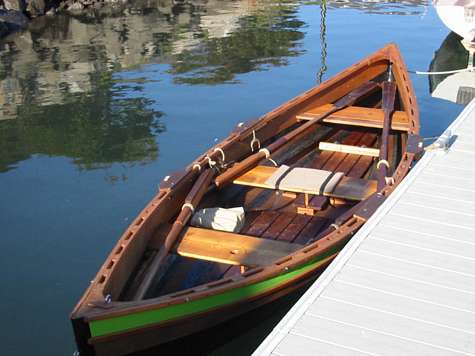 Here a recent launch of mine. Plans were from Larry Westlake for his "Brightsides" his variation on the BC Handliner. I roughly followed his plans and directions, although this one came in a few pounds under his estimate. A bit easier to pick-up top without floorboards and only one of three thwarts. I began building in early August this year and first launch was mid-October when I found a small leak through the port side lower chine. I pulled it out and applied two more coats of graphite epoxy, plugging the leak. Its currently tied up in the Santa Cruz, CA Small Craft Harbor and is not leaking.
Steve Chambers
---
Flywood: First (Official) Splash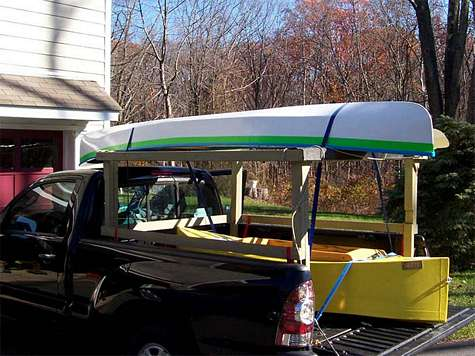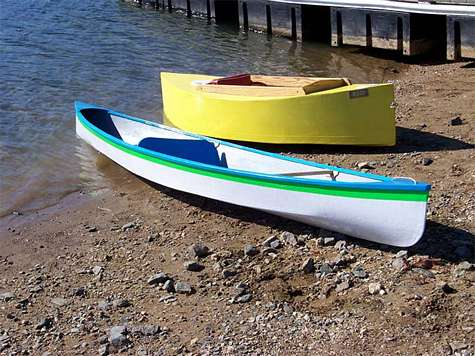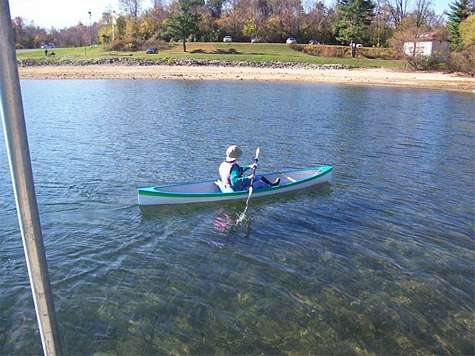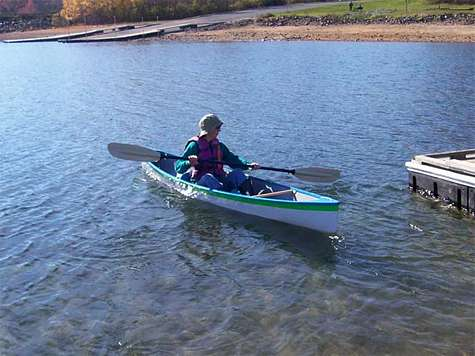 Recently there has been some discussion on the Duckworks Yahoo site about the one-sheet boat designs by "Flo-Mo", a designer/builder from Austria. I mentioned that I had built an example of "Flywood" and had done some preliminary water-testing of the almost-completed (but watertight) canoe. This afternoon (Nov 10) She-Who-Must-Be-Obeyed (SWMBO) (Margaret) and I took the now-completed Flywood along with my "Chiquita" to Round Valley Reservoir in NJ for the official First Splash. It's absolutely amazing that this much boat came out of one sheet of 1/8" (!) plywood. People find it hard to believe that a 12' canoe was built from an 8' piece of ply. The bottom is covered with 4oz FG and epoxy (6oz tape on the seams) while he interior is lined with 8oz canvas (painters' tarp) and TBIII. SWMBO made the mistake of commenting on the heavy weight of last year's otherwise successful project (Beaux Eaux - see First Splash from last May. The result was a 24lb boat that practically loads itself onto the roof rack. Paddles VERY easily and has good directional stability. The accompanying pictures show Margaret enjoying an hour's paddle on a beautiful autumn day.
Paul Truszkowski
---
A Couple More Launchings at Lucas Boatworks
Here's a couple more new boats for this month. I want to make sure the boating magazines get the full shot so they don't forget us, as usual.
Sandy says that his little canoe is suppose to ride this low in the water; Steve made some comment about a lot of excess weight in the boat but I think it's perfect. This is it's first time in the water since he started it last week. At least it seems like it, Sandy doesn't mess around when it comes to these canoes.
Museum John was dying to see how the Everglades Challenge boat floats so I installed both centerboards and we pushed it in this morning. His custom design exceed our expectations by a mile. It's stable and smooth and seems to offer no resistance to the water at all. Now he expects me to finish it.
He wanted to see how tender it was and what it takes to turn it over. As you can see, it takes a lot of effort to get it over on it's side. When he righted it there was no water at all inside.
Cessna was worried about John so she jumped in to save him. He enjoyed the tow back to the beach.
---
Launch Day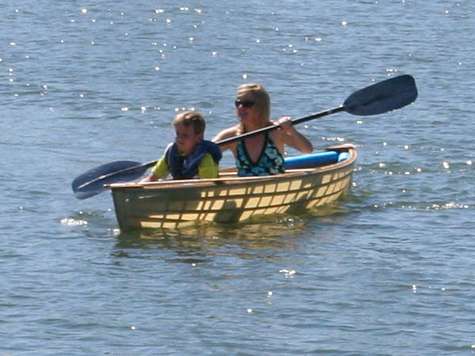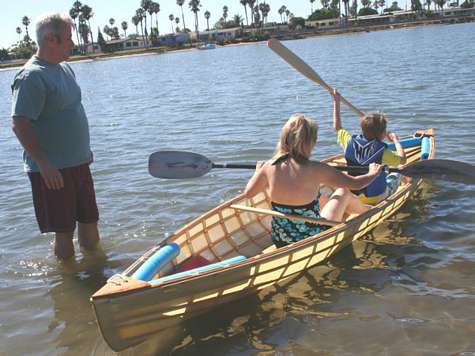 After a few final touches, adding thwarts and some emergency flotation the boat was finally ready to launch.
Here in San Diego there are lots of spots to paddle. Many of the lagoons allow paddling, there's both Mission and San Diego bays, the Oceanside harbor and miles and miles of beaches. We chose De Anza Cove in Mission Bay for the easy launching, close parking and large no-wake area.
Of course, to get to any of those you need to strap the canoe to the car. I've got a 200+ lb Hobie tandem sit on top kayak that doesn't see much (any) use anymore. I had a set of kayak roof racks that probably cost more than I spent building the new boat, but I don't have the old roof rack anymore. In the spirit of the new boat I notched a couple of 2x4s to fit the luggage rack and lashed them in place. I wasn't too worried, but I took it slowly on the way to the bay. To make a short story shorter, we made it.
Once there, unloading was a dream.
And we spent the rest of the day taking turns paddling on the bay.
www.skin-boats.com/content/launch-day
Scott
---
Re-Launching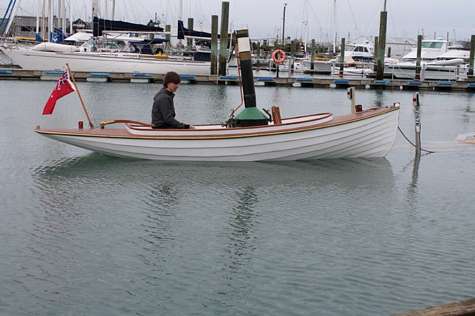 Our 1895 steam boat finally hits the water after 27 years as a garden ornament and a 3 year restoration.
Peter
---
KD 650 Splash in New Zealand
And another KD 650 is launched. This time in New Zealand. Rodnay was sticking very close to the plans and the result is a beautiful boat. It was the first boat he ever built. The boat was launched on November 8th in New Zealand.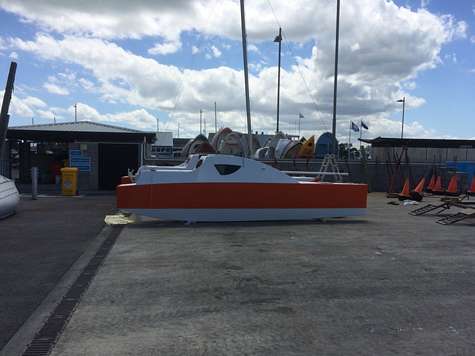 Just before launch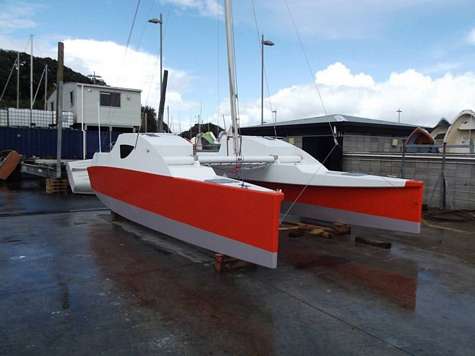 On the ramp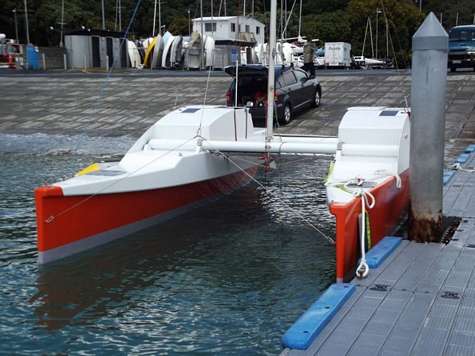 She floats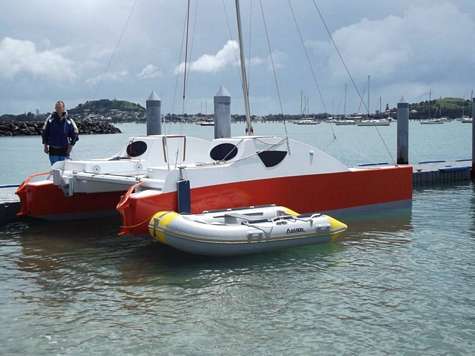 At last, the boat and her proud owner.
Here his own words after trying the boat for the first time.
It all went ok but the weather didn't help at all. Was blowing 25 knots today, but there was a brief window of time in the morning where conditions allowed us to get it done. No sails yet but I can report that a 5Hp motor will give a cruise speed of 6.5 knots and a max of 8 knots. The slim hulls do a good job of smoothing out smaller waves. In tight manoeuvres I found being able to turn the motor a big help. While motoring the bows were often just skimming the surface of the water. With two of us on board I noticed speed was better when we avoided sitting too far aft.
Here two shots of the boat under construction.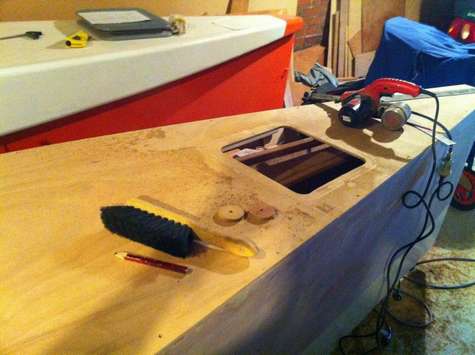 Hull construction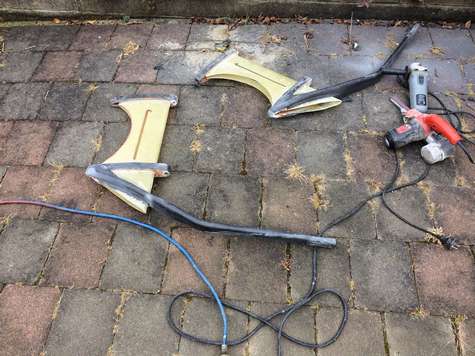 Rudder housings
If you would like to learn more about the construction of this boat please visit his very nice and interesting blog: kd650.blogspot.fr

Bernd Kohler
K-Designs,
France/The Netherlands
www.ikarus342000.com
---
12' Dinghy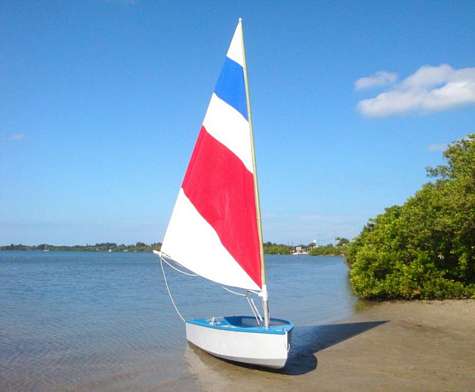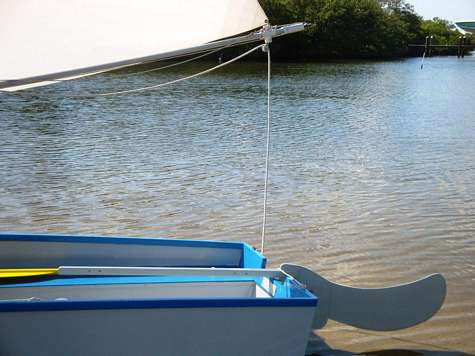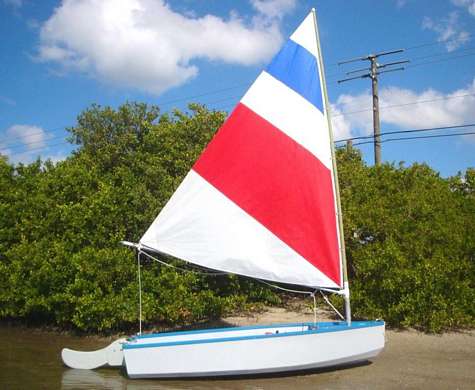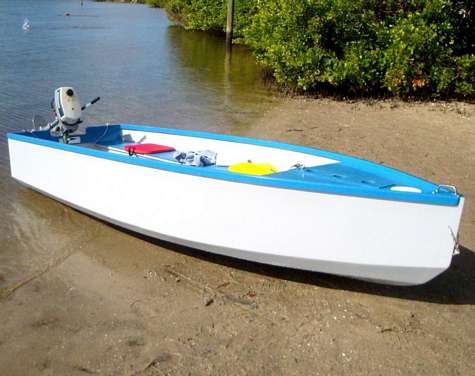 Here's a little dinghy that could probably fill the needs of a lot of people who are looking for an "all-in-one" boat that will actually fit inside your van or truck.
Most of the folks who are familiar with my boat designs know me as "Trimaran Frank," but my design partner Andrew Walters and I are just completing plans for this 12' dinghy.
Actual dimensions are 11'7" LOA, 48" beam, and 24" max depth. Our goal was to come up with an original dinghy design that would perform well under sail, oars, and a small outboard AND fit nicely inside a minivan or pickup bed. I haven't added the oarlocks yet, but I can vouch for its sailing ability and its smoothness under power.
It weighs almost exactly 100 lbs, so one person can move it around or load it. It's a bit heavy for lazy old me to car-top, but sturdier folks could go that route as well. You could definitely build it lighter if you didn't glass virtually surface (as I did), but since it's a prototype, I like to err on the side of durability.
The sail is a 65 sq ft leg-o-mutton, the mast is recycled from an early windsurf rig, and the boom and gooseneck are of my own design. Andrew and I will be offering plans ASAP, hopefully in the next few months.
Frank Smoot