5' Boats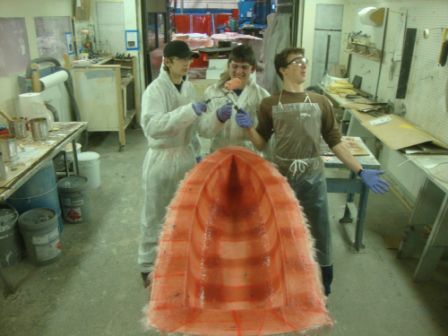 Kids launching 5ft boats into the ocean to track wind and currents.
Read more.
MIK Storer
---
---
New One Sheet Design from Plyboat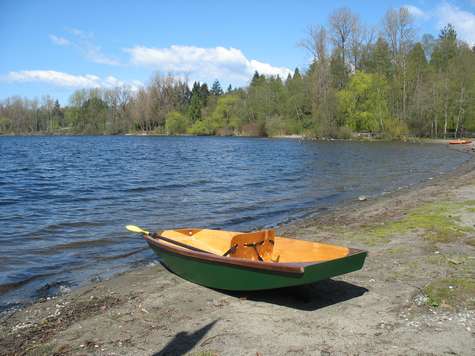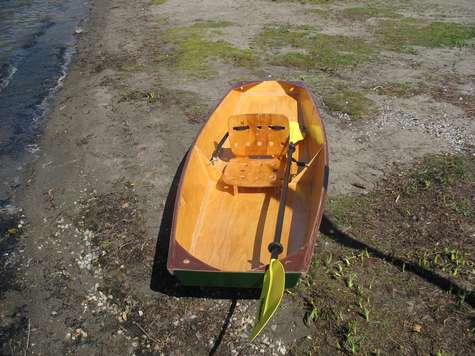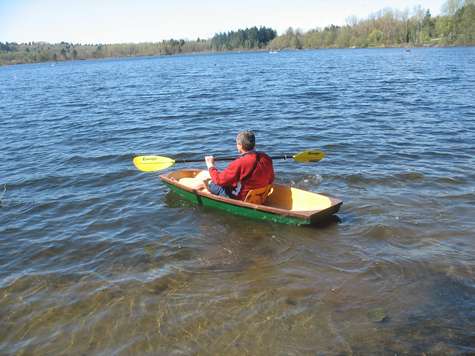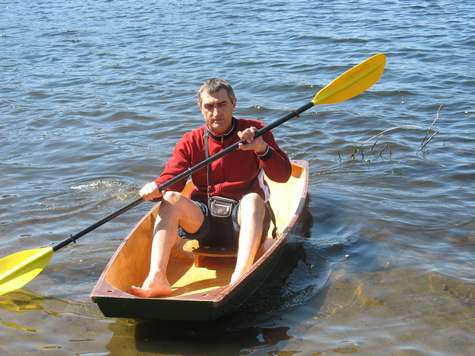 Just uploaded on my website www.plyboat.com my newest design - a one sheet mini punt. It was just an initial launch to find the right spot for the seat. More testing will be done as the weather improves.
Alex
---
Cruising Thailand Bolger Long Micro
Launch Of Bolger Long Micro sail boat at Ping River National Park, Thailand 2012. The year of the big flood water was highest on the river in 40 years.
Sailboat Loma
---
Introducing the Tik-Tak Kayak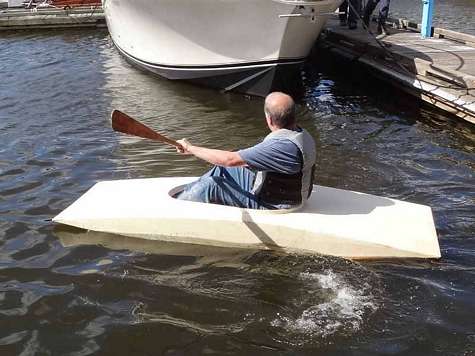 2 sheets and a 2x4, quick and easy to build, looks like something from the future, and it even works!
Complete, free plans in downloadable, printable PDF file and a picture essay on building one.
PS: Now might be a good time to remind you I am involved with a LiveStrong event and could sure use some donations.
Andrew Linn
---
Scraps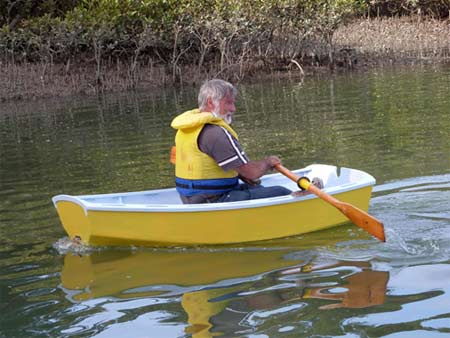 A brand new design from John Welsford. Plans are available in the Duckworks store.
Chuck
---
Oz PDGoose Launch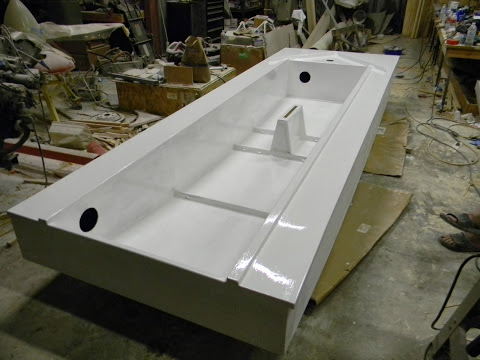 Ian Henehan's first launch of his Oz PDGoose into 20 knots or so. Little bit of a problem with a Tyvek sail, but not bad all round as they got back to shore safely. The article. Here are his comments:
Dad and I taking the PDGoose out for it's first run. Lake Lewisville near Denton, TX. Winds out of the SW at 15-20kts gusting near 30. Not ideal for a first time out, but we had fun.

The boat goes great. The chop was getting a little big for the flat nose, so it was slowing us down a bit. We managed to blow out a few grommets on the Tyvek sail (@3:36), but it will be easy to repair and to make a little stronger. We have a few minor adjustments to make, but mostly, everything just worked great. Sorry for the lousy camera angles. I'll figure it out better next time. Fun day on the water.

Ian
MIK Storer
---
Summer Breeze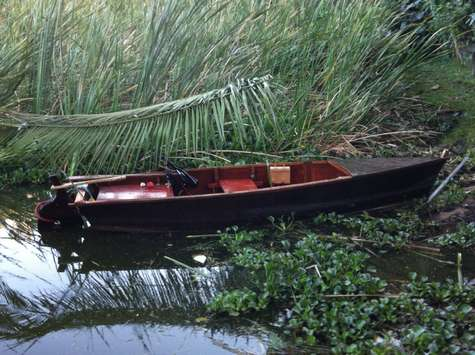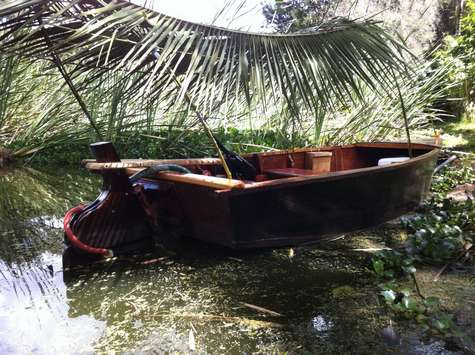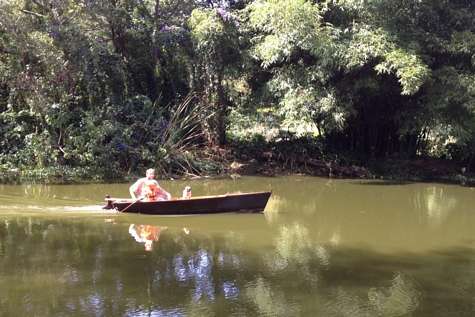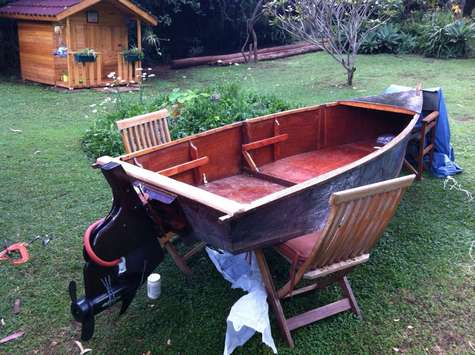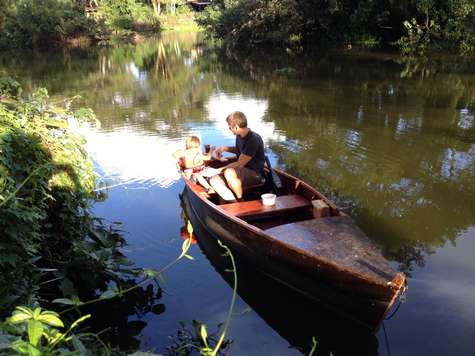 Summer Breeze is a great boat with a phenomenally shallow draft and very stable. We have enjoyed countless hours of boating fun. I recently added a 55lb electric motor. In keeping with the style I have put it through a wooden rudder.
Nothing beats hanging out with my boy in the boat!
Daniel Hinds
---
Goose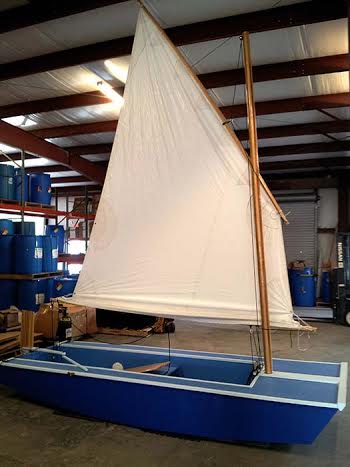 I finally finished my Goose working a half hour here and there since November. I got the plans and most supplies from Duckworks and the sail kit from Polysails.
The sail is reefed in the picture so it will fit in the building. This Goose was based on the RV version of the OZ RDRacer. I built a round birdsmouth mast for it because it seemed like a fun project. (It was!.) I hope to get it on the water Sunday.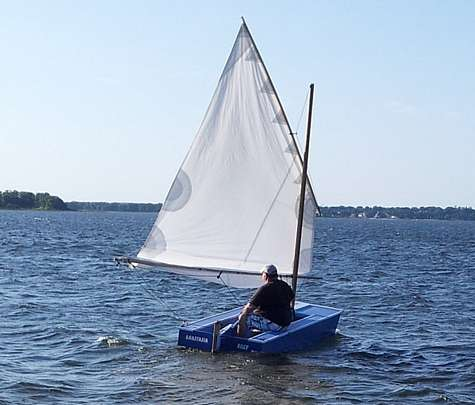 Thanks for all your help and inspiration for this project.
Tony
---
Roughneck Takes Her First Swim
Well, it looks like last winter's unplanned, unbudgeted, and still uncompleted boat building effort has potential of some future success!
Jim came over to help me get Roughneck wet for the first time, today. There were a couple unforeseen problems. Like the not-so-minor thing about how we were actually in the process of sinking. Seems, there are a couple of old screw holes hidden under my quicky paint job. Probably about 5 gallons flooding, for the 45 minute maiden voyage. An easy fix.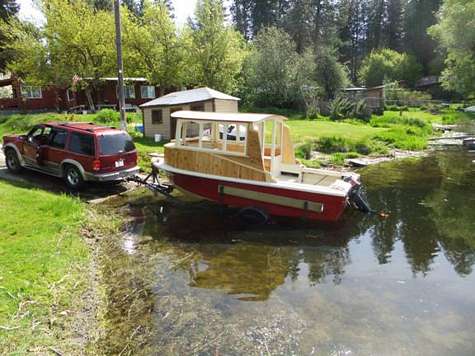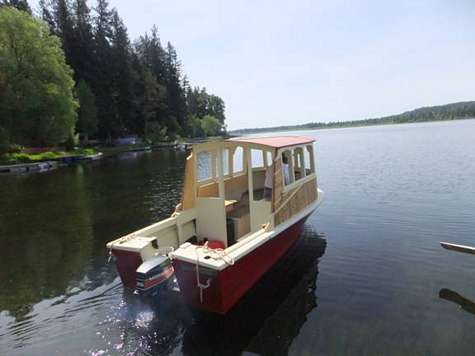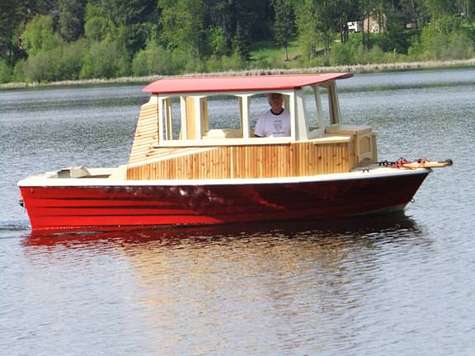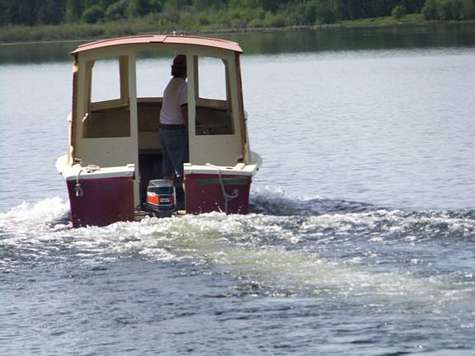 A bigger issue is the fact that I under estimated the load waterline. When the boat is leaving the trailer, the lip of the motor well is right at the water line. I had to chop out a section of the deck over the motor to get it to clear the road when tilted up. Now, I have this huge hole. That will take some dedicated head scratching. But, there any number of possible solutions.
Hey! Like I already admitted. The hour they taught naval architecture, I musta' been out in the hall trying to get a date. Also, in that realm of weights and measures, the bow is still expectably lower than the rump.
I did pile about 200 pounds of tractor chains, gas, water, and a pretty heavy anchor in the stern, and that helps. More to go.
Dan
---
Hooked on Quack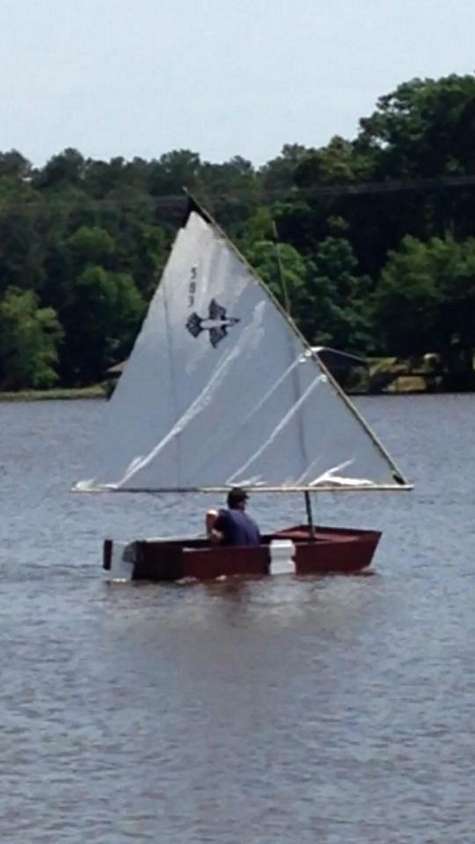 Maiden voyage of the Hooked on Quack. The boat responded well when the sails were filled, and tacks are unbelievably easy and swift. Super stable too. The bamboo mast may be an issue in heavy winds though.
Scott
---
Splash from the Past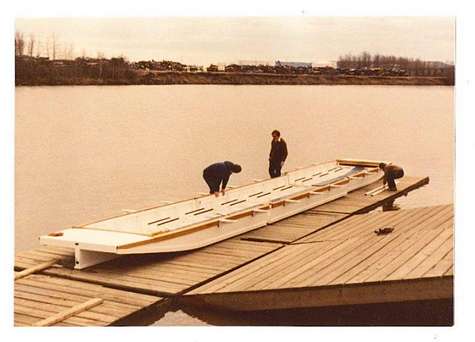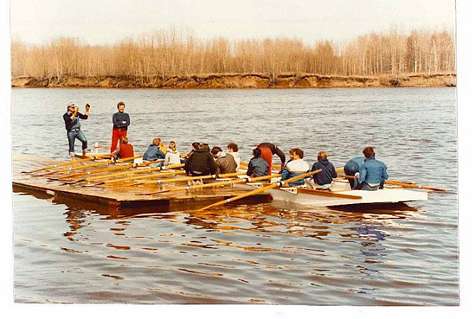 I was asked by our local rowing club, many years ago, if I could build them a sixteen seat practise rowing barge. Not being one to pass on a great opportunity, I said yes. As I only had a 16x24 shop, I built it in three 16 foot sections which were assembled at the river. One very large row boat!
Ron