Palmer Johnson Yacht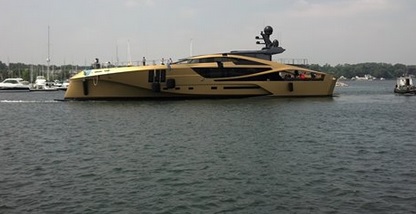 The latest multi-million dollar vessel from shipbuilder Palmer Johnson Yachts is now in the waters of Sturgeon Bay.
Joe
---
---
Nimby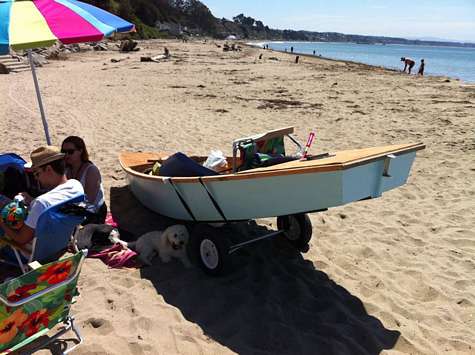 On Sunday, Nimby had her debut as a surf-launching beach-cruising rowboat. And Stand-Up Paddleboard (SUP). The SUP thing is really popular out here. A friend celebrated her birthday at New Brighton Beach and rented a couple SUPs. I brought Nimby. It was a fair walk down to the beach, but I have a Davis Wheel-a-Weigh Dolly, which essentially converts the boat into a very stable and easily transportable wheelbarrow - all the beach stuff just gets chucked into the cockpit and wheeled around wherever we need to go. Super convenient, and way better than the products of my own dolly-making attempts. Read more.
Tyson
---
Jaunty does Hagg Lake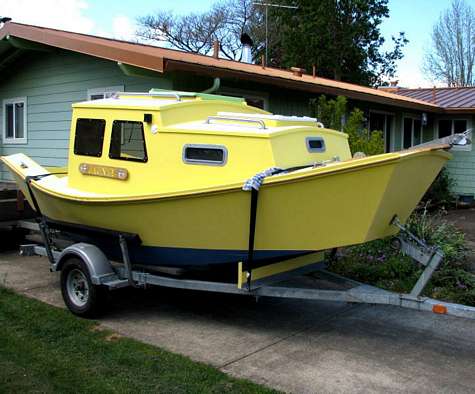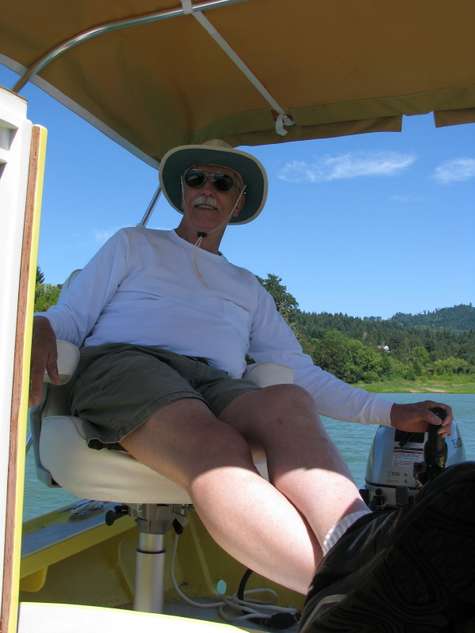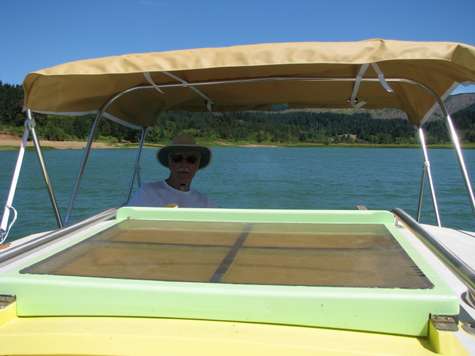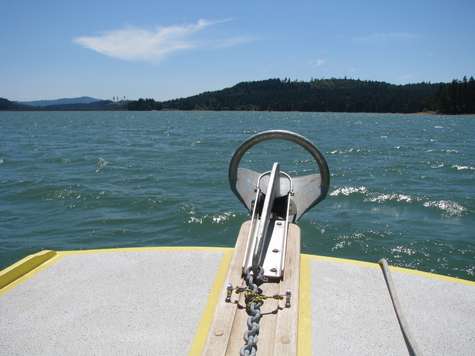 No full on photos, (except this one in the driveway) mind was not on pictures today. After great anxiety everything went well from launch to take out. Three hour tour...
Mostly near the end of this four year project. Still parts to add.
Jaunty is a slow cruiser with top speed of about six or so mph tops at 3/4 to full throttle. Jaunty only goes so fast and no more. A very nice sweet spot about 1/4 throttle, about four mph, perhaps a bit faster, at which, as my friend along with me said, "Fast enough to see that you are going somewhere and slow enough to see the sights." Fore and aft balance could use a bit of ballast tuning but overall, it was a good tour.
Rich Green
---
Gloucester Dory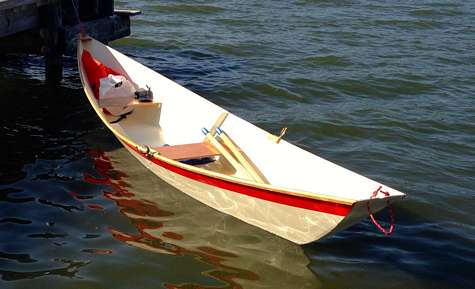 Launch day, lots of Duckworks bits and bobs on the water. Some assembly required.
Philip
---
Duet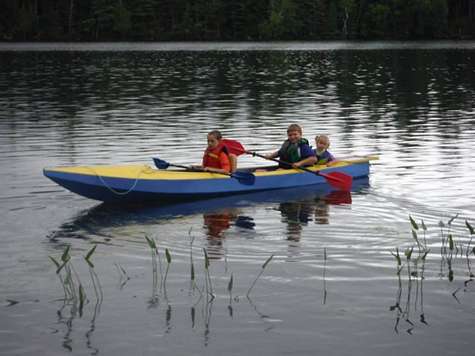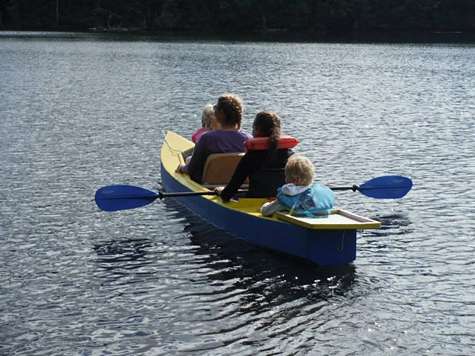 I started Duet two months before the date I launched it, instead of another box I built a Michalak Larsboat. During construction I did some improvising and modifications as I thought of them. The boat is 4 inches longer than drawn, has two 1" foam bulkheads instead of the ply and wood moulding bulkheads drawn. Before paint she weighed in at 52 lbs. We launched Duet August 16 in Eastham, MA on Cape Cod, just down the road from the Cape Cod National Seashore Visitor center. After learning how to paddle a doulble kayak, and that I needed to be in the stern so the boat wouldn't weathervane, we set off down the bay for the beach. After a walk across the beach to see the ocean and surf, we headed up the bay toward Orleans, MA, into the teeth of a nasty wind. Good thing Larsboat is a great design, though I still plan on adding a rudder, we made it though the worst conditions I ever hope to see in the boat, we ended up covered in salt from the spray, but otherwise only shipped a bit of water once from a Lobster boat that didn't slow down. Thanks for the boat builders plans for sale, and this great site!
Link to the build album.
Josh
PS. By the time this is published we will have also gone on a canoe camping trip in the Adirondack's with Duet.
---
St Ayles Skiff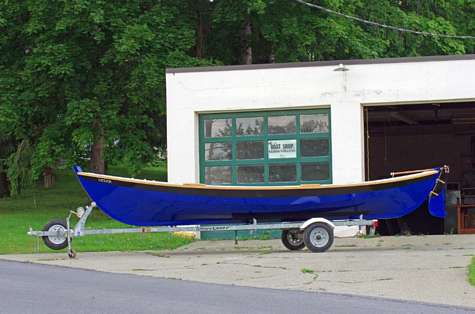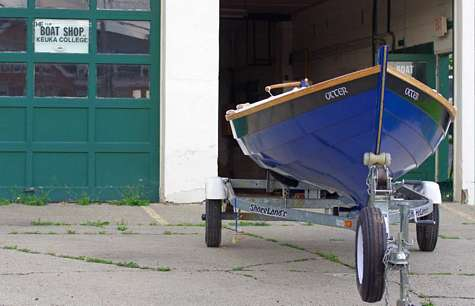 This is the new skiff just completed by students under my direction for the Fingerlakes Museum.
Craig