Ladder Clip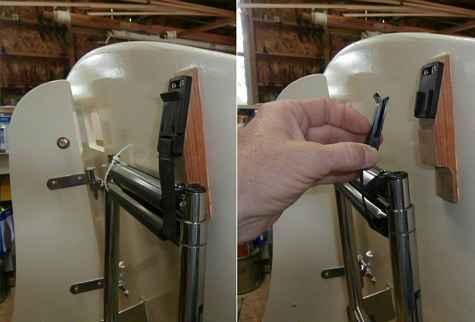 Thought I would share this in case someone else runs into the same thing. A multi-purpose block for a quick-release snap on a stern mounted ladder. This ladder is a nice two-step telescoping ladder made by Windline, and is perfect for the SCAMP we are building. From Facebook.
Stacy
---
---
Quick Cleat
Quick Cleat™ is the fast, easy way to secure dock lines, anchor lines, mooring lines and fenders - without knots. The unique, durable, low-profile design quickly secures a line in seconds. Just drop a line into the rope slot and release. Easy to install on board or on the dock. Available in three sizes: 2" (max. 1/4" line); 3" (max. 3/8" line) and 4" (max. 1/2" line).
Click here or on the image above to watch the how-to video.
More product info: www.quick-cleat.com
---
Two Way Clamp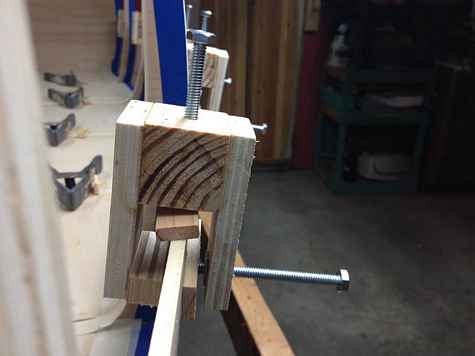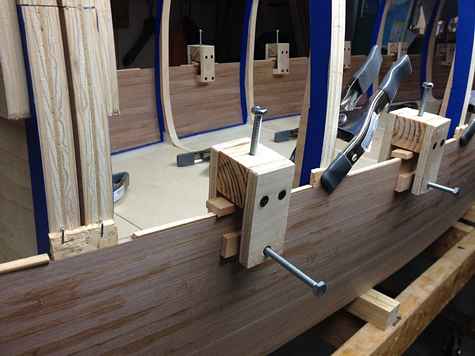 My two way clamp, made 50 of them! This keeps a nice tight fit for the glue joint with my bead and cove strips. note the left side "spacer" which is screwed on and the wooden washers to keep from denting the strips. Also note the shallow bead to keep the cove intact. Note how it's used, and still no staple holes in the hull.
Dennis
---
Easy Boat Loader
Easy boat loader uses drill/driver to lift and lower boats to 176 lbs. (80KG) Available in the U. S., Mates!
Steve