Boat builders use bevel gauges a lot – or I do at least. I have three or four different ones including a large one I made out of Plexiglas. This video shows how to make one out of bamboo wood:
Reuel Parker Mast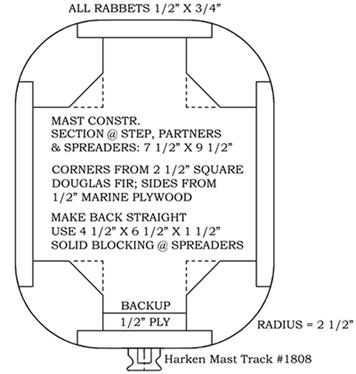 Chuck, I'm still a faithful reader on Duckworks. I love your magazine!
Did you see this article? I think everyone will be interested.
Jonathan Bornman
---
Google Search Tip
If you put this search string into Google it does a site search and is a great way of finding stuff on one website, especially if it does not have a search facility. For example, type:
site:www.bruzelius.info "red jacket"
You just substitute red jacket for whatever you are looking for. Using " " gives you that exact phrase ie "red jacket". You do not have to use the ".
Try it.
Also, this is cool: 
www.bruzelius.info/Nautica/Bibliography/Clipper_Ships.html
Mike John
---
Shock Cord Cutting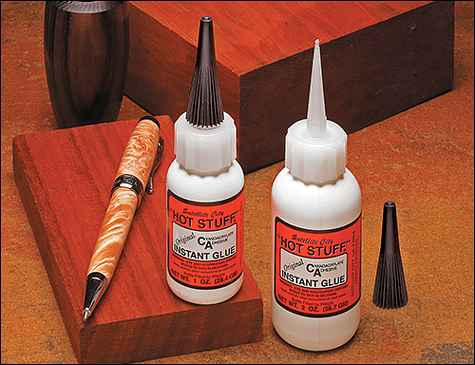 As a sailor/recreational rower, I use a lot of shock cord. For years now, I've been putting a couple of drops of Hot Stuff Glue on the sheath. A few minutes later, the bungee cord can be cut to size with no unravelling or spreading. It eliminates the need for taping the end completely. Same goes for any synthetic rope.
George
---
Magazine
I found this magazine the other day and added it to the books index. There is a free digital issue:
Maine Boats, Homes & Harbors
Rockland, ME
www.maineboats.com
In Print. Online. In Person.

Click here to view a sample digital issue of MBH&H

Click here to view our digital annual, Boats of The Year 
Mike John
---
Epoxy on the Rocks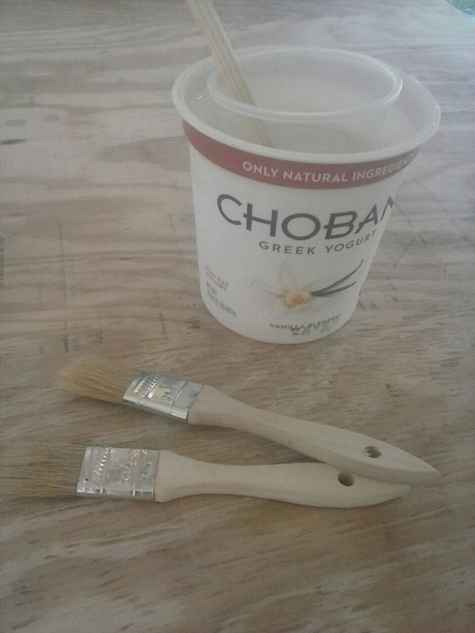 Epoxy on the Rocks. This is how Cathy slows down her epoxy.
Chris
---
Reducing Line Clutter
Method of reducing extra line clutter when rigging balanced lug sails.
Chuck
---
Galley Box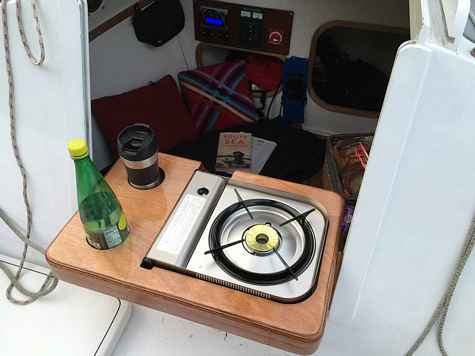 My "Two-hour Galley Box," finished in the nick of time for the Shallow Water Sailors spring cruise last weekend.
John
---
Cookbox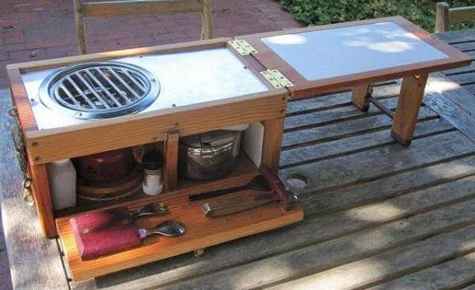 John's really nice galley box reminded me of a project that's been on my list for a while.
Joe
---
Product of the Week: McMurdo Smartfind S20 Personal AIS MOB Beacon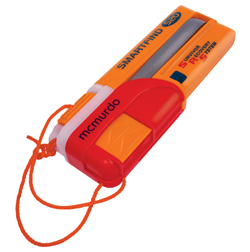 The McMurdo Smartfind S20 is a personal AIS MOB device worn on a lifejacket and activated by sliding off the safety tab and lifting an arming cap to deploy the antenna.
The compact, lightweight unit is an effective aid to recovering crew and passengers who have fallen overboard by sending alert messages, GPS position and a special identity code directly to AIS receivers within approximately a four mile radius. A flashing LED light aids location at night.
A built-in high precision GPS receiver - which updates every 60 seconds – provides precise location, distance and bearing data. Onboard crew members (and nearby AIS-enabled receivers) receive all the information they need to locate the position of the person in difficulty, enabling a speedy recovery.
The S20 will transmit continuously for a minimum of 24 hours and has a seven year battery storage life. It is made of ultra durable ABS and waterproof to five meters. MSRP US $299.00.
More info: www.mcmurdomarine.com or your McMurdo dealer.
---
Classic Yacht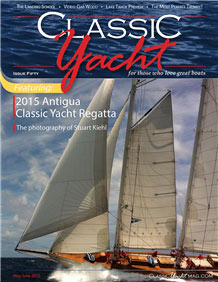 We hope it's boating season wherever you are. There's so much great boating news and features in this new issue, you don't want to miss it! Check out video of the Antigua Classic Yacht Regatta, archival racing footage of Gar Wood and so much more in this, our 50th issue.
1. Click here to read the new issue of Classic Yacht now!  

2. Like us on Facebook to see what wasn't quite good enough to make it in the magazine...
3. Read yacht designer Bill Prince's column exclusively here: Classic Yacht Magazine.
The crew at Classic Yacht Magazine
---
Expanded Selection of Cross-grain Wood Veneer Now Available at Oakwood Veneer
Cross grain Wood Veneer (8 Foot Width, 4 Foot Grain Length).
Species Example: Figured Eucalyptus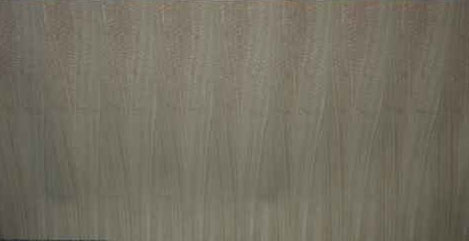 Woodworkers often face a dilemma when purchasing wood veneer. They sometimes need the wood grain to run perpendicular to the typical direction, in order to reduce the number of seams. On industry standard veneer sheet sizes of 4'X8', the grain runs in the length-wise direction, which is why some veneer companies offer cross-grain 8'X4' sheets which have the grain running width-wise.
With this in mind, Oakwood Veneer has recently expanded its offering of in-stock 8'X4' cross-grain sheets. The list now includes over 50 total species, including exotics such as karelian birch burl, euro-steamed beech, birdseye maple, English figured sycamore, South American Rosewood, figured eucalyptus and more. All cross-grain sheets come pre-sanded, which saves woodworkers a significant amount of time and effort.
Many domestics are now also available in even longer cross-grain 10'x4' and/or 12'X4' sizes, including ribbon mahogany, maple, oak, cherry, walnut, and more. All in-stock sheets ship the same or next day and have a one-sheet minimum order. Additionally, customers can special order most other domestic and exotic species which are not immediately in-stock on cross-grain with a two week lead time and four sheet minimum.
Oakwood Veneer holds a very large selection of in-stock veneer species, sizes, backers, grain patterns, and now, a significantly larger selection of cross-grain (also known as counter front), horizontal veneer sheets. More information is available at oakwoodveneer.com or by calling:
800-426-6018.
Contact:
David Rodgers or Ezra Drissman
1830 Stephenson Hwy Suite A
Troy, MI 48083
Phone: 800-426-6018
drodgers@oakwoodveneer.com
---