The Story of How Otter Came to Be
Every boat is a series of compromises. Phil Bolger, Weston Farmer, and Rob White knew it. I've read it more than once in Jim Michalak's volumes of learned advice. Every person that has ever designed a boat knows that compromise is part of the process. If you want something, you must give up something. It's about balance. It's important to realize that and embrace it whether buying or building a boat. Being somewhat thick minded, of course, it took me a while to learn. About one year actually. That's how long it took for me to build a beautiful 4 meter dayboat, name it Julie Ann after my lovely wife, learn to sail it, and then promptly realize it wasn't big enough for me, let alone my family, to comfortably sit in. I suppose that is what happens when you choose the plans based on their looks and because they are found free on the internet. Don't get me wrong. They were excellent plans from a very good Polish designer named Radolaw Werszko. It's just that I dove into building the sailboat before I really examined what kind of boat I needed.
| | |
| --- | --- |
| Julie Ann - a Radoslaw Werszko designed 4.0 meter dayboat. | |
I began building Julie Ann in the fall of 2009 and launched her on July 4th, 2010. It wasn't long before I started to contemplate another boat. But where to begin? I had spent upwards of a year choosing the plans for that first boat, nearly another year building it and I still hadn't ended up with a boat that fit my needs. I started to think seriously about just what it was I looking for. I made lists in my head of wants and needs and tried to prioritize them. It seems too easy, but I realized that the number one thing I was looking for in a boat was COMFORT. I wanted a boat that would carry at least 4 people without having to ask them to sit on each others laps. I loved sailing but I wanted to be able to use it on hot days in the summer when the wind is virtually nonexistent and I didn't want a boom dictating where everyone must sit. The field was already narrowed to a powerboat. I have 20 feet of working garage space effectively reducing my choice to something at or under 18 feet long.
I knew I wanted to build my next boat so I didn't waste time searching Craigslist for the perfect used boat. A used MOTOR is another story. One that consumed nearly another year of time. Having narrowed my list of potential designs to under 18 foot powerboats that I was capable of building, I found I would need a motor in the 18-25hp range and if comfort was my first priority in the decision making process, cost was a close second. I read every Max Wawrzyniak article I could find on Duckworks and bought his book, Cheap Outboards. Then, when I found a Craigslist listing for a sad looking, long neglected 18hp 1957 Evinrude Fastwin, I made an offer to trade an old snowblower for it. I was surprised when the guy accepted. After I got it home I found sand in the lower unit where there should have been oil, and zero compression in the top cylinder. It took a while, but with a new head gasket and the knowledge I had from Max's book, I coaxed it back to life. While resolving the power half of the powerboat equation, I spent my free time searching just the right design for that nifty 55 year old motor.
| | |
| --- | --- |
| | 18hp Evinrude Fastwin Before and After |
My evenings were spent perusing  Duckwork's "Mike's Boat Index" for the perfect plan. I am a big fan of Phil Bolger's and Jim Michalak's form follows function designs, especially the "box boats" with no flare. That's a good thing because my boat building skills are pretty much limited to stitch and glue and nail (screw) and glue construction.
| | |
| --- | --- |
| | Phil Bolger's Sneakeasy |
| | |
| --- | --- |
| | Jim Michalak's AF4 |
Here is where the phase, "Every boat is a compromise", really hit home. I knew I wanted a comfortable boat that could handle 4 people for day trips and sleep two. It had to be under 18 feet. While not a must have, it would be nice if it could plane. It needed to be easy to build and cheap. Looks were important. I found that my wish list was a tall order. I liked Jim Michalak's Dorado but the cabin really can't accommodate more than one. Ditto for his AF4. Campjon felt cramped. Sneakeasy fit the "looks" requirement but it is more "sports car" than "camper." Harmonica actually filled a lot of my wishes but I did say that looks were important.
| | |
| --- | --- |
| | Dorado |
| | |
| --- | --- |
| | Campjon |
| | |
| --- | --- |
| | Harmonica |
Enter Sow's Ear. Comfortable? A 6 foot beam and a super cool walk out bow feature. Check. Under 18'? Check. Sleep two? Check. Able to plane? Check. Looks? Well 4 out of 5 ain't bad. I began to think that maybe I could turn a sow's ear into a silk purse. Maybe I could design my own boat and get all the things I wanted. I began to tinker with designs based on the bones of Sow's Ear.
| | |
| --- | --- |
| | Sow's Ear |
I eliminated the midships storage compartments and gave that space to the cockpit. Since I had garage space and we're just supposing, lets stretch it two feet to 17 1/2' and add that space to the cockpit too. Wow, what was a 5' long by 6' wide cockpit just became 8' long by 6' wide. Room for a rear bench with lots of space to spare and we still have a cabin that can sleep two. Maybe we're on to something. Now for the looks department. Jim said that he designed the sides of the cockpit high at the request of the boat's original builder who had kids and was worried about them falling overboard. But in my opinion, it's that high shear line on Sow's Ear that makes it so homely. Lowering it aft of the cabin makes a huge improvement in the boat's appearance. Finally, I added a collapsible windshield/pilothouse roof (which necessitated changing the slot top to a sliding hatch). Otter was born.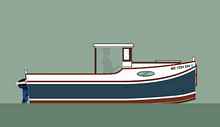 Otter - 17 1/2 length x 6' beam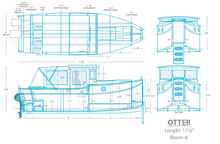 Camper enclosure to come. Gangplank/boarding ladder changed to swinging doors to make it easier to board while on a trailer.
| | |
| --- | --- |
| | A still incomplete Otter ready for her maiden voyage. Is a homebuilt boat ever really complete? |
| | |
| --- | --- |
| | The author at the helm of Otter. |
| | |
| --- | --- |
| | Ready for an overnight. |
| | |
| --- | --- |
| | New old 30hp 1956 Evinrude testing. The 18hp '57 just wasn't enough. |
After several weekends camping and many day trips, I am very pleased with how Otter turned out. It's form really did come from it's function. The time I invested in finding a design that fit what I wanted in a boat was well worth it. I like the boat building process but it's also nice to be able to use the boat and not regret that it doesn't suit your needs.