Back in February 2015, when it was cold and miserable in the Great White North, we were all reading the writings of Tom Pamperin - Georgian Bay adventures in the sunny summer weather. Motivated by Tom's write up, Matt Buykx proposed the idea on the Duckworks Forum of doing an Ontario Messabout in Georgian Bay or somewhere else in Central Ontario. Local boat designer and builder Roy Schreyer picked up on the idea and the online discussions started! Just what we needed to take our minds off the frigid temperatures outside.
As excitement grew about the idea, we started a Yahoo Group/Forum to encourage like-minded small boat sailors and builders from both sides of the border to get together and do some dinghy/small boat cruising. While we all gripe and moan about the cold weather up here we, are truly blessed with some of the best cruising grounds around – Georgian Bay, The North Channel, The Thousand Islands, all of the Great Lakes plus thousands upon thousands of small freshwater lakes – most of them accessible for free or at very low cost and within a few hours driving. The Can-Am Dinghy Cruising Association was born!
Originally, we looked at a few spots up in the Georgian Bay area but finally settled on a spot a little further to the east; Bark Lake – a beautiful location just outside of Algonquin Park. The Algonquin Park area is fantastic – one of the best wilderness places around for canoeing, fishing, camping and small boat fun. I pretty much grew up in that area at the family cottage so I needed no encouragement to book this event into my calendar.  We decided to go up the weekend after Labour Day Weekend – a great time in that area as most of the cottagers thin out (as do the mosquitoes) by then and it's still generally warm weather. Roy Schreyer and his wife Dianne scouted out the spot a couple of weeks before the event and got things set up.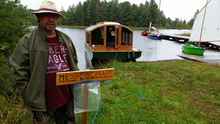 Much of the land in the area is what's known as Crown Land (owned by the Queen – although she rarely seems to visit) and is basically open to the public for camping etc. There was a great (free) launch ramp and parking at the north end of the lake a couple of miles from the chosen campsite. Roy and Dianne got there in their little houseboat on Thursday prior to the Messabout, laid claim to the campsite and began setting things up.
Video of Roy and Dianne setting things up:
The rest of us staggered in at various times on the Friday sailing across the lake from the ramp.
The campsite was excellent for beaching your boat. It was a very fine gravel/sand with a fairly steep drop off. We could've sailed up in a shoal keel boat and likely managed to not get our feet wet. As it was though the group all came with beachable craft.
We all set up our tents at the site except Peter, Roy and Dianne.
The Boats
Peter was very comfy in Whisper's cabin. Whisper is a very interesting boat. It is actually an old Star Class boat that was converted to a centreboard cruiser years ago by Roy Schreyer for use with his young family. Peter now sails this boat and has it set up very well for solo operation. Shortened rig, boom gallows, electric outboard etc.
Clare and Brian brought one of their Swampscott Dories. Clare and Brian's boats are beautiful – they have more boats than the Canadian Navy (I think that's about twelve…) and they are all finished to such a high standard. This particular one is a sailing dory complete with an outboard well and two rowing stations. Melody, their dog, was always right there in the middle of the action keeping an eye on things.
I brought an old Mirror from the late 60's – they are such a great design. This was a boat that was in really rough shape. The original owner/builder passed away a few years back and his widow wanted the boat to go to someone who could/would repair it and sail it again. I took pictures all through the rebuilding process and when it was done I sent them to her. She was thrilled to see the boat on the water. Loaded down with a couple of days-worth of camping gear, the old Mirror still slid along through the waves at a nice pace.
Jamie comes from the Ottawa area – we like him anyway. He brought a skiff that was designed in the late 1800's. The plans were made available through Popular Mechanix – he made a plywood version and did a very nice job of it. This boat put me in mind of a Michalak Mayfly. In fact Jamie made his own lug sail from Jim Michalak's design and it pushed that boat around very well.
Pam and Tom both brought Stand Up Paddleboards and they paddled for miles exploring the beautiful scenery all around the north end of the lake. It looked very relaxing … from the seat of my sailboat – great exercise though I'm sure. They also cruised around in the houseboat – they deserved the rest!
Matt's Mud Peep is a Devlin design. Not quite 12 feet long this little flat bottom skiff is also a nice performing boat. Its narrow beam keeps a low wetted surface and allows it to be sailed heeled rather easily in order to reduce pounding in the chop. Matt took it sailing one day and rowing the next – very versatile.
Then there was the "Mothership" and her baby. Roy and Dianne brought their houseboat "Dianne's Rose" as well as Roy's latest design "Thorn" – every rose has a thorn I guess … but this one is as beautiful as the rose. Now I'm not much of a powerboat guy but I have to say this houseboat design of his is one that I really like. Lots of creature comforts like a woodstove for when it's cool, large opening windows for when it's warm and you can basically run it right up onto the beach! I think he was running a 9.9 hp outboard on it – complete with wheel steering from inside. Very cool.
Thorn is an 8 foot arc bottom boat that you can row or sail. He's built the seating to run down the centre line of the boat kind of like a long box. Inside the seat it is set up to house batteries to power an electric outboard. Apparently, the seat is a good single bed too … check out "Mr. Relaxation".
The Sailing
The lake itself is about 12 miles long with lots of little bays, nooks and crannies and islands to explore. The wind was great the whole time we were there … although there was a "bit" of rain blowing along with it at times. But as I always say, "If you're afraid of getting wet then boating isn't for you anyway! Are you made of sugar? Are you going to melt?? C'mon!" We set out on Saturday as a group and headed down the lake. The boats were all closely matched enough that we could stay together for the most part with the quicker boats weaving in and out and others holding their course. It's always fun to sail around with other people – chat from boat to boat … and every time I visited Roy in Thorn he kept throwing food at me – peach cobbler, chocolate, snacks etc. He got a few visits. I had to be quick dodging the seagulls. The wind was really humming at a few points and the boats were flying!!
| | |
| --- | --- |
| | |
We sailed a good chunk of the day Saturday and retired to the campsite later in the afternoon. We got a campfire burning and Tom and I did a little fishing off the beach. We caught some nice fish both Friday night and Saturday night that Dianne cooked up in tin foil with a little lemon and some butter on the coals of the fire – a great appetizer before dinner! We all sat around the fire and talked about the important issues in life – no not the upcoming federal election – I said important – the price of plywood, the best epoxy to use; stuff like that.
With all the food safely stored away and the logs we cleaned the fish on, burned – no sense rolling out the welcome mat for the local bears - we all headed off to sleep.
It absolutely POURED all night … but it cleared up in the morning … well okay the rain lightened up. (see my earlier comments re: "…are you made of sugar?"). Breakfast made and eaten we headed off in foul weather gear for some more exploring. Jamie and I went down to check out other islands for future campsites (there's one about halfway down the lake with a big hidden rock on the north side – just sayin'). The wind really started piping up when we saw Clare and Brian coming on a dead run down the lake in the dory – looked pretty cool the way it just broke out of the mist like a Viking longboat. Jamie and I reached across to Hay Bay and were really having a good time. Dianne, Roy, Pam and Tom went out for a cruise in the comfort of the houseboat, Matt went for a marathon row and Peter had some time to relax, and read back at camp.
Here's a video link showing some photos of the event as well as some video footage of Sunday's sail towards the second half – Jamie and I having a blast!
We all cruised around in the breeze for a few hours then met back at camp for a late lunch. Hot soup and shepherd's pie cooked up on the camp stove went a long way to warming us back up. As some of us had to be back at work Monday we began to pack up gear and get ready to sail back to the ramp. Some folks decided to stay over and head out on the Monday.
We had a great time thanks in a large part to our co-hosts Roy and Dianne! Our new association had several small get togethers this summer with the season finale being the Bark Lake Messabout. We are already planning our calendar for next year and would encourage others to join us and/or set up a group in your own area. There's nothing like it!
For more photos of The Bark Lake Messabout and other Can-Am get togethers visit our Yahoo Group.