Alacrity 18, twin keeled sailboat
Took the Alacrity out the other evening. Told Linda, Come on, we'll just motor up the cut a ways and come on back. First, mistake, assuming.
Well, it's a new engine and I hadn't really used it much. Ends up it needs more warm up time than I gave it, with a half chock. She didn't didn't get it that time.
I cast off, leaving the dock, and motoring past the restaurant, Paradise Key, full of people. Not a problem. Turning the corner, heading into the wind towards the open cut, yep, the engine dies.
Sail is under its cover, no help there, and no time to raise it.
Linda: What'll we do.
Me: to myself, damn not even a paddle. Pull, pull, pull, just a sputter or two. Oh, oh! That bulkhead is getting close.
Ah! It fires up! But only enough to bear away from the bulkhead and head back down wind in front of all the eaters. What a sight!
Awe, we'll just let the wind blow us back, not to worry. Well it did, magically, past a few sport fisher boats, we glided in using the rudder a few times as a scull.
Piece of cake, I says, Linda adds, she don't like all those people looking. Free entertainment, I don't think there were any wagers though.
.........michael j beebe
---
---
GT2DWMYR
Chuck,
No, the subject line is not a test, it is: "the Great Texas 200 Dugout WaterMelon Yacht Race". An idea for next year. Let's see what you think of these rules:
Only one watermelon used per entry.
Gilligan/Driftwood class: Uses only materials found on the beach at the race site with watermelon. No adhesives, screws, bolts, or nails.
Professor/Development class: (intergalactic class) Can use materials brought for the event, i.e. cloth, wire, duct tape, wooden parts. Still no adhesives, composites, screws, bolts, nails.
Race Course: Mostly downwind, as agreed to by competitors.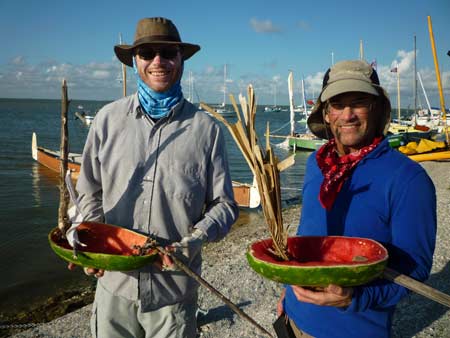 Here is a photo of the 2015 competitors and their vessels.
Dana
---
JohnWelsford Facebook Page
Chuck
How do I ask people to participate in the new John Welsford Facebook Page? Can you do that?
Love Jackie Monies
_________________
You just did it, Jackie - Chuck
---
An exchange between Dave Lucas & Dan Rogers wherein Dan seeks acknowledgement from Dave that putting a motor well in his sailboat was a good idea.
Dan: "Looks like the angle of dangle and the coefficient of twiddle may be about OK. This is sort of a black art, taking underwater pix--I can't see the screen to help in aiming. Anyhow, looks like the prop helix is free of ventilation. Sort of. But, cutting 10-inch hole in the bottom of your boat would come under the heading of "dark arts" as well."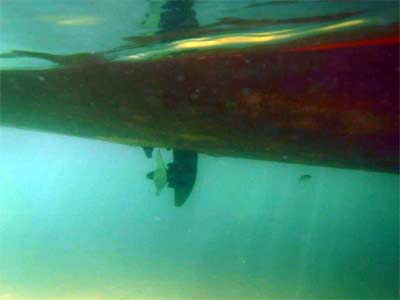 Dave: "There comes a time in every sailor mans life when he realizes that sailboats do much better with a motor sticking out the bottom and the mast is really only good for use as a flag pole. You and I have reached that point Dan and are much better men for it."
---
Letter from Tasmania
Dearest Chuck,
i feel abit heavy-hearted that i dropped off the radar, but sometimes its the only way. I intend to improve the situation by putting out many more boats, now that i have gained something of a "second wind". None of us have the head of steam we had at 30 yo, do we !!?
Im currently building a workshop/carshed at 40 feet x 18feet x 12 feet walls with a 30deg gable. I prepared the pad 6 years ago. It will be steel but timber lined and insulated with a wood stove and a 40 x 4 foot bench. It will house Matt and my 1986 Porsch 928 in which we do a few hill climbs and tarmac rally style events, great fun and a good bunch of people. on our driveway below. its a 5.0 litre 32 valve quad cam with 316HP and 360ft-lbs torque and will wind out to 159mph. Me at the wheel with motor oil running down my chin!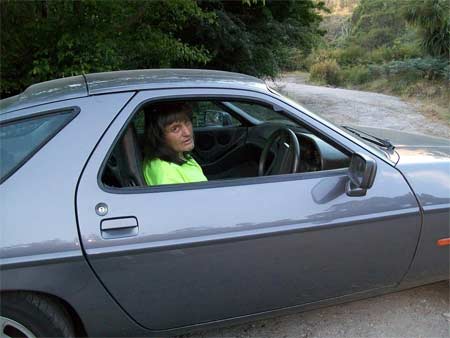 Down here there is a lot of good wood, but not much premium. We had a sawmill 3 miles away but it closed its doors. We have Macracapa and Celerytop Pine for planking and finishing (beware of knots) and any amount of hard gum for framing.
None of it lasts like the white oak, doug fir, spruce, Kauri and mahogany of days long gone. Old buildings offer up wood but with nail holes.
1088 ply is hideously dear, in Beuhlers book he recommends waterproofed black-glue sign-writing ply but always designs with it in two layers, sign side out. (it only has one good face).
People who are waiting for designs i mooted earlier will have to wait a little longer - I'm a wee bit rusty, but not too bad.
To ease myself back into the design spiral I'm doing a 27ft 6inch ("blocky but doesnt look it") scow schooner with a four foot bow, 5 foot stern taking an Outboard (will need a 200hp for the torque, I'm terrified it will sit and make ice-cream) and two very low aspect hardwood keels 4 feet apart on which it can sit whilst being built.
Anyhow, I'll send you some drawings and some writeups. In PDF.
Words cant adequately express how grateful i am for your having backed me over the long haul.
Love
Jeff Gilbert, Matt and Woody the Dog.(below with Girlfriend Cyclops) and a load of hardwood for the fire.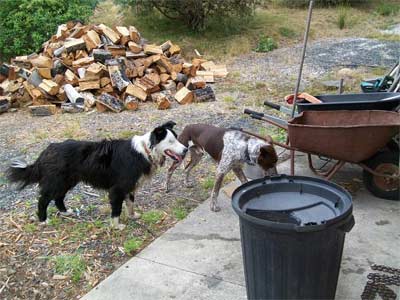 ---
I am blessed
Such a palace: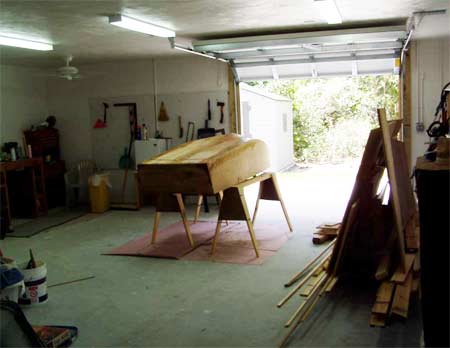 Fred Night
---
Navigator Project
Chuck, I grew up on a farm where we only had boat access...we massed about in boats a lot, mostly rowing dinghies. Since the farm was sold some years ago I have missed being out on the water so I entertained the idea of building a boat.
After looking at a few different plans I settled on Johns Navigator as it seems lots of these have been built with great success. Not having built a boat before or sailed, other than an offshore experience in a Warram Cat, it is a big learning curve for me.....scratched my head often and called John a few times, but so far have managed to get over the biggest lumps that have presented themselves.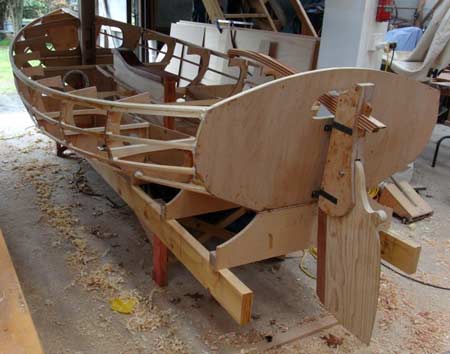 Love the sweet lines & finding the project compulsive so far...just starting on the strakes today.
Got the pintles & gudgeons fitted and the rudder hung yesterday...
Thanks Ben
---
Brilliant Article
www.duckworksmagazine.com/04/s/articles/paint/
Helped me a lot to plan before I get started The zen of sanding Love it
Best regards,
Earl
---
Ferrules
Hi Chuck
Finally got around to using the carbon-fiber ferrules. They are great!
Oar management has been a big challenge on the Piccup. The best I've come up with is to nestle the oar in a second oarlock mounted on the gunwale towards the stern of the boat. The problem with that, though, is that they interfere with hiking up on the gunwale when sailing hard.
We have a small inflatable dinghy. I had upgraded the oars on it with a pair of longer break-down oars. So, almost simultaneously with you announcing the ferrules available from Duckworks, I'd started looking around for even longer break-down oars that I could use for the Piccup Pram. It was very timely that you came up with this solution for me.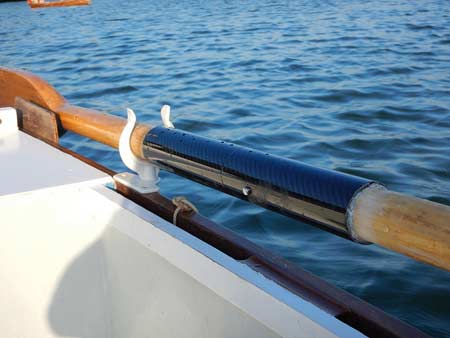 I took the boat out for a row this evening. The ferrules worked out fine. I am looking forward to going sailing and knowing that I have a pair of oars neatly stowed away and ready to go should I actually need to row, but otherwise staying out of my way.
All the best,
Pehr
Here is a link to Flicker album with pictures:
---
RIP Red Scamp
DEATH CERTIFICATE
name: Red Scamp
time: 10:00am
date: 19 July 2015
place: Gene Berry's boat yard
cause of death: excessive internal rot 
 
a small church service was held preceding the cremation services. attendees were Gene Berry and the ashes of Mike Monies. a small toast of Sailor Jerry was made to Red Scamp during the service.
Red Scamp was a noble traveler of many adventures and brought a smile to everyone's face who met her. in the end she was an organ donor, staying true to her giving nature.
---
To comment on Duckworks articles, please visit one of the following: