New Blog
I am presently building a 14'6" Swedish Snipa which has morphed into a Viking vessel complete with a dragon figurehead. If you think the group would be interested in following my blog it is located at Nordicboats1.blogspot.com.
Dave
---
---
Dull Weekends
I do love Duckworks Mag. Eclectic and always worth the few minutes to read. Interesting, humorous, funny, informative, nostalgic, and some times it is stunning with a little of everything. Thank you Duckworks! All of you for starting my day. Week ends are dull without you.
duckworksmagazine.com/13/outings/pole/
JIB
---
Turnover
Hi Chuck
Here a video from the "flipping over" of a Voyager hull. The builder and I where in discussion for some time what would be the best way.
He was a bit anxious about the operation.
Some weeks later he was sending me this video. And he called it nonchalant "flipping over".
The video is no time lapse. Compare this to the turning operation of a conventional 40 feet hull.
Bernd Kohler
---
Old Photo
About 40 years ago, back in my powerboat days, all blood and guts, in a boatload of lovely albacore. Sitting on the back deck I filleted about 20 fish on the 60-mile ride back. I caught 9 of these 20-30 lb. beauties myself.  That was a lot of sashimi!  Ah, the good old days...
I bet you guys didn't know I used to be a writer for a California fishing magazine, SAN DIEGO FISHERMEN. (That was long after this albacore photo was taken.)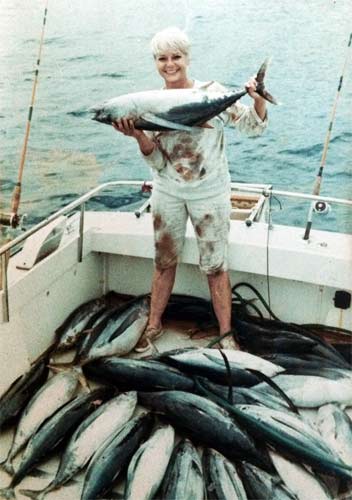 Annie Holmes (AKA ScuzMum)
---
boats
Hi Chuck,
I hope to build as many model boats to match the thirty five small boats I built as an amateur boat builder. Selected models have been donated to charities, local small museums and a few were sold. My favorite models are of Chesapeake dead rise work boats or anything unusual: Civil War Ferry Gun Boat, Norfolk & Portsmouth Ferry, late 1800 Torpedo boat, Viking boat, 1932 Snipe sail boat from MAIB, and a 48 inch five sail RC motorsailer.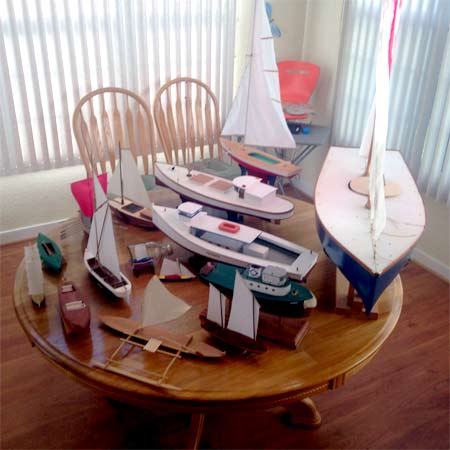 I build from pictures using plank or frame construction or 1/32 birch plywood on frame.
Bob Guess, Chesapeake, VA
---
a picture
Good Morning Chuck,
Here is a picture for you.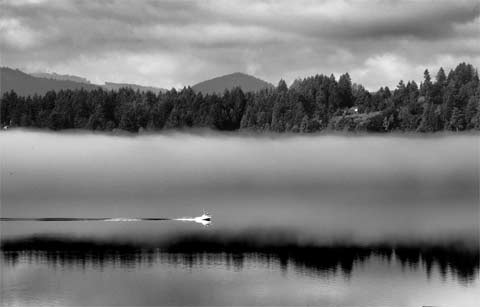 I'm Kurt Hammes, I live in Olympia, Wa. (the picture is of a fog bank on Bud Bay , south sound.) I currently build the Minto Sailing Dinghy, Richpassage.com.
Fair Winds & Fine Adventures,
Kurt, The Minto Man

---
cheap is in the eye of the beholder
I'm sending this one out cause it just came up on Craig's list and I know how much you guys love boats that are a little "different". This is a one of a kind boat/space ship that'll make you the talk of the marina. My friend Dave built it to the highest standards inside and out. The cabin inside this boat is like sitting in the starship Enterprise. I can think of three or four of you who're turning to your wives right now saying "honey can we get it" or even better "honey we really need this one". This boat can be seen right down the street from the Tiki Hut. Tire kickers just drive on by.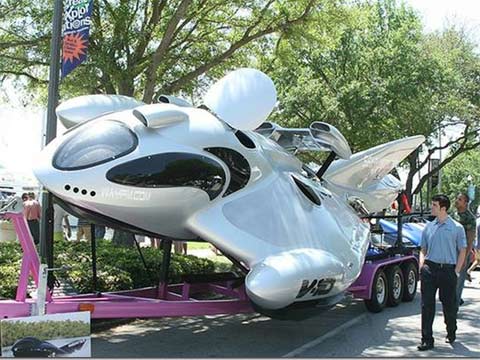 https://sarasota.craigslist.org/boa/5325249800.html
Dave Lucas
---
Uncle Westy
An elderly landsailing buddy of mine sent me this note, thought you might enjoy the Westy reference.  Seems an apt description of the man.  You could attach the quote somewhere on the website if you chose.
Dave Farmer
*******
Sorting through years of WoodenBoat magazines preparing to give all but a few away, I came across this in my old pal Pete Specters' column of Nov/Dec in the Orwellian year 1984.  It seems to bear witness to your expressed opinion of the man:
"Speaking of the late Weston Farmer - the one-time Lip of the Lakes - a series of letters written by him has appeared in the last two issues of Lines & Offsets, the journal of the Traditional Wooden Boat Society. Farmer was a naval architect, magazine editor, nautical writer, commentator, critic, editor-baiter and table-thumper with an ego the size of an overripe watermelon.  His letters are stem-winders.
"Lines & Offsets used to be a stem-winder all by itself, but recently has settled down into a reasonably objective, entertaining journal…."
I doubt Lines & Offsets still exists, but it may.  Interest in traditional wooden boats is clearly on the wane.  (too much stem-winding?)  Last spring, one of my friends and PT's leading small traditional craft builder, Ray Speck, and I had adjacent booths in the big Port Townsend marine flea market.  I had the usual assortment of old Barrient winches, Merrimon blocks, bronze rail chocks, cleats, coils of stainless rigging wire, tangs, and a pair of spruce spoon-blade oars I made long ago, one broken in two.  Ray had two wooden kegs of square boat nails, bronze bolts, washers & nuts never used and perfect for keel bolts in a 36-footer, a stack of beautiful grown hackmatack knees he'd expertly whittled from roots to use as lodging knees in the 40' schooner he realized he'll never build, and sundry other necessities for the do-it-yerself heavy displacement wooden cruising boat builder.
Of all that stuff you'd think would be gold in Port Townsend, only my oars, one broken in two, sold, that to an interior decorator who fit them into the back of her Lexus.  Speck and I packed up the rest and returned it to shop & garage.
The oakum & Stockholm tar world of wooden boats is just about gone here, one of its few last-bastions.  I'd guess Westy left this coil it at its resurrected peak.  May he go on & on & on in peace, quietly.
Years drooly,
brooks townes

---
To comment on Duckworks articles, please visit one of the following: