Just an anecdote.
As the TX200 fleet crammed itself into the confines of the Padre Island YC, things got a bit hectic—as such things are prone to be.  I had been riding with Chuck on 'Toon that day, and we grabbed a choice piece of sea wall instead of taking a slip. 
As it turned out, Gene and Tom, on "Norm" were having a spot of trouble beating into the basin and landed at a divert field somewhat down wind.  In process of trying to both get the tow boat over to them, and to secure a place to moor; I latched onto a fellow (from the yacht club) who appeared to be in charge of the mooring arrangements.
I stated my needs, and he responded, "I'm a retired Navy Commander.  And, I'm used to things being organized, and I'm accustomed to being in charge…"  To which I responded, "Well, commander.  I'm a retired chief.  And, we ARE in charge…"
After we got Norm in and moored, there were only a handful of spots still remaining along the wall.  The commander came over and tapped me on the shoulder.  "Hey, chief.  Where do you think I should put this boat?..."
Some traditions do in fact, endure.
Dan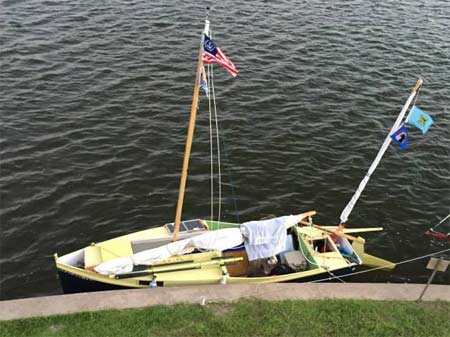 Norm at PIYC