Seen on Facebook
I really shouldn't admit this in public but I love reading about the things that crazy Washington Dan Rogers builds. He makes it sound even easier that I do. However he does have the same problem we have here at the Tiki Hut boat shop; what do you do with all these boats when they're done. Our back forty boat grave yard is full to overflowing.
David Lucas
---
---
A way with words
Some people can turn a phrase - see "The Future of Boating..." in today's DW Mag.
"I grew up when Mrs. Cleaver was wearing pearls in the kitchen, and Ben Cartright owned all of Nevada. And, as fate would have it, wooden boats were rapidly becoming old fashioned. Obsolete, even. Why would anybody want one of those old dinosaurs, when you could have something in hot pink and lime green that you never had to wax or even take care of it at all?
John Wright
---
Downsizing? Naw, just sharing the wealth.
She wasn't perfect, so I gave her away.
Just too short, and tippy, and small.
And kinda' over-tall.
Of course she was cute, and made people smile.
Folks everywhere, said it was true.
Not perfect.  And now, she's gone.
Figured somebody else would love her,
Like I did at the start.
Great expectations, lots of plans;
Got the project going, and kept it alive.
Not the best one I've built.  Maybe, almost?
He said that he'd love her.  His wife did too.
His kids just couldn't wait.
So, I did it again.  Free to another good home.
Two of "my" girls off on their own.
She's the best one they've got.  So I gave her away.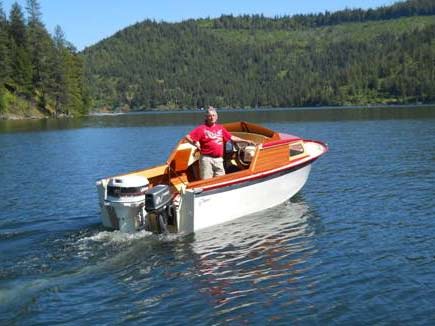 -- Dan Rogers --
---
Thanks
I just received my small order from you folks. I wanted to thank you for the inevitably good service you provide and for the site in general. I regularly read the articles and use the classified. I'm very happy your site exists.
Thanks. --
Richard Kincaid Campbell,
CA Port Townsend, WA
---
Slingshot 16
Chuck.
I have looked at designs from Dyson's Baidarkas to Welsford's Penguin to Steury houseboats. I have built a PD Racer and a Portuguese dory. Among the trimarans, I am particularly impressed with Dr. Frank's work. There is something unusual in a person who designs on the fly. And a lot of the quirky stuff gets considered. I am impressed. Not that I want his prices to go up before I buy something, but Duckworks is a small company, and an honest straight up opinion means something. I've never met the guy, but like Welsford, I consider him a cut above. 
my 2 cents.  -- rich
---
2015 Eastern Messabout Reminder
Hi Chuck

Only 6 weeks until the 2015 Eastern Messabout held at Elk Neck State Park Maryland.  It will be helpful if attendees would register on the Yahoo site in the Database section.

https://groups.yahoo.com/neo/groups/EasternMessabout/info

EASTERN MESSABOUT 2015 May 29, 30, 31 - Elk Neck State Park, MD 

Steve Bosquette
---
Distant, exotic lands
AFTERNOON DATE WITH MY FAVORITE GIRL
She gives a little curtsy
as I step aboard, and
pebbles gently crunch as the
land releases its hold on us.
Her oars bounce back just a little,
with each perfect roll
of leather on bronze.
Ripples chuckle against her weather bow,
as she rises in time with the building chop.
A perfect day as we head toward adventure.
The pond becomes a lake,
the lake becomes an ocean,
as our world expands...
--Dan Rogers and Annie Kolls--
---
Whaler update
Hey Chuck

The whaler has a new rig. I found the 16 foot sprit on the main to be too much to handle in big wind. last year we had it on Lake Erie in 20-25k.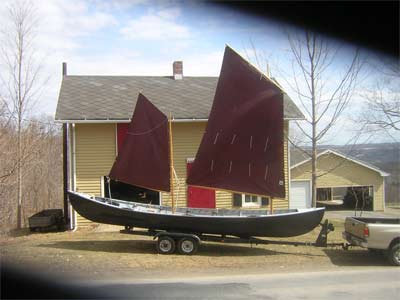 The main has been re-cut as a balanced lug and I can run it up and down alone in 15k winds with no troubles. on the water testing soon.
Craig

---
Looking for plans
Hello chuck.
Still trying to get a tug off the ground. Been years now. But i still haven't given up! My heart was set on one of those opduwers I rode in over in Amsterdam. Paul gartside drew me up some plans. But wow! Over 60 grand. I couldn't pull that off. :(
So back to finding someone who might draw some plans for a small push boat? And a beta inboard diesel? Hope you can help.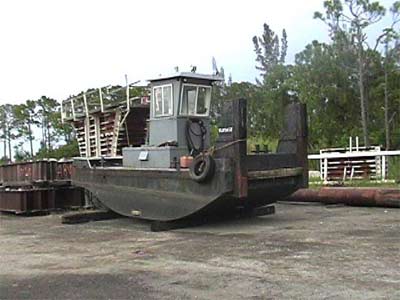 I'm looking for plans for a boat like this
Kind Regards
Tim Hudson
---
RIP Steve Lewis
I just got word from Nitasha Lewis that her father, long time Rend Lake stalwart Steve Lewis, died last Wednesday. He made the trip to Central Illinois every year with a collection of self designed (or at least heavily modified) boats, usually with Nitasha in tow. I have no other details at this time.
Paul Haynie
---
Canoe Rudder
Chuck,
I saw a "Duckworks" active on the CanoeTripping site. Welcome. There is an interesting and varied realm of builders and shop tinkerers helping each other on CT.
In that vein, the Mark II DIY canoe rudder, with an improved and stiffened rudder control arm and four gudgeons, a la RockyHeadwaters suggestion to use the Kruger Loon/Sea Wind rudder as a design example.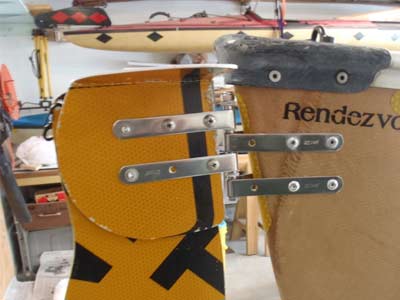 By George I think we've almost got it. We paired four gudgeons, two on the hull, two on the rudder, and that, combined with the oversized shoulders on the control arm, stiffened even the long canoe rudder. It doesn't wobble, flex or bend and the "action" feels much comfortingly similar to a kayak rudder.
I'll have a Mark II rudder control arm on my soloized Penobscot soon enough.
Longer pins! A four-gudgeon assembly seemed the answer, and with the pin removed all that's left on the stem are two gudgeons. I can live with that if it affords me a foot steering sail in the breeze or ferry angle advantage.
Michael McCrea
---
To comment on Duckworks articles, please visit one of the following: