My son in North Carolina had his two-man kayak stolen. This created an opportunity for a boat building Granpa. I suggested to my grandson, Tyler that I could bring him one of my creations now in residence, all of which are about 250 pound capacity. Tyler informed me of his need for a two-man kayak with a capacity over 300 pounds. Tyler is 17 and heading toward the 200 pound mark. His dad is the same size which would mean TY is not looking for a two man craft so much as a coed craft. As an old Pepaw who has 6 grand daughters and only one favorite grandson, I have to guess most teenage gals come in at 125 or less. This means a boat that will handle around 325 ponds. This leads to a second problem, that of length and transportation. My vehicle is a small pickup. The grandchild has use of a Honda Accord and a Honda minivan.
My truck is about 12 foot bumper to bumper so this is the mark I aimed for with this creation.
The sides and bottom are of Home Depot Lauan plywood. The stem is a 2 x 2. The transom is of heavy plywood. I was trying to keep the weight at a minimum plus I am very frugal and try to use what is available.
Okay I am cheap.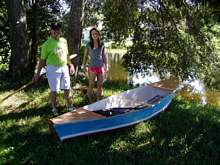 Amanda and Me
The chines and gunnels are reworked 1 x 2. The glue was Titebond III.
I added decks to the bow and stern.
I used a 1 x 2 to make a shallow keel for bottom protection. I placed chine strips of 1 x 2 on the bottom edges.
As Tyler's dad is a marine, the red white and blue paint job seemed appropriate.
The first idea for transport, was on the roof of my truck. The idea of a Granpa lifting a 70-pound boat up on a roof is not appealing. So we stuffed a 12-foot boat in a 6 foot truck bed with the tailgate adding another foot.
I must admit there is a bit of an overhang. Many bungee cords and a lot of luck and off we went to find water.
My first mate Amanda and I are about the same displacement as Tyler and his girlfriend. So off to the lake we went to test out the new boat. The water stayed on the outside and we had plenty of room. The boat paddled well and tracked in a straight line.
Now my problem is how to move the boat from Florida to North Carolina.