This article has a series of emails between John Welsford and Rob Farrell.
John,
Stuart Reid designed a 23 foot Pirate ship for me about 3 years ago. She took me 2 1/2 years to build, which was a labor of pure love. He said that he consulted with you on the project and final design, and always had nothing but the highest compliments when talking about you. Here is a picture of her under sail last summer.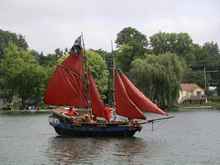 Sailing on the first day.
Rob
Hello Rob,
Good to hear from you, and very good to see how the little ship came out.
John Welsford
John,
Pretty much everyone got involved at some point in the building process.
Some brief comments:
We took pics over the 2 1/2 year building time, and they are fun to look back on now. She is very stable, and we plan on taking her out into the Grand Traverse Bay all summer.
Between Stuart and yourself, the design gave us everything we wanted: roomy, stable, and on the water she looks very much like she could fit right into the 17-18th century crowd.
We installed a small 55lb thrust electric trolling motor that is hidden in a stern motor well. It drives her at about 3 knots in calm waters. I am upgrading that to an 86 lb thrust this spring - mostly as a safety and peace of mind factor.
We have a real treasure hunt planned this summer to a large, uninhabited island in West Bay. It is about a mile offshore, and will involve, compasses, treasure maps, the whole works...
That's all for now, John. Hope all is well.
Rob
| | |
| --- | --- |
| | Our three boys in the foreground (daughter also, but missing from this pic). |
| | |
| --- | --- |
| | Hull sided with first layer of 1/4" plywood (double layered to 1/2" thickness, then fiberglassed over this). |
| | |
| --- | --- |
| | Figurehead for the bow. |
| | |
| --- | --- |
| | Beautiful tanbark sails, courtesy of Duckworks, laid out on the driveway. |
| | |
| --- | --- |
| | Crosstrees on fore and mainmasts. |
| | |
| --- | --- |
| | Stern details. About 90% done here, with gold decorations still to be added. |
| | |
| --- | --- |
| | Launching day! |
| | |
| --- | --- |
| | Youngest son sleeping aboard in one of the stern cabin bunks. |
| | |
| --- | --- |
| | Anchored offshore at night. |
| | |
| --- | --- |
| | Deck |
| | |
| --- | --- |
| | Daughter and her boyfriend helping to paint the Captain's cabin. |
| | |
| --- | --- |
| | Grandpa Farrell made all of the belaying pins on his lathe. |
A Brigantine Pirate Ship..
About three years or so ago my friend Stuart Reid contacted me for some help with a design that he was drawing for a client. Now Stuart designs some lovely boats, mostly small and simple, and which although they were well engineered and a good shape did not require much in the way of stability and buoyancy calculations, and this new design was for a quite substantial little ship. And I mean "Ship"! He'd drawn a fore and aft rigged boat with square sail before in Swiftsure, which at 17 ft with her English Revenue Cutter rig and square topsail was a fun boat to sail. But this new one was to be around 24 ft on deck, plus bowsprit and stern overhang, and would carry a simplified brigantine rig. He asked me to work out how much water ballast she would need, and some of the details around the layout to accommodate that ballast. In the end I had input into several areas of the design and then, as the client was one of Stuart's, I heard no more.
So it was with great pleasure that I heard from Rob Farrell who sent an email with pics attached. He tells me that the build went well and that "Fang" sails nicely, safe and steady, capable and roomy. I've asked him if he could share some more pics and a few comments to show off this stunning little ship so here they are. She's a toy really, a big one, but hey, who would not love a pirate ship of their very own.
An aside. Stuart lost his wife Rose last year, she was a friendly and forthright woman whom I'd known for around 40 years, I miss her but I can guarantee that Stuart will be missing her far more than I. To compound things, Stuart had a fall just after Christmas which has left him paraplegic, there is a possibility that he will recover some use of limbs, but as of now he is in a convalescent home and requires full time nursing care. RIP Rose, fondly remembered. Get better soon Stuart.
One of the things I will be talking over with Stuart is making his plans available through my website, those will include plans for this little square rigger.
John Welsford