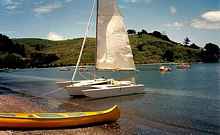 S.V. Tribune on her maiden voyage at Kawau Island.
Why Multihulls?
Kai Ora, greetings from Aotearoa/New Zealand. I've always admired the multihull concept and their potential whereby our canoe people around our Pacific Islands still rely on 'outriggers' for transport, some with outboard motors whilst others use sail. Q: Have you ever witnessed a cow or a horse delivered to a neighbouring island or perhaps pigs taken to market in canoes before? Unbelievably, horses stand upright as taught from foal age, cows the same whereas pigs are trussed/bindings around feet. To enable one to do this their vessels have to be light, manageable, strong, effective and best of all inexpensive.
Sailing Experience
In 1960s, as a member of the local Gisborne Yacht Club, I learnt the art of sailing as crew. With this valuable knowledge it didn't take me long to construct a small 16ft trimaran made of treated marine plywood, alloy mast & boom, stainless steel rigging (local aircraft maintenance); cedar beams both laminated for strength, in all an extremely strong, light, delightfully fast sailboat. With a crew of two, and sometimes solo, I raced her around the cans/buoys even taking part in our sailing club coastal classic events. One I recall being a forty nautical mile race with a twenty minute handicap and I still managed to win, such was the uncomplicatedness of such a design.
Trials and Errors
Then wanting a larger one of the same sort, ways of improvement to the former, such as taking away some unnecessary layout within the construction, an additional cuddy cabin, I came up with another winning formula. Like all my designs, I've made scale models, once assembled complete with rigging and sailed them on our Rotorua lakes. On the first attempt I gave up rowing the dinghy as I couldn't keep up with the model, so I used the family runabout instead and whilst doing so kept a watchful eye for improvements, until I had confidence enough to go ahead with this design.
Construction
1991 found me working for 'The Walsh Trust' in West Auckland as a tutor to adult clients with disabilities. Basically, it involved work skills and one of these happened to be wood work. During the winter our clients wanted to build something of their own, letter/mail boxes and trays were the norm back then but these were now considered boring. I happened to suggest a small sail boat and all agreed it would certainly be a change so I consulted Management and after considerable thought the Walsh Trust gave their consent - hence the construction of 'Tribune' was born. This involved recruiting local industries to partake in such an unusual event, whereby management at Fosters Marine were gobsmacked with such a scheme taking place, they never heard of anything like it before, they were absolutely delighted wanting to know more. The end result was all those approached contributed materials at cost.
Materials Used
The jig had been made from surplus 4x4" lumber/timber, new marine plywood 4ft x 8ft, frames also plywood of the same, stringers made of white pine all same size 3 x 1" inches of various lengths, two Keelson 19ft x 10"x 1" inches (laminated together), cross beams two 10ft x 6"x 4" (triple laminated) rudder made from hardened wood, tiller and hiking stick wood of your own choice, centreboard same as the former. All stainless steel bolts, washers, screws, rigging, sails, sheets, lumber/timber, glues, fastenings, cloth, resins, weighed before use within construction. Spare pieces left over were re-used in other areas, in doing so this vessel combination of materials within gave a reasonable recorded given weight. Tribune's rigging was formulated on computer the same unit designed the New Zealand admission to the America's Cup, in other words it won't come down. Mast height as taken from the cabin top 23ft, no spreaders used all s/s rigging and the deck gear supplied from 'Harken' through our local supplier. The whole project was put together in a double garage; moreover everything had been kept simple so my clients with disabilities could learn to construct such a seaworthy vessel to sail with confidence. The two hatches over forward and aft stowage lockers to include companion-way hatch are all made from white pine material and marine grade plywood. For the windows we installed smoked/darkened Perspex, attached to cabin sides using a marine sealant only, no screws applied.
The message here, 'If disabled clients can construct a sailboat then you can do it too'.
To transport Tribune to the water we hired a trailer, made a cradle of recycled lumber/timber then attached both vessel and trailer to our 4WD, a large notice supplied by the NZ Transport Department read 'WIDE LOAD' also fastened to the leading vehicle. Our clients also wanted to be in on the launching and they accompanied us in other vehicles to the Te Atatu Yacht Club where to our surprise found gates locked, what to do? Our problem solved as all nine clients lifted her off the cradle, over the gates and to the water edge. She floated high but with a crew and rigging applied would settle down nicely. Once the rigging had been placed, sheets attached, rudder and sails stowed below, and locked away we paddled the new Tribune to our rented mooring buoy.

Shakedown Cruise
My 2IC Alan accompanied me as the two of us sailed out of the estuary into the Waitamata Harbour, under the Auckland Harbour Bridge, past the Naval Base and the Auckland City water front, around Bean Rock, sailing with a westerly 15 knot flat run towards the volcanic island of Rangitoto. Allen had pre-arranged to meet Vivian his wife ashore and to do this we sailed Tribune through three foot surf towards a sandy beach until our centreboard touched bottom, up centreboard, let go main and Genoa sheets, anchor lowered and took hold, the bow now swung around to face the wind and oncoming broken wavelets. Allen kept his clothes and 'flip flops' dry in a plastic bag now held above his head and the water level at waist height thereby walking ashore in his under pants. Truly this sailboat is adaptable for this type of abuse.
Going Solo
I'm now alone, wanting to see how she would perform through surf, so up anchor, centre board half down, tiller in hand, sheets hauled in and I could feel the acceleration as she sped and sailed up and over an oncoming unbroken crest back out into the Tamaki Straight, next stop Waiheke Island where we anchored in lovely sheltered Putiki Bay and spent a comfortable night.
Aboard our mini cruiser I had stowed in a fold-up-camp bed, sleeping bag, chilly bin packed with food, cans to drink, nuts and raisins (nibbles), small primus cooker, a portable radio (weather forecast), a torch, hand bearing compass, plus a chart of the Hauraki Gulf.
Early next morning a gentle sea breeze arrived, the sky clear, breakfast over with, stowed all loose gear below, on with my life jacket, hoisted mainsails, down centreboard, up anchor, out with Genoa furler, sheets in and off we went at a nice little clip. Our destination Kawau Island about four – five hours sail away depending on wind strength. Interesting to note that once the sails had been tuned I found our little cruiser well balanced with steering to be at finger-tip-light, so as an experiment used a bungee cord placed over the tiller (not around it) attaching it to both starboard and port cleats. Amazing really as she held her given course thus relieving me so I could grab a bite to eat or read a magazine whilst keep a watchful eye for shipping from the cockpit. Around mid-afternoon the wind died altogether leaving us in a flat calm sea with a slight swell from the east, my destination I could see was only about two miles away so out came our canoe paddle and away we went paddling whilst I'm sitting astride one of the amas/floats. This continued until almost dusk when another breeze arrived. At last we were moving again approximately 8 - 10 knots from the east arriving in Bon Accord Harbour just as the sun was setting. Lesson learnt; get a small outboard motor and fit navigation lights the latter I was worried about if caught out at night again.