Flint
Fiberglassed the outside of the Flint's hull. I'm about three months in now.
Roger
---
---
Jaunty in Lake Havasu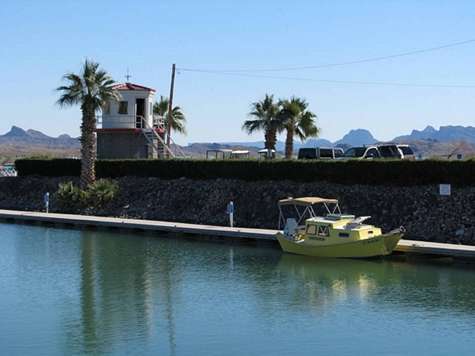 Warm winter, sunshine, palm trees, the Arizona desert.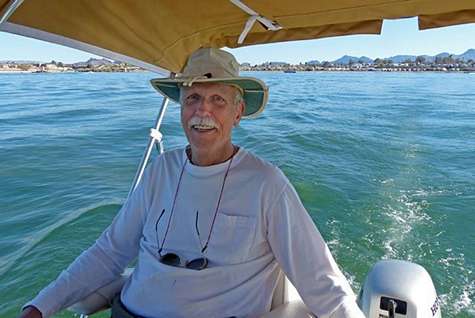 Me at Lake Havasu.
Richard Green
---
Fleet
A low-powered outboard planing hull.
Ross Lillistone
---
Canoe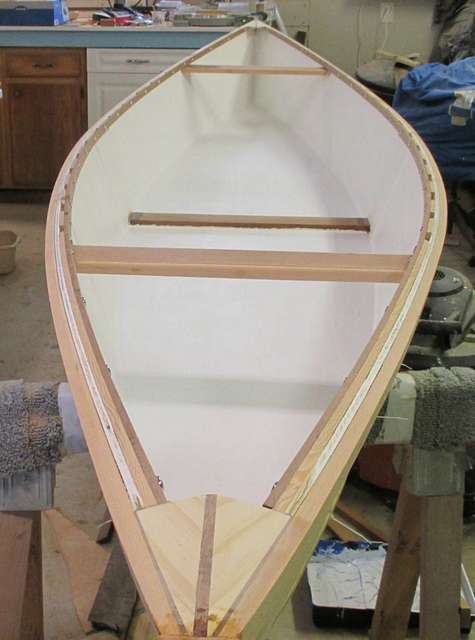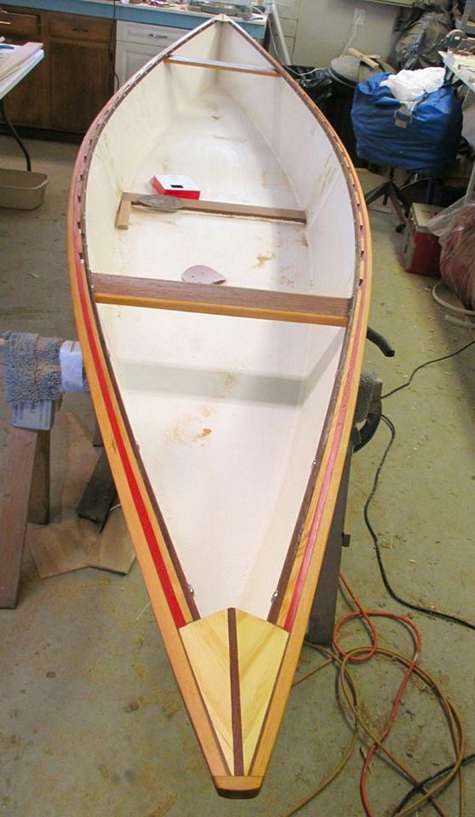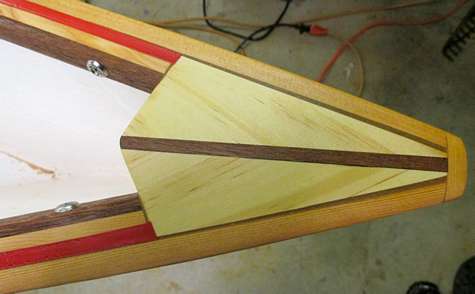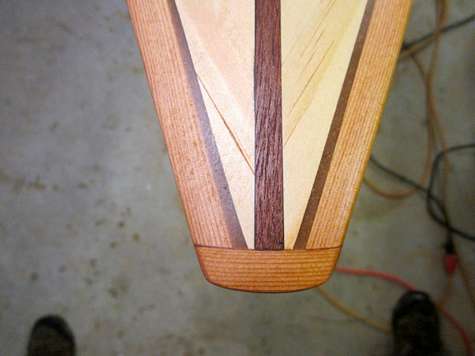 Progress on John's Fishing Canoe! More pix on my FB page.
Chris Balch
---
Mayfly 14 Building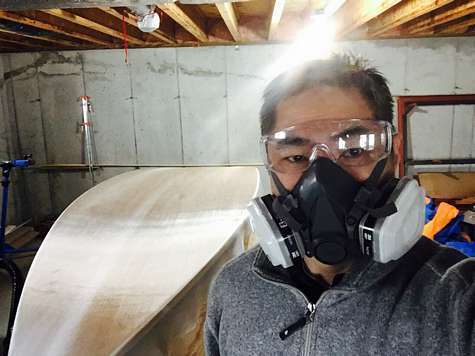 Finally bottom is glassed Read more.
Han
---
Navel Architecture
J B
---
Michalak Mixer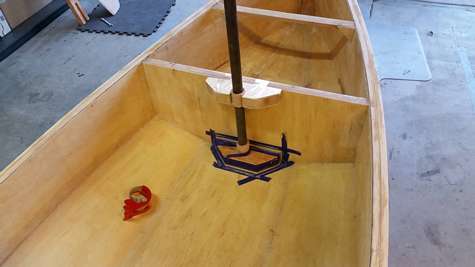 Progress on the Michalak Mixer. See more photos on facebook.
Tom
---
IMB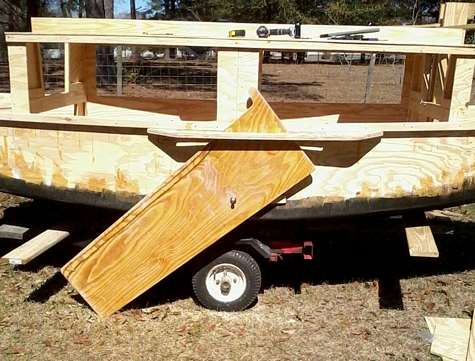 Finally, a warm day in Florida, got some work done on the IMB.
Lockers painted, decks installed. Finishing the sailing parts now. Wont be long before I can put all the puzzle pieces together.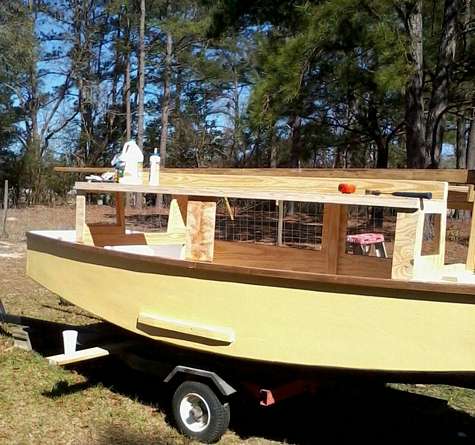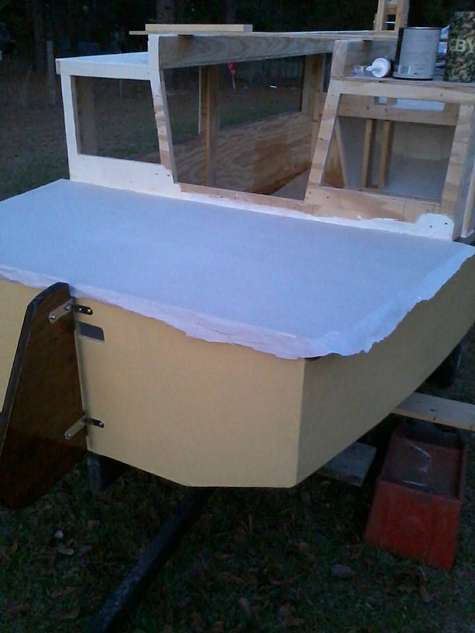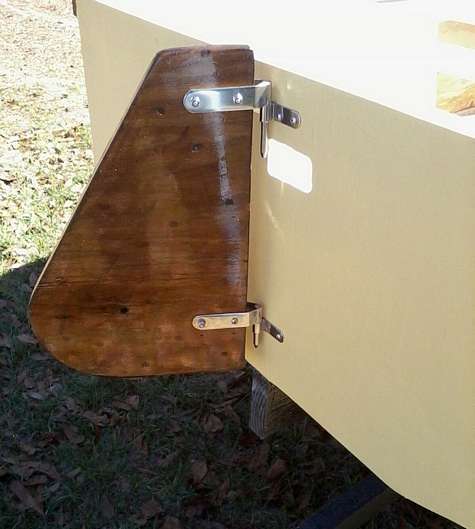 Read more on Facebook.
Scott
---
SCAMP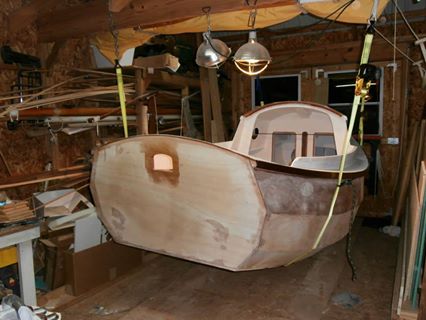 Turn of the SCAMP...
Riddle: can one person turn a SCAMP? Got a couple of 1500 lb test tie downs and lifted it just high enough to dismantle the building base. At this point, the boat probably weighs a bit over 300lbs, so not too bad.
Stacy
---
A Sailing Experience
I was fortunate to get out sailing today on a F27 in San Francisco bay when the America Cup foiling 45fters were also out practising.
It is very hard to video boats moving at 35knots when you are only doing 12-14 and don't know where they are going or when they will tack.
And having to sail at the same time, not just video. So this video is just to show we were there with them on a glorious, sunny winters day
For the record, both boats need to practise their tacking a lot more. Artemis seemed to fly higher but sail slower than Oracle. And what causes the high pitched whine before they sail fast (hydraulics?)
Thanks Charlie!
Richard Woods of Woods Designs
www.duckworksbbs.com/plans/woods
---
Floating Festival Celebrates Traditional Wooden Boats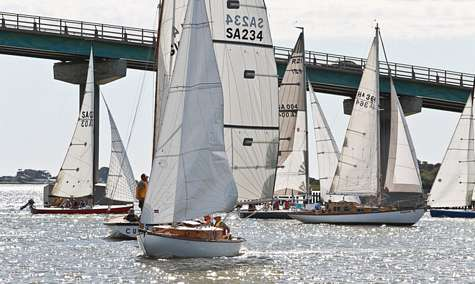 THE South Australia Wooden Boat Festival was held at the Goolwa Wharf Precinct in the Fleurieu Peninsula of South Australia. The annual weekend festival welcomed an expected 20,000 visitors to the area.
Held near the mouth of the River Murray, the festival showcases the river's most diverse gathering of wooden river vessels, from kayaks and sleek classic speedboats to paddle steamers.
Polar explorer Tim Jarvis AM, who recreated the historic Shackleton expedition in a wooden boat, was a special guest at the festival.
Chuck
---
A Pair of Canoes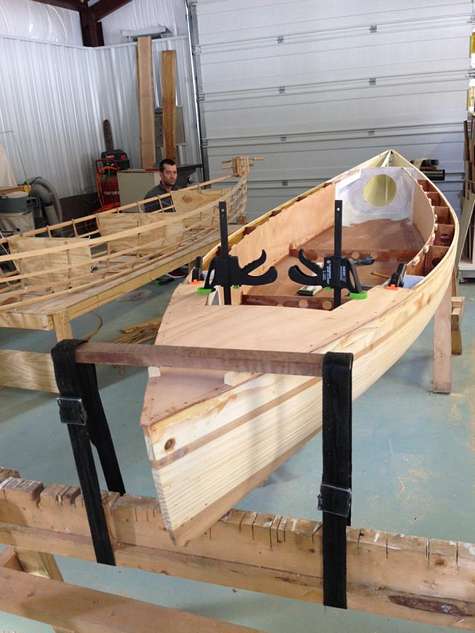 My son Andrew and I are building a pair of canoes. Andrew's is a Cinderella skin on frame, and mine is a strip plank EasyB being modified for sailing.
Phillip
---
My New Boat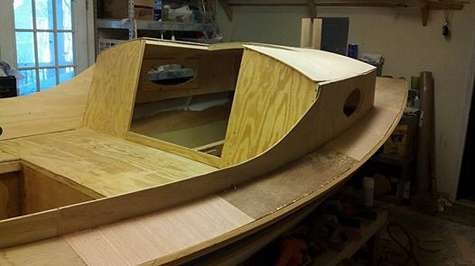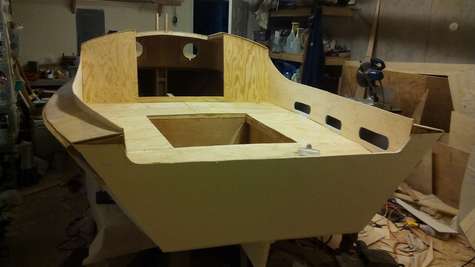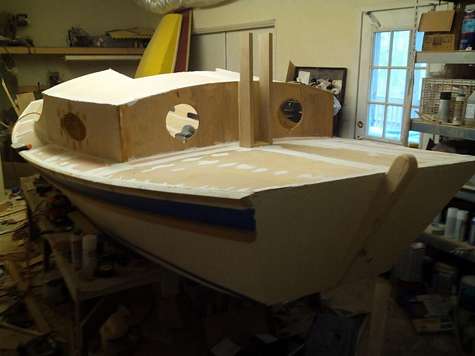 My new boat is taking shape. Hopefully, will have it done March 21st for the trip to St. Joseph.
Sliding hatch is temporarily in place. Will trim it up and paint before putting back on. Look at the cockpit space in this 14' boat!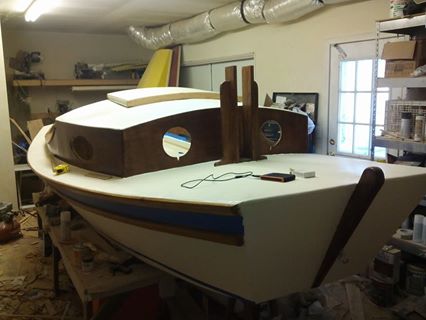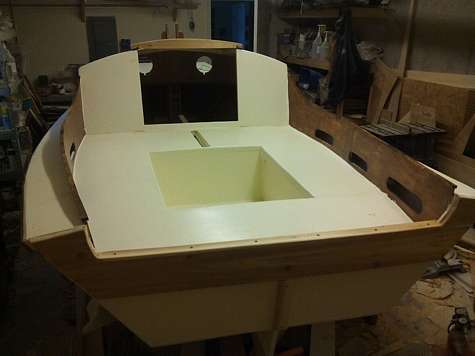 To do: rudder, centerboard, mast, cabin doors, and then rig. Gotta wait until the ground dries out before I can haul it up the hill to my drive.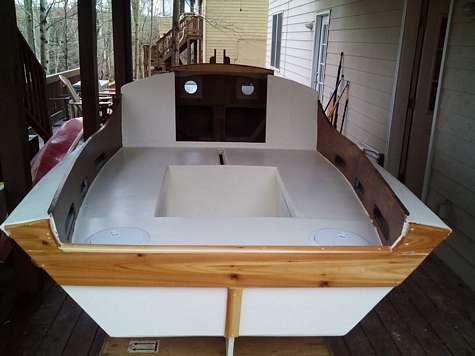 Scott
---
Kat Kan Dew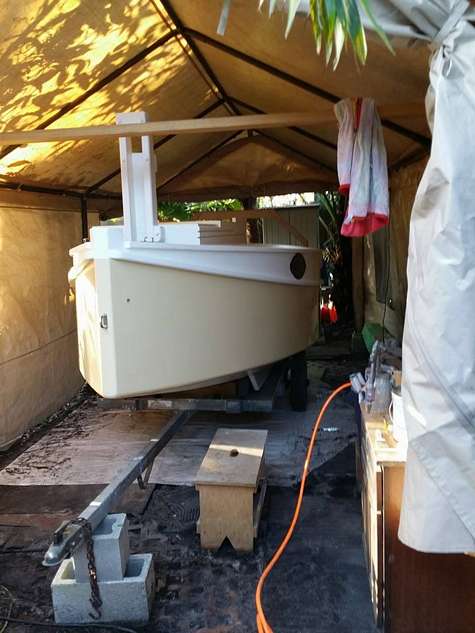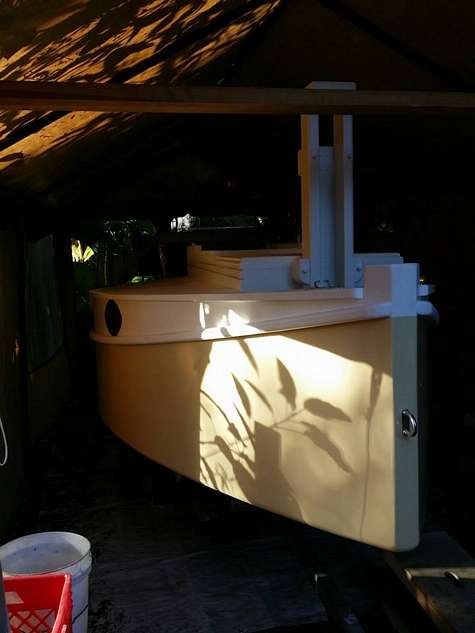 Finished the new spray paint job on Kat Kan Dew yesterday while it rained 6 inch outside the tent.
Patrick
---
DS15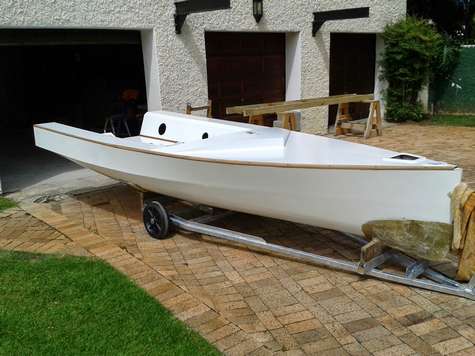 The DS15 project in South Africa is nearing completion. Latest photo are on my blog at dudleydix.blogspot.com.
Dudley Dix
---
Three Geese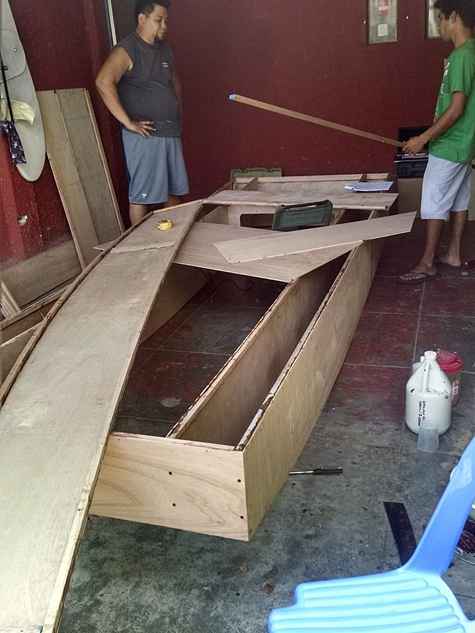 Philippines - helping Roy Espiritu and Joaquin Casal put together 3 geese. They will be raced on Lake Ta'al, the one with the live volcano, and for teaching. Hoping to establish a standard dinghy class that all can afford.
Cost for a built boat is about pesos 75K (about $1750 finished). Considerably less if some labour like painting is done by the owners. Or can build one yourself in he Philippines for about 16K peso (400 plus sail paint and fittings). Read more on Facebook.
*****
OzRacer
Ian and Riley are building a OzRacer duck in Texas.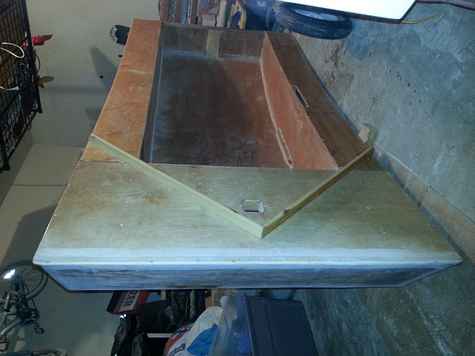 Read more on Facebook.
MIK Storer
---
Travelers Can Explore Ancient Roman Shipwrecks In New Deep-Sea Archeology Adventure
KEY LARGO, Fla. (Feb. 24, 2015) -This summer travelers can become underwater explorers to aid subsea archeologists to document and photograph three ancient Roman shipwrecks that sank some 2,000 years ago near Panarea in the Aeolian Islands off Italy.
Eight one-week missions begin June 20 and continue through Aug. 21, 2015.
The not-for-profit Aurora Trust Foundation, in conjunction with SubSea Explorers, a marine archeology expedition company, and U-Boat Worx, a Dutch mini-submarine manufacturer, offers the program. The air- conditioned sub safely travels to depths up to 1,000 feet, but maximum mission dive depths are 500 feet.
"This is a real bucket-list adventure," said Aurora co-founder Ian Koblick. "Participants will become authentic explorers and examine ancient Roman shipwrecks only a few have ever witnessed."
Each week participants can undergo three two-hour missions in the $3 million submarine built with 360-degree views. The sub can carry two guests who will work with a marine archeologist and the sub's pilot. Together, they will have the opportunity to uncover the mysteries of the wrecks, whose wooden structures have long since deteriorated but whose amphora/cargo remains intact.
Under supervision of the Sicilian government, some artifacts are to be removed from the seafloor to be curated and displayed in regional exhibits.
Program cost for individuals is $19,700, which includes villa accommodations and meals.
For $240,000, up to 10 people can participate in the weeklong program while staying on a luxury yacht. The cost is $140,000 for a group of up to 10 that stays on their own yacht.
All participants travel on private historical and museum tours to learn about the islands' culture and history.
More details are at: www.subseaexplorers.com