12' Foot Skiff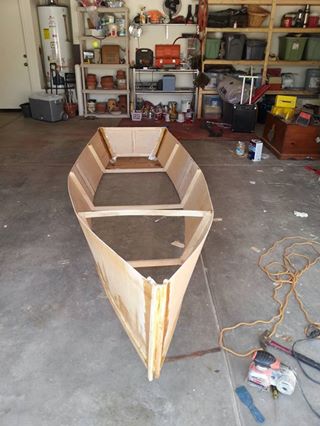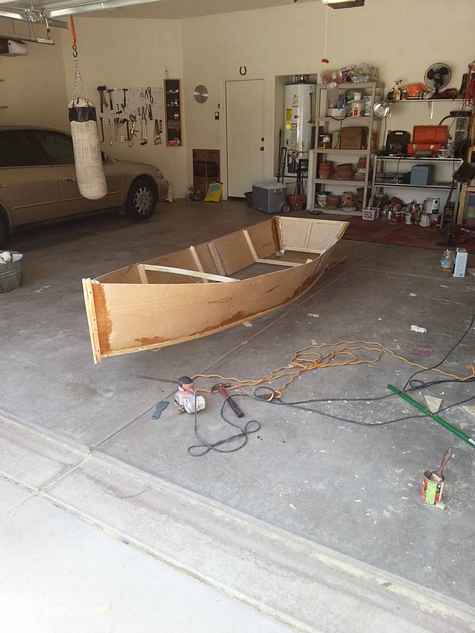 Building a 12 foot skiff from Hannu 2 sheet plans.
Mark
---
---
Pathfinder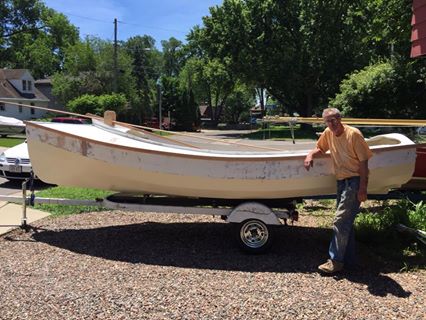 Welsford Pathfinder "ohboyohboy" takes her first trip out of the garage, in Monona, Wisconsin. Boatbuilding is an excellent way to spend the longest day of the year!
Bill
---
Goose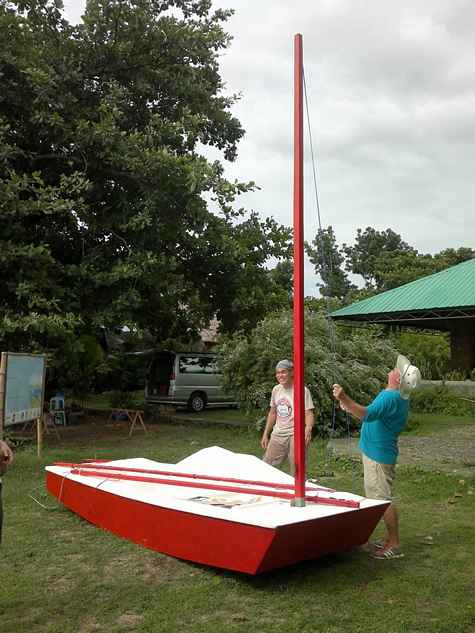 Sonny's Goose (one of the ten Filipino boats) has been finished by Winston Espiritu.
MIK Storer
---
Paddle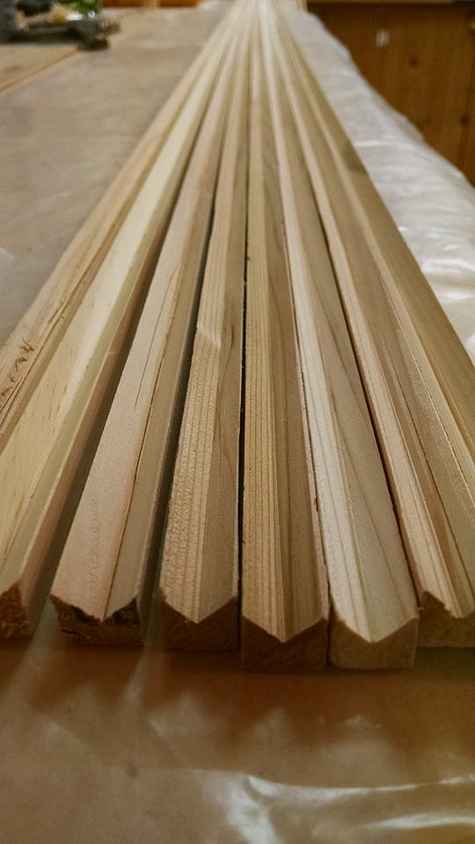 Soon to be stand up paddle, paddle. I'm going to make a double paddle for my canoe too. I've never done birdsmouth hollow before.
Charley
---
Drake
Finally got around to finishing the video of my latest boat building project.
Selkie
---
Shallow Minded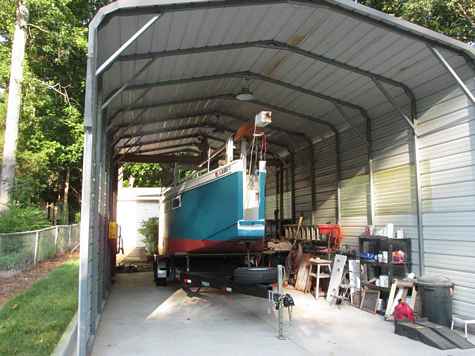 Shallow Minded back in her shelter. All rigging checked, survey passed. Final push to finish the last of the list of repair items. I will be crafting a reply document to the few survey recommendations demonstrating compliance with ABYC safety standards.
Larry
---
Paradox #2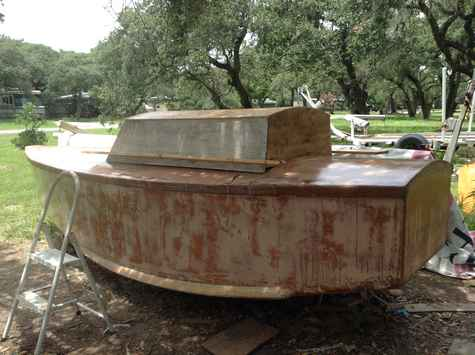 Paradox #2 coming along.
Mike Beebe
---
Bottums Up
I have not made a lot of progress on the AF3 since last time. I took off for the TX200 and a messabout on my local lake. Here's what I have got so far. I primed and painted the cabin and rear airbox.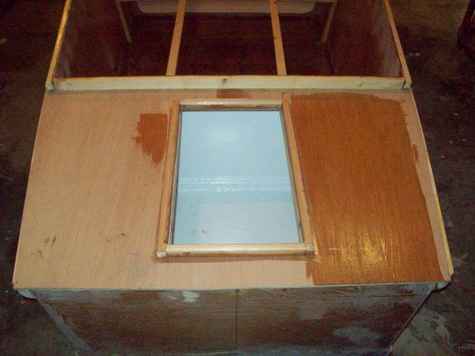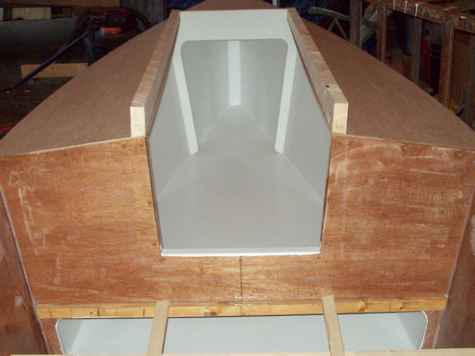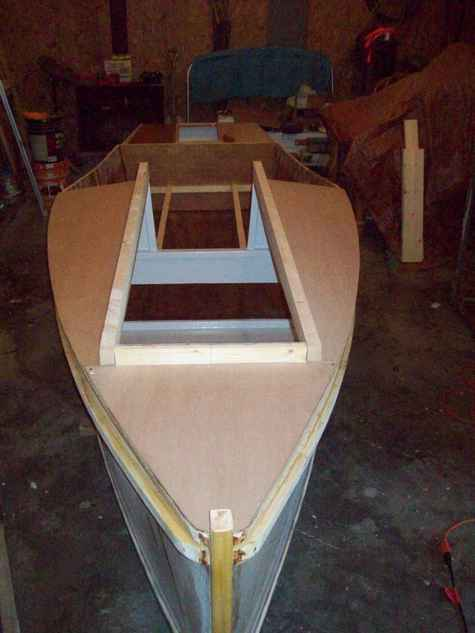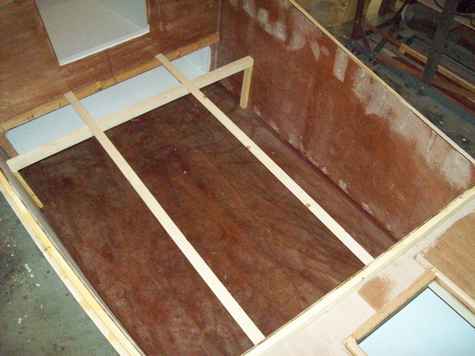 I took a cue from Martin Houston and put in extra bracing for the rear deck. (By the way, if you want to know how to build an AF3, check out Martin's vids on Youtube. That guy knows how to build a boat!)
I got the decks fitted and the cabin deck beams sized up. I am now working on the framing for the custom cockpit seating I am putting in. Once the seating is finished the rest of it should go quickly (fingers crossed).
Gene
---
Inlet Runner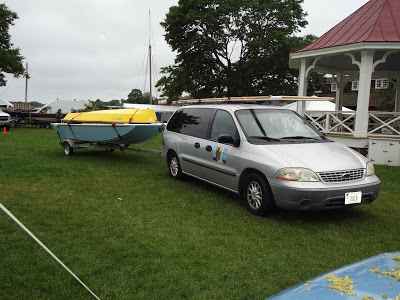 Our new Inlet Runner 16 plywood garvey design was at the Wooden Boat Show at Mystic Seaport last weekend. More on my blog.
Dudley Dix
---
Chamberlain Gunning Dory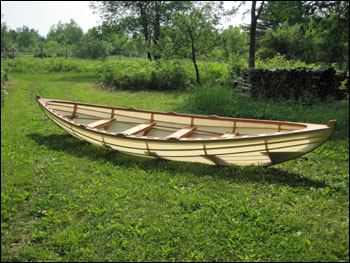 I rarely release plans for a boat without building and testing the prototype first, but I did with my SOF version of the Chamberlain Gunning Dory. Here, finally, is the first completed example (that I know of). Both the builder and I seem to have gotten lucky, and it has turned out much as I envisioned it.
Dave Gentry

www.gentrycustomboats.com
---
Aquabot High Pressure Drinking Water Bottle for Boaters
Happy summer sailing and boating. We've noticed lots of boaters buying our new high pressure drinking water bottle and using it in on their boats. I know your readers would find it interesting.

Aquabot is a water bottle that provides high pressure spray patterns of mist, stream and shower. BPA free and requiring no batteries, Aquabot makes any water related chore easier and more fun.
Use the mist to keep cool during the hot days of summer.
Drinking is easier and more fun.
The shower rinses saltwater and sand off of gear and body parts and makes galley cleanup easier and more efficient.
The 25-foot super soaker-esk stream is great for signaling to other boats your friendly intentions.

Nick Rhea
Lunatec President
lunatecgear.com

P.S. We also make a 5 star rated odor-free dishcloth that doesn't need to be machine washed and last 3 times longer than sponges. Boaters love them.
Chuck
---
Oakwood Veneer Introduces Gorgeous Engineered Italian Ebony Veneer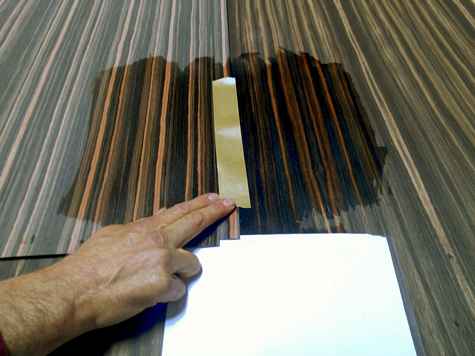 Troy, MI - June 26, 2015 - In years past, engineered wood veneer has had a less-than-stellar reputation in regards to beauty and high-end acceptance. While it has always been made of real wood, the actual grain is enhanced to resemble known species. In some cases several years back, it didn't really hit the mark. However, today's engineered wood veneers are a thing of beauty, and they come quite close to being indistinguishable from the real thing. Oakwood Veneer has recently introduced what they call one of the finest high-end engineered wood veneers to date on the market, a brand new Italian macassar ebony design.
As shown in the picture, this new engineered Italian macassar ebony (left-side) has virtually the same color tone, grain lines, and overall visual appearance as the real macassar ebony sheet (right-side). Oakwood expects that its appearance will please even high-end interior designers who have a keen eye for subtleties.
While there are still reasons to purchase the real macassar ebony species (such as greater grain variations), Oakwood Veneer president Peter Rodgers explains that there are several reasons why purchasing engineered veneer makes sense as well. The first reason is that large jobs, which require several to dozens of sheets, can be easily matched across as many sheets as necessary. Another reason is that it is often difficult to find sheets of real ebony that meet design requirements such as no knots, straighter grain, and richer tone. The engineered Italian sheets have these qualities built in. And finally, the engineered veneers can come at a much lower price point, meaning a high-end ebony appearance can now be achieved on a much smaller budget.
For more information on the new engineered Italian macassar ebony veneer, please contact Oakwood Veneer at 800-426-6018.
Contact:
Ezra Drissman
drodgers@oakwoodveneer.com
1830 Stephenson Hwy Suite A
Troy, MI 48083
Phone: 800-426-6018