Free Videos from Off Center Harbor!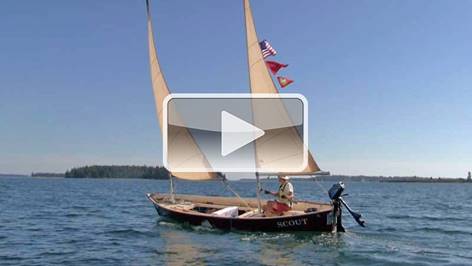 Big Adventure in a Small Boat, Gunkholing in a Sea Pearl 21.
This guy has got small boat bliss figured out!
In this new video from OffCenterHarbor.com come aboard a Sea Pearl 21 and learn all about how this skipper uses his small boat for big adventure.
Enjoy the video, and be sure to sign up to see 10 more of OffCenterHarbor.com's best videos!
Chuck
---
Goat Island Skiff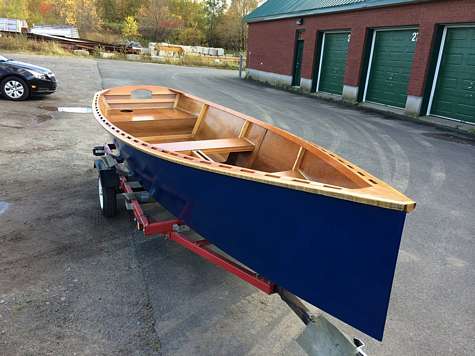 James in Quebec has a very nice looking Goat!
MIK Storer
---
---
Sea Pearl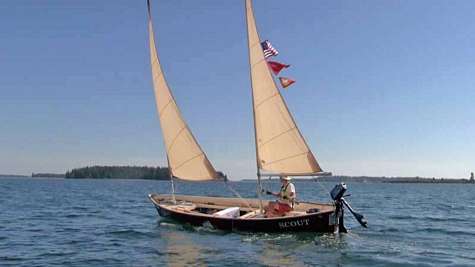 Here is one from Christophe Matson on Sea Pearl sailing and he flies the Duckworks Burgee.
Chuck
---
The Ship's Blog: A diary of the Harwich Mayflower Project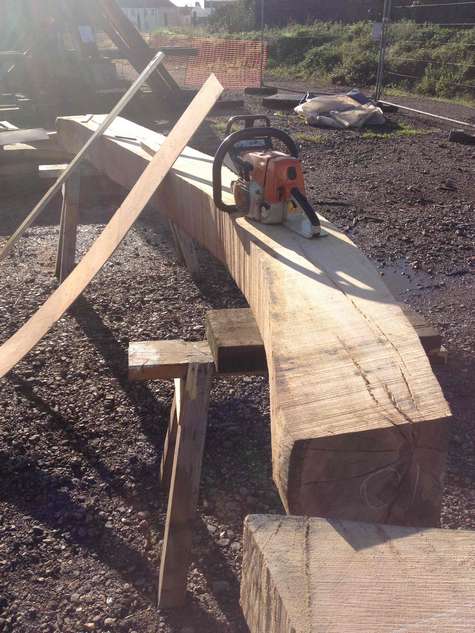 A replica of the Mayflower being built in Essex UK.
John Huft via Andre
---
SAILING THE TEST BOATS FOR THE DRAGON HARALD FAIRHAIR
Three sailing prototypes built to test ideas for the largest Viking ship built in modern times. Looks like they could do with a bit of sail development, but three slightly different boats moving along quite nicely at times.
MIK Storer
---
Documentary
Boat Construction In WW2: The Little Ships Of England - 1943 Educational Documentary.
Dennis
---
Alf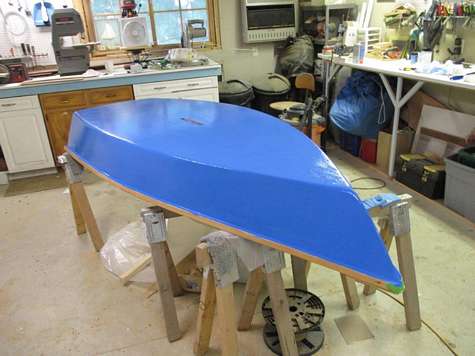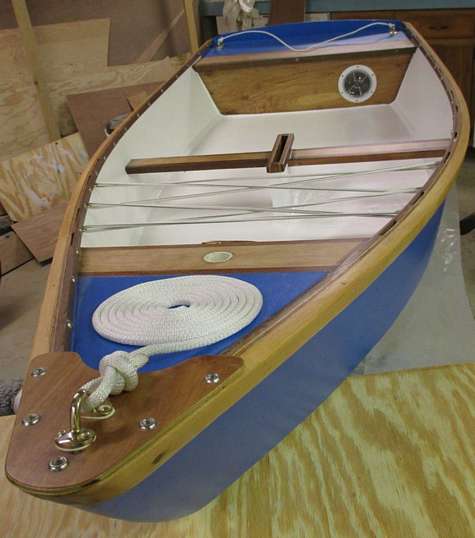 ALF 2.4 is finished. The boat I am building for the Hope for Gus Fundraising Auction is all done.
Chris
www.facebook.com/chrisbalchboats
---
A Scow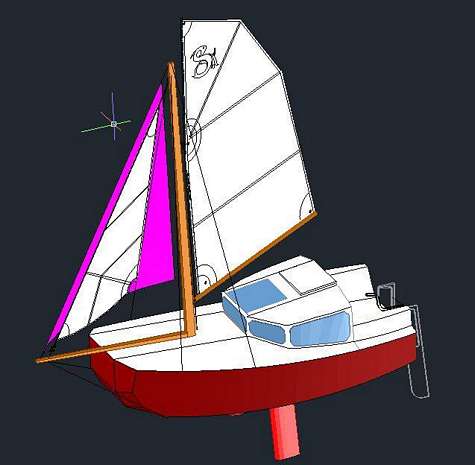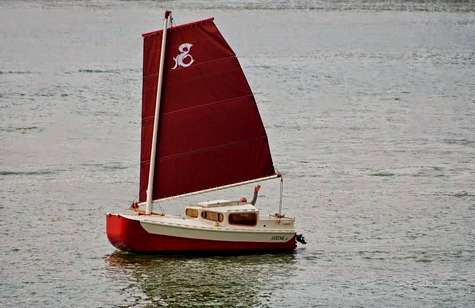 If you like scows check out Yann Quenet's 14 ft Skrowl
Paul
---
Toon 19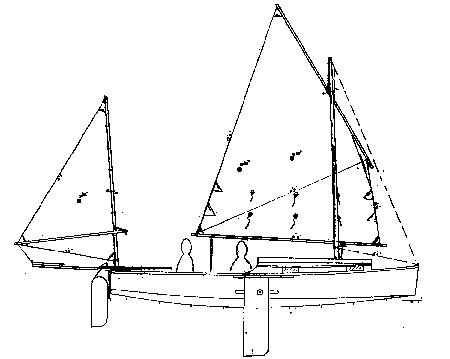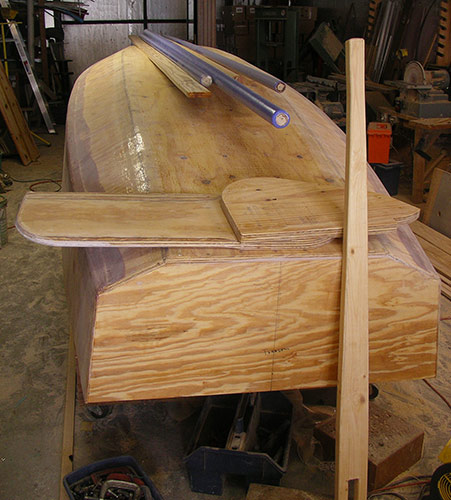 A Michalak Toon 19 I am building.
Let's see, tiller, check; rudder, check; spars, check; She's practically done.
Chuck "The Duck" Leinweber,
Duckworks
---
Tasman Crossing Sinks
Stuart Cleary says kayak took on water just 12 hours in, won't attempt journey again.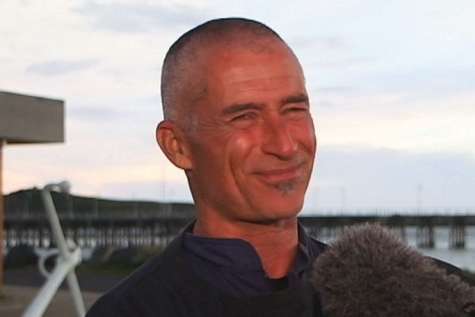 The Gold Coast kayaker who had to be rescued just 12 hours into his paddle across the Tasman Sea after his homemade vessel began to sink says he will not attempt the trip again. Read more...
Mike John
---
North Carolina Challenge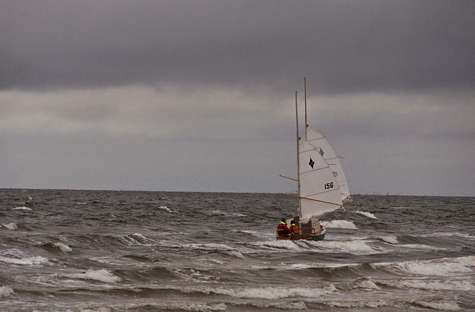 Here is a great account from Frank San Miguel about his North Carolina Challenge experience.
Chuck
---
International Sailing Regatta Set for Jan. 18-23 in Key West
KEY WEST, Florida Keys -- Sailing fans can watch leading yacht racing teams from around the world compete for titles in Quantum Key West Race Week 2015, one of the most prestigious regattas on the international sailing circuit, Sunday through Friday, Jan. 18-23.
Boats ranging in size from 23 to 72 feet are to compete in the waters off America's southernmost city during the 28th annual race week. Spectators can expect five days of competitive racing as well as surrounding activities where they can interact with the participating teams in a casual island setting.
The regatta's primary attractions for race teams are the warm-water January sailing, reliable breezes, high level of competition and unique Key West atmosphere. Unlike other challenges, the regatta allows amateur sailors to test their skills against professionals.
Presented by Quantum Sail Design Group, races are slated to begin at 11:30 a. m. Jan. 19-23 on Atlantic Ocean courses just off Key West's shore and inside the continental United States' only living coral barrier reef. Plans call for 10 races on three separate courses, with boats competing in as many as 12 classes.
The 2015 regatta lineup features top international racing professionals including Olympic champion Jonathan McKee and 2006 Rolex Yachtsman of the Year and world champion sailor Jud Smith.
Among the Melges 32 registrants is Doug DeVos on Volpe, challenged by sailors including his son Dalton DeVos on Delta, Italy's Alessandro Rombelli on STIG and Bermuda's Alex Cutler on Hedgehog. Cutler will defend his 2014 Key West championship.
A healthy fleet also is anticipated in the popular Melges 24 class.
Heated competition is expected in the Mini-Maxi class as returning champion Hap Fauth on Bella Mente, paired with legendary tactician Terry Hutchinson, battles challengers including George Sakellaris' Shockwave and Gunther Burman with tactician Brad Butterworth on Numbers.
J/70s are to continue their strong class presence in Key West with early entrants from around the U. S. as well as Sweden, Italy and Brazil. Regatta organizers project a J/70 field of 40 to 50 boats.
Making their Key West debut will be an exciting GC 32 class featuring foiling catamarans with speeds that approach 40 knots. These multihulls are designed along the lines of the most recent America's Cup boats that raced off San Francisco in 2013.
Regatta headquarters, where sailors and sailing aficionados can mingle, is to be on Caroline Street between Duval and Whitehead streets.
To view the racing action, fans can book seats on spectator boats ranging from excursion catamarans to historic tall ships. Prime land-based viewing spots include Key West's Atlantic-front restaurants, resorts and beaches.
Event information: www.premiere-racing.com or 781-639-9545
Key West visitor information: www.fla-keys.com/keywest or
1-800-LAST-KEY
Social: Facebook · Twitter · Instagram · Youtube · Keys Voices