CENTEX Messabout
The umpteenth annual CENTEX Spring Messabout at Lake Bastrop went on as planned May 23 despite the strong possibility of thunderstorms. About 12 folks showed up for what evolved into a 4 hour discussion of boats and such, with veteran builder/modifier/creator/users of fun boats John Wright and Skip Johnson sharing their wisdom and experience on everything from wing sails to foam boats. You never quite know what these two might come up with, but it is always quite interesting. I suggested to Jackie Monies, who would have loved this event, that she invite them to host a "Pick the Brains of Two Boatnuts" forum at this October's Sail OK.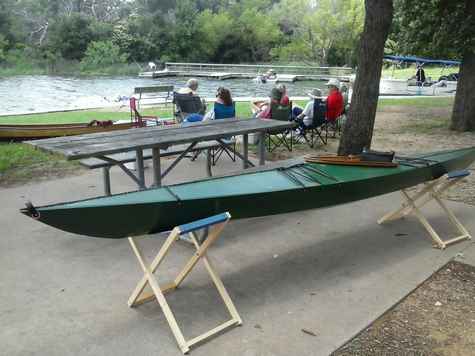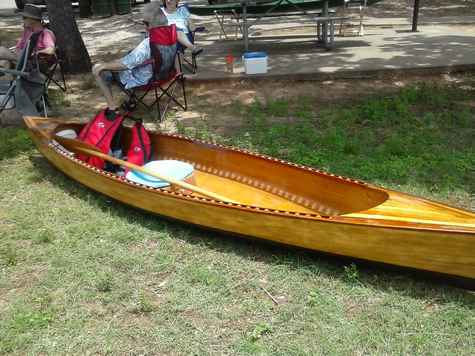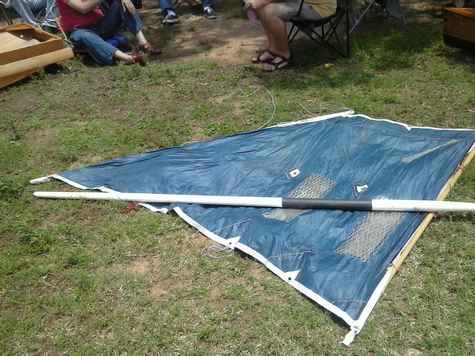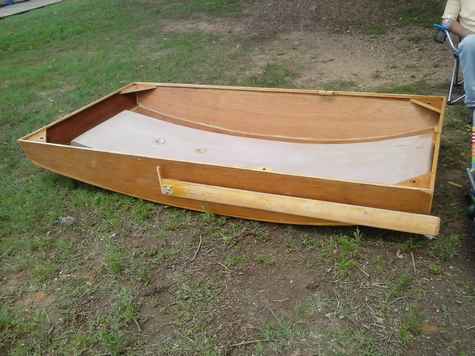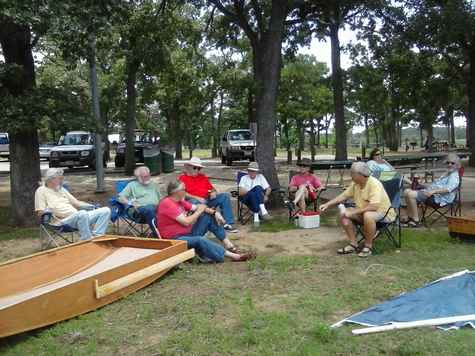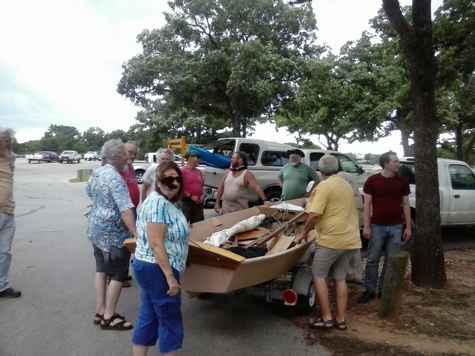 Light winds and cloudy skies on our lee shore meeting place kept most folks off the water, which was fine as only a few even brought a boat! Around 2:00 p. m., as predicted, the clouds rapidly grew dark and the wind changed to slight to WOW, BETTER GET READY TO LEAVE. At this point folks headed homeward after helping one boater in our group carry his boat to the trailer in the parking lot, which was much safer than him trying to row/sail his craft around the fishing pier to the boat ramp. Who says one has to get on the water to call it a Messabout!?
Steve Lansdowne
---
---
Yinyl Slot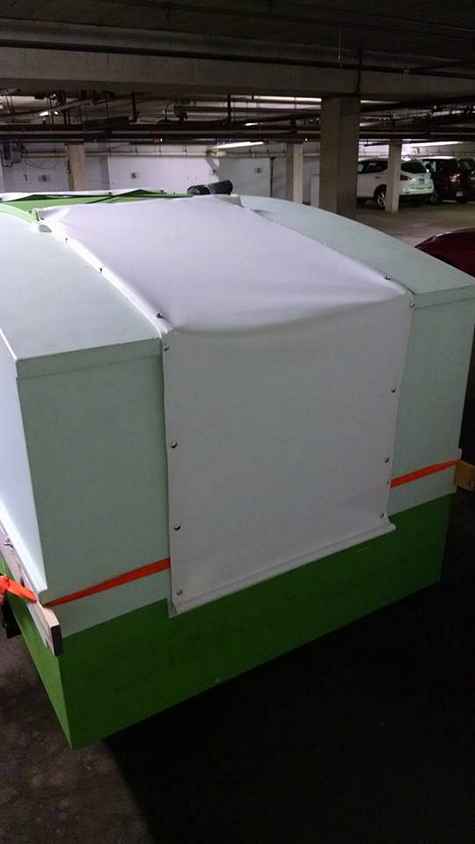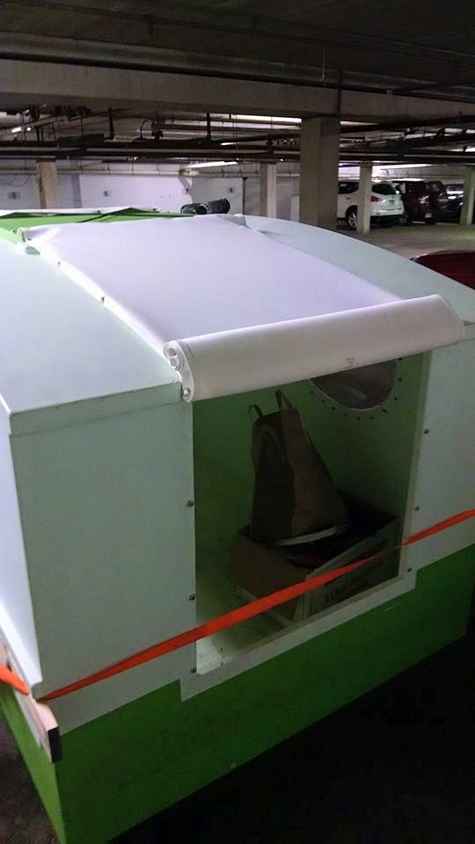 Vinyl slot top cover complete! The bow section of the boat is off in these photos.
Seth Miller
---
Shallow Minded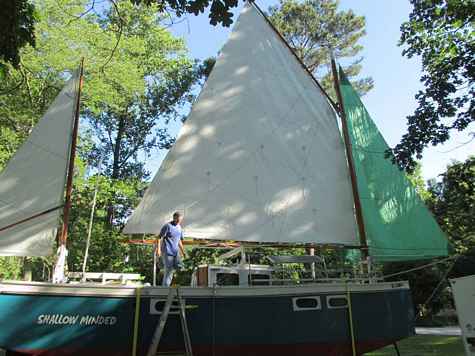 Altogether now: three sails up, apologies for the backwinded screecher. Applying a third coat of Interlux Interprotect to the Spindrift dinghy. 25 percent dilution with 2316 sprays nicely with a 1.8 tip and about 35 lbs.
Larry
---
Mayfly 14 Building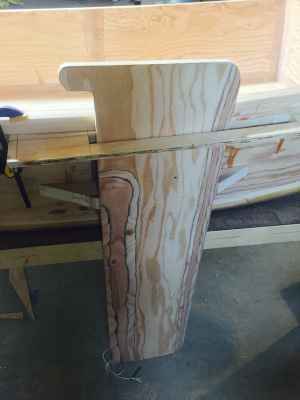 After two months of no boat building due to my real job, I finally am able to get back to working on my Mayfly 14 again. Blog.
Han Yim
---
Goose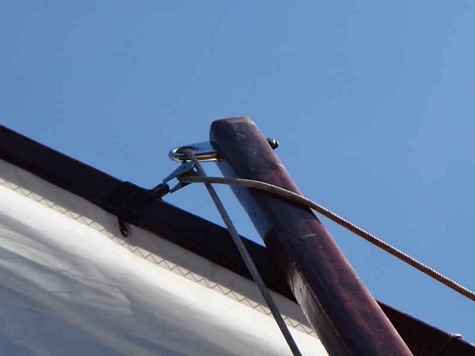 I've been working on the fiddly bits on the Goose. Read more.
Andy Linn
---
Spindrift 11N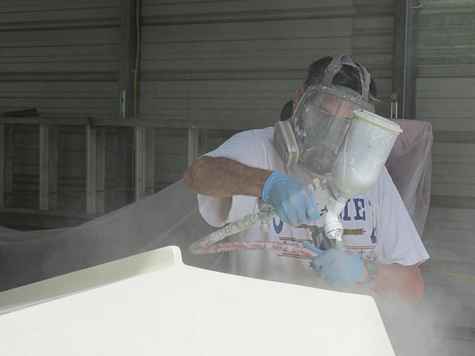 Final coat of Interlux Perfection goes on my Spindrift 11N nesting dinghy.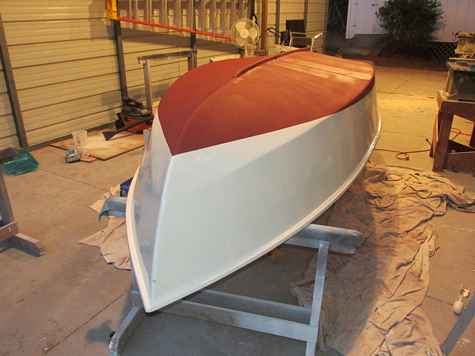 Three coats of West Marine's Bottom Shield. The water line was trued up with a laser level. This dinghy will be in the water for 3 months so it needs to be well protected.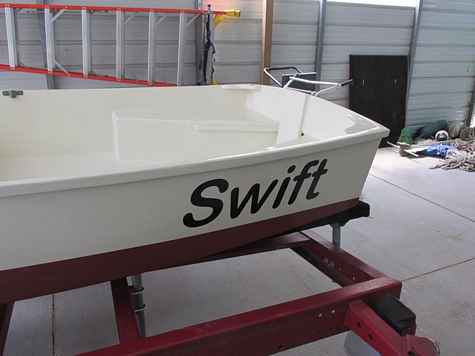 Name in place. It's the dinghy/tender for Shallow Minded and fits on the foredeck (and it came that way). I merely replaced the transom and rails (not a small job) and repainted. Will probably be towing a lot though.
Larry
---
PC23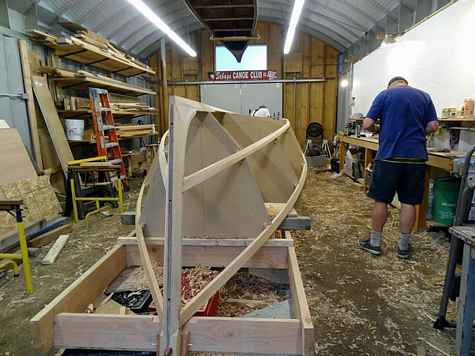 Making progress on the PC23 in Brooklyn. Stem, chines, and keelson are mostly faired up, and the first two topsides planks are on! More on Facebook and Facebook here.
Jim
---
Caledonia Yawl
This video is about Building The Caledonia Yawl Kathleen.
Rex