Michalak Mixer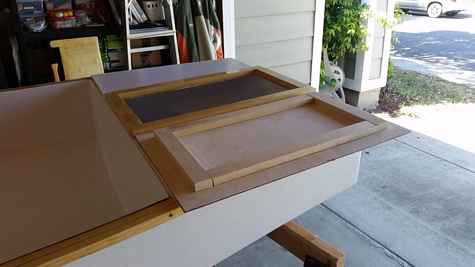 Progress on the Michalak Mixer. A new mast, hatch covers, and lots of painting, varnishing, and epoxying. The old mast, yard and boom have all been planed way down. They were far too thick and heavy before, they made the PDR so top heavy, it took a stiff breeze to even get it moving.
More on Facebook.
Tom Geary
---
---
"Bottom's Up"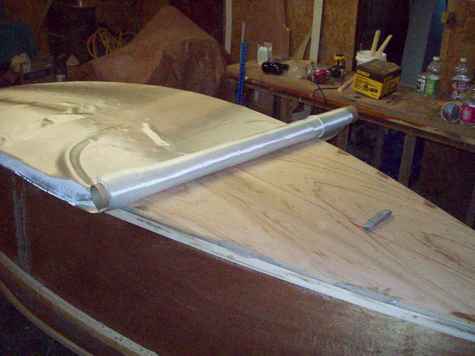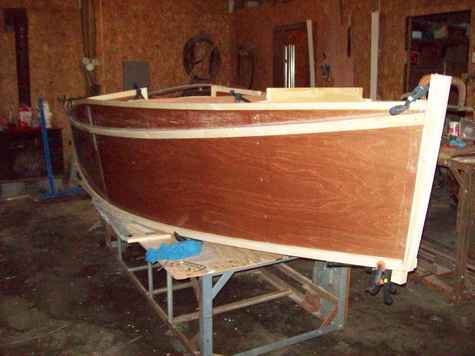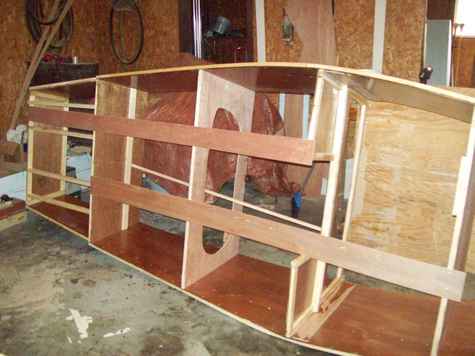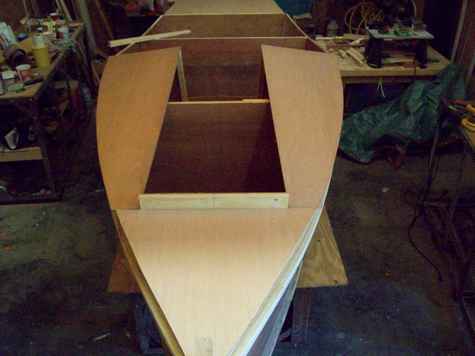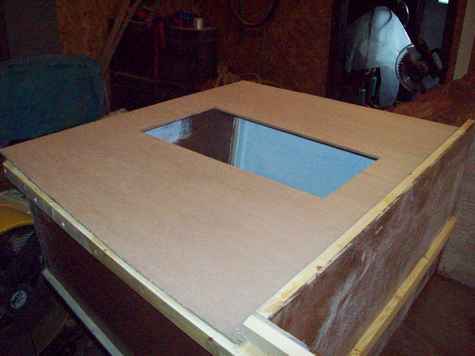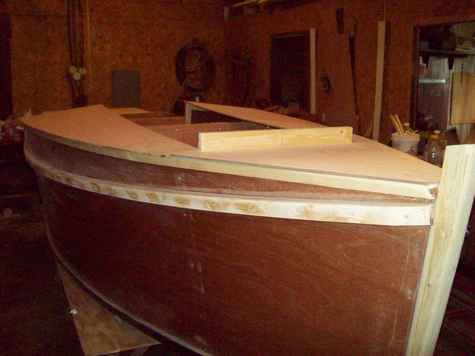 Here is "Bottoms Up" in various stages for Jackie Monies. A Michalak AF3.
"Bottoms Up" - the bottom is done, (6oz glass with 3 coats of epoxy, the last coat impregnated with graphite) and the hull rolled upright. I finished the chine to side fillet and started dry fitting the decks. I will do some painting in the areas that will be hard to reach after the decks are on before I fasten them down. After that it's on to the cockpit seats. Maybe I will be done in time for Sail Oklahoma?
Gene
---
Proteus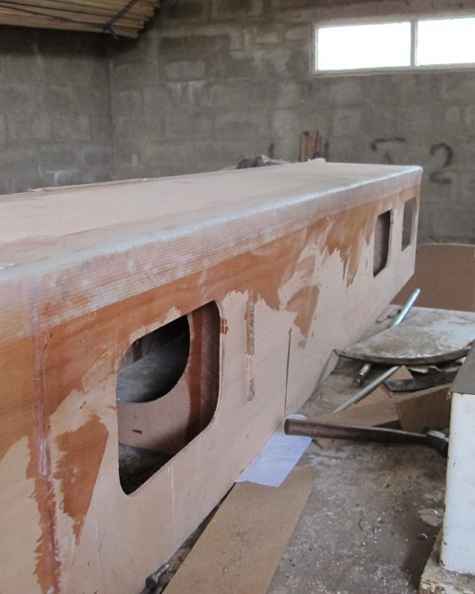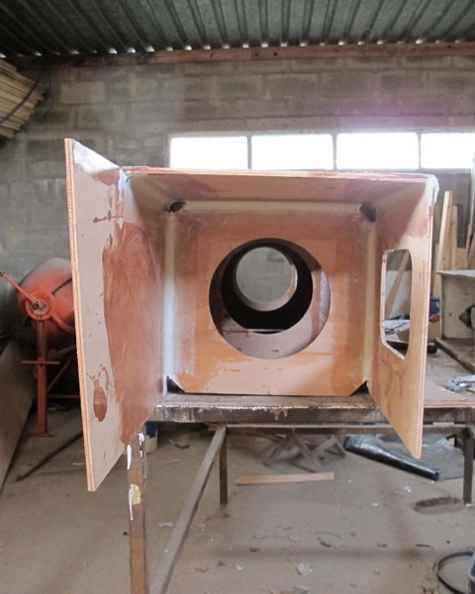 Crossbeams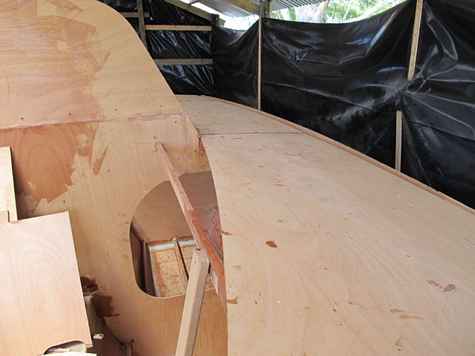 Deck view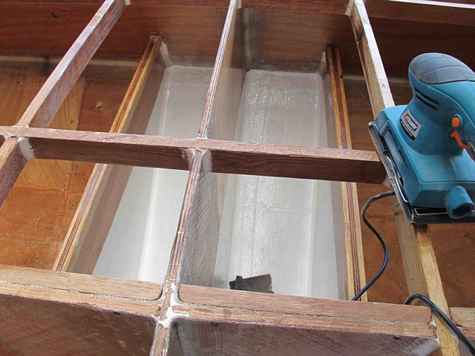 Mast step area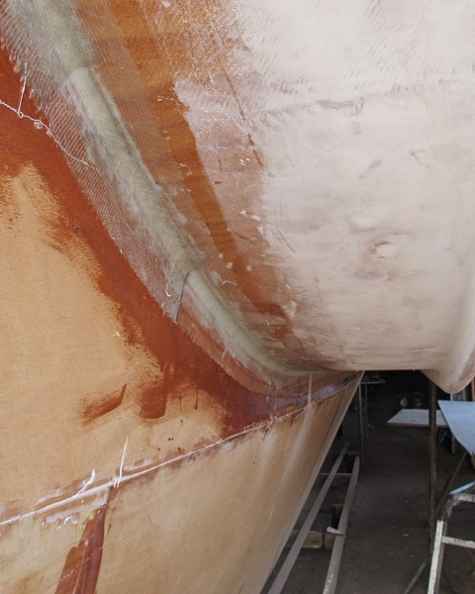 Wing deck hull joints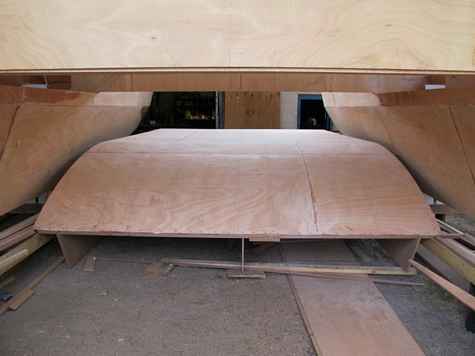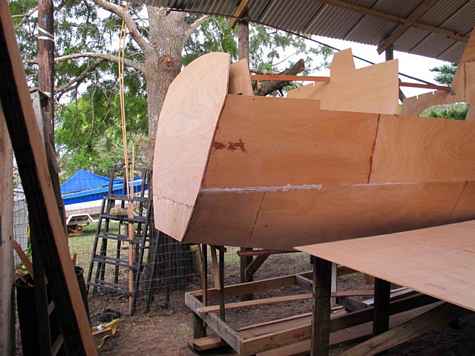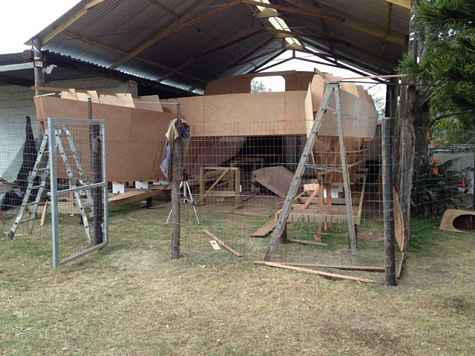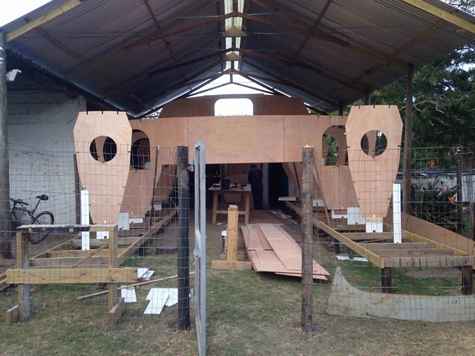 The tried & tested Proteus - 10.6 x 6.36m (35' x 21'). A ply CNC cut kit set. It's a sailing cat being built in South Africa and is intended to be a minimum size "offshore" capable boat, which is fast, fun to sail, beach-able, has standing headroom, is minimum cost & labour to build. Barry Tapson and a helper have been busy 11 months part time so far, he estimates about 1200 man/hrs so far.
Angelo
Lavranos Marine Design
New Zealand
email  lavranos@ihug.co.nz
web  www.lavranosyachtdesign.co.nz
---
First Eco 75
It is not everyday that I get post from Mo'orea/French Polynesia. To my surprise a new and also the first ECO 75 power catamaran was finished there.
The boat is slightly changed to suit the requirements of the owner. The boat will be used as a day charter boat for 8 people around Mo'orea. The boat has also some accommodation in the front beam. Bernhard, the owner/builder wrote, we built the boat in 7 months the Polynesian way with lot of relaxing and fun. A carpenter and a friend helped sometimes. His words: "the boat was costing me 40 percent more than expected". Material Kaori stringers and plywood was used. Besides the normal 300 grams glass fabric, the bottom was strengthened with 3 layers of 450 grams biaxial glass.
Bernhard is not a newcomer to boating. He has been chartering a MacGregor 36 since 1980. He writes the ECO 75 will be his last boat.
He writes: "I chose 2 x Tohatsu 25/30 because it is the most popular with Japanese fishermen in Japan as it the only engine with an electronic ignition which can run without battery, you can start by hand". In my eyes the boat is a beauty. Now to the extreme strong bottom lay up. His words again: "The boat is not in the water, I am working to make wider the trek up to the house which is at 40 m altitude, crazy! All the people in my area think is not possible and I laugh, is why I made the bottom very strong to roll it on polypropylene black pipe 14mm diameter, a lot of fun is coming".
So I hope I will hear in the near future again how all went.
Here some photos from the construction of the boat.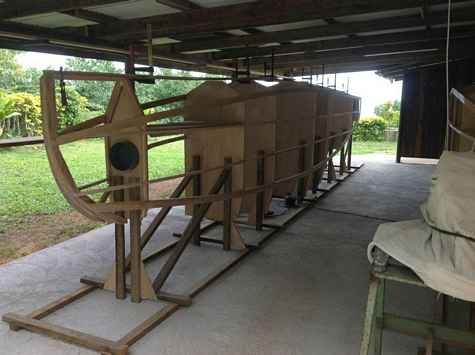 Bernd Kohler
K-designs
France/The Netherlands
---
Linnet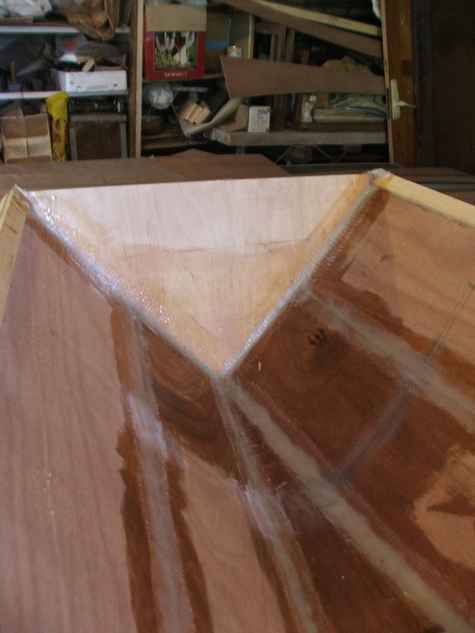 Here is another website showing the Linnet build, a close relative to the Bee.
Richard Woods of Woods Designs
sailing catamaran designers
www.sailingcatamarans.com
---
Texas SCAMP Camp 
Howard Rice invited me to come take a look at his new specially fitted SCAMP. This boat will be sailed by Howard in a very remote and forbidding part of the world next year. An announcement about this momentous journey is coming soon. There will be a crating party at the Port Aransas plyWooden Boat Festival in October - don't miss that.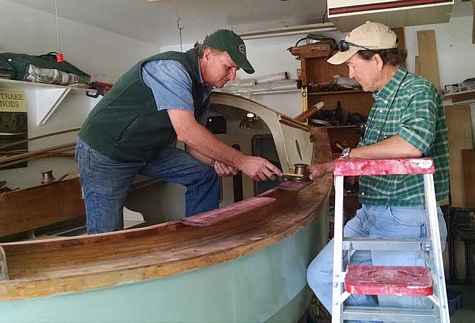 Howard also tells me that there are several spots still open for the Port Aransas SCAMP Camp which will take place at the Farley Boat Works at the same time as the festival. If you are thinking SCAMP, this may be a golden opportunity. Here is the website link:
www.thepocketyacht.com/scamp-camp-2015.html
Chuck
---
OzRacer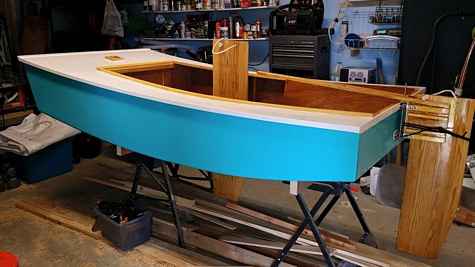 "Little Bit" OzRacer built by Terry Green. Very neat use of colour.
MIK Storer
---
Birdwatcher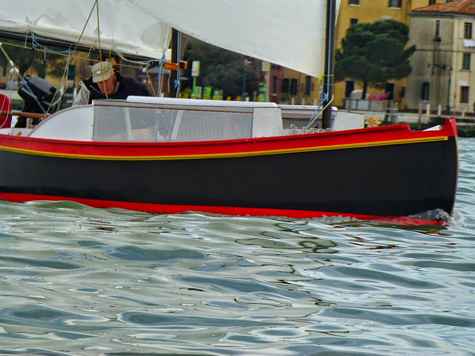 When I first saw a picture of Birdwatcher I thought Bolger "is a genius", but the majority of my friend sailors think "it cannot be seen". So, the question was: is it possible to make a Bolger style box and make it good looking? I tried and this is the result.
More photos on Google Plus.
Giorgio
---
Point Comfort 23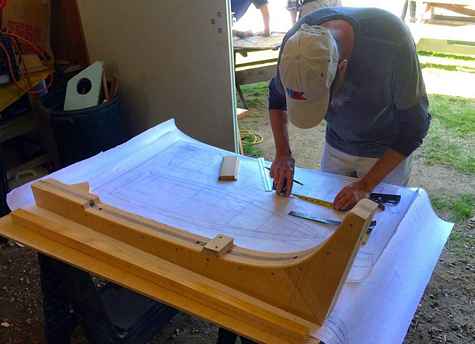 Fabricating the stem for the Point Comfort 23 at the Sebago Boatshop. More photos on Facebook.
Jim
---
Garvey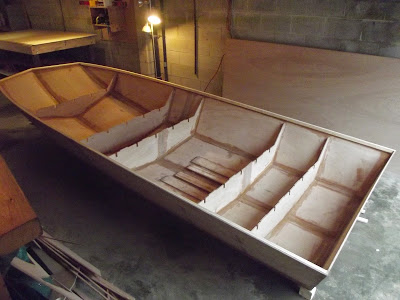 The 16ft plywood garvey project in Hampton, Virginia, is moving along nicely, with the deck going on this weekend. Story and pics on my blog.
Dudley Dix
---
New Sails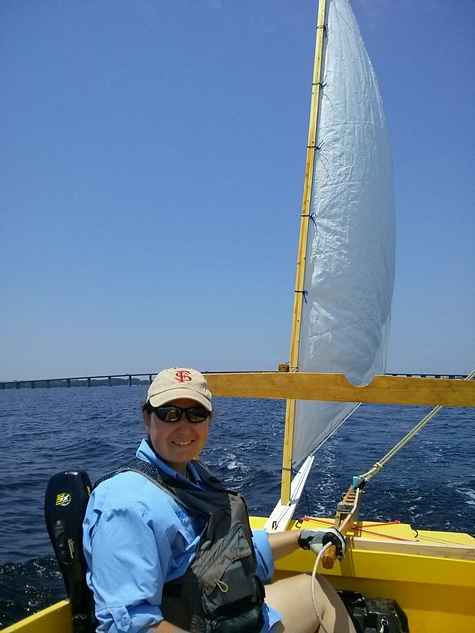 News sails working great!
John
---
Tammie Norrie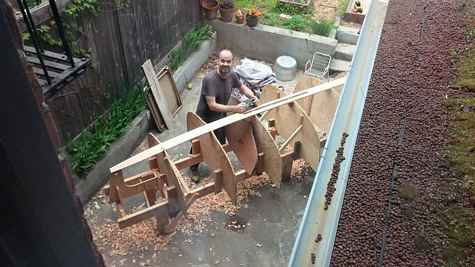 One of the Brooklyn chapter members is building an Oughtred Tammie Norrie is his garden. Big city boat building!
Jim Luton
---
Flint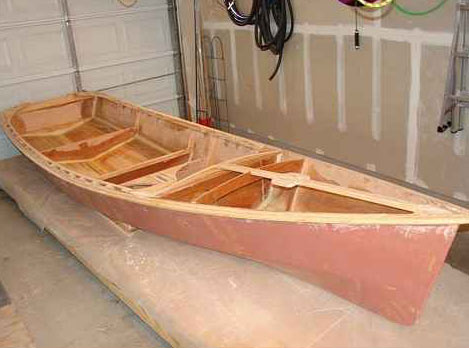 Progress is slow but steady on the Flint: got the wales, quarter knees, and king plank in.
Roger
---
Goose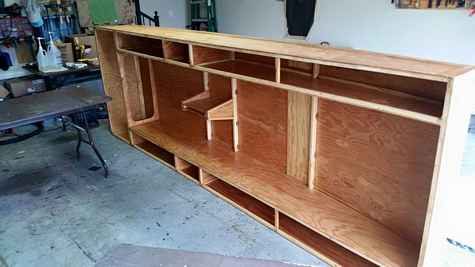 My boat doesn't exactly follow the goose plans but the gist of it is there. I've routed out the front bulkhead more than it calls for to allow for expedition sailing. I'm also cutting in cubbies adjacent to the Center board to allow for drinks and snacks or VHF and sunscreen. I've been trying to modify my boat to make it as practical as possible.
Brian