GIS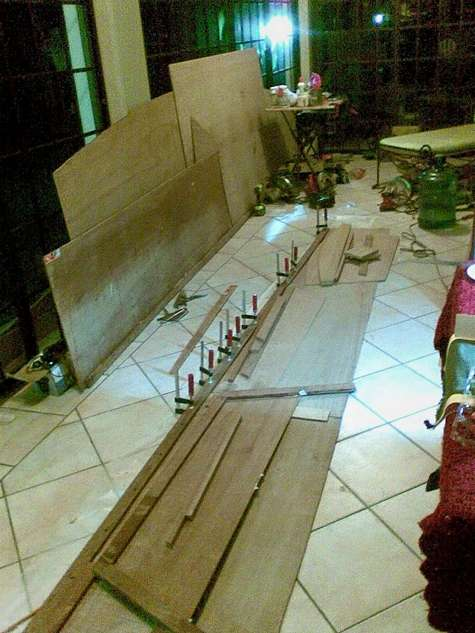 Rich is putting his Goat Island Skiff (GIS) together at the Philippines home boatbuilding yacht club anniversary party. It's on Facebook - read more.
MIK Storer
---
---
Michalak Mixer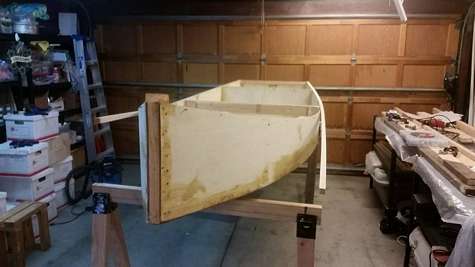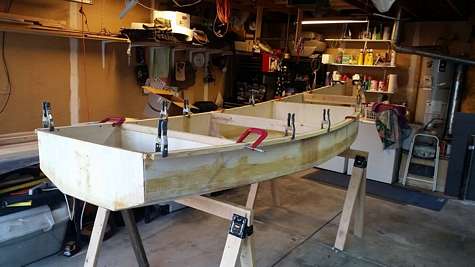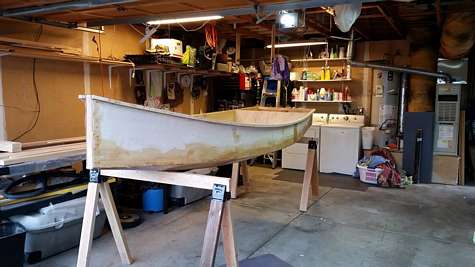 Progress on my Mixer... This weekend I got the external seams filled with thickened epoxy and covered them with fiberglass tape, which was easier than the internal epoxy work. Then I did the first lamination of the gunwales, and some sanding. Decided I'm going to encapsulate with epoxy all over, so bought more of the gunk. It'll get its second lamination of gunwales next weekend, and though the week I'll try to squeeze in some sanding. Always more sanding. Really starting to look like a boat.
Read more on Facebook.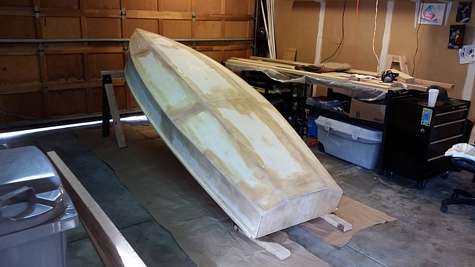 Read more on Facebook.
Tom G
---
Ruth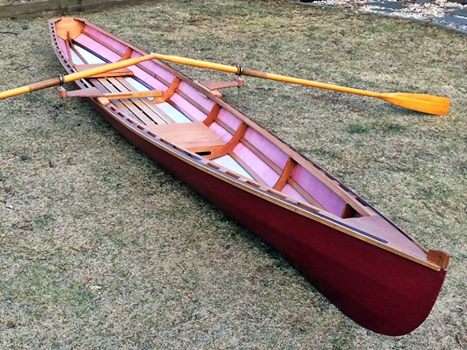 A nicely finished Ruth wherry, soon to hit the water. I'm loving the color.
Dave Gentry
---
Slingshot 19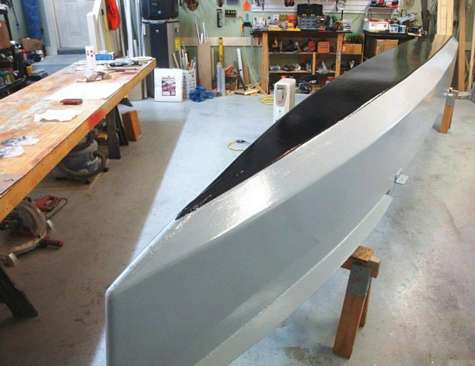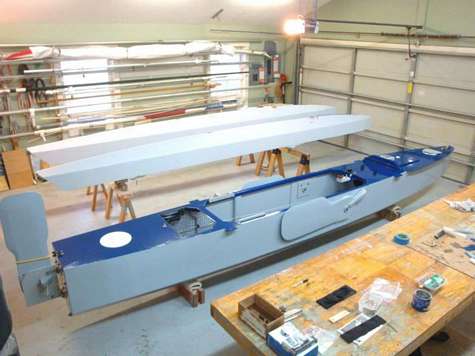 The 'Slingshot 19' gets a full refurb, complete with a graphite-epoxy bottom treatment and a new two-tone paint job! After a couple years of hard use and outdoor storage, it was definitely time for some touch-up. More pics on Facebook.
Frank Smoot
---
Mayfly 14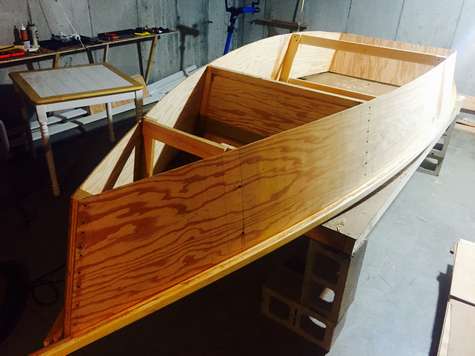 A small update with my progress building Mayfly 14. Slow but pushing forward. More on my blog.
Han
---
Three Hour Tour - Tyler's Report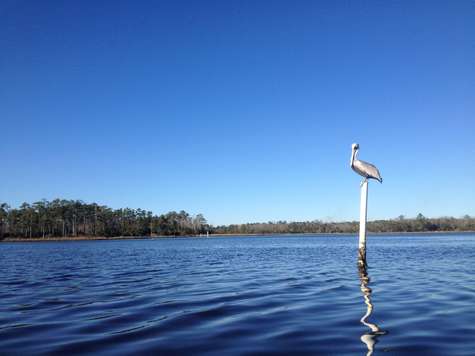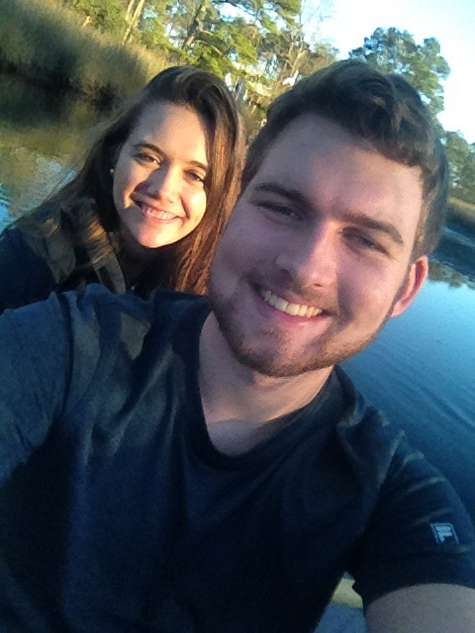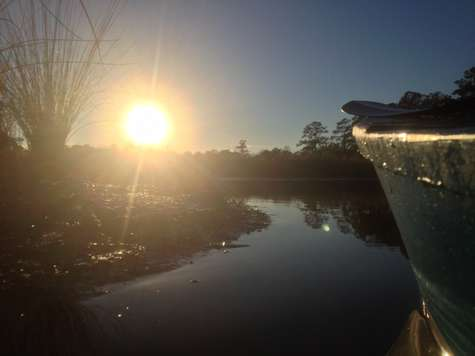 PPaw,
On Monday afternoon at approximately 12:34 ET Laura and I set out on what we thought would be an ordinary perusal of the inlets and creeks of the area... With a superbly hand built kayak of vibrant color, we set of into the sun with minimal trouble. As this beautiful craft glided over the frigid water, we marveled at its stupendous craftsmanship. After some time had elapsed, we spied a pelican upon a channel marker in the distance. A half hour of careful, quiet paddling later, we neared the majestic winged beast close enough the snap a glorious photograph with my iPhone. However, our enthrallment in the bird caused us to overlook the fact that the tide was falling and we were being spirited away towards shallow waters. By the time that our situation came to my attention, our window of escape had passed. We had run aground...
However, upon standing in our remarkably stable boat, I learned that we had merely become mired in the mud and algae mixture. Despite the cries of despair from Laura and the manic laughs from myself, we reasoned that the tide was coming back in and we would survive after all. After about an hour of fruitless efforts to free us from the grips of the depths, we at last came loose and began to move. I disassembled the kayak paddle and, sitting up on my knees, used them as one would use ski poles. When we entered deeper water, I learned that I could stand up and pole the boat forward much like the Cajun population would upon the Louisiana marshes in their pirogues. Using this methodology and tireless perseverance, I guided us safe and sound, albeit muddy, to shore. I sincerely thank my PPaw for making this exciting and thrilling experience possible with his astounding craftsmanship.
Fred Night
See my previous article on this project.
---
John's Boat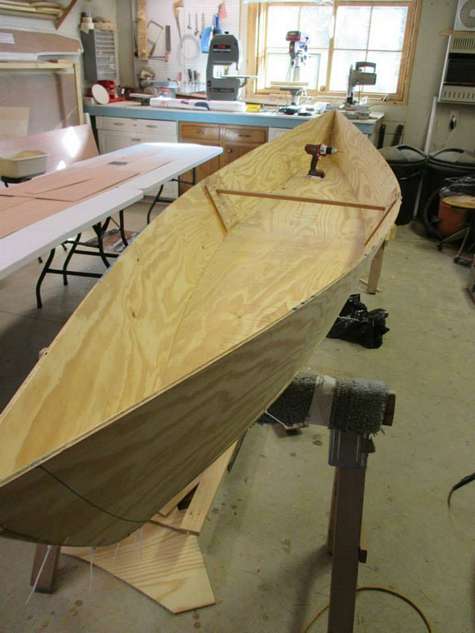 Day 1 of John's Boat - a 15' Canoe. This is a late Christmas present!.
Chris
www.facebook.com/chrisbalchboats
---
IMB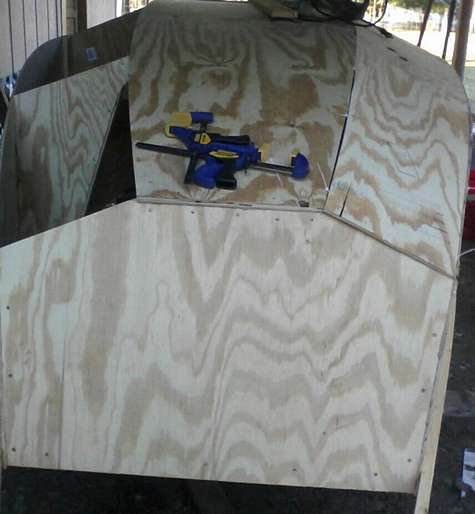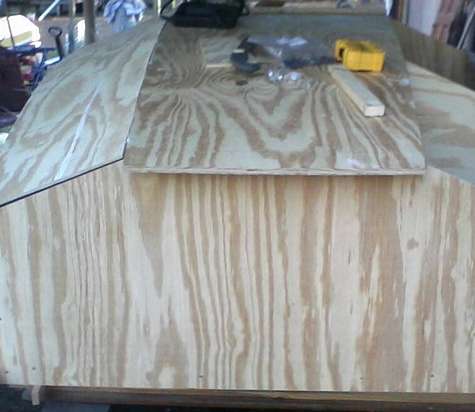 IMB - 3/4 of the way with the bottom panels. She's slowly taking shape.
BC ply. About all that's available here. I will cover the entire outside hull in fibreglass and epoxy. I plan on using a soft snap on cover. I will be able to stand up while sailing if I feel the need to get some air. I'm curious about the airflow while sitting as well, we shall see. It will be nice in cold weather to be able to button up and sail.
Scott
---
GIS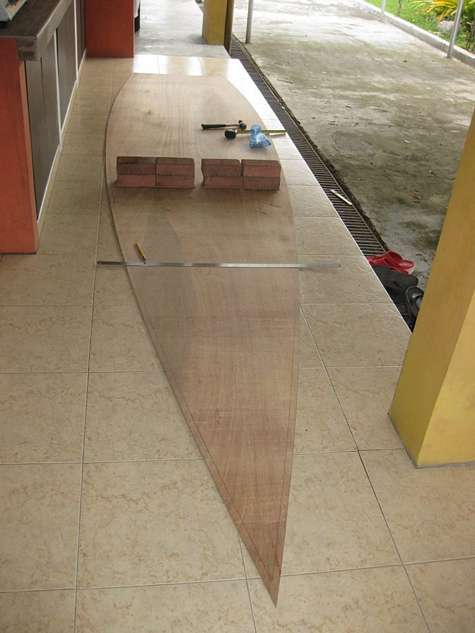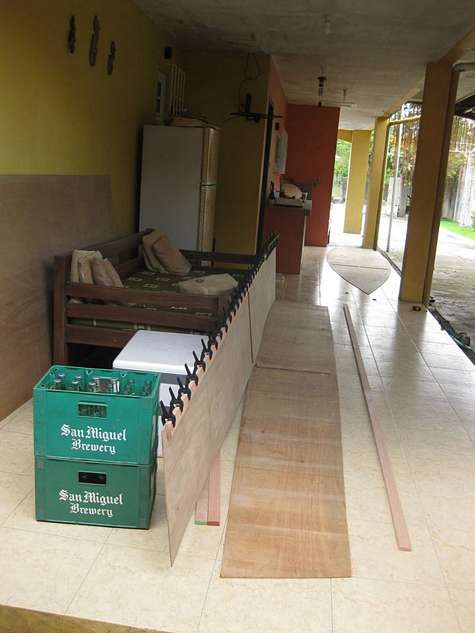 Lito de Villa who lives on the other side of Lake Ta'al from me has started his GIS. So now two Philippine goats underway not so very far away.
MIK Storer
---
Eureka
Eureka canoe, "La Savonnière", designed by Michael Storer, sailing from the ACAL Náutico Club, Malvín beach, Montevideo, on January 27, 2015.
Five to fifteen knots wind after a heavy storm.
Daniel
---
Pontoon Boat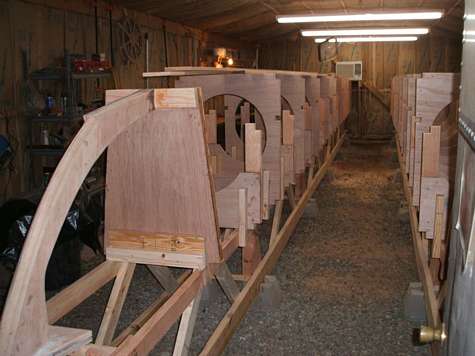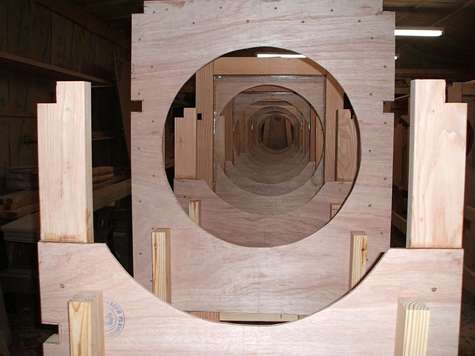 Here is an example of my work. This is a 40' pontoon boat which is going to be a sternwheeler. I have put the same quality of work into the Super Pelican hull that is for sale. Both built inside a heated and cooled shop
(only way to go).
Richard
---
SNS - 
Tomorrow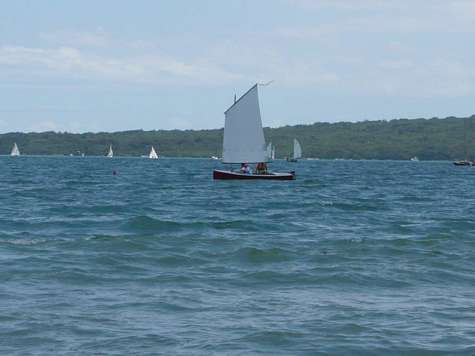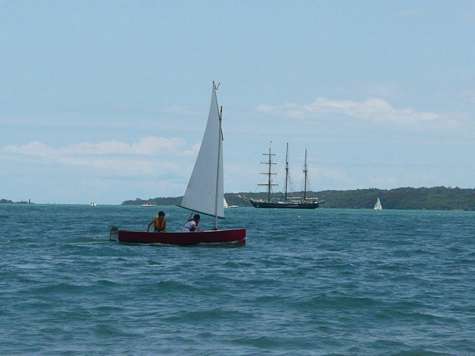 Four somewhat distant pics of Tomorrow, my John Welsford designed "Saturday Nite Special" sailing off my local beach with my wife's Nephews onboard.
We had a good breeze of an estimated 12-15 kn. She moved along very nicely. Very stable not requiring anyone to sit out on the rail even when solo.
Lessons learned so far;
A. Mast needs to be stiff. Mine bent on launch day as you may remember and even now with another alloy tube fitted inside for approx 3/4 of its length. I am not sure it would withstand a serious blow.
B. Reading on the net (always dangerous!) particularly Michael Storer's GIS site (a lot of good info here for lugsails) suggested that the Mast should be stiff but the yard and boom flexible. I noticed that when I put on lots of downhaul the boom was bending. Further research told me that if the sail is secured to the boom for its entire length some flex is good but if like my sail it is only secured at the Tack and Clew (which is better as you have an outhaul to alter sail shape) then the boom needs to be stiffer. I am using fibreglass/carbon windsurfer mast sections for the yard and boom and have one other section in the shed which I thick has a thicker wall and will therefore be a bit stiffer I hope.
Priority this time home (in a fortnight) will be to tidy up the rigging, fit a stiffer boom and get some serious sailing in her.
Blair
---
Goose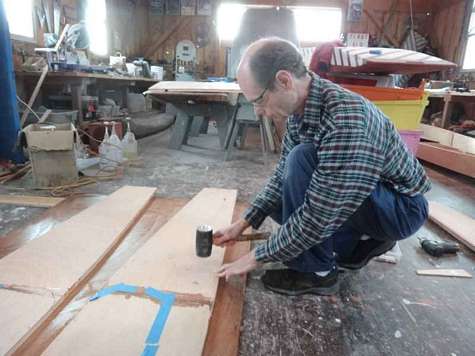 Andy Linn has gone 3D with his Goose project. It will probably be heading toward the Texas 200 year. A 200 mile sailing event over about 5 days along the Texas part of the Intracoastal Waterway.
Andy's website.
MIK Storer
---
Gone Sailing
Pat sailing his GIS in wintry New York.
MIK Storer
---
Seaclipper 16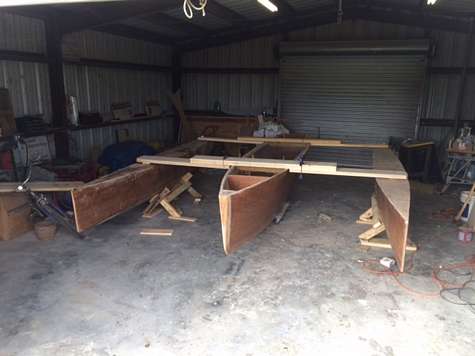 Here is a picture of my John Marples Seaclipper 16 with open cockpit and swing ama modifications that John offers now. Will put a Hobie 14 rig on it.
This is actually the second SC16 that I have built. The first one is now sailing in Oregon.
I will be finished with 95% of the fabrication this week. Just needing to glass decks and outriggers then final finishing.
Barney
---
BoatUS: Lightning Facts
Analysis of Decade of Lightning Strike Insurance Claims and What It Means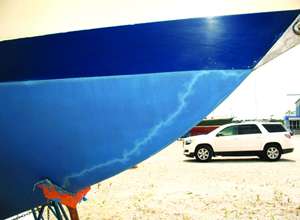 This looks interesting, especially since small sailboats are a lot safer than big ones in lightning storms. PuddleDucks - the ultimate lightning boat???
Gary
ALEXANDRIA, Va., February 17, 2015 – The odds of getting struck by lightning are about one in a million. But if you own a boat, the odds of it being struck by lightning are significantly higher – about one in a thousand. However, not all boats are created equal when it comes to lightning. A just-released analysis of 10 years of insurance claims by Boat Owners Association of The United States (BoatUS) shows that certain boats are significantly more at risk than others. But which ones? And, what can you do if you're caught on open water? BoatUS has some answers:
Let's first state the obvious: While even PWC's can be hit, it's a no brainer why monohull sailboats with their tall masts pointing to the sky have significantly more lightning claims than powerboats – 3.8 chances per 1,000 versus a 0.1 chance in 1,000 for bass boats-runabouts-pontoons. The national average for the probability of a boat lightning strike claim for all types of boats and sizes is 0.9 chance per 1,000.
Size matters: It's also not a stretch to understand why larger boats of all types – which present a larger target to the skies – are struck more often than smaller ones. A boat 40-65 feet in length has 6 chances per 1,000 while boats 16-25 feet have just a 0.2 chance per 1,000. Increasing the height of a sailboat mast from 35 to 45 feet nearly triples the odds of being hit.
Location matters, too: Where boating populations are dense and lightning is common, strike insurance claims are high. Six of the top 10 states in terms of frequency of lightning claims – Florida, Mississippi, Louisiana, Alabama, South Carolina and North Carolina – all lay within the thunderstorm hotspot in the Southeast and midsection of the country. Heading west, the frequency of lightning claims falls to about 1 chance in 10,000 along the Pacific Coast, or about 1/10th the national average.
The effect of two hulls: A multihull sailboat is almost twice as likely to have a lightning claim as a monohull. But this is true only for sailing craft – the frequency of pontoon boat lightning claims is well below average. Why sailing cats get hit more is unclear, although theories include lack of a keel, more wetted surface, larger footprint, the dockage of cats at the outside edges of a marina, and higher average mast height.
What can you do to lessen the chance of a strike on open water? According to the University of Florida's "Boating Lightning Protection" by William Becker, it's better to run for protection than remain in the open, so long as you can make it all the way back to shore and take shelter in your car or an enclosed building and are not caught at the shoreline.
If that's not possible, pull in the fishing lines or wakeboarders early as strikes can occur a mile in front of thunderstorm cloud. Listen to the weather reports and learn to read weather conditions. Lower antennas. In an open boat, stay low, keep arms and legs inside. If there's an enclosed cabin go below to the center. If your boat has a lightning protection system, avoid touching anything connected to it such as a mast. Turn off any electronics and don't touch them. That includes avoiding the VHF if possible. If you can, remove it and store down below.
To view the full analysis online, "Striking Lightning Facts", in the January 2015 issue of BoatUS Seaworthy Magazine, go to BoatUS.com/lightningfacts.
Gary Blankenship
---
Clearwater Beach Hosts Clearwater North Americans Sailing Event Feb 5 - 8
New York, NY, February 2, 2015 - The participating classes of Clearwater North Americans: 49er, 49erFX, & Nacra 17 will begin on February 5th, 2015. Preparations are in full swing for more than 140 competitors from 19 different countries and 5 continents have already registered!
The world's best skiff sailors are vying for the North American title. This is a warm-up to the Clearwater 2016 World Championship on February 7 - 14, 2016. This will be a truly international affair with teams from five continents competing.
Looking to continue their role in the 49er will be recent ISAF Sailing World Cup Final Champions Tomasz Januszevski and Jacob Nowak from Poland. This duo has been climbing the rankings for years and just came off their first major victory.
Also in the running will be Germany's Erik Heil and Thomas Ploessel, winners of the World Cup of Sailing in Palma in 2014. This will be their first time racing since returning from Ploessel's recent injury.
Local fans can cheer for Brad Funk and Trevor Burd. This pair only linked up in 2013, but already won a Bronze medal at last years World Cup of Sailing Miami; since then they were the top team from the America's at the 2014 World Championship. There is a tough fight coming together for the lone Olympic berth, likely to be decided at this event in one years time, so team Funky-Burd will be looking for a good showing. Locals will also be cheering on Robbie Daniels of Red Gear Racing, sailing a Nacra 17.
In the women's 49erFX there is a strong Danish contingent looking to assert their excellence. Leading the group are two time European Champions Ida Nielsen and Marie Olsen. Griselda Khng and Sara Tan from Singapore are also likely to feature in the proceedings. These two broke onto the skiff sailing scene as light air specialists but have recently improved their heavy air skills and now aim to be contenders in all conditions.
Strong American and Canadian squads are likely to feature into the top 10 with most teams having spent December training in Clearwater as a lead up to this event.
The City of Clearwater with its partners Tampa Bay Charities, Clearwater Community Sailing Center, St. Petersburg/Clearwater Sports Commission and the Clearwater Yacht Club are pleased to host such a spectacular event at Pier 60 on Clearwater Beach. The location best known for its pristine white sand beaches, warm sunshine and abundance of southern hospitality is welcoming 3 more of the 10 Olympic sailing classes to the area. Drawing hundreds of thousands of tourists yearly, the City and the beach will be an ideal backdrop for this international event.
www.VisitClearwaterFlorida.com
The Gulf of Mexico makes for ideal sailing conditions and great hospitality by the city's residents and beach community. "I'm proud to be a part of this international sporting event. Hosting it in Clearwater is sure to be a fantastic experience for the participants and spectators," said race co-organizer Frank Chivas.
Chuck