A Journey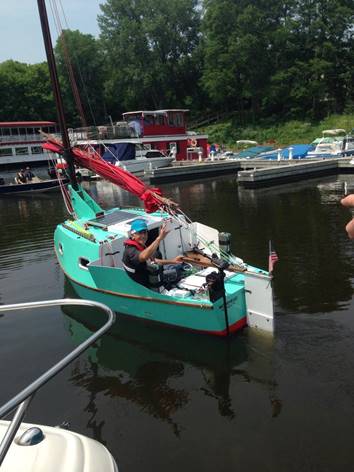 60 days and 1666 miles from St. Paul, MN starting on the Mississippi and ending up in Mobile Bay. A fantastic journey. The photo is Box Turtle leaving from St. Paul.
Bert
---
---
The Great Unknown Rio Grande
An early fall kayak trip down the Rio Grande river around Big Bend National Park. We trekked 75 miles in 4 days thanks to some rainfall. We went through Mariscoll canyon and San Vicente canyon.
jmlein
---
AF3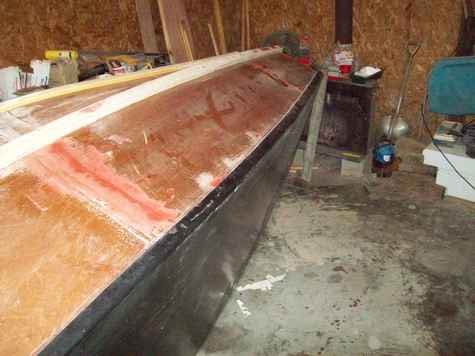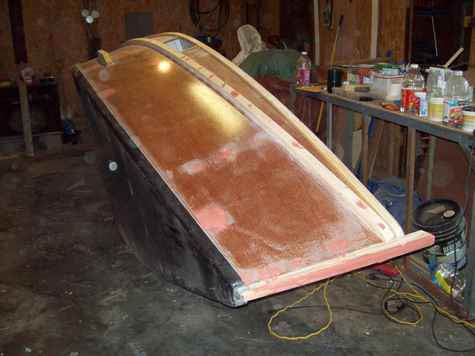 The AF3 is still under construction. Here's a couple shots of the hull getting faired.
Once it is finished I am going to give it two good coats of primer all over and take it down to Jackie's for her to finish the paint job over the winter. I told her I would bring it down after she gets back from Port A.
Gene
---
This is the best video of classic schooners I've ever seen. It has Kelpie and Mariette, which was Nathaniel Herreshoff's fastest schooner, still fast against modern fiberglass yachts of the same length. There is a big expensive coffee table book on Mariette.
Paul Austin
---
Shallow Minded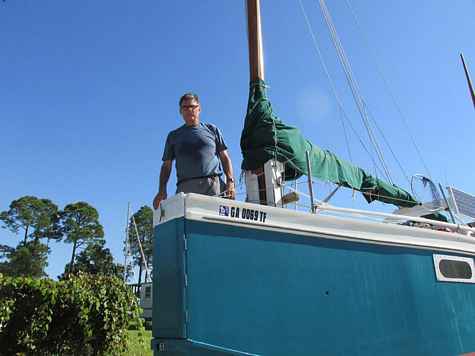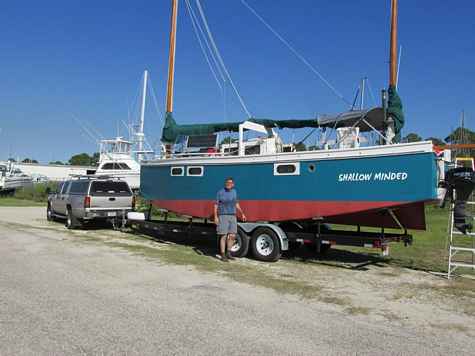 All set up at Dockside Marine in Carrabelle, FL ready to launch tomorrow. We stopped at a scale on the way down. We have the gross weight. On the way back home Karen will determine the tare weight so we have a net. The gross weight was 20,100 lbs, a big tow indeed. The GMC Sierra 3500 with Duramax diesel did a great job and made it seem easy. I'm betting the cruising weight will be about 9500# but we'll see sometime tomorrow. Meanwhile had a great dinner at The Fisherman's Wife restaurant in Carrabelle. Staying at the Franklin Inn. Bushed and ready for a good rest. The lift is scheduled for 9AM. We'll see how that goes. A large boat is on the lift right now and they are working hard to get it in tonight.
Larry
---
Gold Eagle Co. Announces Support of the Use of Alcohol-free Stabilizers in Small Engine Equipment
All STA-BIL Products Are Alcohol-free and Combat the Side Effects of Ethanol 
October 2, 2015 (Chicago, Ill.) – Gold Eagle Co., makers of America's #1 selling brand of fuel stabilizers and ethanol treatments,STA-BIL®, today announced its support of Power Distributors and Briggs & Stratton's decision to only recommend consumers use alcohol-free fuel stabilizers in small engine equipment. Designed to combat the corrosive properties of today's ethanol-blended fuels, the full line up of STA-BIL products has always been alcohol-free.
"Gold Eagle Co. fully supports the importance of only using alcohol-free fuel stabilizers, as they protect small engine equipment more effectively and efficiently from the harmful side effects of ethanol blended fuels," said Tom Bingham, senior director of marketing at Gold Eagle. "As the maker of the industry leading, alcohol-free STA-BIL brand, we work hard to deliver innovative, unmatched products that provide customers with effective solutions to help with proper fuel management and provide enhanced engine performance."
The STA-BIL brand is the category leader in fuel stabilizers and has been recommended by more than 125 Original Equipment Manufacturers (OEM) around the world. In addition, the company produces private label fuel stabilizers for small engine OEMs, including Honda, John Deere and many more.
Learn more about STA-BIL products, please visit www.sta-bil.com or join the STA-BIL community at: www.Facebook.com/STABILBrand.
---
New Crewsaver® Inflatable Life Vests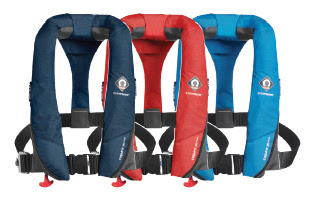 With so many boaters still failing to wear lifejackets, the new Crewsaver range of US Coast Guard approved inflatable life vests offers comfortable, safe, stylish and affordable solutions for all types of boating and fishing activity.
Encompassing innovative Fusion 3D technology, a Crewsaver vest will mould to the shape of your body and sit off your neck to give you total freedom of movement – so comfortable, you'll forget you're wearing it.
More product info: www.crewsaver.com.
---
14' Row/Sail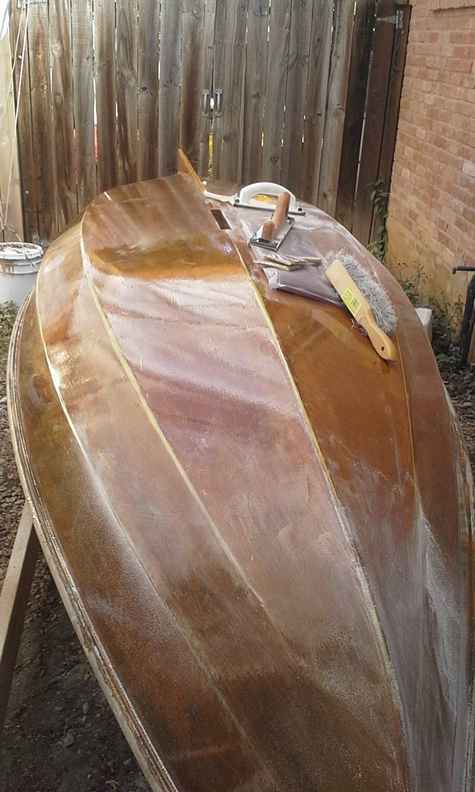 Progress on the 14' Row/Sail (I gotta come up with a name for this boat). I'm hoping this will be the last round of board-sanding to level the hull for primer and paint. After the initial 'glassing and minimal epoxy (a year ago) I've been using it in rough, unfinished form. It's well past time to get it looking good and finish it out. In the last week or so I sanded out the initial epoxy coat and after 3 coats/sand-level/fill/ 1 coat I might be able to final sand have a shot at getting a suitable surface for a primer coat.
John
---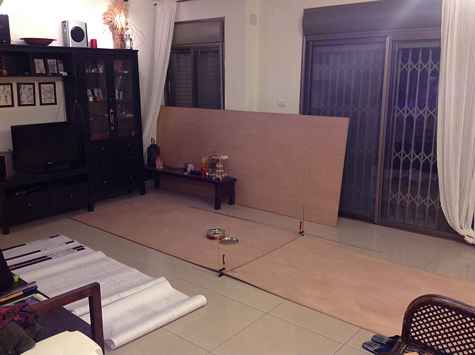 This album (on Facebook) is a documentation of my Shellback sailing dinghy building process which is being home-built from scratch, with a sail sewn from a kit. Given the limitations of the tools, space and materials available in my region (Israel) where the home boat-building culture is practically non existent - there's been quite a few interesting challenges and modifications we had to make. Such include reinforcing a too thin plywood hull, using simple construction pine for oars/mast, guardrail. Steam-bending simple construction pine planks in a home-built steam-box. Building a tool sharpening setup to improve lousy tools. This is our first boat and wood-craft project of such scale, and the joy and satisfaction we've been experiencing is huge.
Arkady
---
Oar Rope Work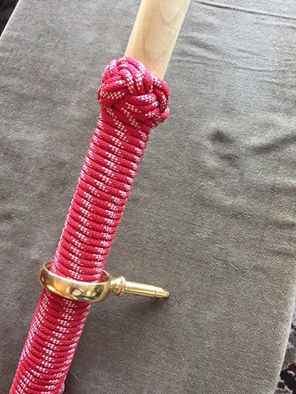 Taking a break from boat building to work on oar wrapping. I'm using a running Turks head stopper knot with bright red braided line and polished brass hardware. Too much? Should I tone it down with some classic braided Manila line? It's going on a dory loosely based on the CLC Skerry design, finished bright.
Chris
---
Rufus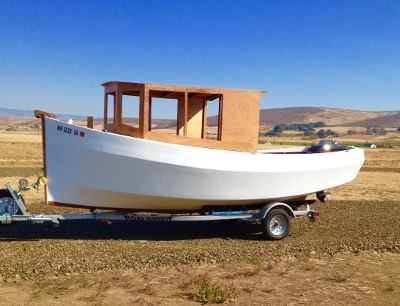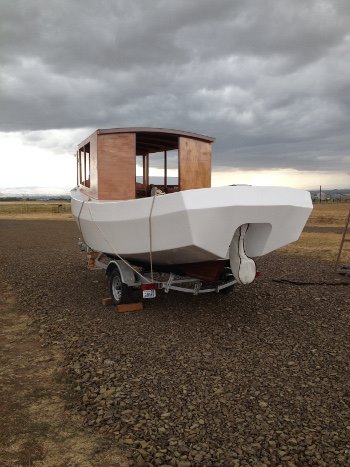 As promised here are some photos of Richard Hulbert's nicely built 20' Rufus.
Paul
---
Seaclipper 16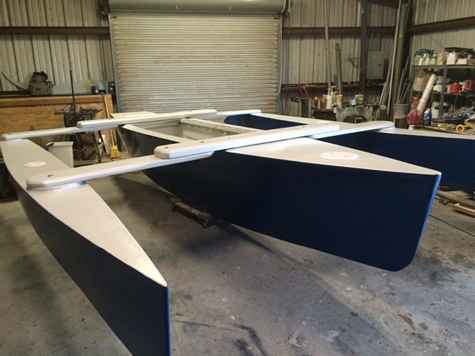 In the shop, wings spread.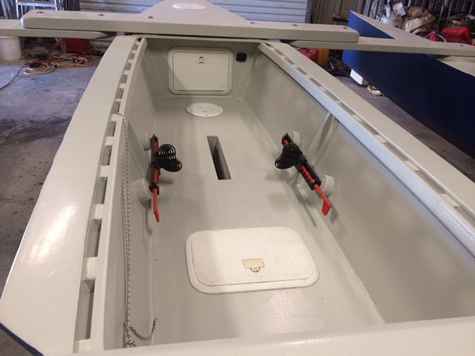 Open cockpit with pedal steering and daggerboard trunk.
For roll out, wings folded.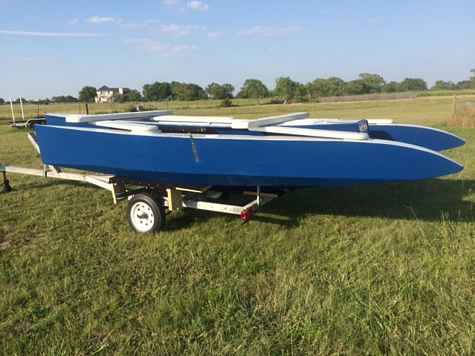 Profile, wings folded. Needs to be pulled up further on trailer for proper balance.
Today was the rollout of the shop for Sail52 of the Seaclipper 16. Built to plan with open cockpit design, daggerboard and swing wing amas. Will be rigged with a Hobie 14 rig (still to be purchased.)
Barney
---
Tri-Again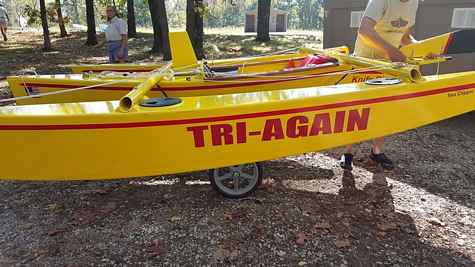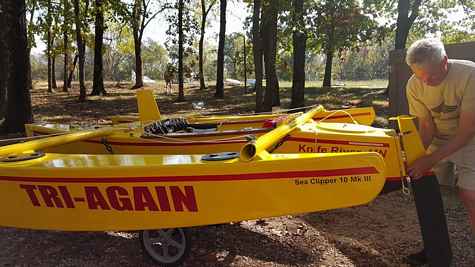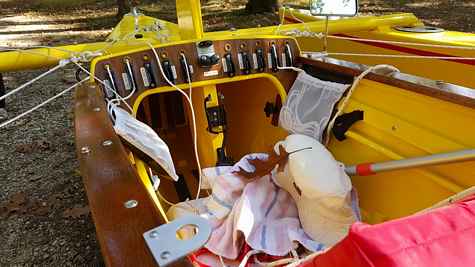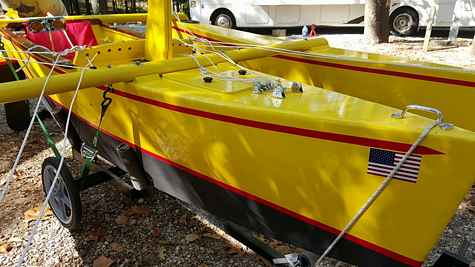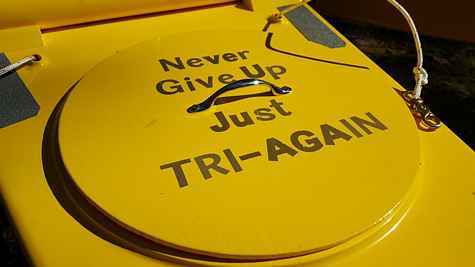 This is the latest boat by Bob Trygg and his wonderful wife Virgene who many of you know as one of the most superb boat builders ever. And prolific, about a boat a year. But this one is really special. Bob had a massive stroke a couple of years ago that many would simply have given up and never recovered from. When he and Virgene pulled into last year's Sail Oklahoma I rejoiced. But this boat made my heart sing with joy. A John Marple design, the name says it all. Bob didn't think he could build another boat but Virgene said no, let's try again, I will help you. And here she is, Tri-Again. This is a salute to two beautiful people and a beautiful boat and a love that keeps going.
Jackie
---
Skiff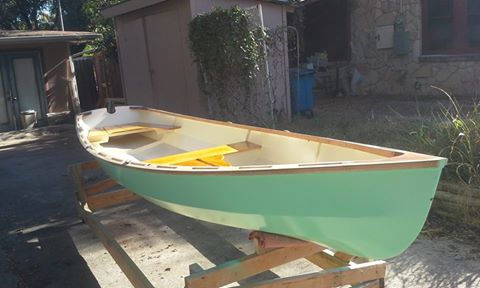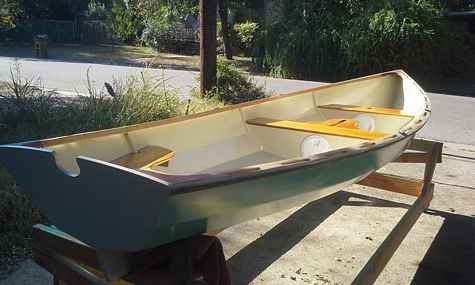 It's 14' row/sail skiff that I drew up. Well, if I can manage to sand and varnish the trim and spars, stick down some floor matting and screw everything back together, I might have a pretty complete boat for Port A.
John
---
SOF Canoe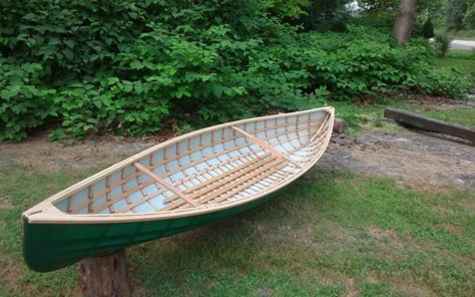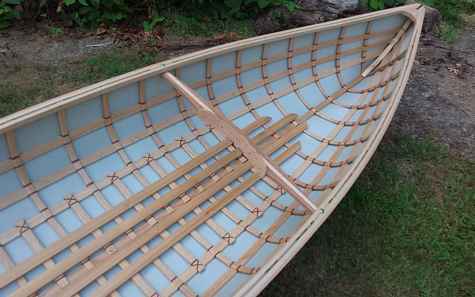 Here is a skin on frame canoe that I finished this spring. I put a lot of miles on it and it has held up well. The plans are available from Hilary Russell at Berkshire Boatbuilding School.
Kevin
---
GIS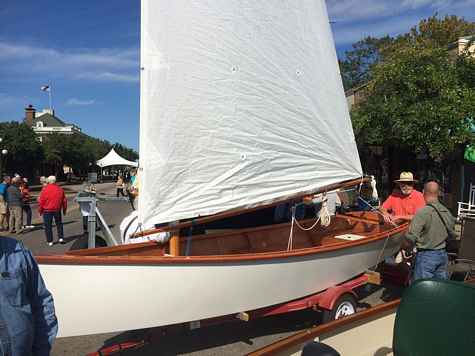 Beautiful new Goat Island Skiff built by Brad Indicott (Lenoir, NC) on display at the Georgetown Wooden Boat Show!
Shawn
---
SOF Melonseed Skiff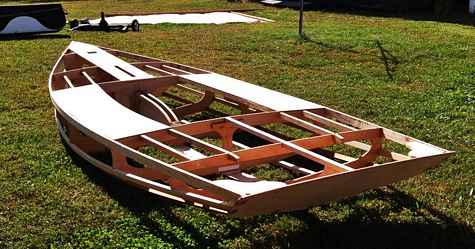 The Melonseed Skiff is an iconic US sailing boat from the late 1800's. It was used for hunting waterfowl in very shallow waters. I won't be hunting birds, but these are excellent sailing dinghies, and I'm building one in skin-on-frame.
Frame of my SOF Melonseed, ready for skinning. About 7 days of fiddling around, part time. Weighs around 55lbs/25kg right now, but that will go up. Planking up the hull (i. e. skinning) should take an hour or so, but I'll have to wait for it to warm up some before painting. 13'6" x 4' - 4.1m x 1.22m.
Dave Gentry