Port Aransas plyWooden Boat Festival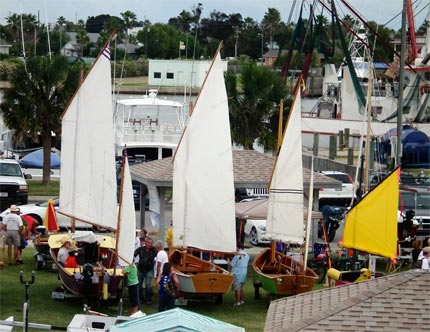 We hope you are planning to show your boat(s) at the Port Aransas plyWooden Boat Festival, October 16-18 in Port Aransas, TX.   This is not a spit and polish kind of show.  Just show off your wooden boats; finished, unfinished, or in need of restoration.  We had 92 boats last year and we are striving for more than 100 this year!  This year we ask that you preregister for the show so we can better plan the event.  There is a nominal registration fee $20 to help cover show costs.   You may exhibit multiple boats for a single registration fee. Register online at:https://portaransasplywoodenboatfestival.org/register.htm
 Here's what you get when you register:
· Assigned exhibit space of your choice of in the water or in the park
· Eligibility for prize drawings
· Saturday Night Awards dinner for 2
· A Festival t-shirt
· Name tag
· Goody bag
· An opportunity to take your boat on a short cruise to the Lighthouse for a special tour of this Civil War era light station.  This is special because the lighthouse is not open to the public.  There will be boats on the water to lend a hand or tow, if needed.
· Finally, you will be automatically entered into a tool drawing.
We hope to see and your boat there! If you can't bring a boat, please put October 16-18 on your calendar.
Chuck Leinweber 
---
---
AF3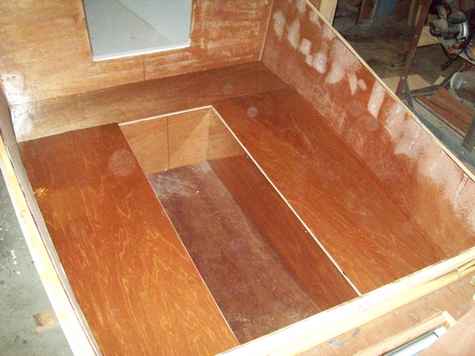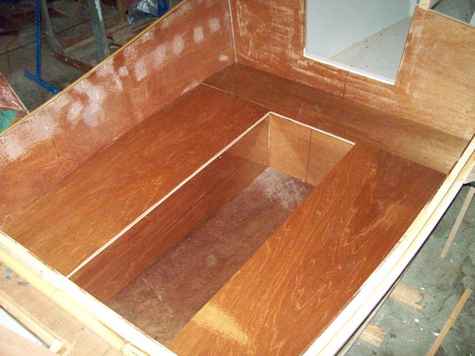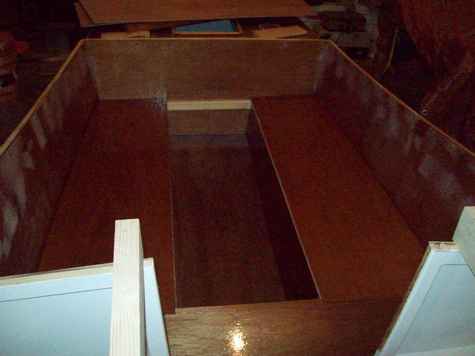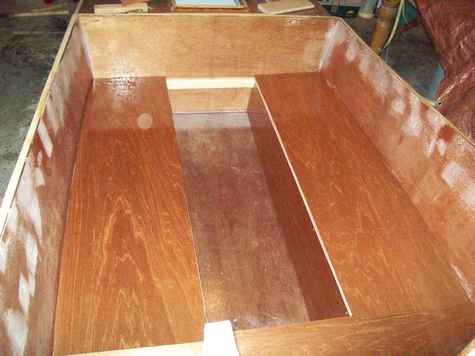 I finally got the seats figured out on the AF3. That only took 3 weeks longer than I thought it would.
Gene
---
Swan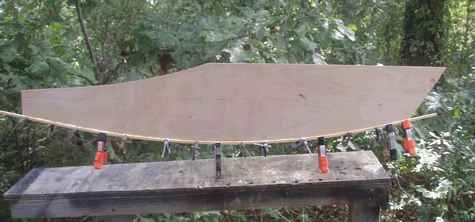 Progress report on my "Swan" build, I'm building a 1/4 scale model first using 4mm Okoume ply. I've added 2.25" of rocker and 1.5" of head room. It will be a compilation of what i've learned. Lug Rigged but with Matt Layden's roller reefing. I'll eventually draw up a set of plans, measurements in Imperial Feet, Inches, Eighths; because that is the way my head works.
Tim
---
A Tribute Boat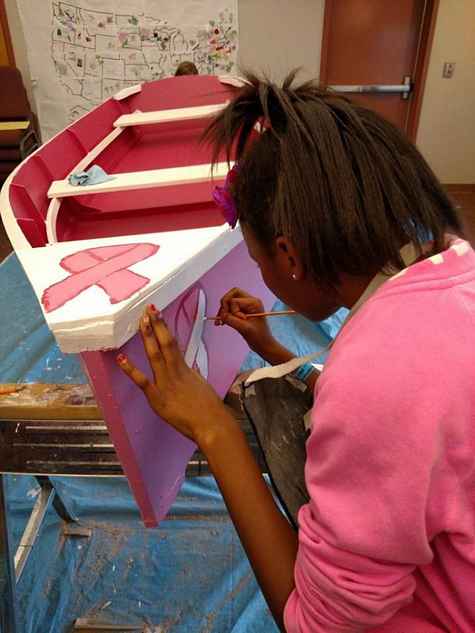 We have just finished our latest boatbuild with a mostly girls crew at the Greentree-Teutonia Community Learning Center. The girls painted their Bevins Skiff with a breast cancer awareness theme, a tribute to a beloved former teacher. Their boat will be christened and launched next week. Very cool!
Joe
---
SCAMP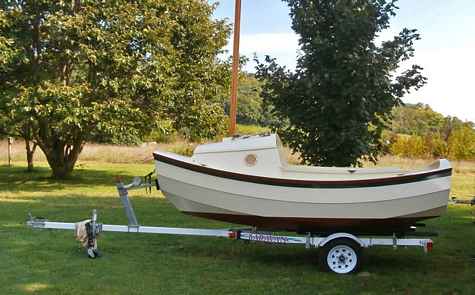 SCAMP 240 nearing completion in TN; looking quite smart on her perch.
Stacy
---
EasyB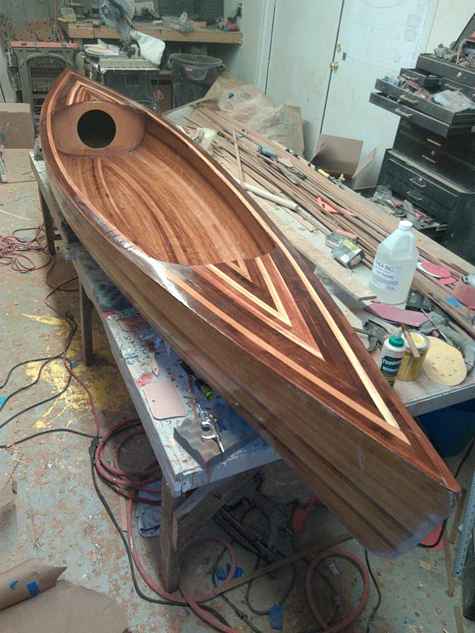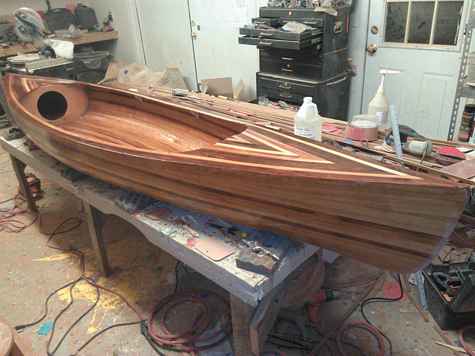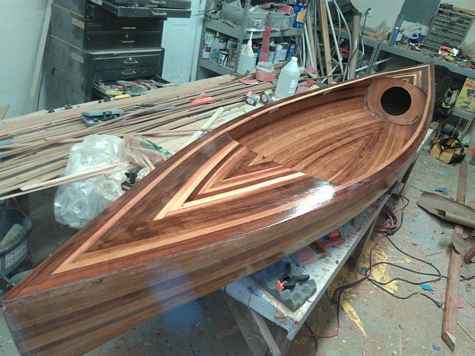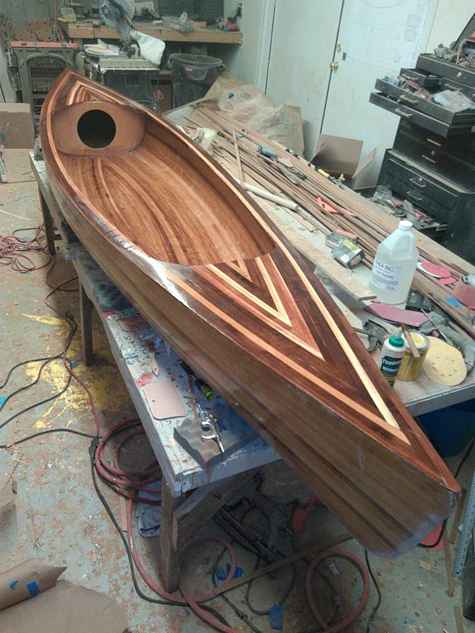 This is my latest project and first strip build. An EasyB for my wife. Mine is next!
Scott
---
Pathfinder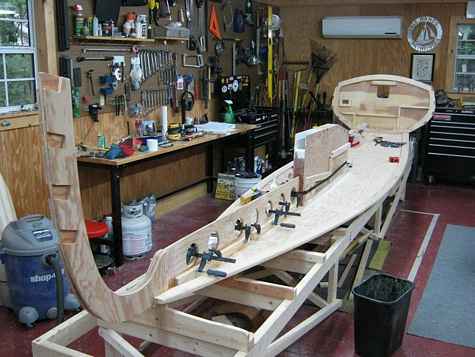 Started standing up the frames on my Pathfinder this week. After more than one false start with the chine stringers I have finally got them whipped! A full write up is on my blog at:
www.idlehandspathfinder.wordpress.com
Brinson
---
Blue Canoe Tuning
Worked out most of the glaring problems with the sailing canoe. I think it's starting to come together now.
Ian
---
Double Decker Trailer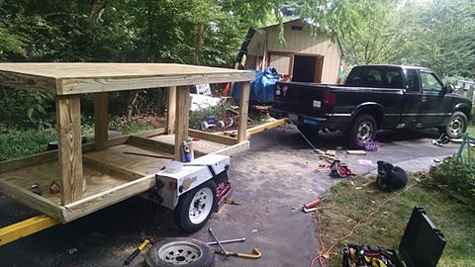 My double decker trailer is almost done! The Piccup, (Celerity), will go on top and the Paulsboat, (Schadenfreude), on the bottom.
Paul
---
Board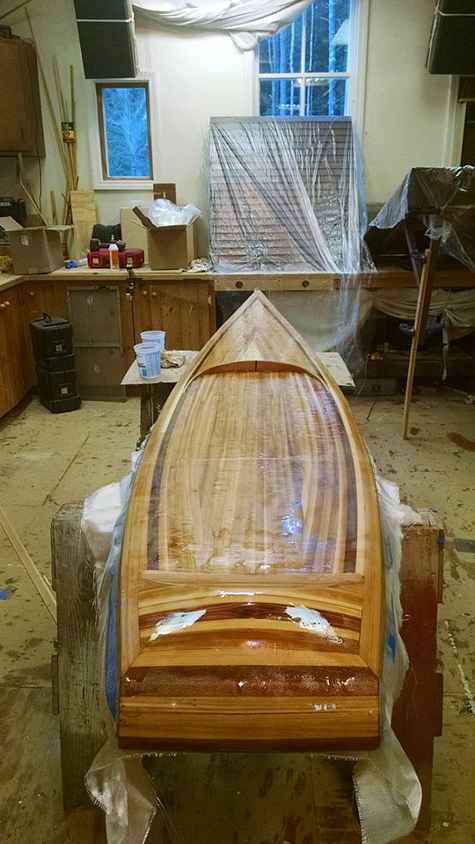 It got some glass today. So far so good, probably won't be the most amazing paddle board you folks have seen but hey I drew it myself.
Charley
---
Goose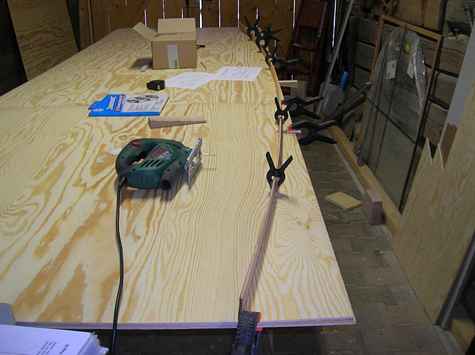 I'm doing a bit more work on my Goose. Thanks to my wife buying me the ply for my birthday. I was originally going to buy okume or gaboon but the price here has gone up by 22% since I built the Eureka. This is a pine ply that's used for building exteriors but has the same gluing stanard as boatbuilding ply. The sides are cut and planed and are ready to be glued together. I've sorted out what I can use for cleats and wales. There's going to be some serious scarfing.
Kevin
---
Wee Lassie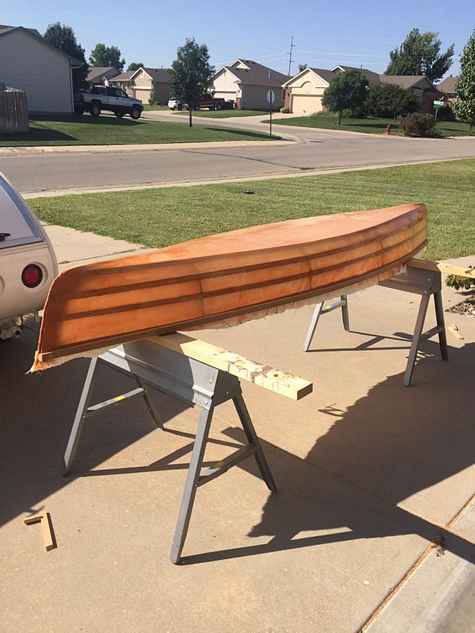 It's not quite finished, and I had to rush the polyurethane coating to get this on the water this weekend, but I am looking forward to paddling my Dave Gentry Wee Lassie! I just wanted a small, lightweight boat that I could throw on my Jeep at a moment's notice and this canoe will be perfect for that.
Thomas
---
Old Becomes New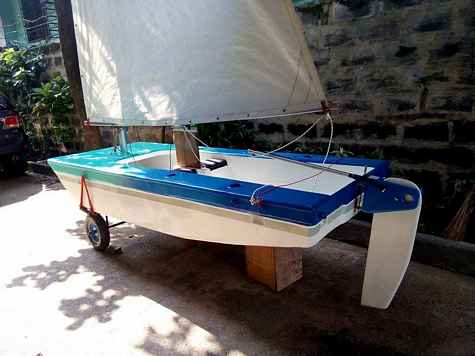 What used to be a dilapidated 8' flat bottom boat... and now its a refurbished 10' sailboat... Need some tiller time!
Winston
---
Spyderco Tusk Product Review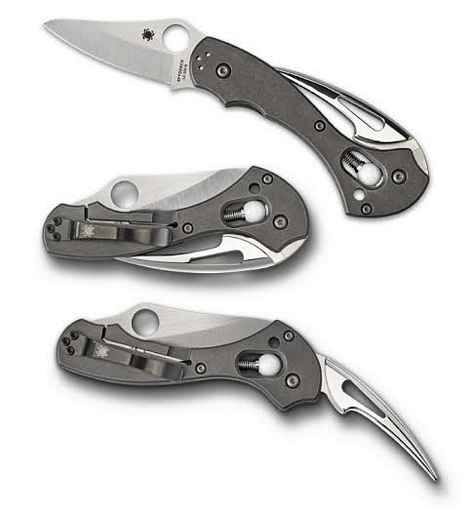 Ordinarily, I am not a very big proponent of folding knives for boating use. Yes, in the past, I have given a rave review of the Wenger Alinghi Sailor's Knife, but in general, my interest runs with fixed blades, rather than folders. Folders are nifty when it comes to compactness and functionality, but that one extra bit of manipulation needed to get it open and in a working capacity represents a stumbling block for my sense of efficiency when it comes to emergency use onboard and out on the water.
This Spyderco knife, though, has busted through the definition to demonstrate a real gift for multiple utility, workmanship and material choices to place itself right in the thick of my choice priorities. Here are the reasons for that change of heart, along with the description of the product directly from Spyderco's own online catalog.
Here is the tech page from Spyderco and a copy of their own description of the product and materials used to create the knife/tool....
From the Spyderco product page:
The original concept of the Tusk was conceived by Sal Glesser in the early 1980's. More than 25 years later, his son Eric picked up the project and made it a reality, creating a truly extraordinary multi-function mariner's tool. The Tusk's handle is precision machined from two slabs of solid titanium. One end houses a Plain Edged blade ground from LC 200 N steel—a nitrogen-alloyed tool steel that offers extreme toughness and superior corrosion resistance—and locks open via a sturdy Reeve Integral Lock (R.I.L.) mechanism.

At the other end of the Tusk's handle is a 300-series stainless steel marlinspike, which features a unique round-to-square cross section for increased leverage when loosening knots. A milled slot in the marlinspike's body and the gap between it and the handle also serve as shackle keys for unscrewing and tightening threaded shackles. To allow the marlinspike and its shackle key to withstand extreme leverage during use, it locks securely in place with Spyderco's patented Ball Bearing Lock™ mechanism containing a special ceramic ball. Constructed entirely of highly rust-resistant, state-of-the-art materials, the Tusk literally began as a tool that was ahead of its time, but whose time has now come.
OK, so this knife/tool is wildly exotic in its material choices, build quality and utilty. So, what's the bad news? The retail price for this bad boy is an equally exotic, $399. Yeah!!!! $399  That firmly places the tool in the "I'll have to save up for awhile before I'm going to toss that one on my PFD", category. But, if you are one of those folks for whom the best that is available is your focus, then this tool hits all the points and then some. For those who fnd tis knife compelling, it can be had at Amazon for right around $183, so the sticker shock isn't really that bad for a truly wonderful tool for boating.
So, let's look at this knife and its bullet points:
Compact and rugged;
Completely non-corrosive materials;
High degree of marine utility;
Lifetime, Heritage type tool that can be passed-down from generation to generation.
Spendy