Scamp Camp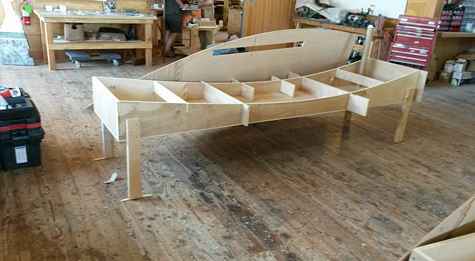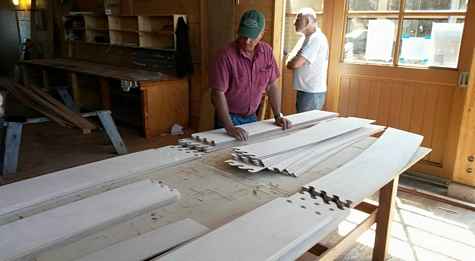 Scamp Camp in Port Townsend, WA July, 2015. Taught at the Northwest School of Boatbuilding by designer John Welsford and sailor Howard Rice, this class in two weeks will produce a hull the students can take home to finish. More photos on Facebook.
Jackie
---
---
Mascot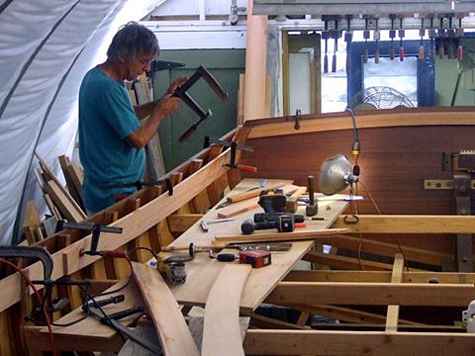 Here I am on a Sunday morning working on the laminated sheer clamp for the catboat "Mascot".
Jim
---
Scamp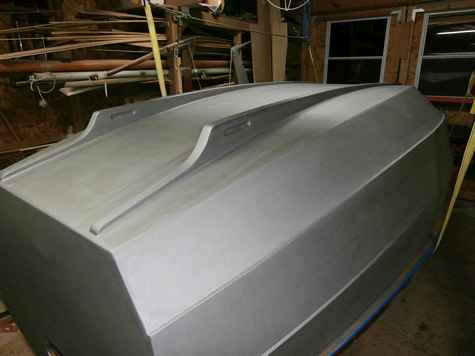 Stacy Smith is building a Scamp in Tennessee and invited me to follow his build. This trick of using the primer intrigued me.
"I like using the no-sand bottom marine primer for the whole hull. It grabs epoxy really well and has plenty of tooth for the topcoat. Very thin and lays flat. Dries to touch in a few hours and you can spot any pinholes you might need to pay attention to."
From Facebook.
Jackie
---
Foam SUP
So I visited Dave Lucas and the boys at the Tiki Hut in Bradenton Florida twice to check out the Styrofoam Boat Building techniques (recent articles on the Duckworks site) and was so impressed I decided to give it a try. As advertised it was super easy to work with and I made a prototype SUP in about 10-15 hours and for less than $200. I had built it 12'X32"X3.5" and it was so buoyant I decided it was way more than was needed. I also did some experimenting with a sit-down arrangement and decided any SUP I would use would have to have the option to sit down when I got tired of standing (about 5 minutes). In sit-down mode it's nearly impossible to flip the SUP because it is so stable and it paddles effortlessly. So I figured I would make the front a little more pointy to part the waves I might use it in while sitting down (only calm waters standing up). I thought a long time about adding rocker to the shape but couldn't convince myself there was any bang for the buck in it. In the end I did curve the bottom of the bow upward about a little over an inch over the front 18 inches but that was it. My second SUP is flat bottomed 11'X32"X3" and weighs 25-30lbs.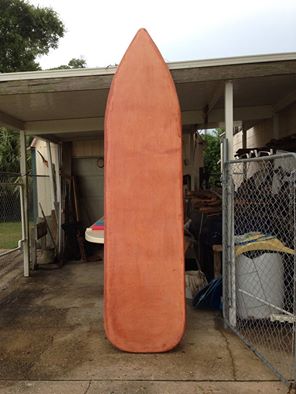 Pat Johnson
---
Normsboat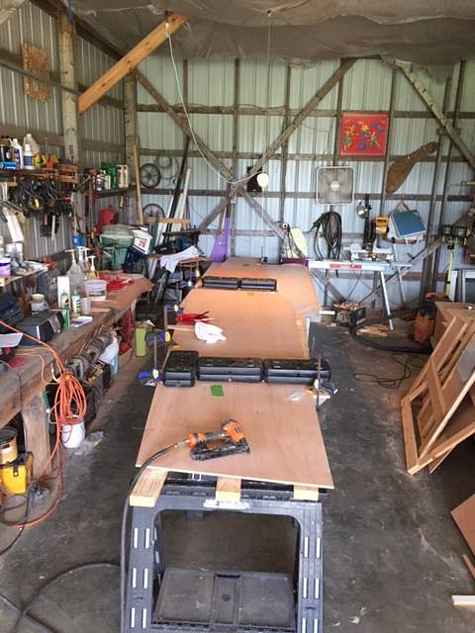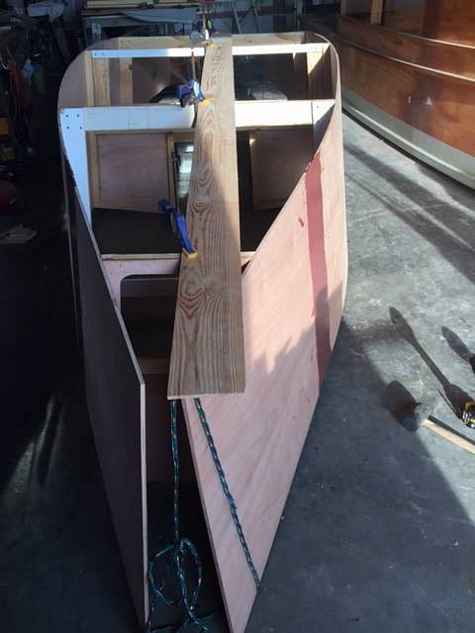 Doin' a little buttstrappin' out in the barn today on Normsboat.
Edward
---
Robbsboat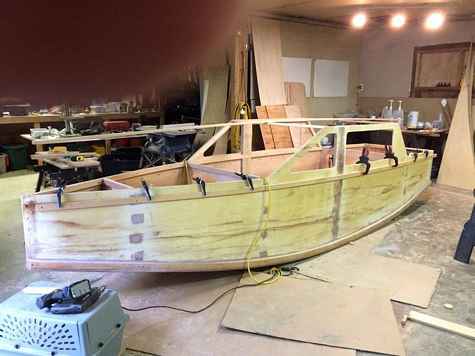 Michalak Robbsboat under construction. I have a building Blog by the way.
Tom Sorensen
---
My Own Design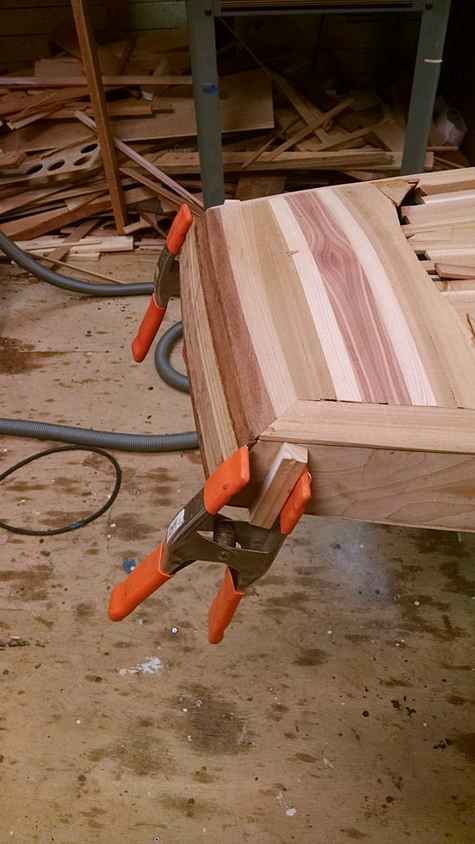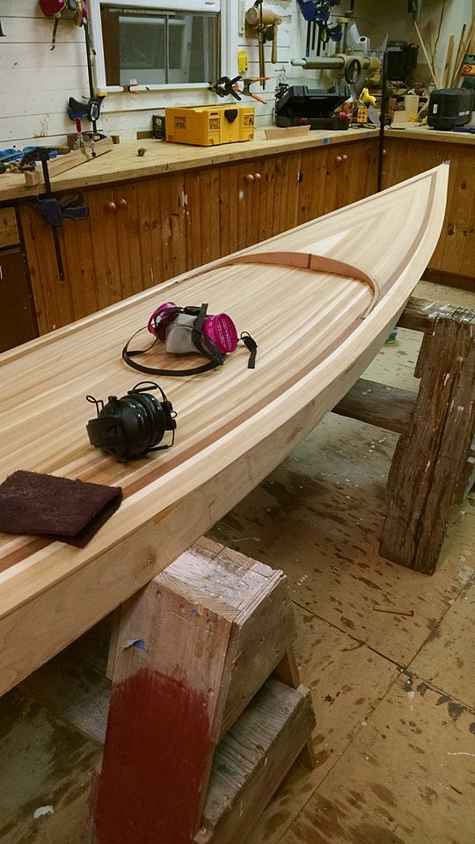 I haven't posted in a while, I'm still not done yet.... Mostly because I haven't been taking the time to work on it.... that is the trouble with being a full time professional carpenter, who wants to work on work after work?.... But hey look at that, the power of hot glue. I was very sceptical about hot glue. Now it's my third hand.
Charley
---
Cartop Carrier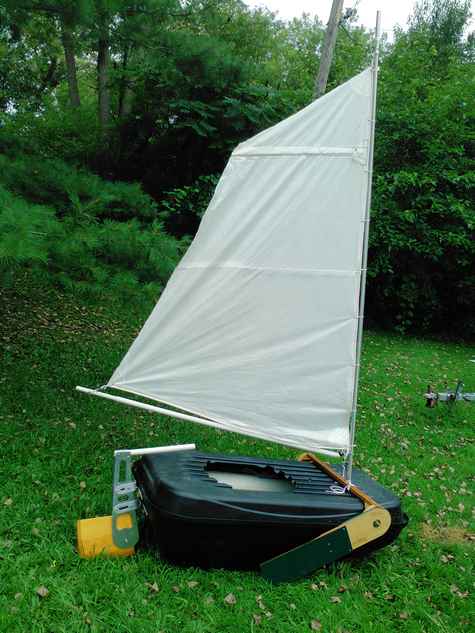 The Carrier is now far enough along to be able to send you this pic. Needs blocks and cockpit opening trim yet. Sail area is around 26 sq feet. Test sail material is painter's two layer drop cloth. Mast was changed to its present 1" od thin wall aluminum x 11' h. Looks like the CE and CLR might be close to 4" apart. Sail was made for low CE and lightweight above. Getting close.
Jim
---
Stip Canoe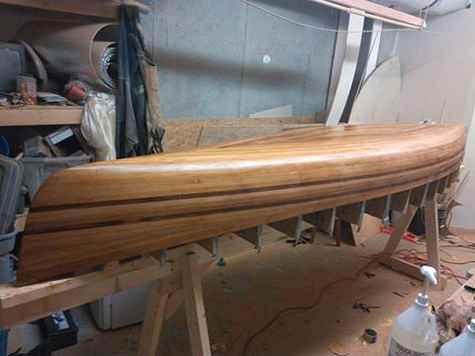 Before I build some Saturday night specials for the Texas 200, I decided to warm up with a strip build canoe to keep the wife happy. Still have a lot of work to do but happy with my first strip build.
Scott