Foam Kayak
After a weeks delay in the launch due to having to replace the house drain pipes all the way to the sewer line (rotten cast iron), I got to test float Sawfish, my new foam kayak. The idea was inspired by my experimental foam mouseboat Seafoam (launched last spring) and Dave Lucas. The uncoated foam hull is 29" wide at the widest, 27" at the bottom and twelve feet long. I built it wide for kids and my parents (who will be getting this one and the next one). They care more about stability and ease of car topping, than speed, so shorter and wide was the target.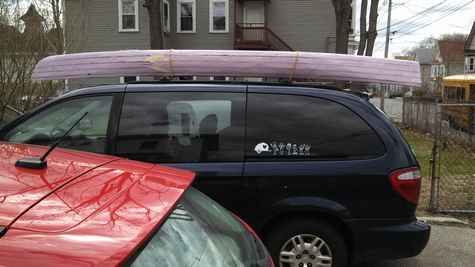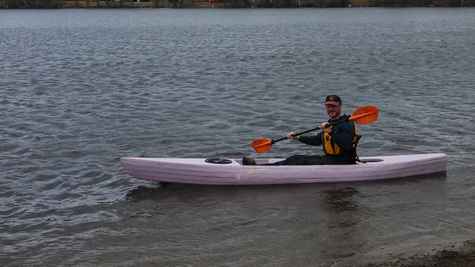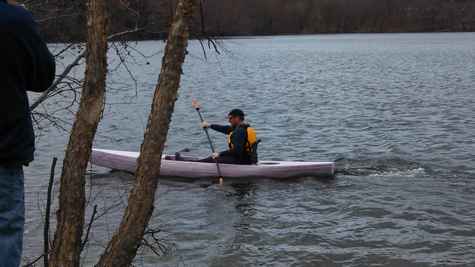 I will be coating the hull with painted canvas like I explained in my instructable which will add a few pounds.
Right now the hull weighs 13 lbs, I already have three more hulls cut out, but was waiting to assemble them until I got to paddle this hull. The only change I have made to the design so far was to make the sides two inches thick instead of three, like I used on this boat. Build album for Sawfish is here. And instructions for the improved version are here.
I still figure the hull will come in at about $100 complete, about the same as my mice cost, but faster and half the weight.
Josh Withe
---
---
Mira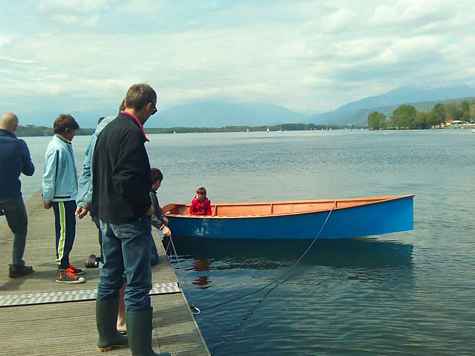 In a quiet day, on a small lake at the foot of the Italian Alps. Ladies and gentlemen, this is MIRA! Launch day!!!
More pictures of this Goat Island Skiff on Facebook.
Enrico
---
Bee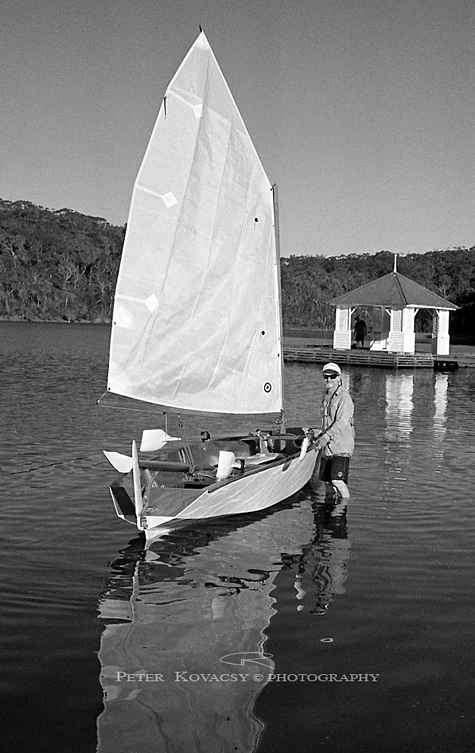 I am an artist and designer who lives in Pemberton, close to inland water ways within the southern forest region of Western Australia. For years I have been thinking about building a simple lightweight craft I can comfortable row or sail.
Late in 2014 I decided to search online for rowing boat plans.
The moment I saw the Woods Design BEE and Linnet I had to take a closer look. These smart looking craft ticked all the boxes for me - light weight plywood hull, simple stitch/glue construction, 5 meters long, optimized for rowing, capable of running a small sprit rig sail. Later I was to discovered the Bee was designed by Lilian Woods and the plans drawn by Richard and Lilian.
Before I felt comfortable purchasing plans I had a few questions about both designs I wanted to ask. I sent an email to Woods Design thinking I would be lucky to get a reply - Richard Woods replied within 24 hours with all the answers and some great advice. When you can communicate one on one with the actual designer - your on a winner! During the build project I needed to ask Richard for advice - he always got back with an answer.
Once I had the BEE plans in hand and started the project I could see opportunities for a custom fit-out and performance modifications for sailing.
As a master craftsman I enjoy traditional wood working techniques and using classic hand tools, I found building this craft a delight. To view photos showing the BEE build step by step - use this link to the project on Behance.
I started work on the project early in Januarys 2015 and we launched my BEE early in May at Walpole in WA. The BEE is a pleasure for two rowing in calm waters and when that wind picks you cant help but grin with a smile with the sail up.
Out on the water or sitting on the trailer, anyone who sees the BEE comes running over and starts asking questions.
Thank you Richard and Lilian for designing such a functional craft that looks so beautiful.
The suppliers I used are listed below:
Boatcraft Pacific Pty - Gaboon plywood, BoteCote epoxy, AuaCote water based polyurethane:
www.boatcraft.com.au
You are invited to view photographs from my "Stitch and Glue Workshop", featuring the building a Woods Design BEE Skiff.

To save photos to your phone, download the free Photo Moments app for iOS orAndroid then click here to view the gallery.

Peter Kovacsy Photography
peterkovacsystudio.zenfolio.com/p188214691
Pemberton, Western Australia
---
Riley's Duck
Riley's Duck is in the water. Moving on out!
MIK Storer
---
Crosswins
You may be interested to see a short video after my upgrades. Added tramps and splash rails for less spray, tighter jib sheeting for upwind performance, used Prindle 16 battened main, new custom made roller furling foresail, painted cockpit and gunnels white and added red design highlights, built tiller for multiple sailing positions, added asymmetrical spinnaker, painted mast and boom, added much needed sheet and tramp bags, and more. She points so tight to the wind it's uncanny! Performance has increased several notches and visually she's a lot brighter! A great boat for a 30 year old design and build!
One of these days I'll get my GoPro sailing videos posted online too.
Eric Dahlkamp
---
Scrampan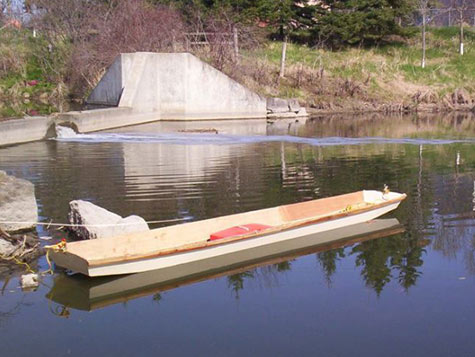 I've just launched a one sheet boat the design for which came to me last winter. The numbers looked okay so I went ahead and built a prototype to try it out. So far I've posted some photos in the following Facebook album. It's been 10 years since I built a boat. I guess it never goes away.
William Watt
---
"Selkie"
The launch of "Selkie", a Drake rowboat by designer Clint Chase.
Started building in June 2014, launched 9 May 2015. And it was good.
Osbert
---
My Kayak Design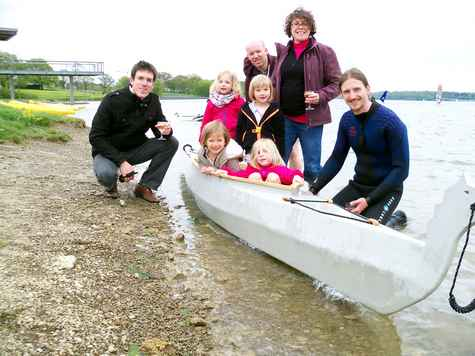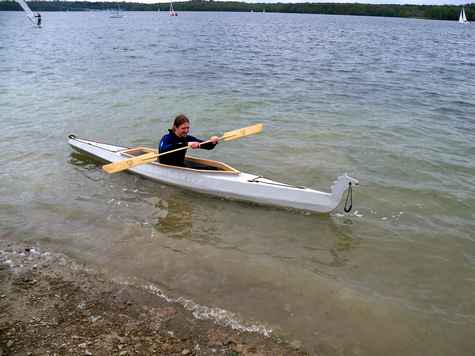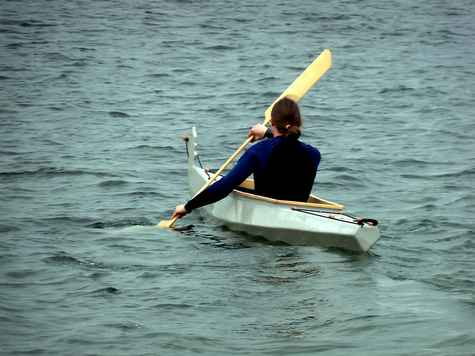 Chuck and all readers of the interesting articles of Duckworks Mag,

(with french accent)
I have always read things about boats. For several years I've been reading about boatbuilding and for some years I've been drawing my dreams. For many months I've been creating the parts, then gluing and painting. Now It has come true, on the water, baptised with Champagne, here in Belgium. Ok, it is not exactly what I dreamed first. It was probably wise to adapt the project to my budget, space and time. But the call of the water won in the end, and I'm really proud of this funny little kayak. Detailed drawings available soon for free.
Thierry Gosseye
---
Skimmer II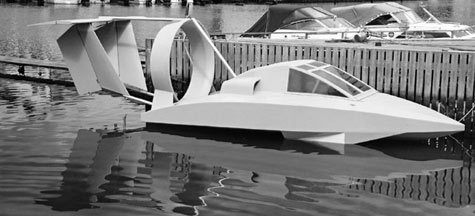 A Norwegian client has almost finished my Skimmer II design. Here a link to some pictures.
Bernd Kohler
---
Splash KD 650
Here the next KD 650 launch. This time from Germany. I think Hardy the builder did a great job. Getting the boat from the home to the water was an adventure in itself.
I wish Hardy and his family a lot of pleasure with there KD 650. Here's his blog address.