Scherzo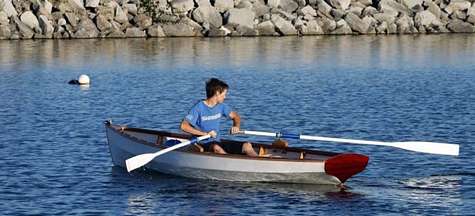 Another new completion - this one is one of my Shenandoah Whitehalls.
Dave Gentry
---
---
Colorful Paddleboard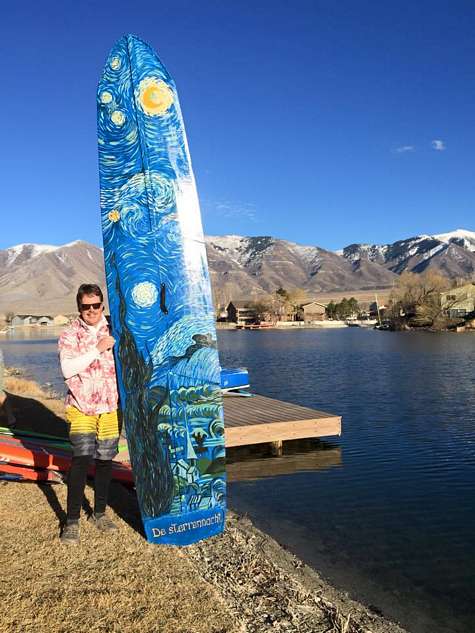 One of my paddleboards got some special treatment.
More on Facebook.
Dave Gentry
---
Amatasi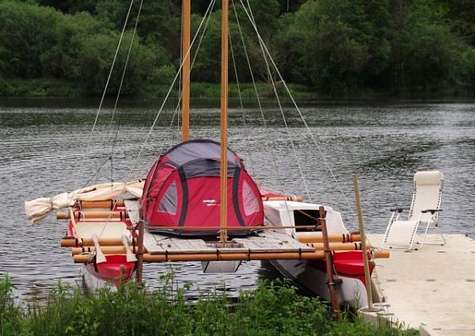 A new design from James Wharram.
Chuck
---
Splash DUO 480 C. JIGSAW
Here the splash and first sail of an other DUO 480 cruiser (Jigsaw). This time in New Zealand.
Brian was building the boat precise to plan. In my view he did a great job. This was his first boat he built.
Here's some photos of my test run with the boat. There was hardly any wind, and it has been like that here for weeks. We passed another multihull with a well known local multihull and photography professional on board who snapped a few shots as we crossed paths, and he kindly forwarded them on to us today.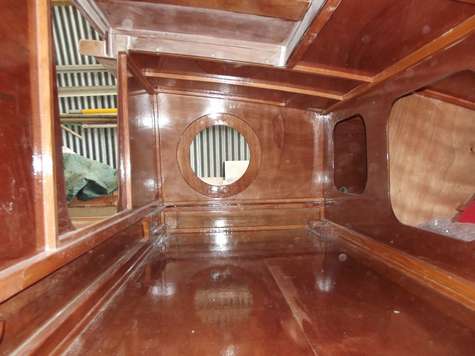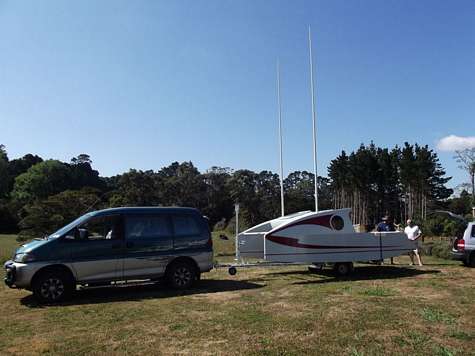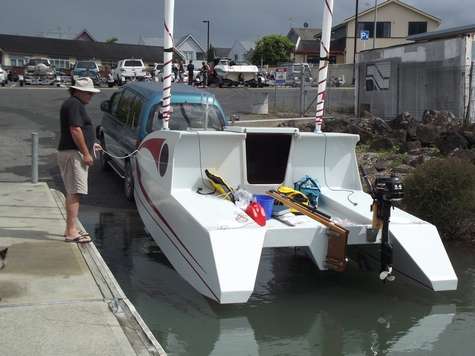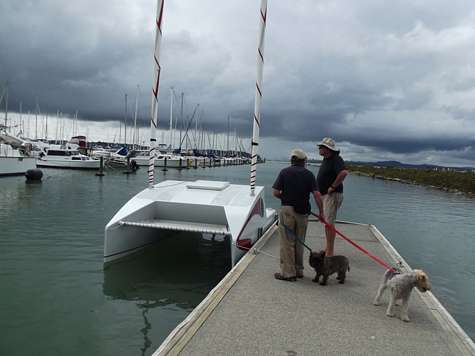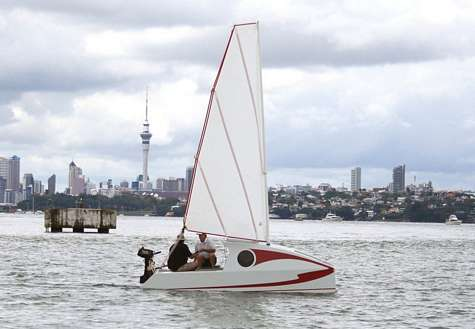 The boat travels at a good 5 or 6 knots with 3.6 hp outboard on 1/3 throttle. What wind we had was extremely light so sailing top speed was no more than what we motored at, but the boat was responsive to even a light breeze.

Unfortunately, the wind died right off and we had to motor back, but for the short time we were sailing we were getting the hang of the bi plane rig easily enough. My new sails from Whirlwind Sails, San Diego, are very nice, and the furling on the masts works well.

The boat is sensitive to trim and as you can see in the sailing photo we were dragging the rear end a bit. (My friend Greg and myself are both pretty big guys.)

The other point worth mentioning is the boat tacked around really easily, which I was very happy about. Years ago when we had asymmetric hull Hobie cats and the like, learning to tack them was something that took a bit of learning.

Also about tacking, last week I had a nice sail with Rodney in his KD650, (also till the wind died) and I noticed his boat also tacked easily. So if there are any prospective builders who are looking at any of Bernd's asymmetric hulled cats but who are worried about them being difficult to tack, then I think there is no problem, in light to medium winds, at least.

Now, I just need to get out in some good wind. I cant wait. Thanks Bernd for designing a great little boat, and thanks for your patience during my building time (Brian).
There is nothing more to say from me as I wish him many hours of fun with his DUO 480 C.
Before I go here is a Sailing KD650 in New Zealand:
Bernd Kohler