Boatbuilders at Paddlefest
by Chuck Leinweber
My friend Louis Koiner invited us to come over to the Austin (TX) Paddlefest, as some members of the Austin Boat Builders Association (ABBA) would be there. Early on April 8th, we drove over and picked up out daughter Carol, took her to breakfast, and then went to Town Lake. The purpose of Paddlefest is to promote paddle sports, and to that end, the organizers did a pretty good job. There were scores of canoes and kayaks, and for a fee of $3 one could take any of them for a spin. There was also a kayak/water polo game which seemed quite lively. Among the many plastic boats were a handful of beautifully crafted wooden ones. Here are the builders of those boats:




Louis Koiner

Carlton Cruise - Dave Nichols - Monte Rhodes - Ed Smith - Dick Ward
Carlton Cruise
Carlton Cruise and Karan Bollom represented the Texas Outrigger Canoe Club at Paddlefest. You can visit their web page at: https://www.tocc.org .
Carlton lived in Hawaii as a child and came to build several outrigger canoes later in life. He has since become a member of TOCC and will participate in a race around New York Harbor later this year (see web page for details).
https://www.tocc.org

Dave Nichols
davidboats@aol.com
| | |
| --- | --- |
| Dave Nichols is the only professional boat builder I know. That's not to say there aren't lots of other pros, just that they aren't real common. Besides building boats, he designs them, sells kits, and writes about boats for magazines such as Boatbuilder. Dave designed River Dancer which is available from Common Sense Boats. | |
| | |
| --- | --- |
| Dave Nichols and Lutra2 | The boats pictured here are Lutra1 & Lutra2, named after the River Otter because they are slim, fast, playful, and good fishermen. They are two man, flat bottomed, 60 pound boats with lapstrake sides. |
Lutra1:

Length - 12'10"
Beam - 31"
Draft - 3-1/2"
Weight - 37 lbs.

Lutra2:

Length - 15'11"
Beam - 33"
Draft - 4-1/2"
Weight - 60+/-lbs.



Dave's son with Lutra1

Detail of Lutra2

You can contact Dave at:


Pinnacle Boat Works
4705 E. 5th
Austin, TX 78702

Phone-1 877 893 9686
Fax-512 302 3618
davidboats@aol.com

Monte Rhodes
| | |
| --- | --- |
| Monte Rhodes is an Apple Computer executive in real life, but we won't hold that against him. He brought six, count 'em, six boats to Paddlefest. They are as follows: A Sweet Dream, a Guillemot Sea Kayak, two stitch and tape kayaks, a Jam-8, and a lengthened Jam-8. | Monte Rhodes |
| | | |
| --- | --- | --- |
| | Here is Monte's version of Marc Pettingill's Sweet Dream , on the left, and his Nick Schade "La Sierra" on the right | |
| | |
| --- | --- |
| | The two ply kayaks on the right are from CLC designs. Behind is the Jam-8. |
Plans for the Jam-8 were published in the July/August issue of Boatbuilder Magazine. She is built from two sheets of 1/8" plywood. Plans are $40 from:

Edward Sutt Jr.
714 Green Bay Rd.
Winnetka, IL, 60093

| | |
| --- | --- |
| | Of course Monte could not leave the Jam-8 design alone, so he built this extended version with a flaming foredeck. |

Ed Smith
| | |
| --- | --- |
| Here Ed and I discuss the traditionally made wood and canvas canoes which he makes and sells. | |
| | |
| --- | --- |
| | These canoes are built over forms like the one on the left. Ribs are steamed and bent from gunwale to gunwale. Planks are then laid on and connected to the ribs with copper nails which clinch when they hit the steel straps on the form. |
Later canvas is stretched across the wood hull, and waterproofed. Seats, gunwales, thwarts, etc are added to make one of these beautiful traditional boats. Ed says he can make about four canoes a year. You can contact Ed at:

Pedernales Canoe
P. O. Box 532
Fredericksburg, TX 78624
830 997 1942

Dick Ward
reward2000@earthlink.net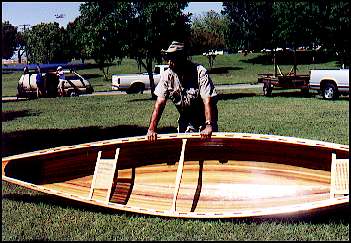 Dick Ward built both of these fine boats in classes put on by Ted Moores. The canoe is a Freedom 17 which he built first. He enjoyed the course so much that he went back for kayak lessons. The class built only one kayak, and then drew straws to see who would get to pay for the materials, and take the boat home. Dick won, of course, and never looked back.